St. Louis Rams: Breaking Down Their First Round Draft Options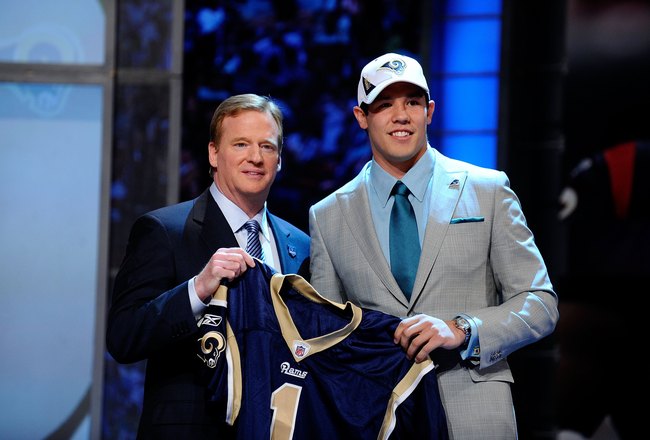 Jeff Zelevansky/Getty Images
Last season, the Rams showed the football world they were ready to compete.
In a recent interview, Rams GM Billy Devaney stated that when you look at all of the elite teams in the league, virtually all of them built themselves through the draft. Devaney also stated that is what he wants to do with the Rams—draft a solid group of individuals who can grow together and hopefully evolve into Super Bowl champions.
A few years ago, it was almost a guarantee the Rams would make the wrong pick. Draftees such as Ryan Pickett, Adam Carriker and Robert Thomas are long gone. Over the last three seasons, however, the Rams have made great selections in the first round.
Chris Long, a defensive end out of Virginia, has turned into one of the better pass rushers in football. Jason Smith, an offensive tackle out of Baylor, is one of the key pieces of an offensive line that saw tremendous improvement last season. Sam Bradford, a quarterback deemed too much of a health liability out of Oklahoma, is looking like a future star of the NFL.
Can the Rams make another solid pick this season? Let us review all of the possibilities that could be available when they select with the 14th overall pick.
(Note: interest meter is the projected amount of interest the Rams have in a prospect based on my research)
1. Julio Jones, WR, Alabama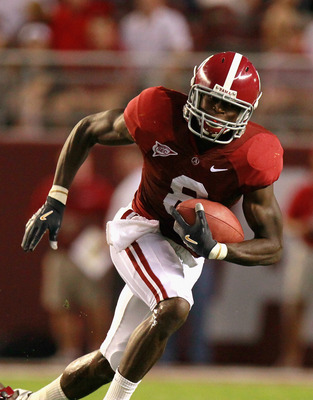 Kevin C. Cox/Getty Images
The Evaluation
Height: 6 ft. 4 in.
Weight: 220 lbs.
40-yard dash: 4.39 sec
Tall. Fast. Physical. Playmaker.
Jones is everything the Rams could want in a young receiver. Unfortunately, he is also what several other teams could want as well. After turning in a freak performance at the combine despite having a bad foot, Jones' stock has skyrocketed.
This was the guy everyone saw the Rams taking a couple months ago, but lately, most mocks have him going in the Top 10.
How Would He Fit in?
Jones would work well in McDaniels' spread offense. He is a big, physical target that can go up and get difficult passes. He has a solid stiff arm and vision, making him dangerous in the open field.
With the selection of Jones, the Rams would have a receiver set of Mark Clayton, Donnie Avery, Danny Amendola, Julio Jones and either Brandon Gibson, Laurent Robinson or Danario Alexander. That isn't too bad on paper.
Most people I've discussed this with agree that Jones would be a perfect pick for the Rams.
Probability
If he somehow falls to the Rams, it is about a 99 percent chance the Rams select him.
Interest Meter: 99 percent
2. Aldon Smith, DE/LB, Mizzou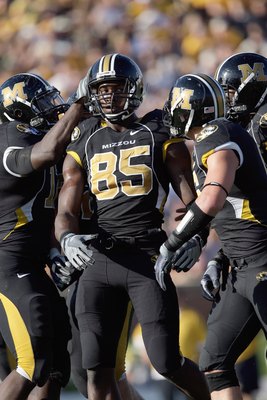 Jamie Squire/Getty Images
The Evaluation
Height: 6 ft. 4 in.
Weight: 263 lbs.
40-yard dash: 4.74 sec
Aldon Smith is a very shifty defensive end. While he lacks a lot of burst off the snap, he is very good at using his hands and speed to get around linemen.
He would definitely need to improve his strength. The only times he did struggle last season were when he went up against large, physical tackles (aka, the only kind he'll face in the NFL). He also needs to improve his awareness, as there were times last year where he struggled to pick up the running back during running plays.
Where Does He Fit in?
As of now, James Hall is the starting right-side defensive end. However, Hall is getting up there in age and now would be an ideal time to groom a replacement. Head coach Steve Spagnuolo always seems to be able to get the best out of his defensive ends, and if they can turn Smith into a legitimate threat, it is going to be scary having Smith and Long on the same line.
Probability
Ever since Jones had his stock rise, there has been a lot of uncertainty amongst experts on who the Rams will take. Smith would be my favorite, but there really is no telling what the Rams are thinking here.
Interest Meter: 85 percent
3. Corey Liuget, DT, Illinois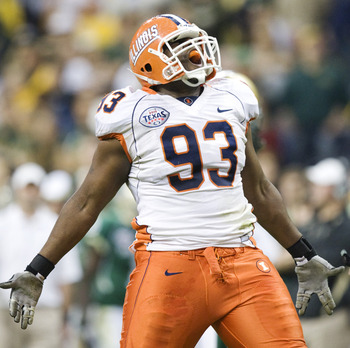 The Evaluation
Height: 6 ft. 2 in.
Weight: 298 lbs.
40-yard dash: 4.95 sec
Liuget is an elite run-stopping defensive tackle who can wreak serious havoc on the quarterback. He is a very smart and confident lineman who doesn't back down from a challenge.
Last season, he made a living off reading screens, then breaking them up. Liuget has great length and is very capable of getting his hands on the ball at the line of scrimmage, making him a threat even when he does draw a double team.
From all the analysis I've read on him, it doesn't appear he has too many weaknesses. NFL.com stated that he lacked "ideal height" for a DT, but his skill set more than makes up for that.
Where Does He Fit in?
Similar to Smith, Liuget would be groomed behind an aging veteran, Fred Robbins. If all goes to plan, Liuget could be another solid piece to this vastly improved defense for years to come.
Probability
Once again, with Jones out of the picture it really is a giant question mark.
Interest Meter: 80 percent
4. Robert Quinn, DE, UNC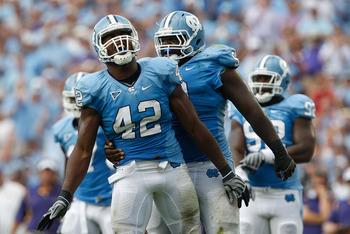 Streeter Lecka/Getty Images
The Evaluation
Height: 6 ft. 4 in.
Weight: 265 lbs.
40-yard dash: 4.73 s
Robert Quinn is an interesting prospect. Two years ago, he dominated the college football world, looking like an elite defensive end in the process.
Last season, Quinn didn't play a single down. After lying to investigators about receiving special benefits, the NCAA ruled him ineligible for the 2010 season. Therefore, all of his analysis comes from the 2009 season and the NFL combine.
Quinn is a speed rusher. He uses a quick first step and explosiveness to get by linemen and to the quarterback. He is very athletic and is very capable of dropping back into coverage.
Unlike the previous prospects on this list however, Quinn has plenty of weaknesses. As you can see from the picture above, he doesn't have the build of a lineman. He lacks strength and was very prone to getting pushed around by bigger linemen.
Also in the tape I watched, he doesn't really have too many moves to get around linemen. It seemed he relied entirely on speed and if that didn't work, he didn't have anything else to resort to but a couple weak swim moves.
Where Does He Fit in
Just like Smith, he would be the replacement to James Hall. If the Rams can get him to bulk up and learn a few hand moves, he could become a very dangerous DE.
Probability
Despite the weaknesses, he really has too much upside to ignore. He could turn into a DeMarcus Ware-type player if all goes to plan.
Interest Meter: 70 percent
5. Ryan Kerrigan, DE, Purdue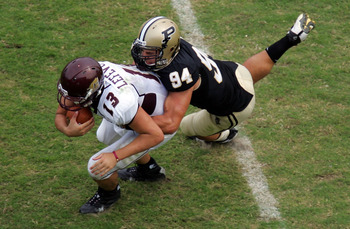 Ronald Martinez/Getty Images
The Evaluation
Height: 6 ft. 4 in.
Weight: 267 lbs.
40-yard dash: 4.67 sec
Ryan Kerrigan is a terrific blend of speed and power. He made a living off forcing fumbles in college, setting the record for most FF in a career during his senior season.
The problem with Kerrigan is that although he does have that blend of speed and power, he isn't elite in either of the categories. He also may struggle to get to the quarterback against more physical linemen.
Where Would He Fit in?
Heir to the RDE position held by James Hall.
Probablity
It is difficult seeing the Rams using this high of a pick on Kerrigan, especially if any of the previously covered prospects are available.
Interest Meter: 45 percent
6. J.J. Watt, DE, Wisconsin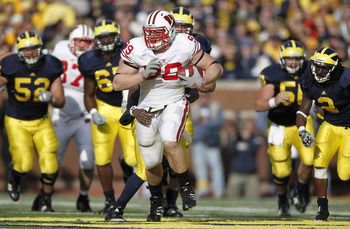 Gregory Shamus/Getty Images
The Evaluation

Height: 6 ft. 5 in.
Weight: 290 lbs.
40-yard dash: 4.84 sec
Watt is more of a bull-rushing DE. While he does possess some speed, he is far more effective when he charges ahead and uses his hands to get around linemen. Like Liuget, he is solid at knocking down passes at the line of scrimmage and could develop into a force at defensive end.
However, he does struggle to get around edges, especially during contain calls.
Where Does He Fit In?
Another DE—another replacement to be groomed by James Hall.
Probability
JJ Watt appears to be gaining momentum rapidly. He would definitely be an interesting pick for the Rams and could become a solid duo with Chris Long on the line.
Interest Meter: 70 percent
7. Cameron Jordan, DE, Cal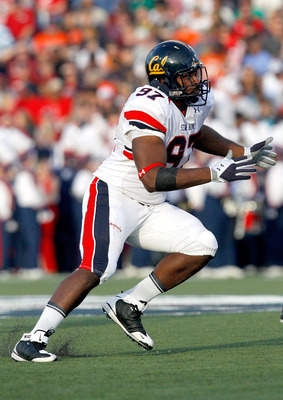 Sean Gardner/Getty Images
The Evaluation:
Height: 6 ft. 4 in.
Weight: 287 lbs
40-yard dash: 4.78 s

A couple mocks have the Rams selecting Jordan in the first round and there are plenty of reasons why. He is the ultimate run stopper. Jordan doesn't allow himself to be blocked and is solid in peeling away and making plays. His stamina is very appealing, as he often would play full strength for all four quarters in college.
However, he isn't the best pass rusher, an attribute that Spagnuolo loves to see in his lineman. This shouldn't be looked too much into however, as Jordan has the size, speed, and smarts to learn the art of pass-rushing from Spags, Flajole, James Hall, and Chris Long.
Where Does He Fit in?:
The heir to Hall, he would probably be more of a project than the other prospects. He need to greatly develop his pass-rushing skills and that would take time.
Probability: 70 percent

The Rams should be interested in Jordan. He has all the tools to be a solid lineman, but his limited pass-rushing ability make me hesitant in marking him as the highest on their list.
Interest Meter: 70%
8. Trade Up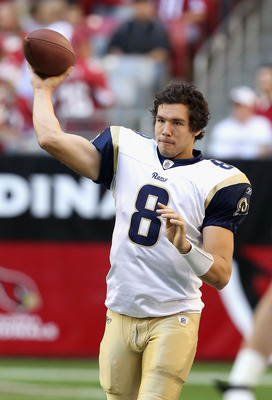 Christian Petersen/Getty Images
If the Rams really want Julio Jones bad enough, they could trade up to get him. However, with a team in the middle of what looks to be a successful rebuilding process, it would be difficult to part ways with very precious draft picks.
Say they were to trade up to the Redskins' 10th spot; the trade would probably look something like this:
Redskins Get: Rams' first-round and second-round selection
Rams Get: Redskins' first-round and fifth-round selection
The second round is still full of very NFL-ready players. If you're looking for immediate impacts, you can't give up early-round picks. If the Rams trade up, it will be because they are offered a deal where they don't lose much.
Interest Meter: 15 percent
9. Trade Down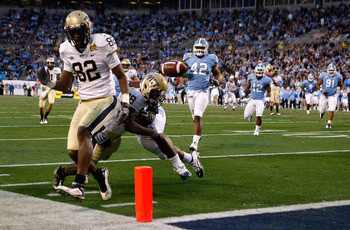 Streeter Lecka/Getty Images
Like I said, if you're looking for immediate impact players, you want as many early round picks as possible. If the Rams really aren't sold on any of the prospects available to them when they go to pick, they could trade down to a late first-round selection and pick up an extra second-round pick in the process.
It is something to ponder, especially since this team has plenty of holes to fill at OLB, DE, CB, S, WR, backup RB, and G.
I'd prefer to pick up a guy at the 14th pick, mainly because those are more sure of picks, but you never know.
Interest Meter: 25%
Closing Statement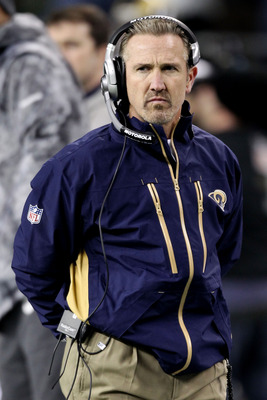 Otto Greule Jr/Getty Images
The Rams have plenty of options at the 14th overall pick—so much so that I've seen hardly any mock drafts agree on the pick. Last year, everyone had them taking Bradford. This season I've seen Watt, Kerrigan, Cameron Jordan, JJ Watt, Julio Jones, Corey Luiget, etc...
Regardless, the draft is just a few weeks away and I can't wait. Here's hoping their next draft pick is a Chris Long and not an Adam Carriker.
Go Rams!
Keep Reading

St. Louis Rams: Like this team?