2011 NFL Trade Speculation: Top 15 Rumors This Offseason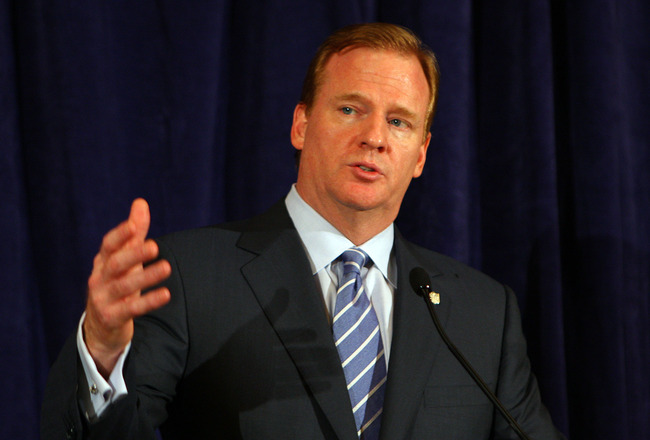 Mike Stobe/Getty Images
With the Super Bowl almost two months in the past, and the draft still about a month away, the NFL is rather still at this time of year.
Fans start to get anxious, anticipating the draft and any trade or free agent signings.
The closer the draft gets, the more trade rumors seem to bounce around the league.
That's understandable, as teams have only a couple weeks left to acquire draft picks unless they want to wait until next year's draft.
With nothing else really going on in the NFL at this time, trade rumors become the talk of the town.
Here are the biggest trade and free agency rumors in the NFL for the offseason.
1. Will Carson Palmer Be Traded?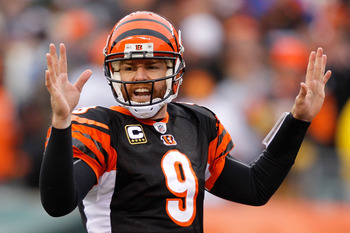 Matthew Stockman/Getty Images
Palmer has already told Bengals management that he would retire this season if not traded, and the fact he put his Ohio home on the market is not a good sign that he will remain in Cincinnati.
Palmer has not been the same player since his knee injury suffered in a playoff loss to the Steelers, but many teams need QB help and would love to add the former No. 1 pick.
The Bengals are a team in disarray right now, and the high likelihood of Palmer holding out would just be a distraction this team does not need.
The Bengals would be best suited to grant Palmer's request and see what they can get in return for the QB on the open market.
2. Will the Eagles Trade Kolb?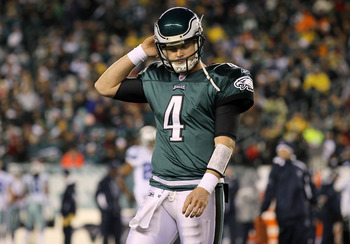 Jim McIsaac/Getty Images
Trade rumors have surrounded Kolb ever since he became an Eagle.
Kolb has had limited playing time, but has shown promise. He has three 300-yard passing games in just eight career starts.
Kolb's confidence has to be shot after playing the role of backup to two different QBs. He has stated he would like to be a starting QB again in the league, and that opportunity will not arise in Philly.
With reports that (unnamed) teams have already offered as high as a first-round pick for Kolb, it will be very tempting for the Eagles to trade their talented backup QB.
Arizona, Miami and Tennessee are all teams that need QB help and could look to acquire Kolb.
3. Are the Patriots Looking for an Upgrade at RB?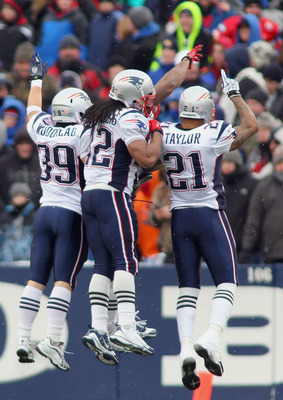 Rick Stewart/Getty Images
One NFL analyst referred to the Patriots RB duo of Danny Woodhead and BenJarvus Green-Ellis as "misfits."
True, both were undrafted free agents, but both were highly productive: Green-Ellis rushed for over 1,000 yards and Woodhead was a great receiver out of the backfield.
But neither are elite runners and lack the speed, explosiveness and strength of a Chris Johnson or Adrian Peterson.
After trading Randy Moss, the Patriots skill positions did look a little like misfits—only WR Wes Welker has made a Pro-Bowl.
This did not stop the Patriots from going 14-2 and finishing first in the AFC, but with a plethora of draft picks to trade and some cap room, many speculate that the Patriots might go after a top tier RB.
Only the Patriots know whether these rumors are true, but while not bad players, the Patriots could certainly do better than a RB tandem of Woodhead and Green-Ellis.
4. Where Will Vince Young End Up?
Jeff Gross/Getty Images
While it is almost certain Young will no longer be a Titan, it's unsure where he will end up.
Owner Bud Adams seems intent on trading Young rather than releasing him. Meanwhile, with Jeff Fisher now gone, Young has said he would like to return to the Titans.
Young is certainly a talented QB. He has a career record of 30-17 and is coming off his best season as a pro.
But questions of immaturity and work ethic still haunt Young. It's unsure if any team will look at Young as anything other than a backup.
The Raiders and Bengals are two teams that need QB help (I'm assuming Palmer is traded) and have a history of taking chances with risky players.
5. Who Will Start in Denver: Kyle Orton or Tim Tebow?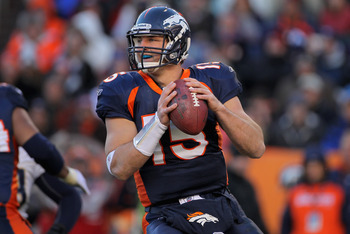 Doug Pensinger/Getty Images
Orton and Tebow could not be more different QBs.
Orton has been underappreciated since coming into the league, but has always won games and limited his turnovers. He is coming off his best season with 20 touchdowns to only nine picks.
Tebow was the face of a major college program, has posed for underwear ads and is a mobile, running QB, as opposed to the pocket passer Orton.
New coach John Fox has a tough decision to make as to which QB to start. It seems like pie in the sky if both remain on the team, opening the door for one to be traded.
6. Where Will Donovan McNabb End Up?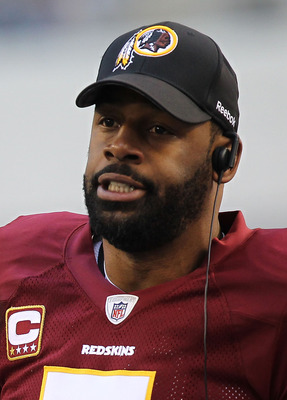 Ronald Martinez/Getty Images
McNabb was brought in to return the Redskins to relevance, but after only one season in D.C., he appears to be on his way out.
The question now is whether any team will look to add the 34-year-old QB, who is coming off his worst statistical season ever.
The normally careful McNabb was a turnover waiting to happen last season. He threw a career-high 15 picks and also had 10 fumbles.
It's unsure whether any team will roll the dice and let McNabb start again.
Sad as it is, his great playing career may be coming to an end.
7. Is Vincent Jackson Staying on the Chargers?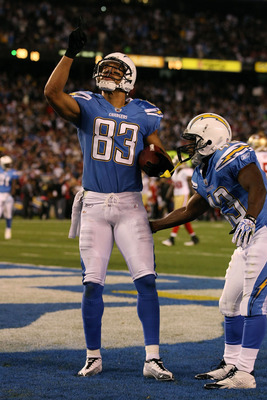 Donald Miralle/Getty Images
Jackson was franchise tagged by the Chargers, so the Chargers hold his rights—for now.
Jackson was tagged last year as well, and only played in five games after holding out in hopes of reaching a long-term deal with the Chargers.
Has Jackson learned from last year? Or will history simply repeat itself?
Ownership did not trade Jackson in the midst of his holdout last season, so the Chargers don't appear to be phased by his threats.
However, the possibility remains that no team offered a lucrative enough deal for the big receiver.
If he is traded, the Vikings and Seahawks are two teams in need of WR help that might have interest in Jackson.
8. What's Going on with the Peyton Manning Contract Situation?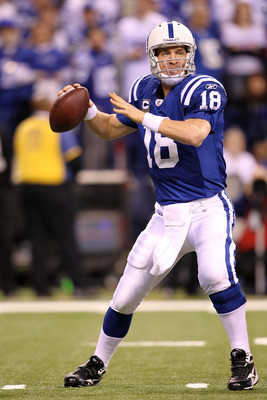 Andy Lyons/Getty Images
Colts president Bill Polian has repeated his affirmation that the Colts will make Manning the highest paid player in the NFL.
No deal has been reached as out yet, so the Colts franchised their HOF QB to ensure he returns to Indy next season.
Manning would never leave Indy (the Colts would never allow it), but some Colts fans are worried as to why a deal has not been reached yet.
Manning and Colts ownership want to structure the deal so the Colts would still be able to sign some free agents to help Manning in his quest for a second title.
With WR Reggie Wayne and RB Joseph Addai free agents as well, the extra cap room would certainly help.
Manning is busy representing the players in the lawsuit filed against the league, so a new deal is still rather far off.
9. Are the Ravens in the Market for a WR?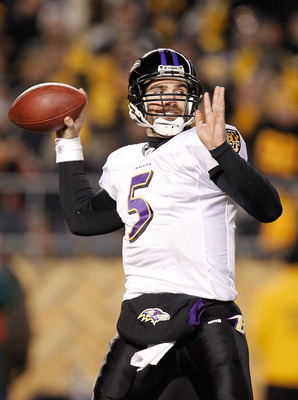 Gregory Shamus/Getty Images
For all the effort the Ravens put into upgrading their receiving core last offseason, the end result was the same—an early exit from the postseason.
Now the Ravens will likely have to address their receiving core once again.
T.J. Houshmandzadeh and Donte Stallworth are both free agents; it's unlikely either will return. And this might finally be the end for Derrick Mason, at age 37, and entering his 16th NFL season.
So how will the Ravens replenish their WR core?
They just traded a draft pick for Anquan Boldin, so it would be unlikely for them to make another trade.
They could always try and add talent through the draft, but Joe Flacco needs a proven WR to help take the next step as a QB.
With a thin free agent WR class, the Ravens have some tough questions to answer in the next couple of months.
10. Will Anyone Sign Randy Moss or T.O.?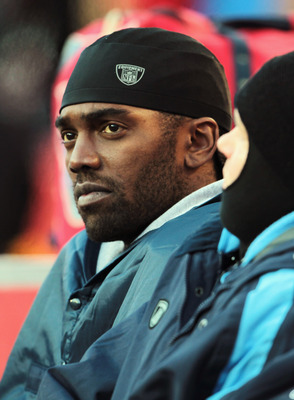 Jamie Squire/Getty Images
Moss and Owens are two of the greatest WR's of all time, but neither could be on an NFL roster next season.
Moss, 34, and Owens, 37, are both behind their glory days, but could still contribute given the right situation.
However, it will be hard to find an NFL team that is willing to take the baggage that comes along with either.
Moss looked like he gave up trying last season. He was traded and released, played for three different teams and had his worst statistical season ever.
With the Titans, in eight games, he only had six receptions for 80 yards.
Owens had a phenomenal statistical season with almost 1,000 yards and nine touchdowns before being placed on IR after week 14.
But Owens also gave up on routes and the Bengals decision to add him did not lead to any wins (rather, they took a step back).
With all the drama that comes with these receivers, plus the question of whether they can still play, it's unlikely either will find a new team.
11. Are the Vikings Looking for a New QB?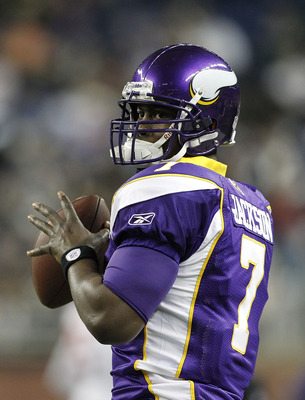 Leon Halip/Getty Images
The Brett Favre era in Minnesota did not have the ending everyone expected, and now the Vikings are back to square one with respect to their QB situation.
Tarvaris Jackson and Joe Webb each saw action after Favre went down last season, but neither was particularly impressive—each threw more picks than touchdowns.
Now the Vikings must decide whether to draft a QB, make a trade or stick with what they have.
With the 12th overall pick, the Vikings could draft Cam Newton or Jake Locker with a pick that high. Ryan Mallett could also be an option in the second round.
And QB's Kevin Kolb, Carson Palmer and Kyle Orton all have been involved in trade rumors.
Whoever the Vikings choose to lead the team next season, they better get the decision right, as the Vikings are still looking for their first Super Bowl title.
12. Will Alex Smith Be Back with the Niners?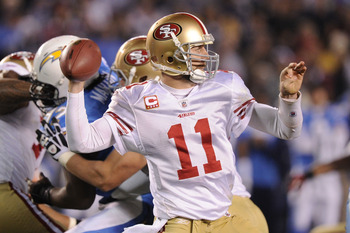 Harry How/Getty Images
The former No. 1 pick is a free agent, and it's up to new coach Jim Harbaugh whether he returns.
Smith has been the definition of mediocre since coming to San Francisco: His career touchdown to interception mark is 51 to 53.
He has never led the Niners to the playoffs, even in a weak division. Last season, after being crowned division champs by many analysts in the preseason, the Niners wilted under the pressure.
The Niners have a talented team and clearly underperformed with Smith at QB.
Chances of a return are 50/50 at this point, but the Niners would be wise to look elsewhere for the answer at QB.
Smith just isn't a good enough QB to lead his team to a title.
13. Will the Rams Add Help for Young QB Sam Bradford?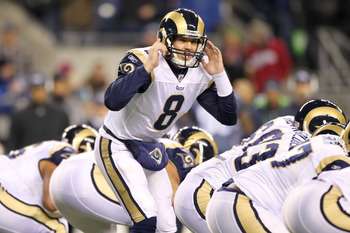 Otto Greule Jr/Getty Images
The Ram's are building from the inside out, spending a lot of money and draft picks shoring up their offense line over the last couple of seasons.
Now, it's time for them to address their receiving core to give young QB Sam Bradford some weapons on offense.
Many mock drafts have the Rams taking Alabama WR Julio Jones in the draft, giving the Rams the No. 1 receiver they lack.
The TE position also could use an upgrade—Kyle Rudolph of Notre Dame would be a great second-round selection if still available.
With a weak free agent WR class, the small-market Rams need to hit on their draft picks to make life easier for Bradford.
14. What Will the Patriots Do with All Their Draft Picks?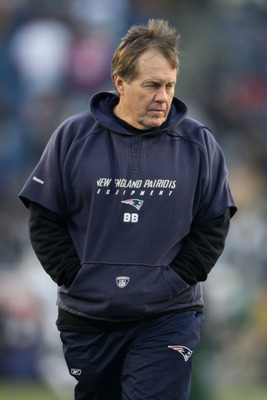 Elsa/Getty Images
The Patriots have nine picks in the upcoming NFL draft, with six coming in the first 100 selections.
A year after hitting on TE's Rob Gronkowski and Aaron Hernandez and CB Devin McCourty, the Patriots have the high picks needed for another potentially great draft.
The Patriots need help at WR, RB and badly need a pass rusher on defense.
RB Mikel Leshoure, DE Aldon Smith, DE Cameron Heyward and WR Torrey Smith are all players that would fit in well with the Patriots system and also fill an area of need.
Of course with the Patriots, there is always a chance they could do a variety of draft day trades, as well.
Regardless of which position's the Patriots go after, if they hit on their picks, this team could be much scarier than the team that won the AFC last season.
15. What Changes Will the Superbowl Champs Make?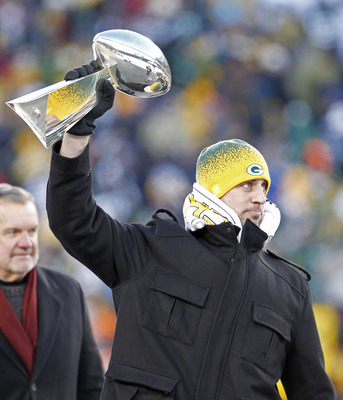 Matt Ludtke/Getty Images
The Packers might look very different next season.
Donald Driver is getting older and could retire. It's unsure how Ryan Grant will fit in after coming off an ankle injury. And Nick Barnett might already be on his way out the door.
Entering his 10th NFL season and coming off wrist surgery, the Packers may look to trade Barnett and continue starting Desmond Bishop, who played very well in Barnett's absence.
The relationship between Barnett and the Packers has turned sour. Back in February, Barnett expressed his displeasure on being left out of the team's Super Bowl pictures.
The Packers appear to have grown tired of his whining: In early March, reports surfaced that the Packers had put Barnett on the trading block.
Many changes might await the Packers, but as long as they have No. 12 behind center, they will be just fine.
Keep Reading