Oakland A's: What They Must Improve Upon To Win the A.L. West Part I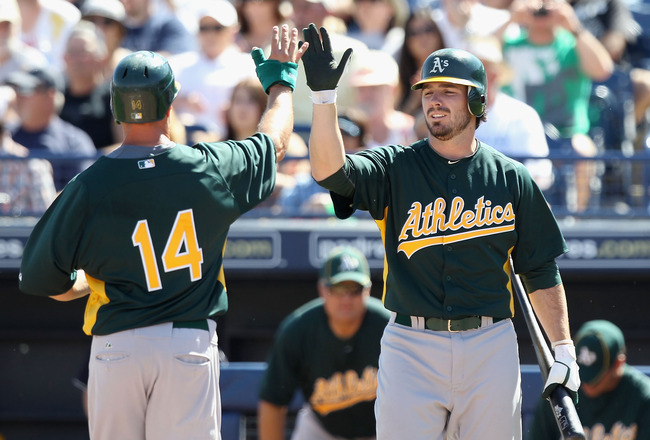 Christian Petersen/Getty Images
As the Oakland A's get set to open the season at home against the Seattle Mariners, everyone in the A's organization is excited about the potential of this team. Many will agree that with the Anaheim Angels, Seattle Mariners and Texas Rangers all either not improving their rosters or losing players to free agency, the American League West Division is there for the taking if the Oakland A's choose to take advantage of their situation. In order for that to happen, however, the Oakland A's must improve upon three areas to take that next step towards a division championship.
More Depth in Starting Pitching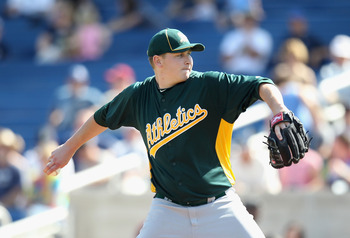 Christian Petersen/Getty Images
The Oakland A's have made their presence known to their division opponents. They have done so with the development of two great starting pitchers who have grown as leaders in their starting rotation. A's ace Trevor Cahill earned two wins during this spring training, and he is confident that he can continue this good start into April. Cahill finished last season winning 18 games and having an ERA under three.

Left-hander Brett Anderson will get his final workout of spring training tonight in San Francisco against the Giants. He has pitched 20 innings so far this spring and has a 2-2 spring training record. So far, his spring has shown that he also looks forward to increasing his strikeout total. In his last spring outing against the Cubs, Anderson pitched five and two-thirds innings and struck out four batters.

Where the A's must improve, however, is in the back of their starting rotation. Dallas Braden struggled toward the end of last season and finished with a record of 11-14.
What is more of a concern for the A's is their position of fifth starter. All potential players who could potentially fill this spot have struggled and given up lots of runs during this spring. Tentatively, the A's will choose to use right-hander Brandon McCarthy as their fifth starter.
Another Crisp Season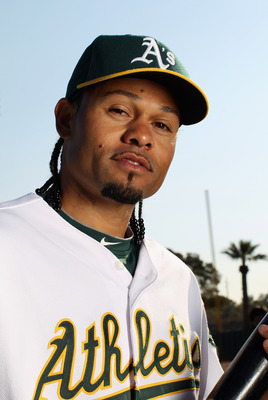 Ezra Shaw/Getty Images
Although battling hamstring injuries, outfielder Coco Crisp has been a blessing in disguise for the Oakland A's. Crisp is at his best when he is on base and distracting pitchers with his base-stealing skills. Even in a season cut short due to injury last year, Crisp managed to steal 32 bases while only being caught stealing three times.

A's fans will also be happy to know that Crisp has had a great spring training. His games have been limited so that he has enough time for his hamstring to recover. In the spring games that he has played in, however, Crisp has a .392 batting average. Currently, he is listed as day-to-day, according to injury reports.
Monitoring Matsui's Number of Games and at-Bats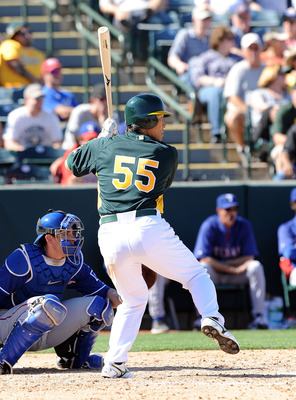 Norm Hall/Getty Images
Oakland seems like the perfect fit for designated hitter Hideki Matsui. Matsui can give the A's something that they did not have last season—a potential threat in the middle of the A's batting line-up. Last season, he finished with 84 RBIs. The A's will certainly be able to make a playoff push if Matsui can produce anywhere close to that number this season.
One advantage of Matsui remaining in the American League and him being surrounded by a young, talented group of outfielders on the A's is that Matsui will not have to worry about spending any time in the outfield. This is great news for A's fans, due to the fact that Matsui has struggled with knee injuries. If Matsui does not have to play in the outfield, he can focus helping the A's score more runs this season with his bat.
Bay Bridge Series Tonight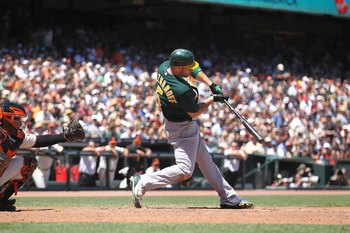 Jed Jacobsohn/Getty Images
The A's will wrap up their exhibition season with a three-game series against the World Series Champion San Francisco Giants. This series will begin tonight at AT&T Park at 7 p.m. Pacific Time. Tonight's starters will be Brett Anderson for the Oakland A's against Matt Cain for the San Francisco Giants.
Keep Reading

Oakland Athletics: Like this team?