Fantasy Baseball 2011: Ranking the Second Tier First Basemen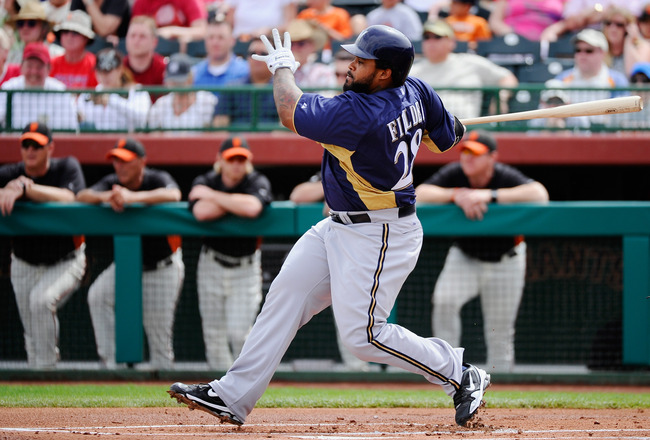 Kevork Djansezian/Getty Images
In auctions, Albert Pujols, Miguel Cabrera and Joey Votto are all going to cost you a pretty penny.
Pujols has averaged a price tag of $58.20 throughout the Yahoo! universe, while Cabrera and Votto have found themselves on either side of $50.
The following are a group of players who pack a solid and consistent power punch in the middle of their respective lineups: Adrian Gonzalez, Ryan Howard, Marx Teixeira and Prince Fielder.
Depending on the auction, these four go anywhere from the low $40 range, to as high as $50.
For the cost, you're paying for some of the few players in baseball who consistently generate 35-plus home runs, 100-plus runs and 110-plus RBI seasons. Batting average potential and slight counting stat variances account for their minute price differentials.
Solid production out of your first base slot is almost a necessity for winning a fantasy title.
Other than sacrificing batting average and taking Adam Dunn, going after a first baseman below the top seven is a risky proposition.
What follows is a breakdown of these so-called "second tier" first basemen.
Data courtesy of:
Ron Shandler's 2011 Baseball Forecaster
Yahoo Fantasy Draft Analysis
Fangraphs
5. Ryan Howard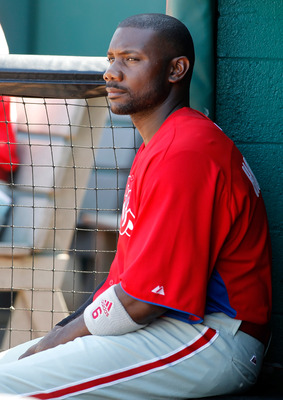 J. Meric/Getty Images
I have nothing personal against Ryan Howard. I'm merely just concerned with the current state of the Phillies lineup.
Jayson Werth, who departed for the riches of Washington in the offseason, was a nice sturdy bat to protect Howard in the lineup. That duty will likely fall to the punchless Placido Polanco this year.
Top prospect Domonic Brown, who was supposed to replace Werth in the outfield, broke his wrist during spring training.
Second baseman Chase Utley's knee is also a huge question mark.
Utley has been a fixture as the Phillies' best hitter for quite some time now, but he'll begin the year on the disabled list with no timetable for his return.
If he misses 40 games like last season, the Phillies should be fine. If he misses more time, runs could hard to come by.
Howard's 21-percent home run-to-fly ball rate in 2010 was a career low. The average for his career is 29.9 percent.
Time will tell if this is a warning sign of a slugger on the decline or merely an outlier that is likely to regress to the mean.
Regression should get Ryan Howard back in the 40 home run club. With no lineup protection, increases in walks and batting average are also likely.
But the days of 130-to-140-plus RBI are probably over.
You're investing in the power. Howard is now the rich man's Adam Dunn.
4. Prince Fielder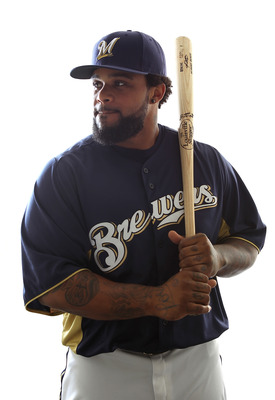 Jonathan Ferrey/Getty Images
Yes, Prince Fielder is an enormous athlete and he's almost certainly out of shape.
Yes, weight problems derailed Cecil Fielder's career, and young Prince looks twice as big as daddy dearest.
Yes, Prince's weight should probably be a concern for potential non-Brewers suitors and fantasy owners alike.
But, year in and year out, Prince Fielder is among the most productive hitters in baseball. For the past four seasons, his only rate that has fluctuated has been his home run-to-flyball percentage.
It's been at 24-percent twice, leading to seasons of 50 and 46 home runs respectively in 2007 and 2009.
When it was at 19 percent in 2008, Prince hit just 34 home runs. At 18 percent in 2010, he hit just 32.
The 2011 season is the last year of his contract. The Brewers likely don't have the money to re-sign him, so Prince is auditioning for the rest of the league.
Although Milwaukee is expected to contend, injuries to pitchers Zack Greinke and Shawn Marcum could pose a problem to their chances at the NL Central title.
If the Brewers falter, it has been said that Prince Fielder has the type of personality that may try to do too much.
Not everyone performs better when playing for a contract. Prince seems like a better player when he's loose, because he's so naturally gifted.
Pay for what he's already done (.275 AVG, 35 HR, 115 RBI).
3. Adrian Gonzalez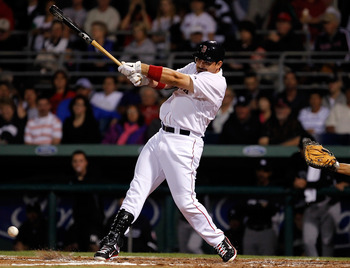 J. Meric/Getty Images
Adrian Gonzalez is going to be a fearsome fixture in the middle of the Red Sox lineup for the next few years.
Still just 28 years old, Gonzalez is entering the prime of his career and he is finally free from the shackles of Petco Park.
In 2009, Gonzalez slugged a career high 40 home runs and 28 of them came in road games.
Additionally, he will hit cleanup behind essentially three leadoff hitters (Jacoby Ellsbury, Dustin Pedroia and Carl Crawford) in what is perhaps baseball's most potent lineup.
But Adrian Gonzalez had minor surgery to his labrum this offseason and he hasn't played much this spring because he is still rehabbing
The fact that the Red Sox have yet to agree with him on an extension is one thing; the fact that it takes around a year to get back to 100 percent after even a simple surgery like this is another.
Gonzalez should be back around 85 percent by the middle of April. But he's going to have to work another few months to get the rest back.
Mix in the added risk of re-tearing a shoulder that isn't quite healthy, and Gonzalez is a much riskier pick that he initially appears.
Potentially a great buy-low candidate for the second half with next year as the jump up to Tier 1.
2. Joey Votto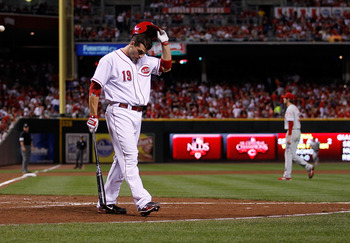 Jonathan Daniel/Getty Images
Wait, why is Joey Votto on this list again? I thought you said he was in the first tier?
Well, technically he is. At least according to every major fantasy baseball news source.
After all, Votto is the reigning Most Valuable Player of the National League. As a 26-year-old in only his third major league season, Votto hit .324 with 37 home runs, 106 runs and 113 RBI.
The power breakout is not entirely supported by advanced metrics, however.
Votto had a 25-percent home run-to-fly ball rate in 2010.
That number was at 18.5 percent in 2008 and 17.5 percent in 2009. It's doubtful that the outlier remains, so take away a few homers and subtract some batting average.
Votto also posted the highest ground-ball rate of his career, at 45.2 percent. This was up from 39 percent in 2009.
If that trend continues, home runs will continue to decrease and outs will continue to pile up.
Joey Votto is still a teriffic baseball player and a wonderful part of any fantasy roster. One notable trend in his favor is a two-percent increase in his yearly walk rate.
I'm just saying that for $50-plus, it's too much of a risk that Votto's 2011 season falls somewhere between his 2009 and 2010.
Temper your expectations against a half-step back of a .320 AVG with 30 homers and 100 RBI instead of another step forward.
1. Mark Teixeira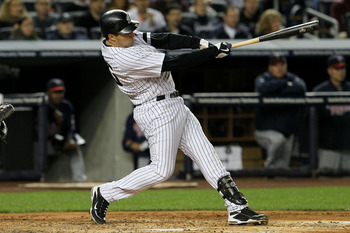 Jim McIsaac/Getty Images
This should be a bit of a surprise at the top as well.
Mark Teixeira did hit just .256 last year with 33 home runs, 113 runs and 118 RBI. The batting average killed his value, but it was harmed by just 26 percent of his batted balls landing safely in the first half.
Teixeira also saw fewer pitches inside the strike zone than at any other point in his career at just 42.2 percent.
Clearly he was pressing and trying to do too much. Once he calmed down in the second half, Big Tex rallied with a .271 average and 20 homers.
This was aided by a 49-percent fly ball rate which, if recorded over a whole season, would easily be the highest of his career.
Hitting coach Kevin Long appeared to change his slugger's approach in the second half.
Big Tex is finally launching the ball into the New York night sky and letting the short right-field porch at Yankee Stadium do its magic.
If he can finally keep this up over a full season, a .300 AVG, 42 homer and 130 RBI campaign is well within reach.
Teixeira wasn't far off in 2009.
Power hitters usually have their career year in their age 30 or 31 seasons. He's there right now.
Keep Reading