MLB: The Ultimate Lineup Card for the 2011 Season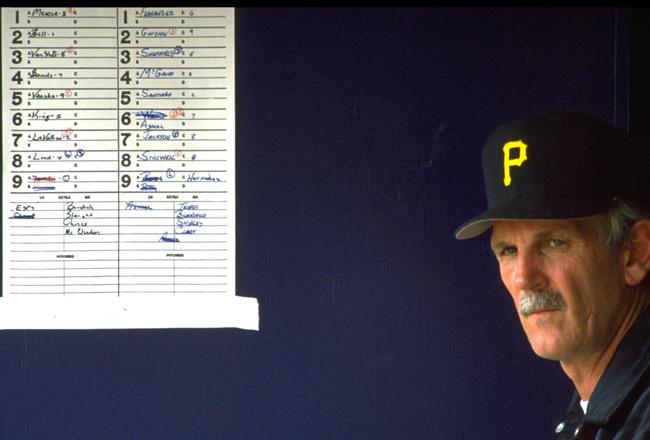 Jim Leyland and his lineup card in Pittsburgh.
Stephen Dunn/Getty Images
Forget which players are the best and which would be your fantasy players. The real question is what would be the best lineup you could make from all of the players in MLB? You are trying to make a team that can hit, run, play defense, and pitch. Which twelve guys would you want to win a ballgame: eight position players, a starting pitcher, a setup man, and a closer... Here is mine.
Batting First and Playing Left Field: Carl Crawford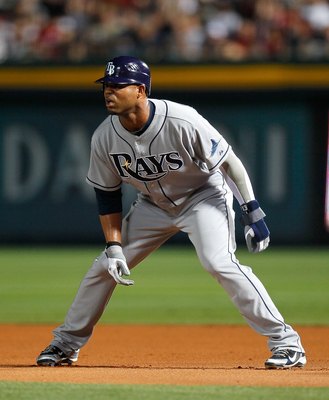 Our leadoff hitter: Carl Crawford
Kevin C. Cox/Getty Images
Carl Crawford will lead off for our team and play left field. I thought through many lead off hitters and left fielders but none combined the speed, power, and defense that I wanted in the position. Speed was the real deciding factor, though. Ryan Braun was a close second but the need to have that 50 stolen base potential made the choice obvious.
Batting Second and Playing Second Base: Robinson Cano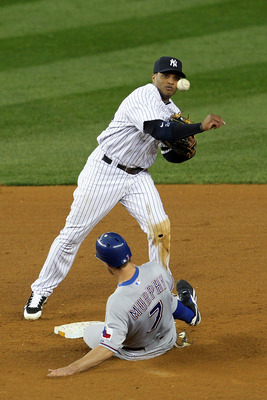 Playing Second Base and Batting Second: Robinson Cano
Nick Laham/Getty Images
Robinson Cano was the obvious choice here. No one really matches his production at the position and his defense is adequate. I think he slots as the perfect two hole hitter as a high average player with a little pop. This was an easy choice.
Batting Third and Playing First Base: Albert Pujols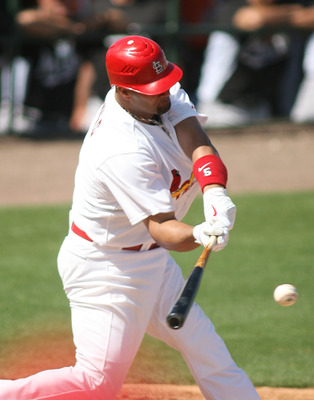 First Baseman Albert Pujols
Marc Serota/Getty Images
Who else? Offense, defense, and stolen bases when you need them - Albert is the whole package and it makes you wonder what the Cardinals were thinking when they didn't get a deal done this winter. They should have said, "Mr. Pujols, here are the keys to the vault, just open it up and take what you need..." A very deep position, but at this point there is really no one close to him.
Batting Fourthand Playing Third Base: Evan Longoria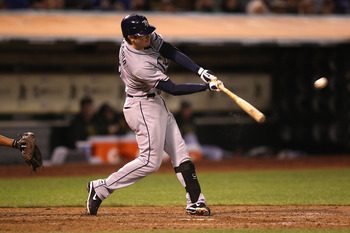 Third Baseman Evan Logoria
Jed Jacobsohn/Getty Images
One of the more competitive positions to fill, third base had three players that I considered as possible members of the team: Longoria, David Wright, and Ryan Zimmerman. They all hit the ball very well and were acceptable to excellent on defense. I just felt the combination of everything gave Longoria a slight edge over Zimmerman with Wright being third on the list. Zimmerman and Longoria are separated by the thinnest of margins.
Batting Fifth and Playing Shortstop: Troy Tulowitzki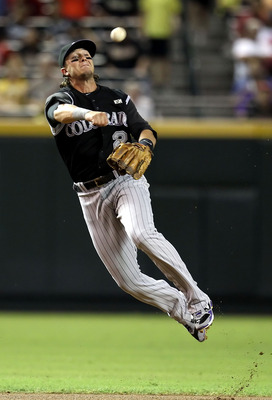 Shortstop Troy Tulowitzki
Christian Petersen/Getty Images
If you haven't heard of him before, you will soon. Troy Tulowitzki is the sweet fielding, power swinging shortstop for the Colorado Rockies and for this team he is the perfect fit. Hanley Ramirez is still viewed as the top shortstop in Major League Baseball right now, but I'd take Tulo over him any day. You lose the speed but gain in power and as our atypical number five hitter, power is what we are looking for.
Batting Sixth and Playing Centerfield: Carlos Gonzalez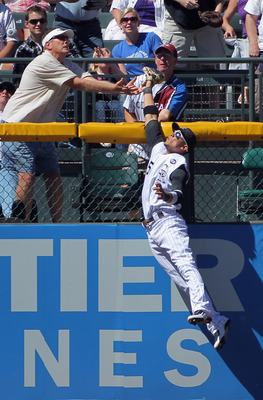 Batting Sixth: Carlos Gonzalez
Doug Pensinger/Getty Images
Offensively - a stud, no doubt and its just a tribute to the guys in front of him that he is batting sixth in this lineup. His defense seems to be a question mark as his defensive metrics aren't top notch but he did nab his first Gold Glove in 2010. The overall picture, though, puts him ahead of All-Stars Josh Hamilton and Matt Kemp.
Batting Seventh and Playing Right Field: Shin Soo Choo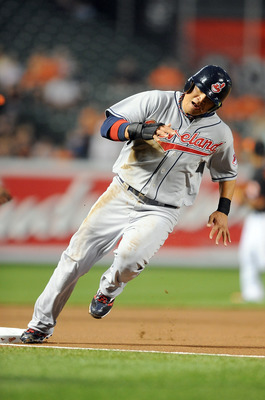 Right Fielder Shin Soo Choo
Greg Fiume/Getty Images
Choo dodged a bullet last season when his Korean National team won the Asian Games thereby giving him a waiver for the mandatory Korean military service. MLB and the Indians also dodged a bullet as he is one of the best young and upcoming players in the league. He is a five tool player who made the cut over Ichiro, Jayson Werth, and Nelson Cruz by displaying the best talent across the board. At this point, he is the league's best right fielder.
Batting Eighth and Catching: Buster Posey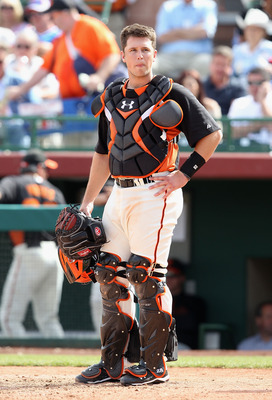 Catcher Buster Posey
Christian Petersen/Getty Images
Posey took the league by storm last year and helped lead the Giants to their first World Series in over fifty years. By lead, I mean lead. His catching skills and ability to handle the huge amount of young pitching talent in San Francisco was amazing and pushed him in front of such talents as Joe Mauer, Brian McCann, and Victor Martinez. He is a very talented big league catcher who hits like Will Clark and should be a mainstay in northern California and this lineup for a long time to come.
Batting Ninth and Pitching: Roy Halladay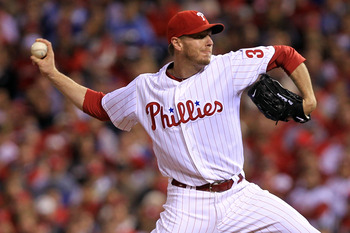 Pitcher Roy Halladay
Chris McGrath/Getty Images
It all ends and begins with Doc Halladay on the mound. Tim Lincecum and Cliff Lee were seriously considered, but only one other pitcher made me pause about this selection - Felix Hernandez. In the end, the number of walks per nine was the deciding factor. Hits per nine can fluctuate just on luck over the season but Hernandez walked more than twice as many batters as Halladay and that was too much to overcome for me... Roy Halladay gets the starting nod.
Setup Reliever: Rafael Soriano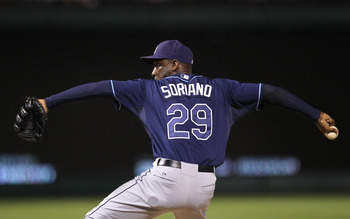 Relief Pitcher Rafael Soriano
Stephen Dunn/Getty Images
Soriano was one of the best closers in MLB last year for the Tampa Bay Rays. So why did he sign to be the setup man in New York? Easy - Rivera is getting older and he wants to replace him. He also can learn from the best reliever in MLB history and he may just want a World Series ring. Soriano is a runaway in this category with no one else even close... but keep an eye on Dodger reliever Kenley Jansen, a converted catcher who is blew away hitters at the end of last year.
Closer: Mariano Rivera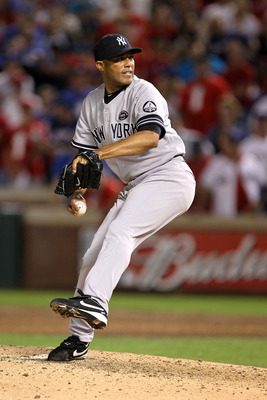 Closer Mariano Rivera
Stephen Dunn/Getty Images
This is as close as it has been in years, but I would still take Rivera in any one game situation. Brian Wilson showed that he can be dominating ( and weird... and creepy.. and kinda funny), but the number I looked at most was WHIP (approximately the number of baserunners per inning). Rivera averaged almost half a runner less per inning. That is a ton over the course of the season. I want pitchers that keep hitters off the bases. Rivera does that exceptionally well.
The Salary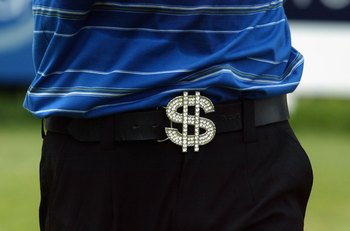 How expensive is the lineup?
Stanley Chou/Getty Images
How much will this lineup cost? Well we have some younger players, so it may not be as much as you think.
| | | | |
| --- | --- | --- | --- |
| 1 | Carl Crawford | RF | 14 mil |
| 2 | Robinson Cano | 2b | 10 mil |
| 3 | Albert Pujols | 1b | 16 mil |
| 4 | Evan Longoria | 3b | 2 mil |
| 5 | Troy Tulowitzki | SS | 5.5 mil |
| 6 | Carlos Gonzalez | CF | 1 mil |
| 7 | Shin Soo Choo | RF | 3.975 mil |
| 8 | Buster Posey | C | 0.575 mil |
| 9 | Roy Halladay | SP | 20 mil |
| | Rafael Soriano | MR | 10 mil |
| | Mariano Rivera | CL | 15 mil |
| | | | |
| | Total | | 92.65 mil |
Not exactly a lot, but remember that you have to field the other HALF of the team. You could do it adequately without topping the payrolls of Boston or New York, though.
What's your best lineup?
Keep Reading