MLB Spring Training 2011: Bold National League East Predictions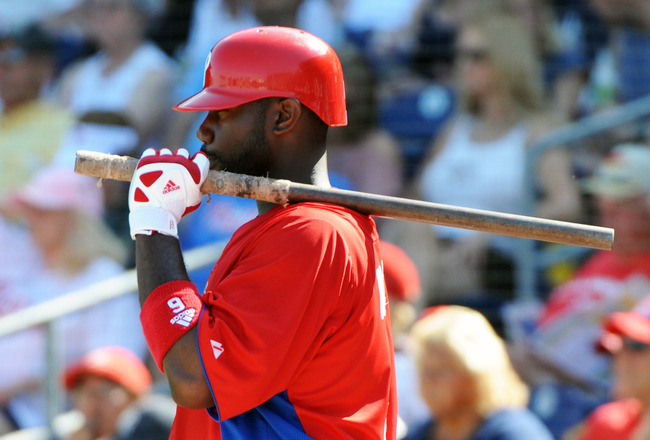 Al Messerschmidt/Getty Images
One of the youngest and deepest divisions in baseball, the NL East will have its share of drama and races throughout the season. Will the New York Mets finally get over the hump and have a good season? Do the young Florida Marlins or Atlanta Braves have the chance to take a run at the division crown? Are the Washington Nationals ready to take a big step forward?
These are all very interesting points, but one other question may be the most important of all: Do the Philadelphia Phillies have the division locked up before a game is even played?
Let's take a look.
Braves' Young Guns and Comeback Kids Make a Run at the NL Wild Card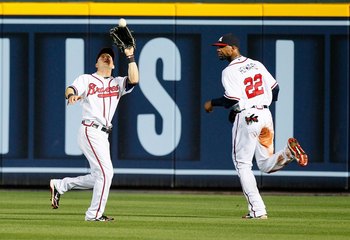 Kevin C. Cox/Getty Images
There are so many people who are overlooking the Braves in 2011. They did have a major loss and will be a different team without Bobby Cox at the helm, but this team still has a lot to be happy about going into the season.
The Braves have some young studs who will be asked to play a huge role in 2011. Freddie Freeman will be a fresh-out-of-the-farm starter, and the team will also look for big years from Jason Heyward and Mike Minor. Freeman is seen as a player who can be the "Chipper Jones of first base" for a long time in Atlanta, while Heyward and Minor will look to improve even more.
The Braves are also looking for comeback performances from some of their veterans, mainly Jones and Nate McClouth. At the age of 38, the injury bug caught up with Jones. He lost most of his 2010 campaign to knee problems and is looking for a farewell tour this season. He has the potential for a solid year and could help the Braves make the playoffs.
McClouth was dealing with some lingering injuries last year, but there is no other way to describe his play but terrible. Last spring training he was 6 for 51, and this led to a .190 batting average during the year and a trip to the minors. In his first spring training game this year he was 2 for 2, so let's hope he can continue that trend into this season. All these players will make a huge differences, and along with the new addition of Dan Uggla, the Braves will be neck-and-neck with the Milwaukee Brewers for the NL Wild Card.
The Injury Bug Will Hit. Hard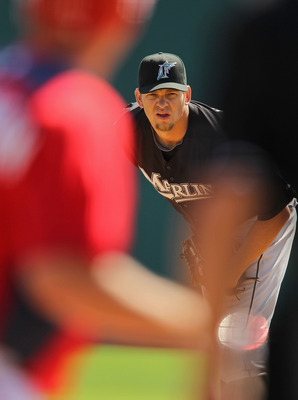 Mike Ehrmann/Getty Images
Call it a freak feeling if you want, but I think the 2011 season will be a very long one for fans and players on the Marlins. They have some of the best young talent in baseball with players like Hanley Ramirez, Mike Stanton, Gaby Sanchez and Josh Johnson. Sad to say, I just have a sense that some of these players will experience serious growing pains, and the other will be plagued with injury.
The two players who I think will be hit the hardest are Ramirez and Johnson.
Ramirez is one of the toughest players in the game, but he has an unorthodox throwing motion that worries me. I think that he will run into some arm trouble and it will bench him for some part of the season. The other player I see running into trouble is Johnson. He has had injury problems in the past, and I think that after a stellar year in 2010 injury will again catch up with him.
Because of these two injuries and the growing pains that come with a young team, the Marlins will look at this season as a chance to give their younger players more seasoning and then bounce back in 2012.
The Mets Give It One More Shot with Their Core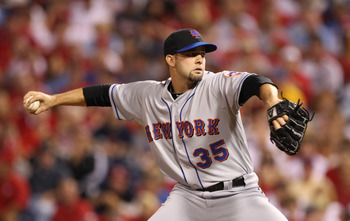 Hunter Martin/Getty Images
This year will be the last hurrah for the Mets team centered around Jose Reyes, Carlos Beltran and David Wright if they do not have a great year. In simpler terms, this will be the last year for a Mets team centered around Reyes, Beltran, and Wright.
The Mets will struggle this year. They have some young talent with Ike Davis and Dillon Gee, but their age and injury will catch up to them once again (not to mention the lack of funding they now have with the fallout from the Bernie Madoff fiasco).
The Mets do have some things to look forward to this year. They may have found a diamond in the rough with the signing of Chris Young. Although he has had some injury problems, he is still only 31 and, when healthy, has the stuff of a No. 1 starter. You can also look at R.A. Dickey as a wild card, who had a great season with 11 wins and an ERA of 2.84. If these players can have a solid season coupled with Gee and Johan Santana (who will return at some point during the season), the Mets can have a very undervalued pitching staff.
The lineup is not getting any younger and it has not gelled in the past, so there is no real evidence to say they will work well this year. For the Mets to get better, they need to cut their losses with Oliver Perez and Luis Castillo. They have been cancerous to the team and it is time for them to get replacements for both these players. Look for the Mets to start dismantling their team around Memorial Day, probably looking to move Reyes and Beltran for some young pieces.
The "Big Four" Starters Do Not Make it Through the Season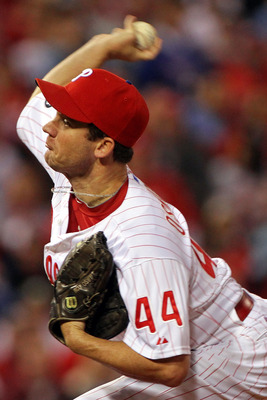 Doug Pensinger/Getty Images
The Phillies may have one of the best pitching staffs in the history of baseball, but they also have one of the most overrated offenses I have ever seen.
They have an aging Jimmy Rollins, who has not had a good season in the last four years. Couple that with the injury problems of Chase Utley, Placido Polanco, Ryan Howard, Raul Ibanez,and Shane Victorino, all who have seen the best part of their careers come and go. This offense is very highly touted, but it is all based on past laurels, and the team will show its age this year on the offensive side of the ball.
So how does this concern the dominant pitching staff the Phils have? They may be able to have pitchers who will only let up 2-3 runs per game, but if the offense cannot score then it is all for nothing. With the problems the Phillies offense will have, I look for one of their pitchers, most likely Roy Oswalt, to be dealt for another offensive piece.
This may be one of the best pitching staffs to ever grace major league baseball, but because of the holes in the retirement home-worthy offense, it will be dismantled for a big bat in the early summer.
Jayson Werth Wasn't Worth It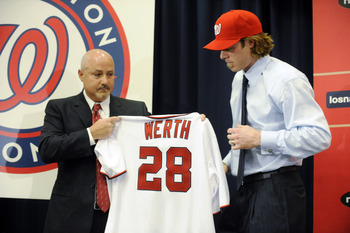 Mitchell Layton/Getty Images
The Nationals gave Jayson Werth a seven-year deal worth $126 million, which comes out to roughly $18 million a year. All I have to say is wow.
This team is paying Werth the contract of a superstar for a player who is only just above average. He reaped the benefits of playing with the Phillies' lineup when they were in their prime and got a lot of RBI and scored a lot of runs simply because of the offense he played in.
Werth is a solid player, but he is not the corner piece of a team. He does improve the offense, and an offense with Werth, Adam LaRoche and Ryan Zimmerman in the middle is nothing to laugh at. Put speedsters like Ian Desmond and Nyjer Morgan at the top of the lineup, and they have a top five that can compete in the National League. Even though they can compete, they really overpaid for Werth and lost a lot of their investment opportunities in younger players or other players they can build the team around with the $18 million a year they are giving up.
The money they gave to Werth would have been much better spent on some quality starting pitching. When your opening day starter is Livan Hernandez, your team needs help in the starting rotation. They will have Stephen Strasburg back next year, and when you put him with Jordan Zimmerman they have a great one two punch, but after those two there is a big drop off.
Hopefully Luis Atilano can develop further, and maybe they can pick up some more starters and groom then into quality pitchers for the future. With all this said and done, the Nats are more looking forward to the return of Strasburg than they are to any games this year. They will use this season to gain experience and retool for the return of their best player in 2012.
Keep Reading