St. Louis Cardinals: 5 Steps the Team Must Take in Order To Re-Sign Albert Pujols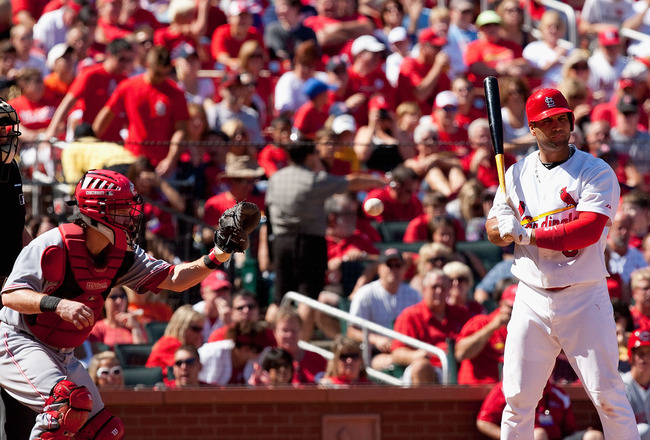 Dilip Vishwanat/Getty Images
I gotta' say…it must SUCK to be a Cardinals fan right now.
After dominating for the last decade (seven playoff appearances in 10 years), the Cards started the '10s out with a thud. And, while losing never feels good, St. Louis' pain was heightened by being ousted by the Cincinnati Reds, a bitter rival.
Still, heading into the 2010 offseason, there was hope in St. Louis. National pundits were quick to write the Reds' success off as a fluke, and Cardinals fans took comfort in the belief that a top-heavy roster led by Albert Pujols would bring them quickly back to the top of the mountain.
Then began the Pujols circus, a four-month negotiation disaster that got the Cardinals no closer to signing their star to a new deal (Pujols now enters the last year of his contract). As of February 23, the Pujols camp put a moratorium on contract negotiations, as the future Hall of Famer was intent upon focusing on his Spring Training preparations.
Finally, as if angst levels weren't already at a record high in St. Louis, it was announced Friday that club ace Adam Wainwright would be shelved for the season due to injury (perhaps you heard). Wainwright will undergo Tommy John Surgery, a procedure that takes more than a year to come back from.
Indeed, these days St. Louis is a miserable place to be, and no amount of Budweiser will change that. If baseball in St. Louis was ever in need of a savior, it is now.
Now, more than ever, heads turn back to Pujols. Not only is Pujols' 2011 performance now more important than ever (though, unless he can pitch, he won't come close to replacing the value of Wainwright), but the Cardinals organization must really be feeling the heat to get something done to keep their stud in town for the long haul.
Last week, I identified 10 things that needed to happen if the Cardinals were to trade Pujols. Now, I will outline the five things the Cardinals could (and should) do, if they are serious about re-signing their star.
1. Re-Sign Carpenter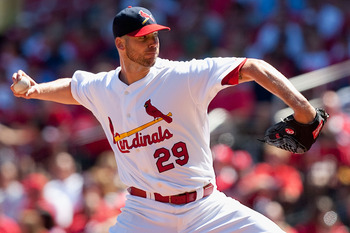 Dilip Vishwanat/Getty Images
With the injury to Wainwright, this becomes a must.
St. Louis was dealt a devastating blow when Wainwright went under the knife. Suddenly, one of the best starting rotations in baseball had lost their leader. Without Wainwright, St. Louis is left flailing to find a top-of-the-rotation starter.
Carpenter is signed through 2011, and St. Louis has a 2012 option which would pay him $15 million. St. Louis shouldn't even wait to exercise the option. In order to stabilize an organization on the precipice of disaster, it's paramount that the Cardinals brass extend Carpenter.
Also, if Pujols is going to sign a long term deal with his current club, it won't be all about the cash—he also wants to win. So, a Carpenter extension would give the Cards an ace for the foreseeable future and, hopefully, instill some confidence in their slugger that winning is still at the forefront.
2. Pay the Man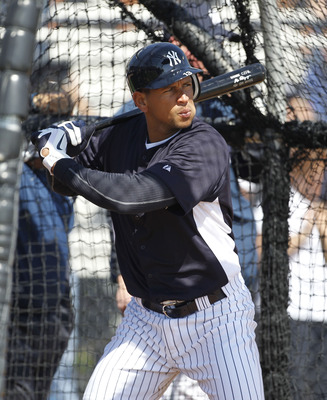 Leon Halip/Getty Images
Pujols wants "A-Rod money".
What does that mean? Basically, it means a truckload of cash each year for the next ten, a sign that the Cardinals execs view him as the best at his position, if not the best in the game.
By all rights, this isn't an unreasonable demand. Pujols is the best player in the game. Everyone agrees. So, it's not outlandish that the man get PAID.
However, the Cardinals aren't the Yankees (A-Rods' current employer), and they aren't one to toss nine-figure deals around like they're lunch money. In the case of Pujols, though, they need to make an exception.
Just as valuable as his 30 home runs, 100 runs batted in and .300 batting average in each of his 10 seasons, is Pujols' hold on the city of St. Louis. Pujols is a God in that town—a guy who inspires a unique brand of hope just by being in the lineup every night.
Pujols' request for a 10-year, $300 million dollar deal is as much about pride as anything else. He loves St. Louis, would die to stay, but doesn't want to be taken advantage of.
For the Cardinals, it's worth it to meet Albert closer to halfway. Instead of insulting him by tossing out lame-duck deals that would pay $20 million a year, St. Louis General Manager Tom Mozeliak needs to up the ante.
If it's $30 million Albert is asking for, give it to him, but don't guarantee the last two years. Give him eight years as one of the highest paid players in the game, and add a club option on the ninth and 10th years. If Albert's camp truly believes he will be dominating pitchers when he's 40 (as they claim), they won't have any problem pulling that trigger.
This way, Pujols gets paid (in cash and respect), St. Louis has an out, and everyone goes home happy. Bud Lights all around.
3. Get Creative with Holliday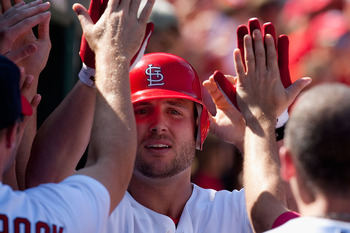 Dilip Vishwanat/Getty Images
Even if St. Louis convinces Pujols to accept eight guaranteed years instead of ten, they'll still need to tighten up the old purse-strings, going forward. When you go from paying a player $16 million one year to almost double that the next, some corner-cutting comes with the territory.
The first order of business should be re-structuring the Matt Holliday contract.
Holliday is owed a whopping $17 million over the next six seasons (including 2011), and the club can pay another $17 million to sign him for a seventh. As has become a popular move of late, Mozeliak needs to get creative with what his left fielder is owed.
Even if he were to defer a couple million per year for the 10 years following Holliday's deal, Mozeliak could go a long way in not only affording Pujols, but also putting enough talent around his two big boppers to be competitive.
4. Trim the Fat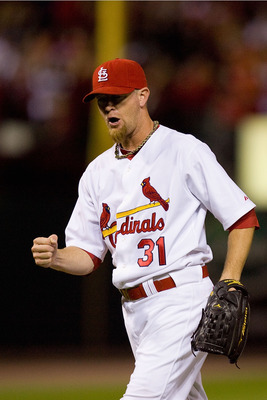 Dilip Vishwanat/Getty Images
Speaking of affording Pujols, the Cardinals won't have a chance if they can't make some room in the payroll.
Luckily, this should be easy.
In order to keep Pujols in a Cards uniform, St. Louis must part ways with a few guys who are sucking hard on the Cardinals' 2011 payroll…
Lance Berkman – Perhaps Berkman was signed as insurance, in case the Cards dealt Pujols. Or, maybe he ACTUALLY was signed to play left field, as is the story from the St. Louis front office. Either way, Berkman will make $8 million in '11, and that chunk of cash should come off the books after the season. Jon Jay and/or newcomer Allen Craig could fill the Berkman void easily and inexpensively.
Ryan Franklin – Franklin, 37, will make over $3 million in 2011, and the Cardinals should let that be the end of his St. Louis tenure. While serving as a reliable closer for several years, Franklin has been streaky of late and could easily be replaced with one of the Cards' younger arms, such as right-hander Jason Motte. Motte, 28, went 4-2 with a 2.28 ERA in 2010, while posting a bullpen-leading 9.3 K's per nine innings.
Ryan Theriot – Another stopgap player for 2011 (hired to replace Chris Carpenter's sacrificial lamb, I mean Brendan Ryan), Theriot should be a one-and-done in St. Louis. At $3.3 million, Theriot is making way too much for the production he will likely provide. Cardinals manager Tony La Russa is great at surrounding superstars with schmoes and making it work, so replacing Theriot with an eager farmhand shouldn't rock the boat.
5. Join the Big Dogs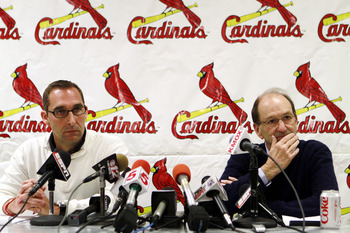 Marc Serota/Getty Images
Even if St. Louis cuts ties with Berkman, Franklin and Theriot (and potentially Skip Schumaker as well), paying Pujols what he wants (and deserves) won't be easy. In fact, no matter how many chumps you drop (and St. Louis has a lot of chumps), it's difficult to devote a third of your payroll to one guy and still keep your head above water (the Cardinals' 2010 payroll was about $93 mil).
It's time that St. Louis joins some of the high-falootin' fat-cats in the upper echelon of MLB payrolls. They'll never pay out what the large market teams like the Yankees and Red Sox do (I'm pretty sure the Yankees paid George Costanza six figures to be assistant to the traveling secretary), but the Cardinals were fourth in attendance in 2010, averaging 40,755 paying customers per game.
More fans in the seats means more revenue, and as long as the Cardinals keep winning, Busch stadium will stay packed to the gills. Signing Pujols undoubtedly means more wins, which equates to more fan interest, which comes with the promise of ticket sales that were equal or even greater than 2010.
The Cardinals should look at a hike in payroll as an investment. Adding $20-30 million to their ledger is a bold proposition, to be sure, but if it means enticing Pujols to stay by giving him the money he deserves and adequate talent around him to keep the team in contention.
Wouldn't it pay off in the long run?
Paying Pujols his due might well be the hardest thing the St. Louis organization has ever had to do. However, the economic ramifications of letting him get away could be even worse.
It's time to raise the stakes and hope for the best.
Keep Reading

St Louis Cardinals: Like this team?