Oakland Raiders: Al Davis Wants the Team To Get Better in 2011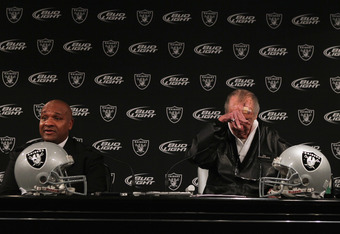 Justin Sullivan/Getty Images
Review for Retention and Revitalization of the Oakland Raiders
Al Davis made a presentation at the Pro Football Hall of Fame in Canton, Ohio in 2006. The win-loss record for the Oakland Raiders in that same year was four wins and 12 losses.
How do you think Davis feels now, having been given one of the highest honors in professional football (he was enshrined in 1992), yet his team had the worst win-loss record in a seven-year period? We look back, using hindsight.
We look at the present and we are grateful for the 8-8 record, but we expect more in 2011.
Here is the data to remind you "how stuck on low achievement" this may have seemed to a lot of people:
Year Wins Losses
2010 8 8
2009 5 11
2008 5 11
2007 4 12
2006 2 14
2005 4 12
2004 5 11
2003 4 12
I know of a professional educator who received all types of accolades in 1984. He was placed in a high school where the students did not seem to care much about pursuing excellence. He told the students, "A teacher is only as great as his students. If you are failing, then I am failing."
The need to improve
This example points out the need for the Oakland Raiders to improve. They have got to do better in order to regain the integrity of the franchise. As there should be a correlation between an outstanding educator and outstanding students, there also ought to be a strong connection between good coaching and good performance on the playing field.
There should be a very strong correlation between a good coach and a good team. If the Oakland Raiders are stuck on a win-loss record that cannot rise above five wins per season, then, as a joke, we could say, "It seems the team is stuck on low achievement."
That is not acceptable. Here are the facts.
From 2003 to present, the Oakland Raiders have a bimodal distribution in the win-loss category. There were three seasons with 5-11 in the win-loss category. There were three seasons with 4-12 in that same category.
Well, in a few more days, some choices will be made. If nothing more, we anticipate more than five wins per season. The pattern that keeps the Oakland Raiders stuck between only four or five wins per season had to stop in 2010, and it did. We just want the team to do even better.
We want to win in 2011! The Oakland Raiders must make a recommitment to excellence.
What is the message in this bimodal mess the Raiders have been wallowing in for seven years?
It is the message folks learn from the story about the donkey who fell in a well. The donkey was so deep down in the well that the owner decided to bury him down there.
The owner kept dumping dirt or dung on the donkey. The donkey would shake it off and stand on the dung. Finally, so much dung was beneath the donkey that he stood tall enough to get out of the well.
Well, let's get out of this well 'cause a whole lot of dung has been dumped on the Oakland Raiders and the Raider Nation.
And, we are ready to get out of this dung. A winning percentage ranging from 12.5 percent to, at most, 31.25 percent is not acceptable. The efficiency level (or winning percentage) should shift up to near 70 percent or 11 wins in 2011.
What is the message in the bimodal mess? Get fired up and prepare to pass the test. Get more victories!
Go Raiders!
This article is
What is the duplicate article?
Why is this article offensive?
Where is this article plagiarized from?
Why is this article poorly edited?

Oakland Raiders: Like this team?