MLB Power Rankings: The Top Positional Players Heading into the Regular Season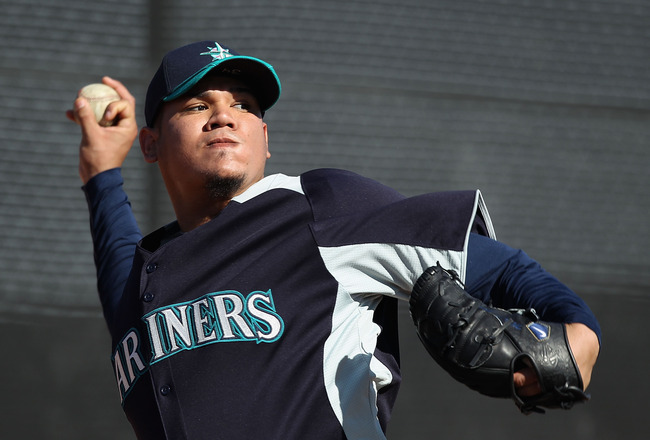 Christian Petersen/Getty Images
As spring training 2011 begins on a positive note, the expectations of many statistically dominating players only begin to skyrocket.
We've grown fortunate enough to witness breathtaking performances from some of the most imposing individuals the game has to offer; and this season looks to be no different.
Consequently, baseball fans across the nation are anticipating yet another memorable season from the game's biggest of stars.
But can pitching prevail for another full season, as it did in 2010?
Let's take a look at the top five players at each position prior to the regular season.
Catchers
J. Meric/Getty Images
1. Joe Mauer: .327 BA, 9 HR, 75 RBI
As with almost every season, Minnesota's diamond in the rough, Joe Mauer, sets the standard for how well professional catchers must perform. However his 2010 season was of no match to his 2009 season in which he led the AL in BA (.365).
2. Buster Posey: .305 BA, 18 HR, 67 RBI
Bursting onto the scene in the middle of last season proved vital to San Fransisco's World Series run, and a full season in 2011 will do wonders for the Giants. With hard work and dedication, Posey will eventually become the best catcher in the league in just a few short seasons.
3. Victor Martinez: .302 BA, 20 HR, 79 RBI
Last season, Martinez led all AL catcher in RBI and OPS (.844) while playing with a struggling Boston lineup. Trading spaces to Detroit will prove to be a challenge in getting used to the Tigers' starting rotation, however his offensive production will remain unaffected.
4. Carlos Ruiz: .302 BA, 8 HR, 53 RBI
Surprisingly enough, Ruiz led all NL catchers in OBP (.400) last season with a loaded Philadelphia lineup. This season should be no different, so expect Ruiz to put up his traditionally solid numbers in 2011.
5. Brian McCann: .269 BA, 21 HR, 77 RBI
Atlanta's signal-caller saw his batting average drop significantly last season to a career-low .269, as well as his run production. A slow start doesn't seem likely for McCann in 2011, so look for a rejuvenated McCann in spring training and the beginning of the regular season.
First Basemen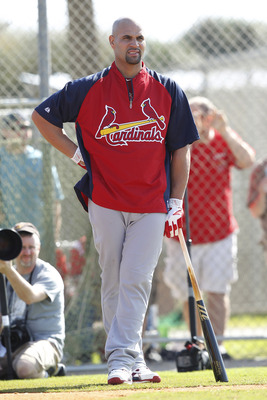 Joel Auerbach/Getty Images
1. Albert Pujols: .312 BA, 42 HR, 118 RBI
The Cardinals' silver slugger had himself a down 2010 season, to his standards at least, and now looks to add to what could be his last season in a St. Louis uniform. Nevertheless, Pujols will be back and better than ever this season, and it's nearly impossible to rank anyone above him.
2. Miguel Cabrera: .328 BA, 38 HR, 126 RBI
Leading all first basemen in RBI, HR and BA in the American League qualifies Cabrera as one of the most dominating overall positional players in the league. When the regular season starts up, look for Cabrera to start early with a great opening month.
3. Joey Votto: .324 BA, 37 HR, 113 RBI
Jump-starting the Reds' postseason appearance and NL Central divisional crown last season places Votto at or near the top of any offensive category, not to mention his MVP status amongst his fellow first basemen.
4. Adrian Gonzalez: .298 BA, 31 HR, 101 RBI
Now residing in Boston, Gonzalez will instantly become one of the focal points to the AL's most talented lineups, and should be evident that his role within the Red Sox clubhouse is second to none.
5. Ryan Howard: .276 BA, 31 HR, 108 RBI`
By all means necessary, Howard should be primed and ready as ever for a monster 2011 season. And though he traditionally commences with a slow start, look for the Phillies first baseman to have a career season in 2011.
Second Basemen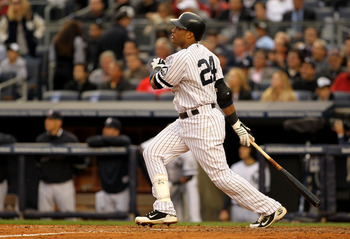 Al Bello/Getty Images
1. Robinson Cano: .319 BA, 29 HR, 109 RBI
We all knew how talented Cano was before the beginning of the 2010 season, however what he managed to accomplish over the course of 162 regular-season games was second to none among his fellow second basemen in the American League. He may decline this season, but his overall stock is currently at an all-time high.
2. Dan Uggla: .287 BA, 33 HR, 105 RBI
Uggla's statistics have been as solid and consistent as any infielder in the game since entering the league in 2006. However, last season he managed to attain a career-high in BA (.287) and OPS (.877). Look for Atlanta's new second baseman to supply valuable run support to a pitching staff in desperate need.
3. Rickie Weeks: .269 BA, 29 HR, 83 RBI
A once promising career in the making, Milwaukee's second baseman, Weeks, proved many of his doubters wrong last season in nearly attaining a 30 home run season. In 2011, he'll help Milwaukee on their way to an NL Central title.
4. Juan Uribe: .248 BA, 24 HR, 84 RBI
After questions swirling around his durability and how much more quality offensive production he could administer to the Giants prior to last season, Uribe had himself one of the most impressive performances of any second baseman in the National League. He'll do the same for the Dodgers this season.
5. Brandon Phillips: .275 BA, 18 HR, 59 RBI
Although the Reds did in fact manage to wrap up the NL Central with relative ease, they did it without major contributions from their superstar in the making second baseman Phillips. Heading into 2011 with full health, Phillips will make a significant impact on how much the Reds are able to accomplish this season.
Third Basemen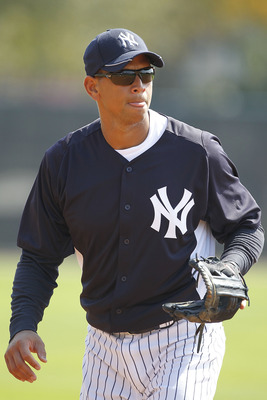 Leon Halip/Getty Images
1. Alex Rodriguez: .270 BA, 30 HR, 125 RBI
By no means was 2010 a stellar showing from the Yankees' third baseman. Yet somehow he managed to lead all third basemen in home runs and runs batted in—placing him atop the list of the best offensive third basemen in the American League.
2. Evan Longoria: .294 BA, 22 HR, 104 RBI
Tampa Bay's diamond in the rough put up the numbers expected in 2010, and this season could either be the same, or less. Without Carl Crawford and Carlos Pena, Longoria will be limited much more than in previous seasons—which will severely hurt his offensive production.
3. Casey McGehee: .285 BA, 23 HR, 104 RBI
Most of America has yet to discover his talents, however Milwaukee's pivotal prospect, McGehee, successfully took the Brewers' offensive production by storm last season; leading the Brew Crew in RBI (104) over the likes of Ryan Braun and Prince Fielder. Impressed yet? Just wait until this season.
4. Adrian Beltre: .321 BA, 28 HR, 102 RBI
Boston's under-the-radar third baseman of the past few seasons put on quite the show last season, most notably leading all third basemen in BA (.321), SLG (.553) and OPS (.919). However he will more than likely get off to a slow start due to reports of a right calf injury that could keep Beltre out until early April.
5. Ryan Zimmerman: .307 BA, 25 HR, 85 RBI
Washington's under-appreciated third baseman gets the nod over the likes of David Wright and Michael Young simply because of his unyielding offensive production. And with the addition of Jayson Werth to the Nationals' lineup, Zimmerman will be gifted much more hittable pitches on a day-to-day basis.
Shortstop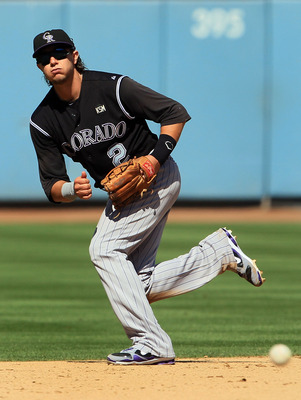 Jeff Gross/Getty Images
1. Troy Tulowitzki: .315 BA, 27 HR, 95 RBI
Finishing his 2010 campaign in remarkable fashion, Colorado's franchise icon will look to yet again carry the Rockies into the postseason with the bat, as well as the glove. Nevertheless, Tulowitzki's unequaled statistics are enough to place him atop our preseason power rankings.
2. Hanley Ramirez: .300 BA, 21 HR, 76 RBI
A down season by his standards, 2010 wasn't exactly what Ramirez and the Marlins had previously projected. However, this season will become crucial for Ramirez's status with Florida.
3. Miguel Tejada: .269 BA, 15 HR, 71 RBI
With the Padres last season, Tejada executed enough to put San Diego in a legitimate position to make the postseason. But with the Giants this season, will he continue to produce despite his progressive aging? All signs are pointing to yes.
4. Alex Gonzalez: .250 BA, 23 HR, 88 RBI
Playing with both the Blue Jays and the Braves in 2010, Gonzalez furnished one of the most surprising offensive seasons in recent memory, and played a valuable role in Atlanta's return to the postseason. As for this season? Probably won't live up to 2010; but expect solid numbers nonetheless.
5. Derek Jeter: .270 BA, 10 HR, 67 RBI
Since signing his new three-year, $51 million dollar contract in December, Jeter has voiced his opinion regarding his significant decline from 2010; stating that he is just as motivated and focused as he's ever been. We'll get a chance to see that in spring training—expect a solid year from Jeter.
Right Field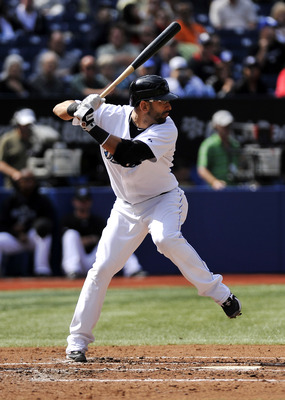 Brad White/Getty Images
1. Jose Bautista: .260 BA, 54 HR, 124 RBI
Just a few months removed from absolutely obliterating AL East pitching a season ago, Bautista will look to replicate his 2010 season as much as humanly possible. And although it doesn't seem likely, we can never truly predict whether or not he can do it. Either way, Bautista will again be the focal point of the Blue Jays' offensive attack, and will put up monster numbers once again.
2. Corey Hart: .283 BA, 31 HR, 102 RBI
One of the many role-players within the Brewers offense, Hart had himself a career season in 2010; and if not for lingering injuries, he could've furnished even more impressive numbers last season. Milwaukee's right fielder will have a lasting impact on how far the Brewers reach in the postseason.
3. Andre Ethier: .292 BA, 23 HR, 82 RBI
Getting out to a fast start in 2010 proved to be almost too fast for the Dodgers right-fielder. Nevertheless, expect Ethier to yield impressive numbers this season.
4. Justin Upton: .273 BA, 17 HR, 69 RBI
Although most will disagree, Arizona's stud outfielder is poised for a career season in 2011.
5. Shin-Soo Choo: .300 BA, 22 HR, 90 RBI
Choo has proved to be the only consistently productive outfielder the Indians have maintained over the past few seasons; and with Grady Sizemore likely out for the beginning of the regular season, Choo's importance is at an all-time high. His numbers are as solid as you could ask for, and is certainly one of the top outfielders in the game today.
Center Field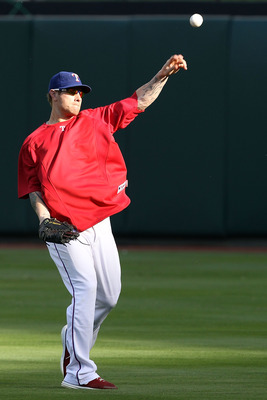 Christian Petersen/Getty Images
1. Josh Hamilton: .359 BA, 32 HR, 100 RBI
The most offensively dominating force in the game today, Hamilton will continue to produce day in and day out for the Texas Rangers. If injuries can be successfully sustained for an entire season, Hamilton will again top the league's statistical categories. Not to mention his great presence in the outfield, Hamilton is as complete a package as there is to offer in all of baseball.
2. Andres Torres: .268 BA, 16 HR, 63 RBI, 26 SB
Mostly an unheard of player coming into 2010, Torres opportunely took the Giants' center field vacancy by storm, and gained national exposure in San Fransisco's World Series appearance. This season as the starting center fielder and leadoff hitter, Torres looks to continue his success against National League pitching. Expect him to do just that.
3. Colby Rasmus: .276 BA, 23 HR, 66 RBI
One of the most sought after prospects in the game today, Rasmus now officially resides in the St. Louis center field. Rasmus led all National League center fielders in OPS (.859) in just his second professional season.
4. Vernon Wells: .273 BA, 31 HR, 88 RBI
With the Blue Jays last season, Wells revamped his offensive production and took off at the beginning of the season and never looked back. Wells should fit in strong with the Angels' offensive attack this season.
5. Andrew McCutchen: .286 BA, 16 HR, 56 RBI
The only respectable part of baseball in Pittsburgh, McCutchen played solid baseball both offensively and defensively last season. Expect the same numbers in 2011.
Left Field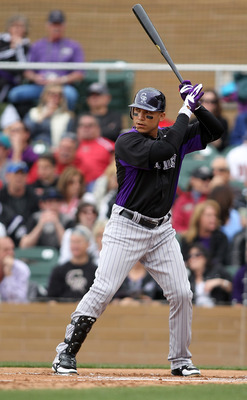 Jonathan Ferrey/Getty Images
1. Carlos Gonzalez: .336 BA, 34 HR, 117 RBI
At the forefront of the league's most promising young players, Gonzalez challenged for the NL Triple Crown in 2010 with the likes of Joey Votto and Albert Pujols—in just his first true season in the league. This season, he will play the most important role within Colorado's offense. Expect extraordinary things out of Gonzalez in 2011.
2. Ryan Braun: .304 BA, 25 HR, 103 RBI
Milwaukee's pride and joy, Braun managed a disappointing season with the Brewers in 2010, by his expectations. The 2007 NL Rookie of the Year and three-time NL Silver Slugger award winner will be attempting to catapult a revamped Brewers ballclub to the promise land alongside Prince Fielder.
3. Carl Crawford: .307 BA, 19 HR, 109 RBI
Trading spaces from Tampa Bay to Boston will be a fascinating, worthwhile experience for the entire American League this season, as the balance of power in baseball's best division looks to shift towards the Red Sox. Nevertheless, Crawford will be the offensive and defensive stud we've all grown so accustomed to over the past few seasons.
4. Matt Holliday: .312 BA, 28 HR, 103 RBI
Although the Albert Pujols drama progresses forward through the season, Holliday will still put up his usual numbers with the Cardinals. Last season, he was as successful as any outfielder in the National League, and he should not disappoint in 2011.
5. Delmon Young: .298 BA, 21 HR, 112 RBI
Minnesota's under-the-radar left fielder led all left fielders in RBI (112) last season sans Justin Morneau in the lineup. This season, Young looks to replicate his 2010 season with the upbeat Twins.
Closers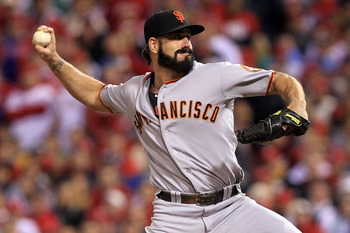 Chris McGrath/Getty Images
1. Brian Wilson: 48 SV, 93 SO, 1.81 ERA
Recording the final out of San Fransisco's World Series-clinching victory last season officially stamped Wilson's status as the most effective closer in the league. This season, the Giants maintain nearly the same starting rotation and offensive lineup, which can only mean Wilson is due to duplicate his 2010 season.
2. Heath Bell: 47 SV, 86 SO, 1.93 ERA
As with Wilson, Bell effectively imposed his will upon opposing batters last season, while being second to only Wilson in saves (47) and ERA (1.93) in the national league. For the Padres' young, prosperous group of starting pitchers to succeed, Bell will need to continue his dominance on the mound late in games.
3. Rafael Soriano: 45 SV, 57 SO, 1.73 ERA
Soriano's status among fellow closers as one of the game's most automatic arms now takes to a whole new level since being acquired from the New York Yankees. And with Mariano Rivera showing visible signs of aging, Soriano will soon be New York's premier bullpen arm.
4. Joakim Soria: 43 SV, 71 SO, 1.78 ERA
Unrecognized and under-appreciated, Soria's talents have gone unnoticed for much too long due to the lack of exposure in Kansas City. This season, like a majority of his others, will be just as solid as the rest of the closers in the game.
5. Neftali Feliz: 40 SV, 71 SO, 2.73 ERA
First recognized in 2009 for a deadly fastball and unyielding ERA, Feliz also played a colossal role within Texas' World Series run last season. He's got all the tools to become a dominating closer in this league. Now he must be able to grow in the Rangers' system.
Starting Pitchers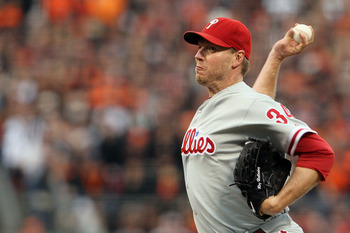 Justin Sullivan/Getty Images
1. Roy Halladay: 21-10, 219 SO, 2.44 ERA
In his first season with the Phillies, Halladay managed to attain a Cy Young award, win over 20 games, throw a no-hitter in his first career postseason appearance and set a career-high in strikeouts (219). This season, Halladay will become the headline to the best starting rotation on paper since Atlanta's rotation of the early 1990s. Big things are in store for Halladay in 2011.
2. Felix Hernandez: 13-12, 232 SO, 2.27 ERA
Seattle's gem of a pitcher was finally given the respect (and hardware) he's deserved for so long last season, maintaining the lowest ERA and the second-most strikeouts in the major leagues. Although the Mariners aren't going to make much progress this season, Hernandez will continue to dominate on the mound.
3. David Price: 19-6, 188 SO, 2.72 ERA
To be plain, the success of Tampa Bay's starting rotation will be contingent upon Price's ability to throw consistent enough from start to start. Last season was his breakout year, and this season will be vital to the Rays' postseason hopes and dreams.
4. Ubaldo Jimenez: 19-8, 214 SO, 2.88 ERA
Leading the way for most National League pitchers for the majority of the 2010 season, Jimenez continues to make strides in his development and should be considered one of the top five pitcher in all of the major leagues. If he can continue his nearly 3:1 strikeout-to-walk ratio in 2011, he'll contend for the Cy Young award.
5. Josh Johnson: 11-6, 186 SO, 2.30 ERA
Mostly an honorable mention, Johnson didn't have his usually commanding stuff in 2010; and with the lack of run support bestowed upon him, Johnson can never truly flourish with the Marlins. Nevertheless, his impeccable timing and accuracy are second to none in the majors, and he will continue to impose his will on opposing batters year in and year out.
More Resources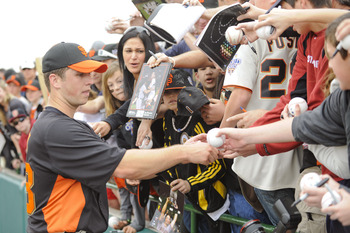 Rob Tringali/Getty Images
Keep Reading