2011 NFL Draft: Are A.J. Green and Michael Crabtree the Next Dynamic Duo?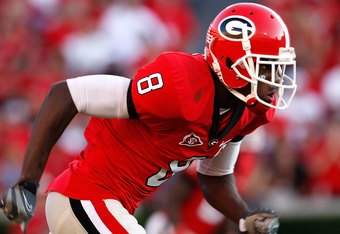 A.J. Green and Michael Crabtree a good match in San Francisco? You decide...
Kevin C. Cox/Getty Images
Leading up to the draft, speculation of team needs and desires run as wild as brush fire in Southern California when the Santa Ana winds are cranked up full blast. Year in and year out, teams go through the entire evaluation process of their current rosters and brainstorm how to get them better. This year is no exception for anyone.
As the game evolves each year, it seems as though the league is gearing more toward a high-octane, fully-fueled aerial assault, with a complementary side of run game; at least that seems to be the approach of the more successful teams.
The 49ers have struggled for close to a decade now. It's been very painful to watch for the Niners Faithful. Since 2002, the 49ers head honcho's have run through three general managers, four head coaches, and shuffled through offensive coordinator's more than a blackjack dealer shuffles through cards in Vegas. When a team doesn't have continuity in their front office, their coaches, and of course the players at important positions, it's impossible to win.
The 49ers, at least on paper, seem to have enough talent to be contenders. They may be a few pieces short still, but on paper, they were better than some of this past season's playoffs teams. Alex Smith may, yet again, be the starter heading in to the 2011 Season should there be one (Continue your prayers to the Football Gods that a new Collective Bargaining Agreement gets done).
Do you think think that A.J. Green and Michael Crabtree would be one of the leagues most dangerous tandems?
However, there is much question and debate as to whether he will ever be good enough to be an efficient quarterback in the National Football League. New Head Coach Jim Harbaugh has openly and repeatedly expressed that he feels like Alex can be a winning quarterback. Whether he is or isn't, the 49ers still have other voids to fill aside from that position. This isn't exactly "the year of the quarterback" in terms of the 2011 rookie class entering the league.
Outside of some help in the secondary on defense, and possibly the need for a stronger pass rush from the outside linebacker position, what are some other needs the average fan may ask? The top two candidates that the 49ers may be looking at very thoroughly for their number one draft pick could be the cornerback from LSU, Patrick Peterson, and the outside linebacker from Texas A&M, Von Miller. But... if those two players are gone when the Niners select at number seven, then what?
In 2009, with the tenth overall selection, the 49ers selected Michael Crabtree, who was the consensus number one wide receiver. When Al Davis decided to go with Darius Heyward-Bey, many folks thought that it was possible for Crabtree to slide. When he did, the pick was very easy to make consider the Niners current options at the position.
After the hold out in 2009, missing 2010 training camp, and the last couple years of mediocrity, a lot of fans are left with delicate bubbles of hope that the former Texas Tech wide receiver will pan out in to real gold opposed to fools gold.
In taking a brief look back, the history of teams that have had good to great success seem to have had dynamic tandems at the wide receiver position. Jerry Rice and John Taylor, Chris Carter and Randy Moss, James Lofton and Andre Reed, Marvin Harrison and Reggie Wayne, Isaac Bruce and Tory Holt... the list goes on and on.
But the point is this: the 49ers currently lack that extra piece. Yes, there is the Vernon Davis factor... but without that extra option at the wide out position, teams can scheme quite easily against the 49ers passing attack.
This all leads to the big question and grand finale. If Patrick Peterson and Von Miller are off the board and the consensus number one wide receiver (A.J. Green of Georgia) is sitting there at seven as the best player available, do the 49ers trade back in the draft if an offer is presented?
Do they pull the trigger on Green? Is there a nice enough ring to Crabtree and Green? And could they be the next Dynamic Duo? Time will obviously tell, but it's definitely something worth considering.
This article is
What is the duplicate article?
Why is this article offensive?
Where is this article plagiarized from?
Why is this article poorly edited?

San Francisco 49ers: Like this team?