MLB Predictions: Why Zack Greinke Will Win the 2011 NL Cy Young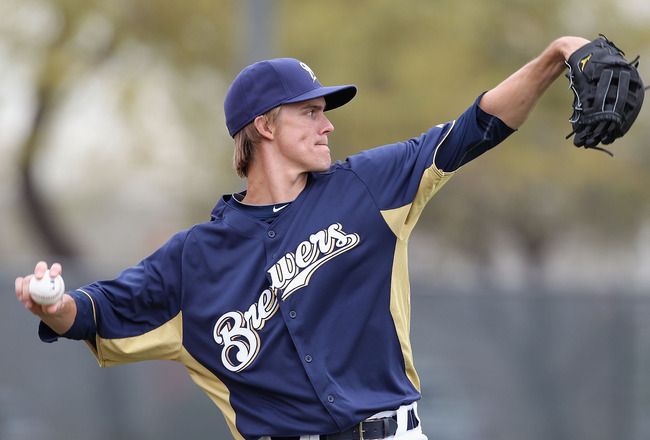 Christian Petersen/Getty Images
Spring Training reminds us why we love the game of baseball.
Like a beautiful plant, it sprouts in the spring, blooms in the summer and is put to rest in the fall.
The beginning of camp always brings the promise that this is the year that we can go all the way. Milwaukee Brewers fans have added hope this spring after years of frustration. GM Doug Melvin rebuilt the starting rotation with two major offseason acquisitions.
He first traded one of the Brewers top prospects, Brent Lawrie, to the Blue Jays for Shawn Marcum.
Then, in the coup de grâce, Melvin traded for Kansas City ace, Zack Greinke. The price was steep, giving up four-prized prospects, but for Milwaukee, it will be worth it. Greinke will lead the team to a division championship and win the 2011 NL Cy Young Award.
Here are 10 reasons why...
10. Run Support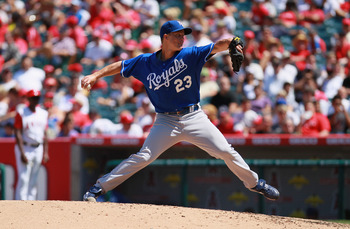 Jeff Gross/Getty Images
Zack Greinke went 10-14 in 2010.
He ranked eighth in MLB in lowest run support per start. The Royals averaged 4.66 runs per game in his starts.
In comparison, Dave Bush, the least supported starter on the Brewers, received 6.35 runs per game, more than one and a half runs more than Greinke.
Yovani Gallardo and his 14 wins? He had 7.98 runs per game to work with.
In 20 of his 33 starts, the Royals scored three runs or less. On the season, they were 10th in runs scored and RBI, even though they were second in the American League in team average.
The Brewers were fourth in the National League in runs, RBIs and batting averages in 2010. With Rickie Weeks to set the table, Corey Hart, Ryan Braun and Prince Fielder to drive in runs, this is a big time offense.
With this offense and a modest return to form, Greinke will win 20 games.
9. Facing a Lineup That Includes a Pitcher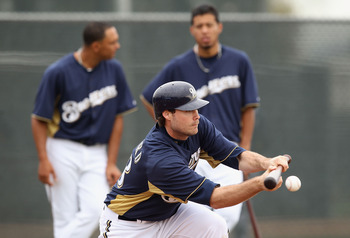 Christian Petersen/Getty Images
This one is straight from Captain Obvious. Greinke will face lineups in the National League that include a pitcher. There will be one less good hitter to get out.
I'm not saying pitchers can't hit, but since 1918, I haven't heard of one hanging up his pitching toe for a Louisville Slugger. At least, not a pitcher who could throw a strike. Sorry Rick Ankiel.
Facing the DH in the American League is one big reason that it's a different world from pitching to another hurler in the NL.
The league wide ERA was almost half a run higher in the AL than the NL in 2010. Why? There are nine hitters in the lineup. Replace a .190 hitting pitcher with a bruiser who drives in 100 runs and hits 30 bombs, while "only" hitting .270, and mayhem can occur.
In the National League, you only have to pitch to seven batters. If that pesky eighth-hole hitter gives you trouble, you just walk him and go after the pitcher.
8. New League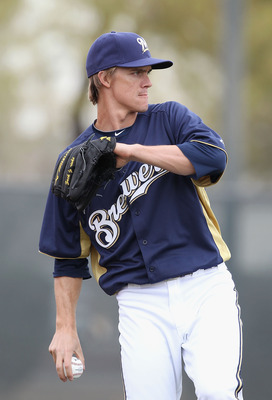 Christian Petersen/Getty Images
This reason is a biggie.
When coming into a new league, few hitters are aware of a pitcher and his stuff. The National League hitters will have no idea how Greinke will pitch them. This always works to a pitcher's advantage.
With the arsenal of pitches that Greinke has, it could take some hitters a couple times around the league to figure out how he's going to work. Even then, they have to try and hit it.
For a pitcher, switching leagues and facing new hitters is not as daunting because most pitchers work to their own strengths. They have the opportunity to have success early.
7. He'll Have a Good Young Catcher From Back Home.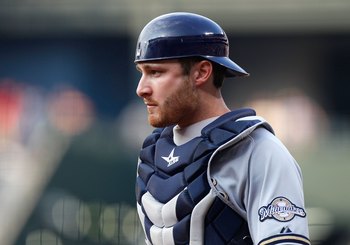 Kevin C. Cox/Getty Images
Remember what happened when Greinke pitched to Miguel Olivo? He won the Cy Young.
Jonathan Lucroy can play that role for Greinke.
Does it make any difference that they played high school ball less than 25 miles from each other? I doubt it, but having something in common may help the Brewers ace and his battery mate bond. Lucroy is a smart kid. He's still learning to catch in the big leagues, and will be open to learning how Greinke likes to work hitters.
Lucroy also has a take charge attitude and could help Greinke to find his focus if his mind wanders as it did at times in 2010.
6. Competition Within the Team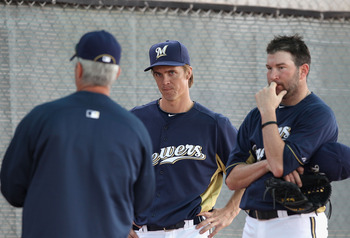 Christian Petersen/Getty Images
As many know, Zack Greinke is one competitive guy.
He can be obsessive in his will to win. Recently, when interviewed about the retirement of Gil Meche, Greinke mentioned often that he and Meche would compete at different pitching stats, such as innings pitched and strikeouts.
He's been a scratch golfer, is known to compete at Wii bowling and is a good basketball player.
He is driven to beat anyone at anything he attempts. Less than a week after signing his four-year, $36 million dollar contract extension with the Royals, he was playing center field, diving after balls in a scrimmage back at Apopka High School. He was happiest about going four-for-four and "squaring it up".
In baseball, the pitching staff has more free time than the regulars and spend a lot of time together. They come up with ways to pass the time and compete at everything, like cards or ping pong. They also compete against each other on the field. Being teamed with such a talented pitching staff, Greinke will rise to the challenge.
He will be driven to lead this talented staff in wins, strikeouts and innings pitched. With a staff of young and hungry hurlers, the competition within the team will be fierce.
5. Competition In the NL Central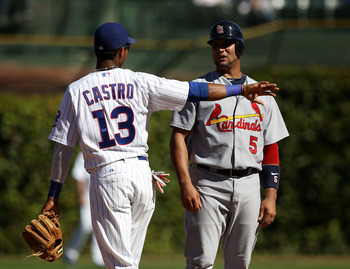 Jonathan Daniel/Getty Images
Zack Greinke recently told an interviewer that he wished all ballplayers made the same amount of money and that he'd trade all his money if he could play without the spotlight and distractions from the media. He said though, he was willing to put up with it because he wanted to pitch against the best players in the world.
Many think he will buckle in the heat of a pennant race because of his past problems with social anxiety. That is five years behind him; however, he has learned to manage day to day with the help of medication.
With the talent in the Central Division, it's going to be a season long war. With the Brewers, Cardinals and Reds fighting it out. Every game could have postseason implications. Every game will matter. Greinke should have no problem this year staying motivated.
4. He's Settled Down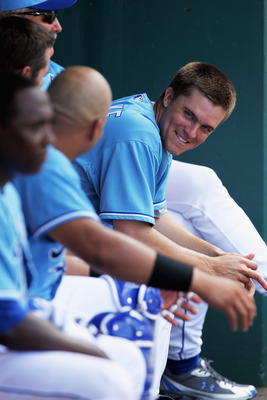 Jamie Squire/Getty Images
In 2010, Greinke was a newlywed. He married his high school sweetheart, Emily Kuchar, after years of dating. Every man taking the plunge into matrimony encounters culture shock as he learns to deal with living with another human being and working at a relationship.
In 2011, all that will be behind him. He's now been married for a while and should be able to relax and concentrate on pitching and getting hitters out.
Life in Milwaukee should be similar to Kansas City. It's a big enough city to have plenty to do, but small enough to have less hustle and bustle.
3. The Hair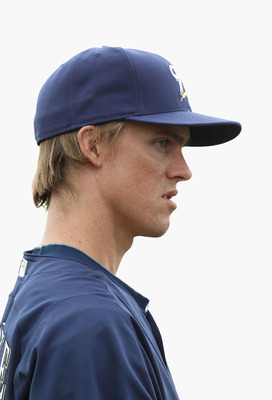 Christian Petersen/Getty Images
If "The Beard" can be a big deal in San Francisco when Brian Wilson takes the mound, then Milwaukee can have "The Hair."
Greinke is sporting it quite a bit longer these days. Maybe his wife likes it that way. Maybe he's trying to emulate Tim Lincecum. Maybe he's just afraid of his barber.
Giants fans say we should "Fear The Beard." Milwaukee will have "The Scare of the Hair."
2. His Electric Stuff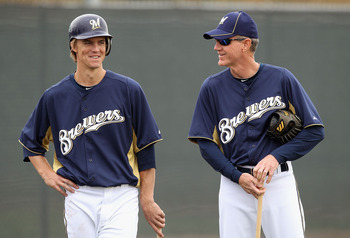 Christian Petersen/Getty Images
1. A fastball that he can throw at 87 mph with a cut action, or he can get it in there at 98 mph with armside run. As he's gained experience, he's learned to elevate the fastball and challenge hitters.
He's also not afraid to run one under your chin. The White Sox thought of him as a head hunter.
2. Greinke throws his curveball anywhere from 50 to 83 mph. He has total command of the pitch and uses it to get ahead or to keep aggressive hitters off balance.
3. His slider is the real deal. Almost like a right handed Steve Carlton, Greinke gets tons of strikeouts with the pitch even though he threw it less last year to "save his arm."
4. His changeup has been a work in progress and is now a plus pitch. Back in the spring of 2009, he frustrated hitters and teammates by throwing the changeup almost exclusively in games. Getting those repetitions and feel for the pitch has led to it becoming another bullet in his gun.
1. The Enormous Support From Brewers Fans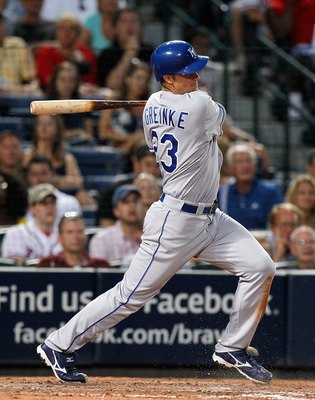 Kevin C. Cox/Getty Images
Milwaukee, Wisconsin will love this kid. He's going to put up quality start after quality start. He's going to strikeout hitters. He's going to bear down more when he's got a runner on third. He's going to do his running full speed, even after ingesting a Chipolte burrito.
He will be the most honest interview many writers will have dealt with.
Greinke will delight in getting to hit every five days.
He will have some funny quotes. Don't believe me? Go to the Greinke Quote Compilation Thread on the Royals page on Scout.com. He doesn't try to be funny. Sometime he just makes you go "hmmmmm?"
Kansas City loved him. Milwaukee will too. Postseason baseball with Greinke on the mound is going to be huge.
Keep Reading

Milwaukee Brewers: Like this team?