MLB Spring Training 2011: Top 10 NL Position Battles To Watch For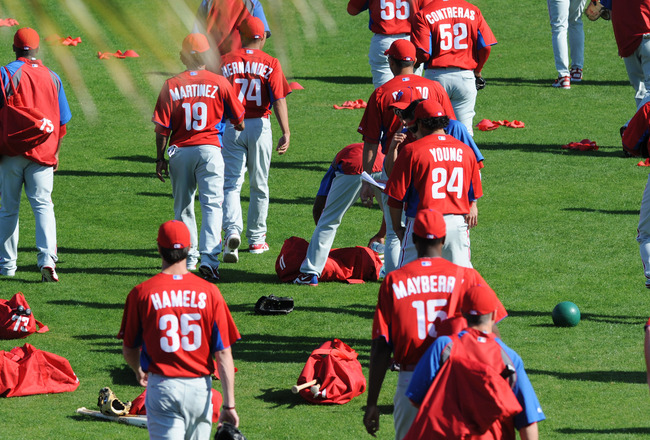 Al Messerschmidt/Getty Images
Football season is over, basketball season is at its midway point and the NCAA Tournament is still a month away.
Yup, it's almost March and that means it's finally time for baseball spring training.
After an exciting offseason, fans everywhere are eager to get the 2011 season going.
Pitchers and hitters are scheduled to report to their respective spring training facilities in Florida or Arizona over the next few days, and games will begin in a couple of weeks.
But as fun as it is to see a dozen different players you've never heard of share the field with MLB superstars, most eyes should be planted squarely on a handful of players who will be playing for their baseball lives.
Spring training is usually just a time to get back in the habit of playing the game, but for these few players, it's a chance to prove they deserve a starting spot on the roster.
Check out the 10 biggest position battles in the AL this spring training, and see which player has the early lead.
Click here to read about AL position battles.
No. 5 Starter, Atlanta Braves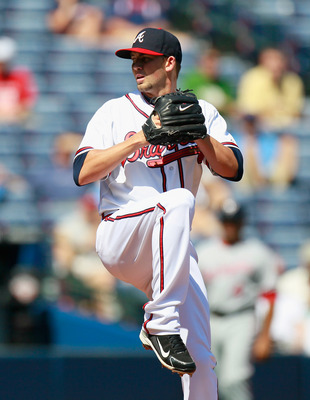 Kevin C. Cox/Getty Images
The Braves don't have quite the star-studded rotation of the division-rival Phillies, but their starting pitchers are nothing to sneeze at.
Tim Hudson, Derek Lowe, Tommy Hanson and Jair Jurrjens are the front four in probably that order, and the fifth spot is up for grabs between two very qualified candidates.
Mike Minor, 23, flew through the minors and made his major league debut within a year of being drafted.
He made nine starts for the Braves and showed good velocity on his pitches before running out of gas at the end of the season after 40 innings pitched.
Brandon Beachy, 24, somehow made it to the major leagues after not even being drafted in 2008. He made three emergency starts late in the season and only gave up five earned runs while striking out a better per inning.
His stuff isn't spectacular, but it's good enough for a back-of-the-rotation starter, which is exactly what the Braves need.
Neither Minor nor Beachy need more time in the minors, so both should make the major league roster.
Minor should get the initial shot at starting full-time, but will probably have to miss a handful of starts to give his arm some rest. Either way, Beachy will get some starts.
Third Base, Florida Marlins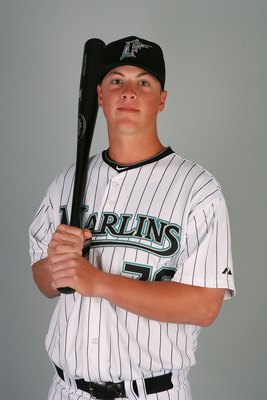 Doug Benc/Getty Images
Matt Dominguez is the Marlins' third baseman of the future, but the 21-year-old has never played above AA and there are questions as to whether his bat is major league ready yet.
He did hit 14 home runs last season, but he doesn't have very good patience and is useless on the base paths.
His glove, on the other hand, is already good enough to place him among the best third basemen in the game.
The Marlins have showed a willingness to bring up rookies before they're ready and let them learn the ropes on the major league roster.
But they don't want to sidetrack Dominguez's development if he's really as good as everyone thinks he is.
If the Marlins decide they want to see Dominguez polish his game a bit before making his MLB debut, Emilio Bonfacio and Wes Helms could share third-base duties in the meantime.
Chris Coghlan, the 2009 NL Rookie of the Year, is also an option at third if the outfield experiment doesn't work out.
Rotation, Cincinnati Reds
Donald Miralle/Getty Images
The Reds had one of the deepest staffs in baseball last season despite losing Opening Day starter Edinson Volquez for a large portion of the season.
Seven different pitchers made at least 12 starts, four made at least 20 starts and two made at least 30 starts.
But even with longtime Red Aaron Harang in a different uniform, there are still only five spots in the Cincinnati rotation.
Volquez (26), Johnny Cueto (24) and Bronson Arroyo (34) have all been guaranteed spots in the rotation barring injury.
That leaves Homer Bailey (24), Travis Wood (23) and Mike Leake (22) battling it out for the two final spots.
If the Reds were to go off just 2010 performance, Leake and Wood would be the prohibitive favorites.
Leake bypassed the Reds' minor league system entirely en route to an impressive rookie season in which he pitched 138.1 innings and kept his ERA to a respectable 4.23.
Wood, despite struggling for portions of the season, finished his rookie campaign with the lowest ERA of the trio (3.51) and is the only lefty on the staff.
Bailey is the veteran of the group, but the once top prospect hasn't lived up to expectations yet in parts of four major league seasons.
The Reds are serious about winning now, so it wouldn't make sense for them to send one of the three back to the minors for some more seasoning.
That means Bailey could end up in the bullpen and pick up some spot starts along the way.
Center Field, Milwaukee Brewers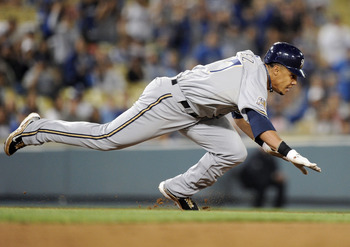 Harry How/Getty Images
The Brewers were set to make Lorenzo Cain their center fielder for the next five or six seasons, but a trade for Zack Greinke kind of got in the way.
Now the Brewers are stuck deciding between one outfielder who can't, and another outfielder who can't hit.
Carlos Gomez, once the centerpiece of the Johan Santana trade a couple years ago, is now as close to washed up as a 25-year-old can be.
He's accomplished next to nothing in his four major league seasons, and owns a career .246/.298/.357 line that doesn't even rival the stats for teammate Yovani Gollardo—a pitcher.
Gomez's one redeeming quality is his speed. He's stolen 77 bases in 445 career games and has excellent range in the outfield.
But his speed and defense don't nearly make up for his inability to hit and striking out in nearly a quarter of his at-bats.
The alternative is 28-year-old Chris Dickerson, a AAAA player who has spent most of his career in the Reds organization.
He was next to useless in his 53 at-bats as a Brewer last season, recording only 11 hits and an unsightly 15 strikeouts. He is, however, left-handed and has some power.
The Brewers have enough big bats in the lineup that they can live with a below-average hitter in center.
Right now the plan that makes sense would be to have Gomez and Dickerson platoon, taking advantage of matchups.
Gomez could win the job outright in spring training if he shows any of the potential that made him a top prospect in the Mets system some four years ago.
Right Field, Philadelphia Phillies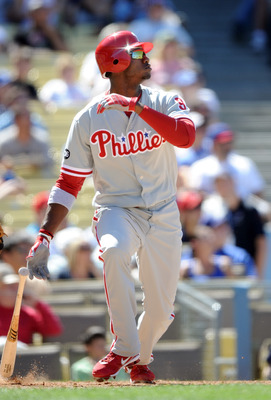 Harry How/Getty Images
The Phillies lost right-fielder Jayson Werth to the Nationals but they have his eventual replacement in Dominic Brown, a 23-year-old left-handed slugger with serious power potential.
The only question is if Brown will be ready.
He made his major league debut in 2010, but struggled in his 70 plate appearances. He batted only .210 and slugged only .355 with 24 strikeouts.
He's capable of one day being a 30-30 threat, but he will need to fix the holes in his swing before he gets there.
The Phillies are a championship-caliber team right now, so they can't risk giving Brown major league at-bats if he's not ready.
They could give Ben Francisco or John Mayberry some looks in right field and bring Brown up slowly.
But if Brown has a big spring training and shows his ability to handle major league pitching, the job is all his. If not in April, certainly by June or July.
Closer, Pittsburgh Pirates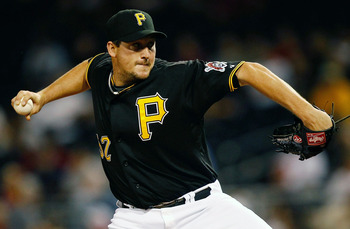 Jared Wickerham/Getty Images
The Pirates have major holes up and down their roster, again, but the one part of the team that may actually be a strength is the bullpen.
That's because Joel Hanrahan and Evan Meek are two of the best young arms in the league.
The only question is, who is the closer?
Hanrahan, 29, had a fantastic year in 2010, appearing in 72 games and recording 100 strikeouts in 69.2 innings.
He kept his ERA to an impressive 3.62 and took over closing duties for the Pirates when Octavio Dotel was traded midseason, earning six saves and finishing 27 games.
Meek, 27, also had a career year and earned his first All-Star selection as one of the top set-up men in the game.
In 70 games he had a 2.14 ERA and 1.10 WHIP as he mixed a high-90's fastball and a tricky slider to overpower hitters.
The Pirates seem to be happy with their current setup, with Hanrahan closing and Meek pitching the eighth inning.
But Meek has the better stuff and Hanrahan doesn't have a history of success, so we could see the two right-handers flip-flop roles at some point in the season.
Third Base, St. Louis Cardinals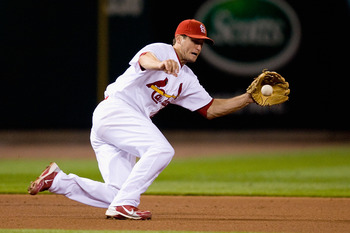 Dilip Vishwanat/Getty Images
David Freese should be the third baseman after a long career pounding minor league pitching.
He inherited the job from Troy Glaus last season and put up a strong .296/.356/.404 line, but multiple lower leg injuries kept him from playing the entire season.
That's not good news for a 27-year-old prospect, who needs to break through with a major league team now or be destined to spend another five years in the minors.
The Cardinals added longtime Twins utility man Nick Punto in the offseason as insurance in case. But nobody in the organization actually wants the 32-year-old to get significant playing time.
The Cardinals could also look at rookies Allen Craig (big bat, no glove) or Dan Descalo (no bat, average glove) at third.
Freese is clearly the favorite, but he needs to stay on the field long enough to show his coaches that he can handle a full-time job. Until then, he'll have to share a platoon with Punto.
No. 5 Starter, San Diego Padres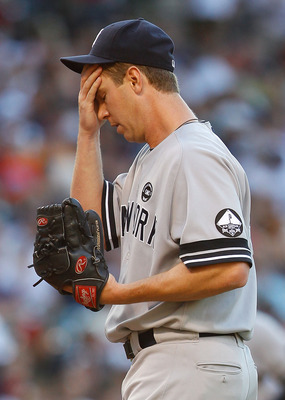 Jared Wickerham/Getty Images
The Padres may not be able to contend for an NL West title with Adrian Gonzalez gone, but they still have to field a team.
One of the hardest positions for them to fill will be the back of the rotation. San Diego had one of baseball's best rotations in 2010, headlined by Mat Latos and Clayton Richard with veterans Jon Garland and Kevin Correia adding depth. Garland and Correia are gone, however, as is long-time Padre Chris Young.
So who's left?
The Padres brought in veteran Aaron Harang, who was pushed out by younger talent in Cincinnati, to be their No. 4 starter.
Tim Stauffer, a 28-year-old righty who just made his major league debut in 2009, was unbelievably successful in seven starts last season, sporting a 1.85 ERA thanks to a high groundball rate.
If he can maintain his level of performance, he's a shoe-in for the No. 3 spot in the rotation.
That leaves Dustin Moseley, Wade LeBlanc and Cory Luebke to battle it out for the final spot. LeBlanc, 26, made 25 starts for the Padres last season but struggled late and was kicked out of the rotation.
Luebke, also 26, made three spot starts in 2010 and is a lefty with good control, but lacks a single plus major league pitch.
Moseley, 29, was a free agent acquisition who didn't show anything in five seasons in the AL.
Moseley has the experience, but that shouldn't matter for a team destined to spend the better part of the year in last place. Luebke looks like the best fit, while LeBlanc could use a tune-up in the minors.
But with the way Harang has pitched lately, both Luebke and LeBlanc may find themselves in the rotation soon.
Rotation, Washington Nationals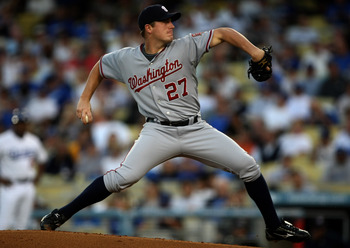 Stephen Dunn/Getty Images
The Nationals had 14 different pitchers start for them last season, and the only one who recorded at least 25 starts (Livan Hernandez) was washed up five years ago and somehow still has a job.
Stephen Strasburg is the only one on the staff with name recognition, but he's out till 2012.
So who's going to take the mound in 2011?
Jordan Zimmerman, 24, looks like he could be the ace of the staff if he's full recovered from Tommy John surgery. He'll likely be joined by veterans Jason Marquis (finally healthy) and John Lannan (ditto).
The Nationals brought back Chien-Ming Wang (a shell of his former self) and added Tom Gorzelanny (useless since 2008) and Chad Gaudin (his seventh team in nine seasons).
The veterans could fill the rotation themselves, but there'll be plenty of competition from the collection of youngsters.
Among them is Cuban import Yunesky Maya, who was impressive in his major league debut but has, at best, average stuff.
Craig Stammen, Luis Atilano, J.D. Martin, Ross Detwiler and Garrett Mock all saw action in 2010 and, though none of them project to be anything special, all will be given a chance at the last spot in the rotation.
Zimmerman, Hernandez, Marquis and Lannan are all good bets to make the rotation. But after that it's a crapshoot.
If going off of last season, alone then Stammen and Atilano are the favorites, with Maya probably ending up in the bullpen and the others going back to the minors.
Left Field, San Francisco Giants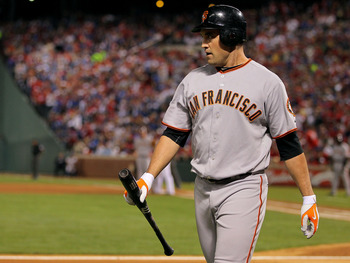 Doug Pensinger/Getty Images
The world champion Giants had the luxury of being able to retain most of the club going into the 2011 season. But that doesn't mean the team is anywhere near complete with left field still completely up in the air.
Pat Burrell, 34, did a good job at the plate after joining the Giants midseason. He hit 18 home runs in 289 at-bats and had an impressive .266/.364/.509 line.
But he's a terrible fielder and spent a ton of games sitting on the bench watching his defensive replacement do the dirty work.
Aaron Rowand, 33, lost his starting job in center field to Andres Torres because of poor offensive performance (.230/.280/.378) and he won't get it back, but a move to left field could be possible if he regains his hitting stroke.
Aubrey Huff, 34, could also join the competition if first baseman Brandon Belt, 22, is as good as everyone thinks he is.
The Giants seem to have too many players for too few positions, which is a pretty good problem to have.
Since this is a team that is dependent on its starting pitching, it would make sense to put the best defense possible out there.
That means Belt (first base), Huff (corner outfield) and Rowand (corner outfield) will all start with Burrell as the fourth outfielder.
Keep Reading