2011 Atlanta Braves: The Offensive Projections Of Position Players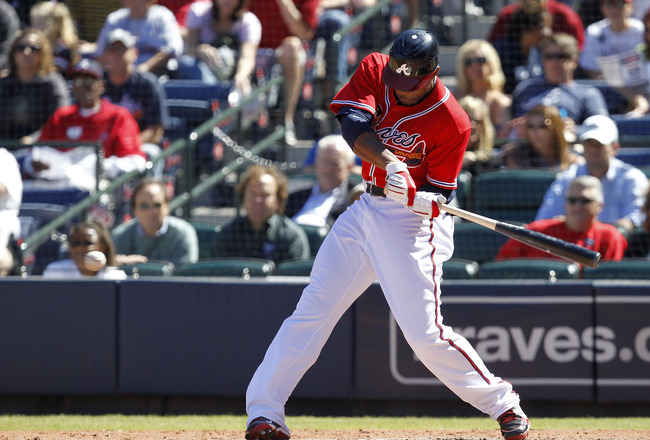 Mike Zarrilli/Getty Images
The 2011 Major League Baseball season is upon us. Pitchers and catchers report on February 14th and baseball will be under way. How will each of the Braves' position players fare at the plate? Who will carry the lineup, and who will falter? How will utility players affect the order? Here are my predictions of what to expect from the Braves offensively.
1. Martin Prado LF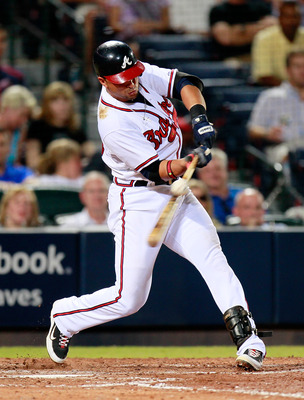 Kevin C. Cox/Getty Images
Coming off a breakout 2010 campaign, Prado looks to impress the National League once again. A contender for the batting title much of last season, Prado may be due for a letdown. I do not think he will have quite as many hits as last season, but look for him to be an integral part of the lineup in the lead-off spot.
Projection: .287 AVG/12 HR/57 RBI
2. Jason Heyward RF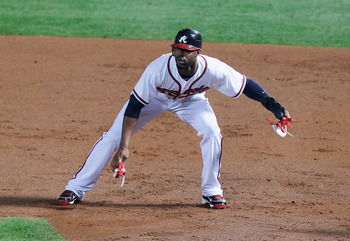 Kevin C. Cox/Getty Images
Finishing second in the Rookie of the Year vote, Jason Heyward stormed into the big leagues in 2010 and dazzled. Showing experience beyond his years, the 21-year-old will begin his sophomore season with high expectations, and I believe he will flourish. A patient hitter, Heyward plays like a veteran, and will only get better as he keeps playing.
Projection: .288 AVG/23 HR/89 RBI
3. Chipper Jones 3B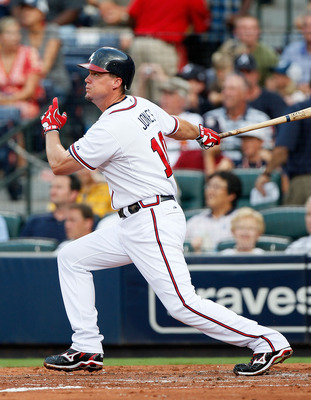 Kevin C. Cox/Getty Images
What will the Braves get out of Chipper in 2011? Will he rebound from a serious injury? Will it be his last year? As if the questions of retirement from last season were not enough, Chipper will be faced with even more questions this season. I predict that Jones will struggle to begin the year, but catch fire and push his team towards postseason play after the All-Star break.
Projection: .252 AVG/14 HR/77 RBI
4. Dan Uggla 2B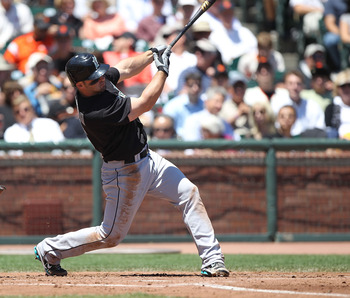 Jed Jacobsohn/Getty Images
The biggest off-season acquisition for the Braves was former Florida Marlins second baseman Dan Uggla. Uggla put up 33 home runs and 105 RBI for the Fish, and the Braves are hoping he will replicate those numbers. Playing in Turner Field has always suited Uggla, as he hit .390 there in the past three seasons, the highest average of any park he played in (minimum 20 AB). Look for Uggla to be talked about as an MVP candidate this season.
Projection: .308 AVG/36 HR/119 RBI
5. Brian McCann C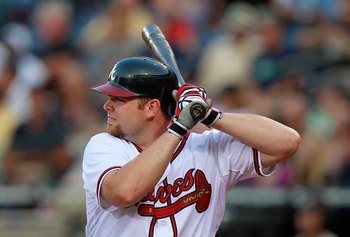 Kevin C. Cox/Getty Images
The perennial All-Star catcher should have a big year, assuming his eye problems are finally behind him. One would assume that he is on pace for another All-Star performance, and maybe the fans will finally vote him in as a starter after winning the All-Star game MVP award in 2010.
Projection: .284 AVG/26 HR/83 RBI
6. Alex Gonzalez SS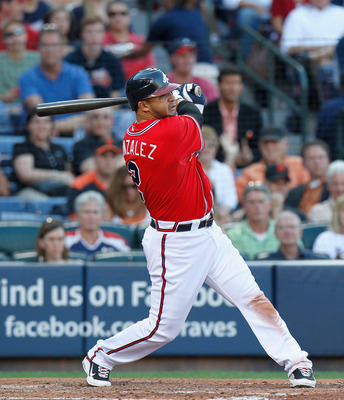 Kevin C. Cox/Getty Images
The defensive specialist acquired mid-season last year was pulled from the Toronto Blue Jays during the most potent offensive season of his career. The move to Atlanta killed his power numbers; he hit 17 home runs as a Blue Jay in 2010, and only 6 as a Brave. Time will tell if he has another offensive year in him, or if he is destined to be a bottom-of-the-order hitter.
Projection: .247 AVG/13 HR/64 RBI
7. Freddie Freeman 1B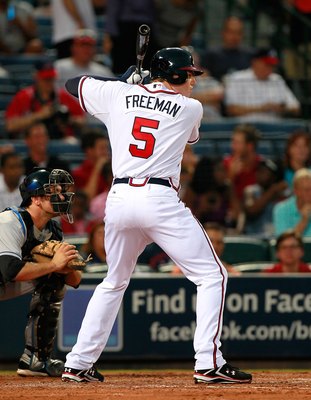 Kevin C. Cox/Getty Images
One big question mark on the Braves roster is the highly acclaimed first baseman Freddie Freeman. Freeman had an abbreviated stint as a September call up in 2010, and did not make the most of it, going only 4 for 24. But Freeman will get more at-bats, and will grow accustomed to the big leagues. I predict Freeman will start slow, and progress as the season wears on, and may move up in the order.
Projection: .263 AVG/12 HR/52 RBI
8. Nate McLouth CF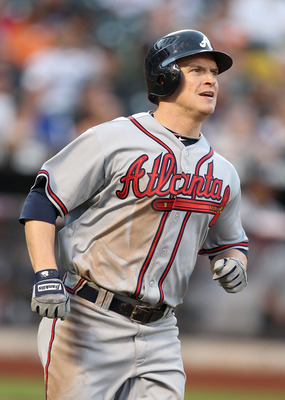 Al Bello/Getty Images
This is a huge question mark in the Braves lineup, and it is hard to say what he will bring to the club in 2011. It may be a constant battle for McLouth to stay up at the big league level, as the Braves have given him a fair chance to produce. The Braves have not given up on Jordan Schafer, their once top prospect, and McLouth may have a short leash. I will optimistically predict a better year for McLouth.
Projection: .234 AVG/7 HR/37 RBI
David Ross C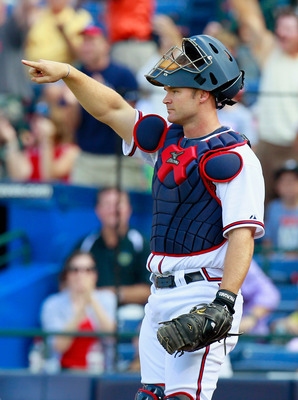 Kevin C. Cox/Getty Images
One of the best back-up catchers in the league could start on many clubs. Ross is an exceptional right- handed bat off the bench, and will see considerable time filling in on McCann's off days. Look for him to play against left-handed pitching, and make an impact offensively.
Projection: .274 AVG/5 HR/34 RBI
Eric Hinske 1B/OF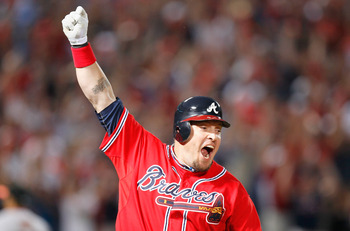 Kevin C. Cox/Getty Images
The World Series good luck charm Hinske failed to make it to the show last season, but not for lack of effort on his part. The Braves rewarded Hinske with a one-year contract, hoping he can again provide support when needed. Look for Hinske to get in a good amount of playing time, filling in for injured and resting players.
Projection: .258 AVG/8 HR/46 RBI
Brooks Conrad INF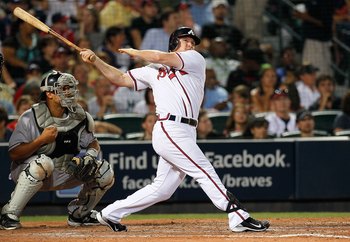 Kevin C. Cox/Getty Images
The casual Braves fan may want Conrad out of the picture after his abysmal defensive performance in the playoffs. Luckily, Frank Wren and the coaching staff know better. Conrad was an invaluable asset to the Braves in the 2010 season, and will play a key role in their success once again in 2011. Conrad is a selfless ballplayer who gets it done in the clutch.
Projection: .256 AVG/7 HR/36 RBI
Jordan Schafer OF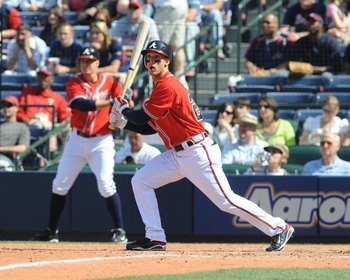 Al Messerschmidt/Getty Images
The once promising prospect had an explosive debut in the majors that only went downhill. The injury-plagued center fielder will have to wait behind McLouth for his chance at another shot. I do not see Schafer having a huge season, but he may have something to offer as the year wears on.
Projection: .235 AVG/6 HR/26 RBI
Joe Mather OF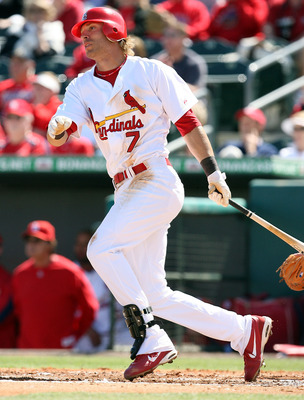 Doug Benc/Getty Images
If Fredi Gonzalez manages at all like Bobby Cox,, Mather could see a fair amount of playing time in 2011. The utility man hit eight home runs in 2008, but has been plagued with injuries since. That amount of power would be a welcome boost coming off the bench, but I would not expect it this season.
Projection: .214 AVG/2 HR/17 RBI
Diory Hernandez INF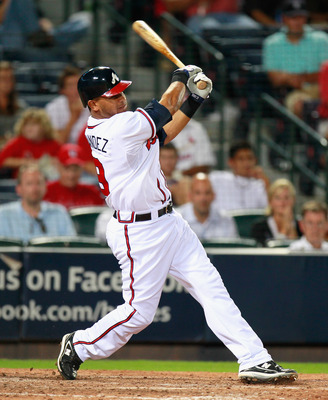 Kevin C. Cox/Getty Images
Hernandez has served primarily as a defensive replacement the past few seasons, only notching 13 hits in 94 at-bats. He has had a good off season, however, hitting .304 in winter ball. He could be in line to play a few games, backing up Alex Gonzalez, but do not expect great things from Hernandez.
Projection: .211 AVG/1 HR/9 RBI
Brandon Hicks INF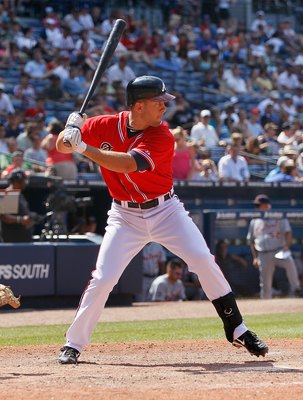 Kevin C. Cox/Getty Images
Hicks served almost exclusively as a pinch runner in 2010, and I do not expect him to be on the major league club to begin the season. It is difficult to tell what the Braves may get out of Hicks, other than a handful of runs. He has impressed coaches in the past, and may get a true taste of the big leagues to see what kind of damage he can do. I just do not think it will be this year.
Projection: .156 AVG/0 HR/4 RBI
Matt Young OF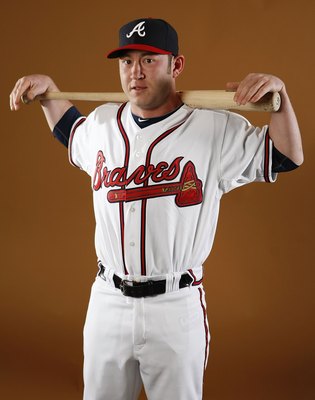 Gregory Shamus/Getty Images
Matt Young is small and fast. He will not start in the majors, and may not ever get to that point this season. The Braves have decent depth in the outfield, but injuries could change that in a hurry. Young could be a Gregor Blanco-type player. Time will tell if he makes the bigs, but do not expect a huge impact.
Projection: .235 AVG/0 HR/6 RBI
Keep Reading

Atlanta Braves: Like this team?