MLB Power Rankings: Freddie Freeman and the Top 10 Atlanta Braves Prospects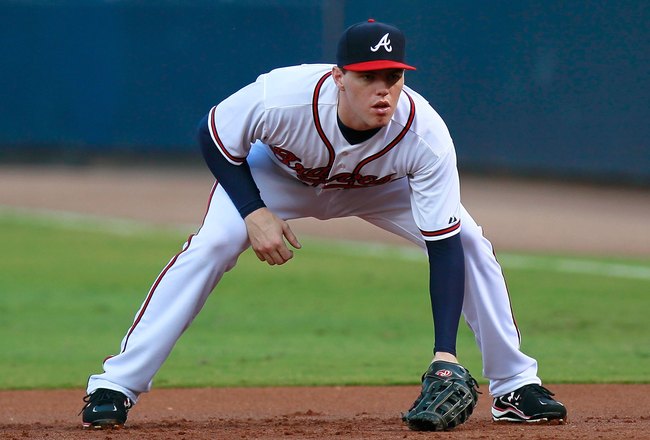 Kevin C. Cox/Getty Images
The Atlanta Braves have always prided themselves in having a great minor league system.
Unlike the Yankees and Red Sox, who just go out and buy other teams' players, the Braves consistently develop their young talent through their minor league teams.
Braves such as Jason Heyward, Brian McCann and Tommy Hanson are all examples of the quality training that players receive in cities such as Lawrenceville and Rome.
The 2011 prospects for the Atlanta Braves, as usual, have plenty of potential. Some of the top prospects in the entire league are hoping to crack the Atlanta Opening Day roster.
Some of these prospects are fresh faces, while others have had short stints in the majors.
Here are the Atlanta Braves' top 10 prospects heading into the 2011 season.
10. Andrelton Simmons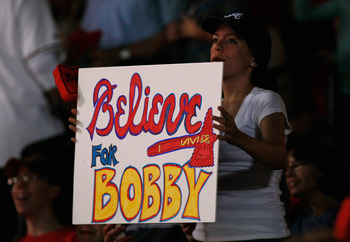 Kevin C. Cox/Getty Images
Simmons is the best defensive infielder in the Atlanta Braves farm system. He has some speed as well, stealing 18 bases in just 62 games in 2010.
If Simmons continues to progress, he could turn into an Elvis Andrus type of player.
9. J.J. Hoover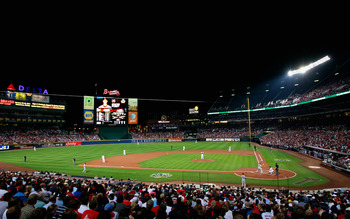 Kevin C. Cox/Getty Images
At the age of 23, Hoover is finally coming around. In 2010, he posted a 3.29 ERA while striking out a batter per inning.
Due to the pitching depth in the Braves' farm system, Hoover is more likely to be traded than be a starter for Atlanta.
8. Brandon Beachy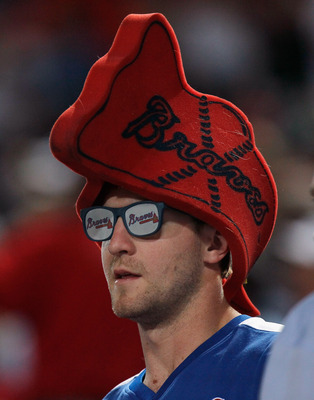 Kevin C. Cox/Getty Images
Beachy made three starts for the injury-plagued Braves at the end of the 2010 season. He'll have a chance to win the fifth starting job during spring training this season.
Despite his call-up last season, Beachy seems destined for either the Braves bullpen or starting for another team.
Beachy is excellent trade bait for the Braves; look for him to be moved for a bat or defensive help.
7. Matt Lipka
Kevin C. Cox/Getty Images
As Atlanta's first-round draft pick in the 2010 MLB draft, Lipka may be the best athlete in the Braves' minor league system.
At only 18 years of age, Lipka stole 21 bases in just 52 games in rookie league ball in 2010.
Lipka still has a lot of development ahead, but he has a great shot at becoming the Braves' shortstop of the future.
6. Craig Kimbrel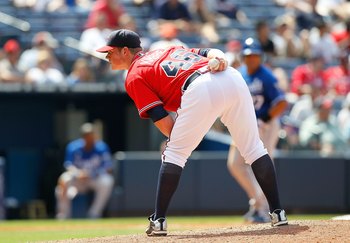 Kevin C. Cox/Getty Images
Kimbrel appeared in 21 games for the Braves in 2010, striking out 40 batters in only 20 innings of work. He also posted a 4-0 record while recording a save.
With Billy Wagner retiring after last season, Kimbrel has already been tabbed Atlanta's new closer.
After getting his feet wet in the bigs in 2010, the 22-year-old Kimbrel appears ready to work the ninth inning for the Braves in 2011.
5. Arodys Vizcaino
Kevin C. Cox/Getty Images
The Braves received Vizcaino from the Yankees when they traded Javier Vazquez to New York.
Vizcaino has a career 2.83 ERA in the minors. Only 20 years old, Vizcaino still has time to improve other parts of his game.
Eventually, he will be a fixture in the Braves rotation for years to come.
4. Mike Minor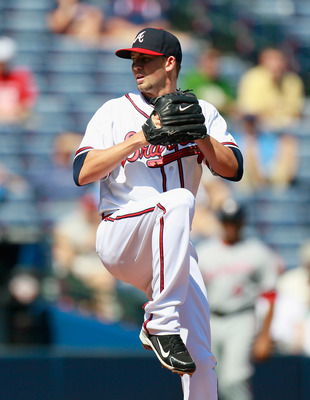 Kevin C. Cox/Getty Images
The seventh pick in the 2009 MLB draft, Minor spent no time in reaching the majors, starting nine games for Atlanta in 2010.
Minor is the favorite to be the Braves' fifth starter in 2011. A good season from him will go a long way for the Braves as they try to return to the postseason.
3. Randall Delgado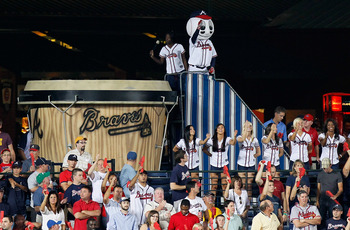 Kevin C. Cox/Getty Images
Delgado has breezed through the minors thus far. With a 1.22 WHIP and 9.8 K/9, the 20-year-old should start the season in AA before moving up to AAA this summer.
Look for Delgado to reach the bigs in 2012, joining an already great pitching staff in Atlanta.
2. Freddie Freeman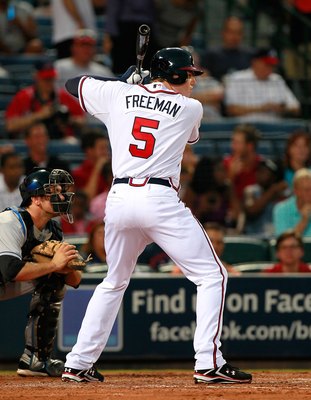 Kevin C. Cox/Getty Images
As the "first baseman of the future" for the Braves, the future is now.
Freeman made his major league debut in September, hitting his first career home run.
As the starting first baseman in 2011 for the Braves, Freeman will be among the favorites for NL Rookie of the Year.
Though he has a lot of potential, don't expect Freeman to develop into a power hitter immediately; he has never hit more than 18 home runs in a season.
His first couple seasons in the majors will be very similar to Billy Butler's or James Loney's first few seasons. But eventually Freeman should develop into a power-hitting first baseman.
1. Julio Teheran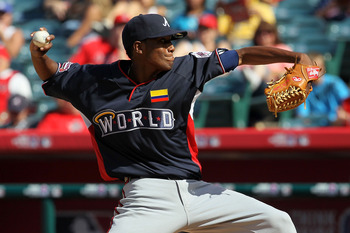 Stephen Dunn/Getty Images
Teheran may be the best pitching prospect in baseball. The 20-year-old has not been challenged in the minor leagues yet.
Teheran is a non-roster invitee to Braves spring training in 2011. Though he is unlikely to start the season in Atlanta, there is a good chance he will end the season in the majors.
If he continues to dominate the minors as he has done so far in his career, it will be hard for the Braves to keep him down for much longer.
Whether as a spot starter or in the bullpen, similar to Aroldis Chapman or Neftali Feliz, Teheran should make his major league debut in 2011.
Keep Reading

Atlanta Braves: Like this team?