MLB Power Rankings: Ranking Domonic Brown and the Top 25 NL East Prospects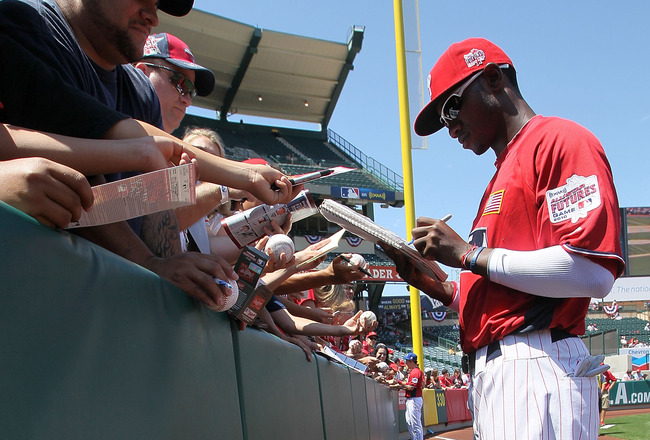 Stephen Dunn/Getty Images
Goodbye Jason Heyward, Ike Davis and Gaby Sanchez.
Hello Domonic Brown, Craig Kimbrel and Jenrry Mejia!
The names may have changed, but there is no doubting that the 2011 N.L. rookie crop is just as good, if not better, than the 2010 version.
And there's even more talent waiting in the wings in Double and Single-A, just a few years of seasoning away from making a Major League impact.
The National League East has some of the best prospect talent of any division in baseball, and it is likely second to the American League East when it comes to elite talent.
Pitchers Julio Teheran, Matt Harvey, Brody Colvin, Jarred Cosart, Chad James, Randall Delgado and Arodys Vizcaino each have front-of-the-rotation stuff.
And there are at least two potential future closers in Craig Kimbrel and Jenrry Mejia.
The position talent is no slouch either. Future All-Stars litter the top 25 list of division prospects, including 2010 No. 1-overall pick Bryce Harper, as well as Matt Dominguez, Christian Yelich, Matt Lipka, Freddie Freeman, Wilmer Flores, Jonathan Singleton and Derek Norris.
And don't forget the National League favorite for Rookie of the Year, Dom Brown.
So no we have arrived at the 2011 preseason National League East top 25 prospects.
25) Jesse Biddle, LHP, Philadelphia Phillies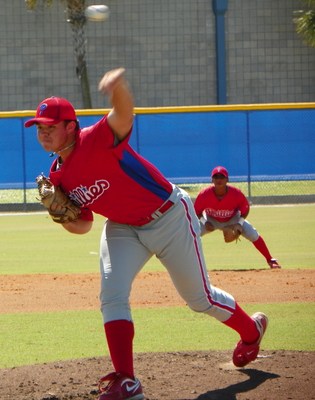 Age: 19
Height/weight: 6'4", 225 pounds
Drafted: First round in 2010
2010 stats: 4-1, 3.92 ERA, 12 GS, 43.2 IP, 40 H, 2 HR, 50 K, 20 BB, 3 errors
Whether or not Biddle was an overdraft at No. 27 in last year's draft, the Phillies still got a big, strong left-hander with huge upside.
Biddle had a lot of late draft momentum and luckily the Phillies were able to get a lot of looks at the local product, who was actually born in Philadelphia and played his high-school ball for Germantown HS.
Biddle can crank his fastball up to 93-94 mph, but sits more comfortably in the 89-92 range. He still has a bit of maturation left so he could one day sit at 93-95 mph.
Biddle's best off-speed pitch is a changeup which was one of the best of any high schooler in the 2010 draft. He has excellent feel for it and it should develop into an above-average pitch.
After his changeup, Biddle also throws a curveball that is slightly below-average right now, but it could develop into at least an average pitch.
Biddle needs to improve his command of all of his pitches, but that should come with time and better coaching at the professional level.
Still, he has a promising future as a mid-rotation starter or as a late-inning reliever where his two-pitch (fastball and changeup) might work better.
ETA: 2015
24) Brandon Beachy, RHP, Atlanta Braves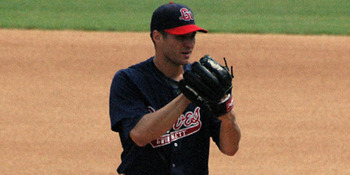 Age: 24
Height/weight: 6'3", 215 pounds
Drafted: Undrafted
2010 stats: 5-1, 1.73 ERA, 35 G, 13 GS, 119.1 IP, 93 H, 5 HR, 148 K, 28 BB, 0 errors (AA-AAA)
2010 stats: 0-2, 3.00 ERA, 3 G, 3 GS, 15.0 IP, 16 H, 0 ER, 15 K, 7 BB, 0 errors (Atlanta- MLB)
Beachy had quite a whirlwind season in 2010. The 24-year-old began the season as a reliever for Double-A Mississippi and ended the season as a major league starter, with a possible future as a rotation fixture. But then again, Beachy's rise to stardom has been anything but ordinary.
A former undrafted free agent, Beachy signed with the Braves after the 2008 draft, and has pitched well at each stop along his way to Atlanta, utilizing pinpoint accuracy and command. He features a low-90s fastball that reaches 94 and, surprisingly, he was able to maintain his velocity late into games after being used mostly as a reliever during his short minor league run.
Beachy compliments his fastball with a solid changeup and an improving curveball. His delivery isn't the prettiest you'll ever see, but he manages to get results with it, so you won't find the Braves complaining too much.
If you've seen Beachy, you'll know, like most within the Braves organization, that he's built like a football player. Very muscular and very strong. That serves him well on the mound, as he is durable and has a great mentality.
Beachy will most likely begin 2011 in Triple-A due to the relative depth of starters in Atlanta's system, but he is one of the more polished starters in Atlanta's system, so he'll likely be the first one to get a call if someone is felled with an injury.
He should be one to keep an eye on in spring training too, where he could solidify his status as a full-time starter.
ETA: 2011
23) Arodys Vizcaino, RHP, Atlanta Braves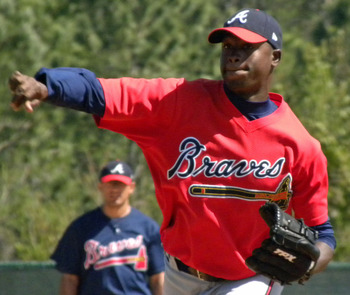 Age: 20
Height/weight: 6-0, 189 lbs
Drafted: N/A
2010 stats: 9-4, 2.74 ERA, 17 GS, 85.1 IP, 79 H, 2 HR, 79 K, 12 BB, 1 error (A-A+)
Arodys Vizcaino was part of the 2007 international class of signees, which may one day go down in history as the best ever. The class also included New York's Cesar Puello, Wilmer Flores, Jeurys Familia and Jefry Marte.
Vizcaino is Atlanta's third or maybe even fourth-best pitching prospect, which is saying something, because his stuff is wicked.
His fastball sits 90-94, tops out at 96-mph and looks really easy coming from his smooth delivery. He compliments the electric pitch with a curveball that would be above-average in the Major Leagues right now. His third pitch is an average changeup.
He has a durable build, which should allow him to remain in a starting role, but he's still pretty raw in plenty of areas, most notably his fielding, his ability to hold runners on base.
He also needs to build some more stamina. He's been on a strict inning or pitch count for most of his young pro career, so it will be interesting to see how he responds when the Braves finally take him off the leash.
ETA: 2013
22) Cesar Puello, OF, New York Mets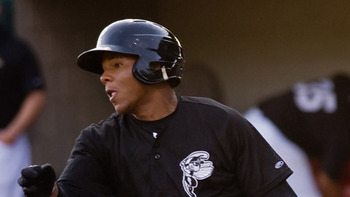 Age: 19
Height/weight: 6-2, 195 lbs
Drafted: N/A
2010 stats: .292, 80 R, 22 2B, 1 3B, 1 HR, 34 RBI, 32 BB, 82 K, 45 SB, .966 Fielding %
Puello is another member of that stellar 2007 class and represents the Mets best all-around outfielder.
Puello is a legitimate five-tool talent, the best of which is his plus speed. He stole 45 bases in 109 games and now has 73 swipes in 198 career games. His discipline at the plate needs some improvement as his 82 strikeouts last season proved, and improving his somewhat unorthodox batting stance might help him get on base more, allowing him even more opportunity to turn on his burners.
Puello has decent power, although it hasn't surfaced in game situations yet. He only has seven career homers, five of which came last season in a 49-game run with the Mets Appy League affiliate.
Puello profiles as a right-fielder, where his average, but not spectacular arm would play well. He's a very aggressive fielder and has had some issues running past balls hit to him, but with his speed, he can cover for most of the times he reads the ball to aggressively.
Puello reached Low-A ball last season and had a very successful season by most accounts, but the Mets will play it safe with him, and most likely just bump him up to High-A.
ETA: 2015
21) Wilson Ramos, Washington Nationals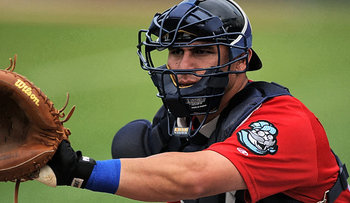 Age: 23
Height/weight: 6-0, 220 lbs
Drafted: N/A
2010 stats: .258, 39 R, 17 2B, 1 3B, 8 HR, 38 RBI, 15 BB, 61 K, 1 SB, .991 Fielding %, 50% CS (AAA)
2010 stats: .278, 5 R, 7 2B, 0 3B, 1 HR, 5 RBI, 2 BB, 9 K, 0 SB, 1.000 Fielding %, 9% CS (Min/Wash- MLB)
Ramos has everything you look for in an everyday catcher.
He's strong. He has a rocket arm behind the plate. He has soft hands and is an excellent receiver. He's incredibly agile despite his somewhat stocky build.
And in addition, he's also a pretty good hitter with great raw power. He showed what he was capable of when starting full-time back in 2008 with the Twins. He hit .288 that year with 13 homers and 78 RBI. That season might have been good enough to earn him an everyday job with the big-league club in any organization but Minnesota's.
Instead, Ramos found his way to Washington when the Twins closer went down and they needed a plan-b. Now Ramos gets to compete with Washington's own Derek Norris, who is one of the best catching prospects in the minor leagues.
Ramos is about as big-league ready as a catching prospect can come, and he should get a chance to lock down the everyday job.
ETA: 2011
20) Matt Lipka, SS, Atlanta Braves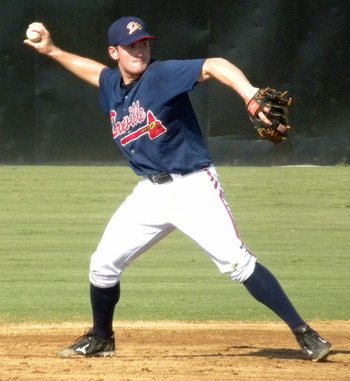 Age: 18
Height/weight: 6-1, 188 lbs
Drafted: 1st-round supplemental 2010
2010 stats: .288, 34 R, 8 2B, 4 3B, 1 HR, 25 RBI, 15 BB, 24 K, 21 SB, .937 Fielding % (Rookie)
From the outside, Lipka looks like just another toolsy Braves shortstop prospect. But take a closer look and you'll find that he's actually a lot more than that.
Lipka was a record-setting high-school football player who is an excellent athlete, talented enough to man shortstop, but more likely destined for the outfield. He's athletic enough to handle center-field and might actually be a perfect fit there.
Lipka's strongest tool is his speed. The 18-year old stole 21 bases in only 52 games this past season. He has an incredibly quick bat with a chance for at least average power, so he shouldn't be just a speed guy.
As a fielder, he utilizes a great arm that used to allow him to throw almost 90-mph off the mound in high-school. He's a good enough athlete to stick at shortstop, but his footwork and throwing accuracy might force the move to the outfield.
Most of all, Lipka plays the game as hard as anyone. He's what those in the biz like to call a "gamer."
Moving Lipka to the outfield now would allow him to focus solely on his hitting and improving his plate discipline, which is still in it's infancy.
ETA: 2015
19) A.J. Cole, RHP, Washington Nationals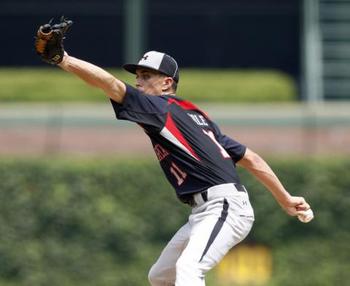 Age: 19
Height/weight: 6-4, 180 lbs
Drafted: 4th-round 2010
2010 stats: 0-0, 0.00 ERA, 1 G, 1.0 IP, 1 H, 1 K, 1 BB, 0 errors (A)
Cole was one of the more interesting high-school prospects in the 2010 draft and the Nationals were lucky enough to be allowed the opportunity to pull the trigger on him in the fourth-round. They were even luckier to sign him, even though he commanded a whopping $2 million.
Now that they have him inked, they can begin to develop Cole, and if all goes according to plan, he could be a mid-rotation starter for a team that also has Stephen Strasburg and Jordan Zimmerman.
Cole wowed scouts before the draft with his easy low 90s heat, that he can crank up to 95-mph. He compliments it with a changeup that has the makings of an above-average pitch. He also throws a slider, that is more slurvy than anything else. He'll have to work on defining the pitch if he wants to be anything more than a back-end starter or middle-reliever.
His command is average, but should definitely see improvements with better coaching.
The consensus on Cole seems to be that with the tools and skills he has now, he could be a mid-rotation starter, best case. If he continues to sharpen his command and can master a third pitch, even if it means ditching his slider and going back to a curveball, then he has the potential to be a #2 starter on what should be a very good team in three-to-five years.
ETA: 2014
18) Matt Harvey, RHP, New York Mets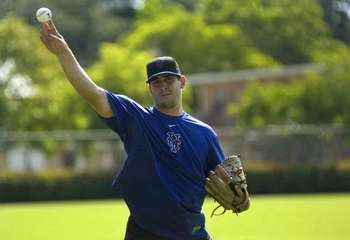 Age: 21
Height/weight: 6-4, 210 lbs
Drafted: 1st-round 2010
2010 stats: none
Harvey was the Mets' first-round pick in this most recent draft, and while he signed too late to get any action on the mound, he is still one of the team's most promising prospects.
Harvey had an up-and-down career at UNC, but when it mattered most, he was the Tar Heels go-to guy. His electric fastball was often too much for ACC hitters to catch up to. The pitch sits in the 93-95 range but can touch 97-98, giving him some of the best velocity of any class of 2010 collegiate pitcher.
In high-school, Harvey threw a very good curveball, but in college he ditched the pitch for more of a slider-type pitch, and while it was effective enough at UNC, there are doubts about how good the pitch will be at the pro level. Some feel he should return to the curveball.
He also throws a changeup that has above-average potential at the big-league level.
Control is Harvey's one weakness. He had troublesome bouts with it in college, and when his command went, he almost seemed to be a entirely different pitcher. Still, the area is something Harvey has been working in diligently, and with pro coaching he should be able to figure it out.
Harvey is a horse on the mound, with true inning-eating capability, but if his command doesn't come around, he could also be a nice fit for the Mets at the back of their bullpen, where his power-pitching would be an ideal fit.
Harvey could be a fast-mover in 2011 if he can improve his secondary pitches and sharpen his command, and if that happens, he could end up in Shea Stadium before the end of the season.
ETA: 2012
17) Craig Kimbrel, LHP, Atlanta Braves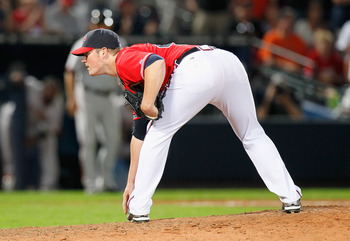 Kevin C. Cox/Getty Images
Age: 22
Height/weight: 5-11, 205 lbs
Drafted: 33rd-round 2007
2010 stats: 3-2, 1.62 ERA, 48 G, 55.2 IP, 28 H, 3 HR, 83 K, 35 BB, 1 error (AAA)
2010 stats: 4-0, 0.44 ERA, 21 G, 20.2 IP, 9 H, 0 HR, 40 K, 16 BB, 1 error (Atlanta- MLB)
Kimbrel is just another in a long-line of stellar relief prospects for the Braves.
Following in the footsteps of Johnny Venters, Kris Medlen and Mike Dunn, Kimbrel is stricly a relief pitcher. Don't expect him to see any time in the rotation if the Braves are hurting for starting pitching in 2011.
And why would you even consider moving a guy who pitched to a 0.44 ERA in 21 big-league outings in 2010? Especially when he was downright dominant in those appearances, striking out 40 batters in 20.2 innings. Kimbrel more than made up for the fact that he issued 16 walks in those 20 innings.
Kimbrel is a safe-bet to share closing duties with Venters now that Billy Wagner has retired. And he certainly has the stuff to hold down the job long-term. He can dial his fastball up to a very Wagner-esque 98 mph and has a well above-average slider, giving him two dominant pitches.
He doesn't have the experience that Venters have, so he may end up getting more of the opportunities, but if he struggles, the Braves will have Kimbrel right there as a backup plan.
ETA: 2011
16) Christian Yelich, 1B/OF, Florida Marlins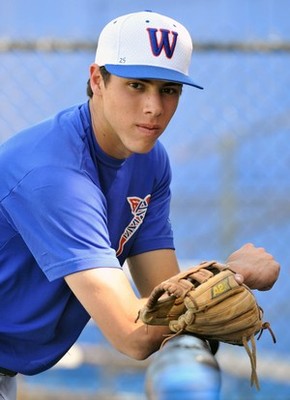 Age: 19
Height/weight: 6-4, 189 lbs
Drafted: 1st-round 2010
2010 stats: .362, 5 R, 3 2B, 1 3B, 0 HR, 5 RBI, 3 BB, 13 K, 1 SB, 1.000 Fielding %, 1 OF Assist
Yelich represents the highest-ceiling position prospect the Marlins have had in quite some time, and he proved in a short cameo with Low-A Greensboro that his bat was one of the more advanced available of any high-schooler in the 2010 draft.
The Fish knew exactly what they were getting when they took Yelich with the 23rd-overall pick last season. A seasoned high-school hitter with the chance for above-average power.
Aside from that, Yelich is a pretty raw prospect. He played third-base and outfield in high-school, but he doesn't have the arm strength or the footwork to stay at the hot corner, leading many to believe a switch to first-base could be in his future. If you've seen him play, though, he doesn't have the best reflexes, so his best bet might actually be in the outfield, which might be for the best. The Marlins have Gaby Sanchez at first-base, and have Logan Morrison, a true first-base prospect in his own right, who switched to the outfield to get some playing time late last season.
Yelich isn't the most graceful runner either, leaving just about all of his value in his bat, which I remind you is incredibly advanced. He has a smooth, left-handed swing that produces gap-to-gape line-drive power. He should grow into more power as he fills out and advances through the Florida system.
ETA: 2014
15) Brody Colvin, RHP, Philadelphia Phillies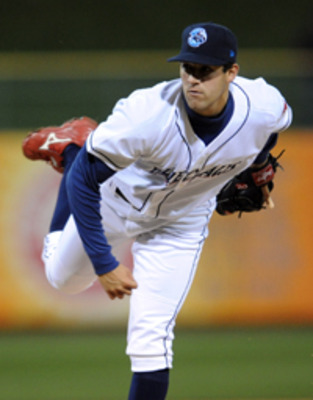 Age: 20
Height/weight: 6-3, 195
Drafted: 7th-round 2009
2010 stats: 6-8, 3.39 ERA, 27 GS, 138.0 IP, 138 H, 7 HR, 120 K, 42 BB, 3 errors (A)
Colvin made some pretty huge strides as a pitcher, a leader, and a person in 2010.
None was greater than blossoming into the staff ace for Low-A Lakewood, where Colvin put on quite a second-half show for the BlueClaws, posting a 2.12 ERA and a 54-17 K-to-BB ratio in 63.2 innings after the break.
Colvin put his childish ways behind him and made many forget about his February arrest stemming from a bar fight.
He also made great strides with his command, and developed a friendly rivalry with fellow BlueClaw and Phillies' number-one pitching prospect Jarred Cosart, that enhanced both of their games.
Colvin, a 7th-rounder back in 2009, throws in the low-to-mid 90s and can crank it up to 96-mph on occasion. He added a little weight before the 2010 season and that allowed him to work deeper into games and build his stamina. That should be a major part of his off-season conditioning. Adding more bulk might also allow him to add a few ticks to his velocity, which would only make him even more appealing as a prospect.
His curveball, which is inconsistent at times, is a potential above-average pitch that looks like one of the best in the system when he has control of it.
His control of his changeup is spotty at best, and developing that pitch further should also be a main priority for his 2011 season.
If Colvin can continue to improve his command of all of his pitches, as well as show he's matured past his 2010 arrest, he could end up as a mid-rotation starter for the Phillies in just a few years.
ETA: 2014
14) Matt Dominguez, 3B, Florida Marlins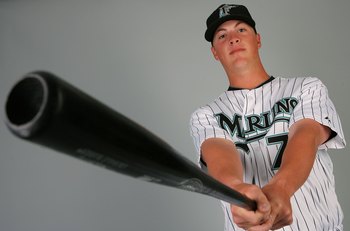 Doug Benc/Getty Images
Age: 21
Height/weight: 6-1, 205 lbs
Drafted: 1st-round 2007
2010 stats: .252, 61 R, 34 2B, 2 3B, 14 HR, 81 RBI, 56 BB, 96 K, .955 Fielding % (AA)
Dominguez is one of the best defensive third-basemen in the minor leagues, and if his bat can ever catch up, he'll be one of the best young third-basemen in the game.
On defense, he gets comps to Jeff Cirillo and Mike Lowell, while many feel that his ceiling on offense is as a Lowell-type impact bat. Dominguez isn't a slouch at the plate, but his feel for hitting pales in comparison to his high-school teammate Mike Moustakas, who was drafted just a few picks before Dominguez in the 2007 draft.
Dominguez has made incredible strides at the plate over the past few seasons, thanks to hours and hours of dedicated work with hitting coaches and in the cages. He's worked about as hard as anyone in the minors to become a good hitter and in 2010, he really began to blossom as an all-around solid performer at the plate.
He racks up plenty of doubles, so you know that he has some power tucked away that he just needs to develop a bit more. More so than most hitters, he should benefit from moving up, even if he is still somewhat raw at the plate. He can benefit greatly from advanced coaching at he'll get that more than ever in 2011 as he moves up to Triple-A.
Dominguez will most likely get a callup in late 2011, and the third-base job should be all his come 2012.
ETA: 2012.
13) Jarret Cosart, RHP, Philadelphia Phillies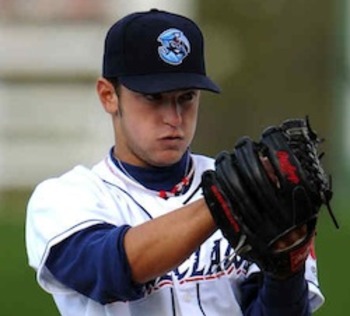 Age: 20
Height/weight: 6-3, 180 lbs
Drafted: 38th-round 2008
2010 stats: 7-3, 3.79 ERA, 14 GS, 71.1 IP, 60 H, 3 HR, 77 K, 16 BB, 2 errors (A)
Cosart and Brody Colvin are often considered 1A and 1B, when discussing Philly's pitching prospects. Either way you rank them, both are talented enough to make the organization comfortable dealing most of their other talented pitchers the past few seasons.
I personally prefer Cosart.
An impressive athlete, who was a record-setting hitter in high-school, Cosart has focused solely on pitching since the Phillies inked him for $550k as a 38th-rounder in 2008. And on the mound he has improved every aspect of his game, from his fastball command to smoothing out kinks in his delivery, which was a concern prior to the draft.
He works in the 92-95 range with his fastball and can touch 96-mph, and he compliments the pitch with a potential above-average curveball, which was a great strikeout pitch for him in 2010, when he struck out more than a batter per inning. His changeup has made great strides, and now grades out as a potential above-average pitch as well.
That's three potential above-average pitches for Cosart.
If he continues to improve his command, he looks like he could be a top-of-the-rotation starter for the Phillies, and given his age and the rate that the Phillies are moving him along, he'll have plenty of time and should be allowed to slide his way into Philly's rotation near the end of the Cliff Lee, Roy Halladay era.
ETA: 2014
12) Chad James, LHP, Florida Marlins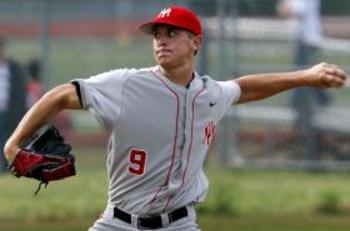 Age: 20
Height/weight: 6-3, 185 lbs
Drafted: 1st-round 2009
2010 stats: 5-10, 5.12 ERA, 24 GS, 114.1 IP, 116 H, 3 HR, 105 K, 65 BB, 3 errors (A)
The Marlins took a calculated risk with James, their first-round pick from 2009, starting him in Low-A ball. James was one of the most polished high-schoolers coming out of the '09 draft, and had a rather advanced repertoire, but even that couldn't save him from being battered in 114.1 innings.
Still, the Marlins have to be impressed with how James responded. He didn't complain or bemoan the fact that he was getting shelled constantly. Rather, he quietly went about his business and tried to get better. And he did, despite the 5-10 record and an ERA over 5.00.
James sharpened command of all of his pitches, including his mid 90s fastball and his potential above-average changeup and curveball. His changeup ranked as the best of any high-schooler in the 2009 draft crop.
James has had issues in the past with conditioning, which may have helped contribute to his struggles down the stretch. Getting into shape and building stamina should be a priority for him before and during the 2011 season.
Still, James represents one of the higher-ceiling arms the Marlins have drafted over the past 5-7 years, and he should have no problem reaching the big-leagues.
ETA: 2014
11) Danny Espinosa, 2B/SS, Washington Nationals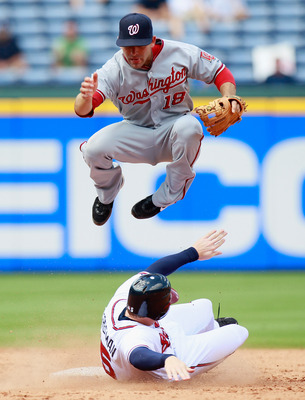 Kevin C. Cox/Getty Images
Age: 23
Height/weight: 6-0, 190 lbs
Drafted: 3rd-round 2008
2010 stats: .268, 80 R, 18 2B, 5 3B, 22 HR, 69 RBI, 41 BB, 116 K, 25 SB, .965 Fielding % (AA-AAA)
2010 stats: .214, 16 R, 4 2B, 1 3B, 6 HR, 15 RBI, 9 BB, 30 K, 0 SB, .993 Fielding % (Washington- MLB)
Espinosa comes from a long-line of successful Major League shortstops who hail from Long Beach State.
Following in the footsteps of Bobby Crosby, Troy Tulowitzki and Evan Longoria, Espinosa combines aspects and tools from each of those big-leaguers to create a package uniquely his own.
Like each of the three, Espinosa is an exceptional fielder. He has smooth actions in the field and has solid footwork. He has a great arm, more than adequate for shortstop, and unlike most minor league shortstop prospects, he actually has the range to stick at the position. He likely won't, however, as the Nats already have a capable shortstop in Ian Desmond.
As such, Espinosa will likely be forced to second-base, where he should rate as one of the best defensive second-basemen in the game.
At the plate, Espinosa combines a solid hitting approach with above-average power. He had a breakout season in 2010, splitting time between Double- and Triple-A, finishing with 22 homers, with another six coming after his promotion to Washington.
He's kind of a free-swinging hitter, so he'll rack up his fair share of strikeouts, but considering he gives the Nats lineup much more juice, they'll take the good with the bad.
Espinosa would have been a member of the Nats Opening Day roster had he been healthy, but playing winter ball he injured his wrist and underwent hamate bone surgery. That raises concerns not only about his status for 2011, but also about his power stroke. Fellow shortstop J.J. Hardy had surgery and hasn't been able to recapture his stroke, while fellow National Ryan Zimmerman underwent the same procedure and didn't miss a beat.
ETA: 2011
10) Randall Delgado, RHP, Atlanta Braves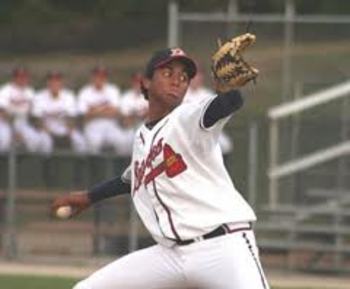 Age: 20
Height/weight: 6-3, 165 lbs
Drafted: N/A
2010 stats: 7-12, 3.30 ERA, 28 GS, 161.0 IP, 125 H, 9 HRA, 162 K, 52 BB, 2 errors (A+-AA)
Delgado is the second member of the talented Braves international trio.
His stuff is just as electric as Vizcaino's, if not more so. His fastball is a tick better and sits in this low-to-mid 90s. The pitch could add a few more mph's as he adds more weight to his ridiculously lanky frame.
His curveball and his changeup are both potential above-average pitches, and when all three pitches are working, Delgado is as unhittable as anyone. Unfortunately, it will be tougher for Delgado as he adjusts to hitters in the upper levels of the minors and in the big-leagues.
They'll be more patient and will wait for pitches in the zone, and Delgado sometimes tends to struggle with his command of his pitches, so that could lead to some erratic throwing and some big innings.
Still, Delgado has everything you look for in a young pitcher. He has three potential above-average pitches, great velocity, an advanced feel for pitching and a tremendous attitude.
The 20-year old had a sensational 2010 campaign, although the move to Double-A brought some of his command concerns to light. He walked only 12 fewer batters in 70 fewer innings in Double-A and was hit a lot harder than he was in High-A ball.
ETA: 2013
9) Mike Minor, LHP, Atlanta Braves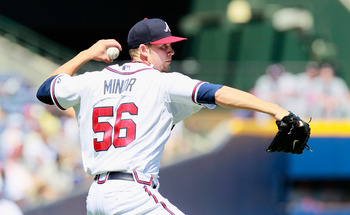 Kevin C. Cox/Getty Images
Age: 23
Height/weight: 6-2, 210 lbs
Drafted: 1st-round 2009
2010 stats: 6-7, 3.44 ERA, 21 GS, 120.1 IP, 93 H, 9 HRA, 146 K, 46 BB, 4 errors (AA-AAA)
2010 stats: 3-2, 5.98 ERA, 8 GS, 40.1 IP, 53 H, 6 HRA, 43 K, 11 BB, 0 errors (Atlanta- MLB)
Minor's rise in 2010 was about as unpredictable as the Giants World Series run.
Considered a finesse pitcher in the Brian Matusz mold before the 2009 draft, Minor somehow added a few ticks to his velocity (now up to 91-94-mph) and developed into a dominant minor league pitcher before his promotion to Atlanta.
He ranked among the league-leaders in strikeouts during his time in the minors, and proved to be just as effective in the Majors (43 K in 40.1 IP), although he did show a propensity for giving up the longball, a problem a pitcher with lower-level velocity is forced to endure, and he gave up more than a hit an inning.
Still, Minor offers plenty of promise for the Braves long-term. He can throw up to four pitches, all of which is average or better. His changeup is the best of them, and is as good as any in the Atlanta system. His curveball is a relatively new pitch, added since he scrapped his slider, which profiled as a slightly above-average pitch in college, and he's had some struggles with the new pitch.
His command over all of his pitches is excellent, easily the best in the organization and he shows excellent poise and control on the mound.
Minor also features the best pick-off move in the system.
He will also have the dubious honor of competing with Brandon Beachy and newly signed Rodrigo Lopez for the Braves fifth and final rotation spot.
Even if he doesn't claim it, Minor will be back in the Majors in no-time.
ETA: 2011
8) Jonathan Singleton, 1B/OF, Philadelphia Phillies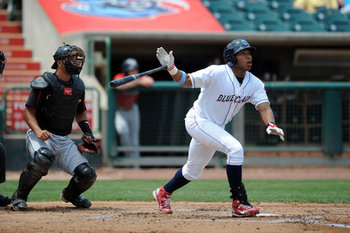 Age: 19
Height/weight: 6-2, 215 lbs
Drafted: 8th-round 2009
2010 stats: .290, 64 R, 25 2B, 2 3B, 14 HR, 77 RBI, 62 BB, 74 K, 9 SB, .995 Fielding % (A)
The day after Opening Day will begin Singleton's reign as top Phillies prospect.
With Domonic Brown up in the big-leagues for good, Singleton is without a doubt the best hitter left in Philly's system as well as the organization's most talented overall player.
It was the hitting ability that the team saw in Singleton (despite a subpar senior HS season), that made him a target for them with their eighth-round pick in 2009. And the 19-year old has more than rewarded their faith in him, hitting .290 in 2010 with 14 homers and 77 RBI. His plate discipline was uncanny for a 19-year old playing at any level.
There's even more power lurking in Singleton's bat, and he could grow in to above-average power, while still maintaining his ability to hit for a high average.
On defense, Singleton isn't the most graceful, but he's not entirely hopeless either. He could make do in the outfield, in a corner, but the Phillies are intrigued by him at first-base. He's played well there, and started 95 games there in 2010, committing only four errors all season (in 885 total chances).
The Phillies will move slowly with Singleton, despite his advanced hitting ability, because there's no room for him at the big-league level. Why rush his development?
He'll most likely begin the 2011 season in High-A ball
ETA: 2014
7) Wilmer Flores, SS/3B, New York Mets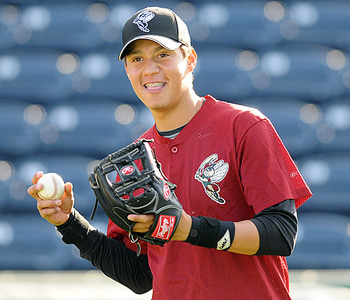 Age: 19
Height/weight: 6-3, 175 lbs
Drafted: N/A
2010 stats: .289, 62 R, 36 2B, 3 3B, 11 HR, 84 RBI, 32 BB, 77 K, 4 SB, .952 Fielding % (A-A+)
In Flores, the Mets have one of the most talented international position prospects in team history. He's also pretty good in comparison to other infielders across the minors.
His bat is, without question, his most impressive tool. He has lightning quick bat speed, and offers the chance for above-average power. We saw some of that in 2010, as Flores swatted 11 home runs and drove in 84 RBI.
The thing holding Flores back from being a truly elite prospect is his defensive ability. Signed as a shortstop, Flores is quickly outgrowing the position, and will be a third-base prospect soon enough, although that isn't a terrible thing.
He's got a solid arm and his footwork is decent enough for him to survive there.
Nobody really expected Flores to move this quickly through the minors so the Mets will eventually have to come up with some sort of a plan for him. He isn't taking third-base over from David Wright, and he isn't taking Jose Reyes' spot either. And unfortunately, there's no DH spot for him to occupy.
Still, Flores is special enough that the Mets will come up with something for him, even if it's as trade bait.
If the Mets are really looking to make a splash, they could use Flores as a centerpiece of a deal.
ETA: 2013
6) Derek Norris, C, Washington Nationals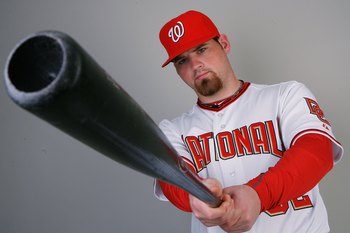 Doug Benc/Getty Images
Age: 21
Height/weight: 6-0, 210 lbs
Drafted: 4th-round 2007
2010 stats: .235, 67 R, 19 2B, 12 HR, 49 RBI, 89 BB, 94 K, 6 SB, .988 Fielding % (A+)
Despite the dreadful .235 average, Norris represents one of the best all-around catching prospects in the minors.
And believe it or not, the majority of his overall talent lies in his bat, which offers the ability to hit for a high average (yes, believe it!) and the chance for above-average power. Norris has already flexed his muscles in the minors. He hit 23 homers in 126 games last season and hit 12 more in less than 400 at-bats last season.
Norris combines his power-hitting ability at the plate with a special eye, that allowed him to walk only five fewer times than he struck out in 2010. The season before he walked 90 times and in 2008 he actually took seven more walks than strikeouts.
The real test for Norris will be reforming his game so he can stay at catcher. He'll report early to spring training this season so he can get extra work in with the other catchers, and his work will include trying out new receiving positions. Hopefully he can pick one and get comfortable with it.
If he does, and he has a bounceback year at the plate, he could be in Washington by the end of the summer.
ETA: 2012
5) Jenrry Mejia, RHP, New York Mets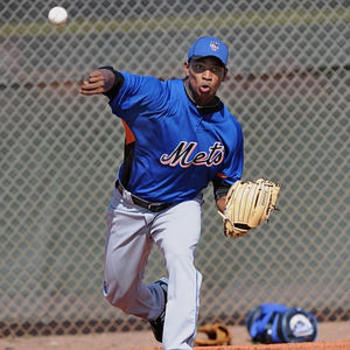 Age: 21
Height/weight: 6-0, 160 lbs
Drafted: N/A
2010 stats: 2-0, 1.28 ERA, 9 GS, 42.1 IP, 29 H, 1 HRA, 45 K, 16 BB, 2 errors (GCL, A+, AA, AAA)
For a guy with only 56 appearances in three seasons, and only nine outings in 2010, Mejia sure is a prospect favorite.
It might have something to do with his ability to fire bullets in the 90-96 range, topping out at 98-mph. The pitch has incredible sinking action and induces ridiculous amounts of groundballs.
It might have something to do with his changeup, which is an above-average pitch when has control of it.
It also might have something to do with the fact that in spite of all the limited work (mostly due to injury), Mejia still managed to work his way to Triple-A as a 20-year old.
It's actually a combination of all of these things.
The one downer on Mejia is his lack of a true third pitch. Missing that offering makes him a likely bullpen candidate, where his velocity would actually be a great asset. His changeup would give him two plus pitches to abuse hitters late in the game.
He could have Mariano Rivera potential as a closer, but his potential as a starter will likely keep him in a rotation.
Mejia is finally healthy, for the first time in a long time, and the 2011 season really has no limits for him.
ETA: 2011.
4) Freddie Freeman, 1B, Atlanta Braves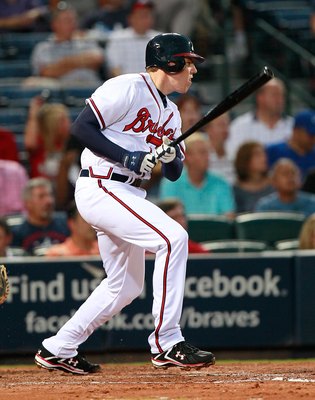 Kevin C. Cox/Getty Images
Age: 21
Height/weight: 6-5, 225 lbs
Drafted: 2nd-round 2007
2010 stats: .319, 73 R, 35 2B, 2 3B, 18 HR, 87 RBI, 43 BB, 84 K, 6 SB, .994 Fielding % (AAA)
2010 stats: .167, 3 R, 1 2B, 1 HR, 1 RBI, 0 BB, 8 K, 1.000 Fielding % (Atlanta- MLB)
Freeman is arguably the top first-baseman prospect in the entire minors, and with all due respect to Kansas City's Eric Hosmer, Cincinnati's Yonder Alonso, and San Fran's Brandon Belt, Freeman is the most complete and well-rounded of them all.
In addition to his incredible hitting ability, which seems to be getting better as he progresses up the minor league ladder, Freeman is also an exceptional fielding first-baseman and easily the best at his position defensively. In his three full-seasons, Freeman has posted fielding percentages of .994, .991, and .988 and has made only 14 errors the past two seasons after making 14 in his first full pro season.
At the plate, few hitters can match Freeman's ability to hit for average, his burgeoning power stroke and his uncanny eye at the plate. Last season, all three were on display, as the 21-year old set a career-high with his .319 average, tied his career-best with 18 homers, and struck out just 84 times in over 500 at-bats. He also set career-highs with 35 doubles, 73 runs and even six steals.
And Freeman did all of this as one of the youngest players in Triple-A.
There's nothing standing between Freeman and the Opening Day first-base job, and with his advanced approach at the plate and his stellar defensive work in the field, he should be a top candidate for Rookie of the Year honors in the N.L.
ETA: 2011
3) Julio Teheran, RHP, Atlanta Braves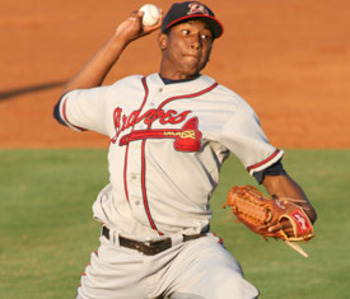 Age: 20
Height/weight: 6-2, 150 lbs
Drafted: N/A
2010 stats: 9-8, 2.59 ERA, 24 GS, 142.2 IP, 108 H, 9 HR, 159 K, 40 BB, 2 errors (A, A+, AA)
The first thing you notice about the six-foot-two, 150 pound Teheran is that he doesn't look much like a baseball player. And then you hear it.
The scrawny right-hander's arm whipping through the air with incredible velocity. It's no wonder that the 20-year old is the best pitching prospect in the National League East, and one of the best in all of baseball.
Teheran was difficult to faze in 2010, and was firing on all cylinders for most of the season. He worked his way up two levels to Double-A, where his stuff looked as good as ever.
His "stuff" includes a mid 90s fastball that sits 92-96, but looks much faster. He has excellent control of the pitch and holds his velocity late into games, which thanks to his liking of the strikeout isn't much longer than the fifth or sixth inning.
Both his curveball and his changeup have above-average potential, and he only needs to sharpen his command of both pitches to grade out as a top-of-the-rotation starter.
What's even better is that Teheran is still so young. He is still more of a thrower than a pitcher, and has tons to learn about spotting his pitches, pitching with runners on base, and developing somewhat of a pick-off move.
That he is as good as he is (which is very, VERY good) is astounding.
And he still has the potential to get even better.
ETA: 2012
2) Domonic Brown, OF, Philadelphia Phillies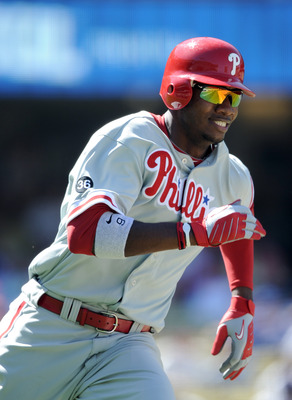 Harry How/Getty Images
Age: 23
Height/weight: 6-5, 200 lbs
Drafted: 20th-round 2006
2010 stats: .327, 65 R, 22 2B, 4 3B, 20 HR, 68 RBI, 37 BB, 74 K, 17 SB, 5 OF Assists (AA-AAA)
2010 stats: .210, 8 R, 3 2B, 2 HR, 13 RBI, 5 BB, 24 K, 2 SB, 1 OF Assist (Philly- MLB)
If 2010 in the National League East was the year of Jason Heyward, then it's a pretty safe bet to label 2011 the year of Domonic Brown.
Brown is easily one of the top five prospects in all of baseball, combining a natural blend of speed, strength and defensive prowess. At the plate he's capable of .300 and 25 homers, while he could easily be a 10-15 steal guy in the Majors. And he should be a regular among outfield assist leaders thanks to his cannon of an arm.
It's hard to believe that Brown was a 20th-round pick back in 2006, and it's even harder to fathom that at one time scouts questioned whether he'd be able to bring all of his tools into harmony and develop into a talented baseball player.
Brown has endured, though, and has managed to become one of the few prospects that Philly hasn't included in trade talks over the past few years. That's because they know what we all know do, that Brown is going to play an integral part in keeping the Phillies at the top of the N.L. East for years to come.
The Phillies spent the offseason looking for a player to split time with Brown, but their best bet is simply to let him play everyday. It's the only way for all of his tools to shine.
1) Bryce Harper, OF, Washington Nationals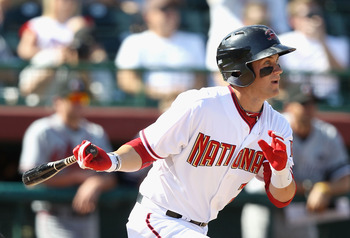 Christian Petersen/Getty Images
Age: 18
Height/Weight: 6-3, 205 lbs
Drafted: 1st-round 2010
2010 stats: .442, 88 R, 22 2B, 4 3B, 29 HR, 89 RBI, 35 BB, 39 K, 18 SB, 19 OF Assists (College of Southern Nevada)
Harper is one of the top two prospects in baseball, so he easily ranks as the top prospect in the elite prospect heavy National League East.
Granted, Harper hasn't played a single game as a professional yet, but his skills are so great and he is still so young that the sky really is the limit for him.
Harper has amazing power, as we've all seen in numerous YouTube videos and magazine spreads. He shattered the College of Southern Nevada single-season home run record set with aluminum bats, with wooden ones. He is an incredible athlete, with a rocket arm that should be perfect for a corner outfield spot. Somehow, Harper notched 19 outfield-assists from right last year for his JUCO squad.
And while he'll never be a stolen base champion, he has enough speed to steal 10-15 bases a season.
Harper isn't without faults though, and anyone who assumes he is will be shocked if and when he faces adversity in the minors. His plate discipline has some holes in it, and he tends to swing a little violently, making him prone to strikeouts, especially as a professional.
Still, with Harper the positives definitely outweigh the negatives, and conceivably, the 18-year old slugger could have two years of seasoning in the minors, and still make his debut before his 20th birthday.
The plan for Harper is to start him in Low-A ball, but there doesn't appear to be any sort of Strasburg plan set in stone for him. Basically, his ascension through the minors will be based on his appearance. All of you hoping to see a September call-up for Harper will probably be disappointed however. It's incredibly rare for a player to jump from Low-A ball to the Majors in less than one year.
Keep Reading