Cleveland Browns: 15 Years Later, Former Employee Questions Move To Baltimore
February 4, 2011
Brian Bahr/Getty Images
Fifteen years ago, then-Cleveland Browns owner Art Modell made the announcement that would define his legacy in professional football, as well as devastate one of the most loyal fan bases in sports.

The subsequent fan outrage after Modell's decision to move the franchise to Baltimore after a half century in Cleveland is well-documented, but Brook Park, Ohio city councilman Danny Colonna has different story to tell from the events of 1995.
"A couple months prior to the announcement, my boss (head equipment manager) Ed Carroll was telling me how my future looked good with the Browns organization down the road and one of the comments he actually made was, 'And hey, where are the Browns going to go?'," recalled Colonna, who was an equipment room assistant for the previous Browns franchise.

A few months later Colonna was trying to accept the fact the team would soon be gone, and so would his job.

"We were all hoping the city would come through with a new stadium and save the team," he said. "You kind of thought something would backfire and they wouldn't be able to move, or the National Football League would step in and say, 'We can't allow a franchise like the Browns to move.'"

Meanwhile, the team, which earned a playoff berth the previous season, went into a tailspin losing six of their final seven games.

"I don't want to say the players blew the season," Colonna explained. "There was just too much on their minds. For a professional football team to be successful, everyone from the head coach to the guy cleaning toilets has to have one goal, and that is winning football games."
"When the focus wasn't totally on that, it sent the team into disarray and we ended up having a bad final season."

According to Colonna, there were several questions and very few answers inside the headquarters in Berea.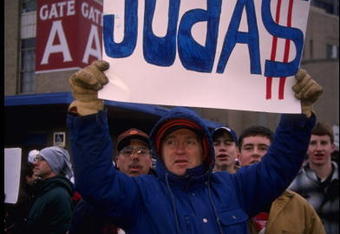 Brian Bahr/Getty Images
"Nobody was really told anything through the rest of the season," he said. "When the season ended we were told each department head would have an opportunity to go with the team to Baltimore and could take just one assistant with them. Everyone else was given severance packages and told when their last day would be."

The months after the season ended were tough on everyone. People were forced to make life-altering decisions. Many people, Colonna thought would go with the team, ultimately decided they were too firmly rooted in the Cleveland area and stayed.

"A lot of the players really felt for us," he added. "We were all a family, even as an employee you are part of the team."

In February, Colonna worked his final day for the Cleveland Browns.

"Ed Carroll told me to go into the store room and take anything I wanted," he said. "There were a lot of Browns t-shirts and hats; what else were they going to do with all that Browns stuff?"

Colonna was young, just 25 years old, and although he was disappointed he still didn't totally believe the team was going.

"I was gone before the moving trucks showed up to take everything to Baltimore," he said. "I imagine it was a different feeling for the people who were the last to go."

A lot has happened in Danny Colonna's life since he lost his job with the Browns. He has changed his line of work, run for and won a seat on Brook Park's city council, gotten married and became a father.
Football remains in his life, coaching at various levels for his alma mater Midpark High School, as well as the Tri-City youth football league.

Meanwhile, several of his former coworkers have enjoyed great success since the original Browns left.
Head coach Bill Belichick lead the New England Patriots to three Super Bowl titles and defensive coordinator Nick Saban captured college football's national championship with Louisiana State University and the University of Alabama.

"To see them do well is great," Colonna said. "Nick Saban, in my opinion, was the best defensive coordinator in the history of the Browns and there is no doubt in my mind Belichick would have won a Super Bowl with us."

While many Browns fans were crushed when the Baltimore Ravens won the Super Bowl just five years after leaving Cleveland, Colonna was happy for many of his friends now working for the Ravens.
"One of the equipment managers that went to Baltimore, J.J. Miller, came to town and we went out to eat," Colonna said. "He showed me his Super Bowl ring and it was ridiculous. I was happy for those guys though, they went through a lot, having to uproot their families and lives and relocate to Baltimore."

A year after the Browns left, Colonna took a trip to Baltimore to see his old boss Ed Carroll. Carroll gave him a tour of the facility and he was able to catch up with several old friends.

"It was weird, I felt like I was in a Browns locker room, but with different colors," Colonna recalled. "When I hear people say the Ravens play like the old Browns, it is because they still are. They transplanted the attitude of what the Browns were to Baltimore."

He admits he doesn't get the same feeling watching the current Browns that he did with the old team and believed now former head coach Eric Mangini, who worked in the same position as Colonna for the old Browns, could have eventually revived the current franchise.

"When I worked with Eric Mangini he was a dedicated individual and I think he will ultimately be a good coach in the NFL," he said.
"He's very detail-oriented and intelligent. Everybody hated Bill Belichick, but I knew at the time he would be a great coach. You don't get paid to have personality; you get paid to win football games."

"The problem with the Browns is you have too many players coming and going all the time. I think Mangini could have built the team to what it needs to be because he was with Belichick long enough to understand you have to have players in the system long enough to make it work."

Colonna remains optimistic the long-lost feeling of the old Browns could return to the shores of Lake Erie.

"If it does, I'll be one of the first guys to recognize it."