Good Riddance! 10 Teams Happy To See Andy Pettitte Ride Off Into the Sunset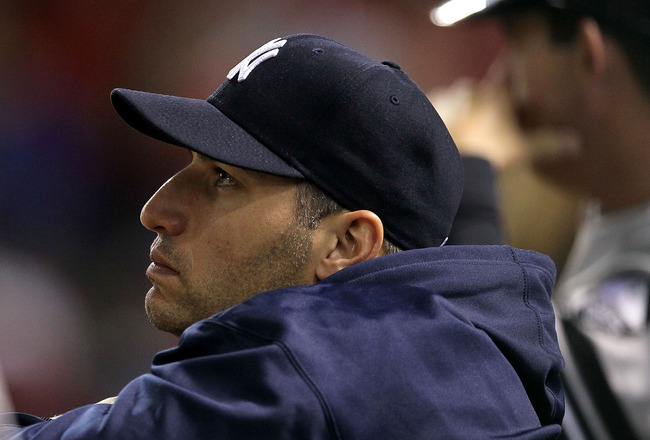 Stephen Dunn/Getty Images
For his career he posted a 240-138 record, including 25 complete games and four shutouts. He struck out 2,251 batters in 3,055.1 innings and finishes his career with a .635 winning percentage, which ranked as seventh-best among active pitchers before he made his announcement.
And as a loyal Orioles fan, more than just a part of me is thrilled that Andy Pettitte has finally called it quits. It seems like the O's never had a chance when Pettitte was on the mound, even late into his career.
And as the numbers on the last slide bear out, it was a lot uglier for the O's against him than I thought.
But Pettitte didn't just torment the O's. He was just as filthy against plenty of other teams. In fact, Pettitte only has an ERA over 5.00 against one team that he had more than three starts against. Kudos to you Texas Rangers!
So, here they are, without further ado, the ten teams most happy to bid farewell to New York Yankee Andy Pettitte.
St. Louis Cardinals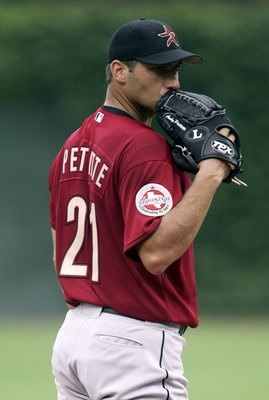 Jonathan Daniel/Getty Images
The Cardinals only got to get nine chances against Pettitte, and while they were able to force no-decisions in five of those starts, they still went 1-3 against him.
Pettitte pitched to a 2.82 ERA against the Cards with 36 strikeouts in 54.1 innings. His WHIP of 1.049 is his best against any team that he had more than five starts against.
Atlanta Braves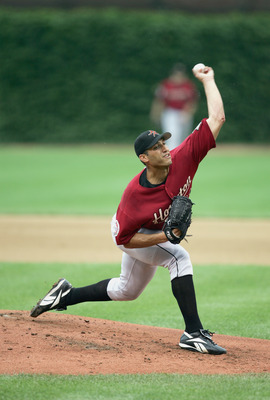 Jonathan Daniel/Getty Images
Pettitte only logged one more start against the Braves than he did against the Cardinals, but he posted a better record, at 5-1, his second-best winning percentage against any team that he had more than six starts against.
His ERA against the Braves was 3.39.
He struck out 45 batters and walked 18 in 58.1 innings pitched.
Pittsburgh Pirates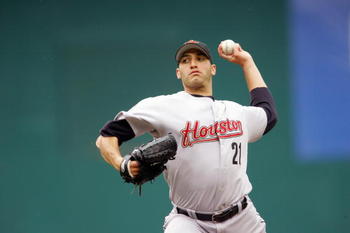 Jamie Squire/Getty Images
Pettitte owned the Pirates, winning seven of his nine starts against them, losing only once.
His winning percentage against them is the best of any team he had more than three starts against, and his 2.81 ERA against them is his best against any team he had more than six starts against.
He struck out 41 batters in 57.2 innings against Pittsburgh.
Oakland Athletics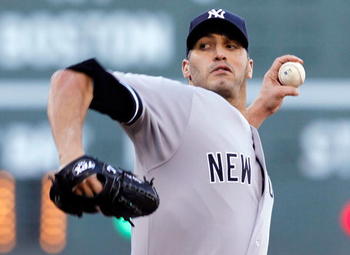 Jim Rogash/Getty Images
Pettitte went 11-6 against the A's, including one complete game.
His ERA of 3.35 is his best against any American League team. In 21 starts against Oakland, he struck out 90 batters in 137 innings.
Minnesota Twins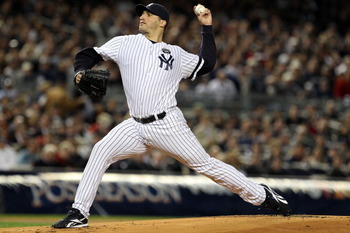 Al Bello/Getty Images
Pettite was often at his most effective against American League Central opponents, and against the Twins he was very good.
He posted an 11-5 record against Minnesota, including a 3.46 ERA and 110 strikeouts in 145.2 innings.
Kansas City Royals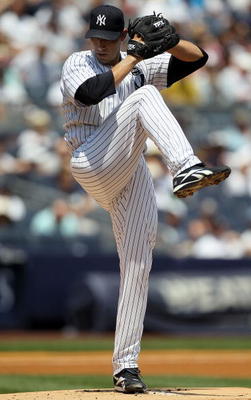 Jim McIsaac/Getty Images
In 23 outings against the Royals, including two relief appearances, Pettitte was nearly unbeatable.
He posted a 13-3 record against Kansas City, including one complete game.
His .813 winning percentage against the Royals is his second-best among teams he faced more than ten times.
His struck out 98 K.C. batters in 147.1 innings.
Tampa Bay Rays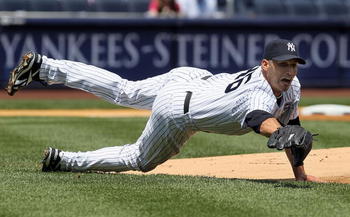 Jim McIsaac/Getty Images
Despite their limited history, Pettitte still faced the Rays 31 times in his career, including one relief outing.
In his games against them, he posted a 16-6 record and a 4.11 ERA, actually the second-highest of any A.L. East team he pitched against.
Pettitte struck out an incredible 144 batters against Tampa, in 177.1 innings, making the Rays one of his easiest strikeout victims.
Interestingly, despite his dominance, Tampa is one of only two teams (Texas the other) that Pettitte faced more than 20 times and didn't pitch a complete game against.
Still, you know the Rays are very happy to not have to face a certain lefty anymore.
Boston Red Sox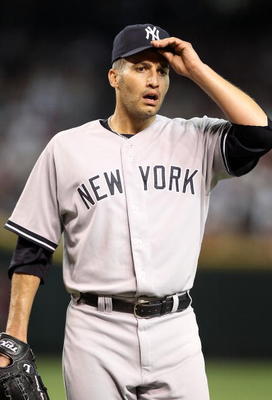 Christian Petersen/Getty Images
Pettitte had more wins against only two more teams than he had against New York's hated rival, the Boston Red Sox.
In 37 starts against the Sox, Pettitte posted an 18-10 record and a 3.91 ERA.
His 181 strikeouts in 227.2 innings is the second-most he had against any opponent, while he was incredibly stingy surrendering only ten home runs to the Sox over that same number of innings..
Toronto Blue Jays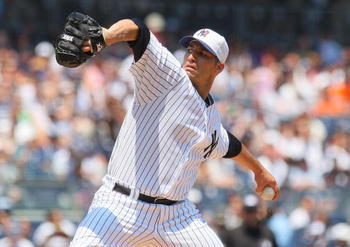 Mike Stobe/Getty Images
During his career, Pettitte started more games (41) against the Blue Jays than any other team.
Understandably, he posted the second most number of victories against them, going 21-12 with a 4.16 ERA.
As well as he performed against Toronto, he got plenty of help from his offense, as his ERA against them is actually his worst against any American League East team.
He also posted more strikeouts (206) against the Jays than against any other team. Three of his 25 career complete games came against them, most against any team, and he threw one shutout against them.
Au revoir monsieur Andy!
Baltimore Orioles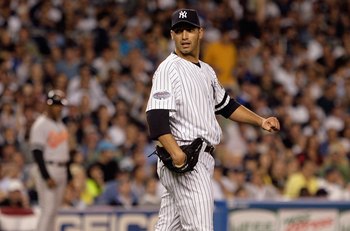 Jim McIsaac/Getty Images
Ugh...here we go.
Begrudgingly.
Pettitte was as dominant against the Orioles as any pitcher against any opponent in recent memory.
His record?
27-6, good for a winning percentage of .818. That means four out of every five games the lefty started against the O's, he sent the city of Baltimore home weeping.
His ERA?
3.52, the best of any American League East team he pitched against during his time with the Yankees.
It's astonishing to me that in 42 outings against Baltimore, including 40 starts, Pettitte only happened upon one complete game against the O's, and zero shutouts.
11 percent of Pettitte's victories came against the Orioles, a greater chunk than any other team he faced.
On behalf of the city of Baltimore, Mr. Pettitte, I warmly welcome you to the world of retirement.
Please stay!
Keep Reading

New York Yankees: Like this team?