MLB: Ranking the 10 Best Pitchers Entering the 2011 Season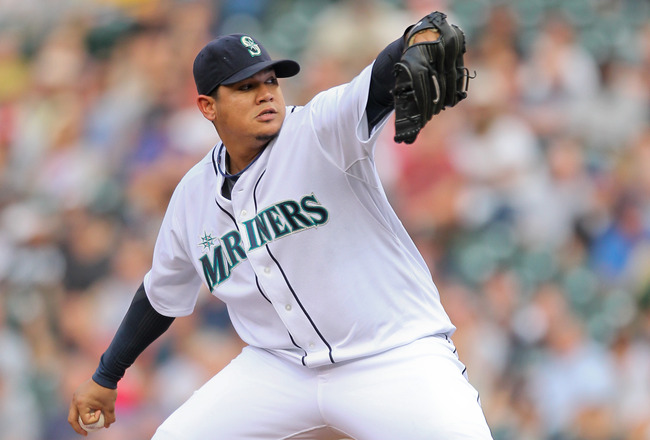 Otto Greule Jr/Getty Images
You read who I thought were the 10 best hitters in baseball entering the 2011 season, and now here's a list of the 10 best pitchers in baseball.
This is a very tough list to make because there is so much good pitching these days, but these 10 stand out above all. You could have made a ranking of the top four pitchers in the game and listed every Phillies starter but that would've been too easy.
Which pitchers are the most dominant, who you always expect to carry their team to a win when they take the mound? Here's a list of the 10 best pitchers in baseball, with nine of them being starters.
10. Mariano Rivera (Yankees)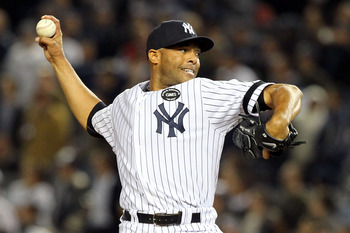 Al Bello/Getty Images
Coming in at 10th on the list is the best non-starting pitcher in the game, Mariano Rivera. This guy just keeps on getting better it seems even past the age of 40.
Closing games for the Yankees since 1997, Rivera had one down season in 2007 and at age 37, it was more than fair to question whether he was getting too old to do it anymore. Everyone who raised that question was entirely wrong. Rivera has turned that around by putting together three terrific seasons, including pitching to a 1.80 ERA last season.
Of all the relievers in baseball, he makes the biggest difference for his team, locking games down whenever a save situation comes up, especially in close games.
As a 40 year old in 2010, Rivera only allowed 39 hits in 60 innings pitched and walked a grand total of 11 batters. The one stat of note is that he only appeared in 61 games, the least he's appeared in a season since 2002 which was an injury-plagued season.
But, right now, he's shown absolutely no signs of slowing down, thus having the Yankees bring in a premiere closer this offseason—Rafael Soriano—and making him a setup man.
9. Jon Lester (Red Sox)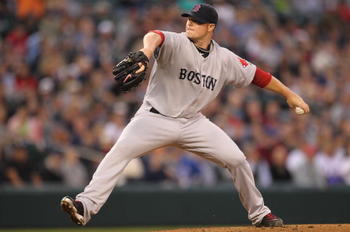 Otto Greule Jr/Getty Images
Jon Lester isn't talked about a whole lot outside of Boston, but he's one of the best pitchers in the game and had his best season so far in 2010.
For a Red Sox team that wasn't healthy all season long, Lester still managed to win 19 games and allowed 41 less hits than innings pitched.
He's one of the most consistent starters in the game, having won 15 games or more in each of the last three seasons.
He was an All-Star for the first time last season and finished fourth in Cy Young balloting. He also tied a career-high in strikeouts last season which he also reached in 2009 with 225.
He never misses any starts and after starting Game 4 of the 2007 World Series for the Red Sox in their clinching win over the Rockies, Lester has been rock solid.
8. Ubaldo Jimenez (Rockies)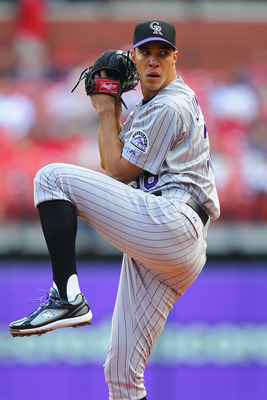 Dilip Vishwanat/Getty Images
Ubaldo Jimenez had been a solid pitcher in his career, winning 15 games in 2009 and posting low ERAs at hitter-friendly Coors Field in Colorado. But, last season, he stunned everyone with one of the best starts in Major League history.
Jimenez started the 2010 season a staggering 15-1 with a 2.20 ERA and it looked as if he'd win 25 games by the end of the year.
He did come back down to earth eventually, in fact struggling to finish the season on a high note. After the unbelievable 15 to one start, Jimenez went four to seven from that point on, closing with a record of 19-8.
It's shocking how for a guy who had 15 wins by July 8, he didn't even reach 20, but that doesn't take away from the young pitcher that he is.
He's an amazing talent with a fastball that consistently reaches the upper 90s and 100 on the gun and with an array of wicked breaking pitches, he should be dominant for a while.
He wasn't really a "brand name" before last season, so the league caught up to him after the All-Star break.
He showed signs that he could be a top-of-the-rotation type starter for some time, so he isn't going to be a fluke. With the Rockies lineup, Jimenez could have just as good a season in 2011.
7. Felix Hernandez (Mariners)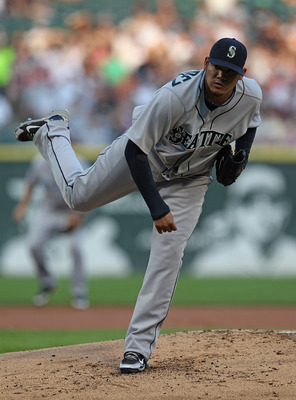 Jonathan Daniel/Getty Images
Felix Hernandez or "King Felix" as they call him out there, has had an amazing career already and he's only going to turn 25 this season.
What he accomplished last season was one of the weirdest things imaginable. He won the American League Cy Young award for a team that lost 101 games. That's hard to believe.
Not that he could be that good in a year which his team was so bad—it wasn't his fault—but that the voters would choose him to be the winner.
Nonetheless, it still was a controversial choice considering the numbers he finished with. He did lead the league in ERA at 2.27, but he only won 13 games. His last game started of the season was a huge one in deciding if he'd win the award or not. He was 12-12 and had he lost, it would've been interesting to see if he'd win the award with a losing record.
But the mere fact that a pitcher could be so dominant, including allowing 55 less hits than innings pitched, when the team he pitches for is so bad, shows you how great he is.
You think last season was great for him? How about in 2009 when he went 19-5 and didn't even win the Cy Young, finishing in second?
He's already won 71 big league games and if the Mariners could improve or if he could go to a winning club, just imagine how many games he'd win per year.
Unfortunately, him only winning 13 no matter why, places him so low on this list.
6. Josh Johnson (Marlins)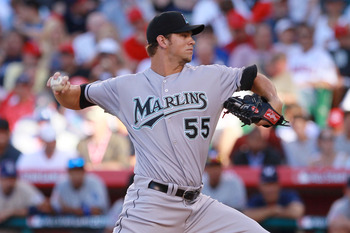 Jeff Gross/Getty Images
So he doesn't have a name that sticks in your mind and he pitches in front of 10,000 fans every home game. What makes Josh Johnson the sixth best pitcher in baseball? The numbers and his dominance speaks for itself.
Johnson had Tommy John surgery in 2007 and ever since returning in 2008, he's been one of the best to take the mound every five days.
He first came up with the young Marlins when every player they had was a rookie in 2006 and showed some stuff. After returning from major injury, he's gone 33-12.
He won a lot of games in 2009, earning 15 victories. He only won 11 last season, but he led the NL in ERA at 2.30.
Whenever you see Johnson pitch, he almost reminds you of Roy Halladay. Maybe not as dominant as him, but his pitching motion and style resembles Halladay.
He's admitted that he's tried to be like the Phillies ace, and at only 27 years old, Johnson is a star that happens to pitch on a team that never really does anything. The Marlins are never too good, but never awful.
Johnson missed some starts last season with injury that cost him some wins and didn't get great run support. He's very quietly putting together a tremendous career down south.
5. Adam Wainwright (Cardinals)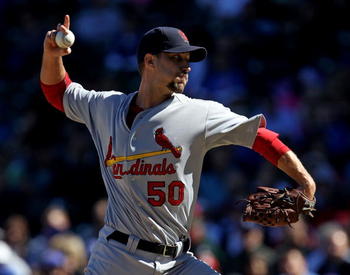 Jonathan Daniel/Getty Images
As a Mets fan, just thinking of Adam Wainwright makes me sick. His name makes every Mets fan sick. If you remember, he's the pitcher who struck Carlos Beltran out looking with a nasty hook to end Game 7 of the 2006 NLCS and the Mets wonderful season.
Even with that, nobody can hold that against him because since becoming a starter, he's been brilliant. The next season in 2007, Wainwright was converted to being a starting pitcher after being a successful closer in the 2006 postseason, on the mound when the Cardinals won the World Series in Detroit.
He won 14 games and looked like he'd be a reliable middle of the rotation pitcher. Over the last two seasons, he's been lights out, especially at home.
He led the NL in wins in 2009 with 19 and backed that up with a 20-win campaign last season. He finished second to Roy Halladay in the Cy Young balloting and was an All-Star for the first time.
After using the aforementioned curve ball to end the 2006 Mets season, he's used that pitch to be as nasty as anyone in the game. He's right in the middle of his prime and you can count on him every season.
After finishing third and second for the Cy Young over the past two seasons respectively, perhaps this season is his to win the award.
4. Tim Lincecum (Giants)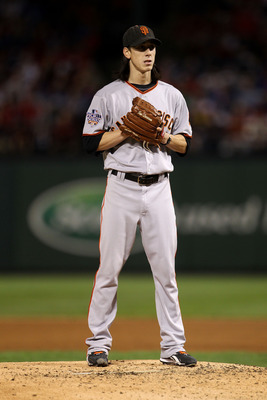 Doug Pensinger/Getty Images
These next four starters could be ranked in any order you wish. It's difficult so this is the order you'll see on this list. Coming in at fourth is Tim Lincecum, the newly minted World Champion.
"The Freak" if you wish, won the Cy Young in both 2008 and 2009 and for a while it looked like he'd win a third straight. An awful month of August, seeing him go zero to five, ruined that thought, but he still finished with 16 wins.
After another successful regular season, it was time to see how he'd pan out in his first ever postseason. He panned out spectacularly. It started right off the bat, as he dominated the Braves in Game 1 of the NLDS.
Who could forget his complete-game, two-hit, 14-strikeout performance that set AT&T park into a frenzy? It got the Giants first postseason in eight years off to a great start, one that would end with their first ever championship in San Francisco.
Lincecum hasn't put up the huge amount of wins over the past couple of seasons, but all of his other numbers have been great and sometimes he looks unhittable.
In a tremendous feat in itself, Lincecum has led the NL in strikeouts each of the last three seasons, recording 231 last season which was a down number. In 2008 he struck out 265 and in 2010 he struck out 261. Some are hoping that his "freaky" delivery doesn't hurt his arm at a young age, but he's just an awesome athlete to watch perform every five days.
3. Cliff Lee (Phillies)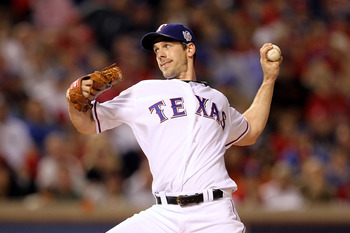 Ronald Martinez/Getty Images
From the ace who led his team to a championship to the ace who led his team to a pennant, Cliff Lee is next.
Lee has had one of the more stranger careers out there. He seems to pitch for a different team twice a season—although he's locked in Philadelphia for years to come now—and his career numbers are all over the place. Yet, he's still a top pitcher in this league at the age of 32.
Last season, Lee started out with an oblique injury for his new Mariners club. He did well while in Seattle pitching alongside Felix Hernandez, going 8-3 with a 2.34 ERA.
He didn't do too well with his new Rangers team after being traded in late July. He had a losing record in the heat of Texas and came up small in the team's first ever World Series appearance.
In Game one against the Giants, he was terrible, allowing seven runs in 4.2 innings. He wasn't bad in Game 5, but the big home run allowed to Edgar Renteria did him and the Rangers in.
Even with his struggles in Texas, Lee is terrific and brings his talents back to Philadelphia where he thrived in 2009.
His smooth delivery and low-key style make for a terrific way to go about things, and now without the worry of having to be dealt yet again, Lee could settle in without too much pressure. After all, he's only one of four in the rotation he pitches in.
2. CC Sabathia (Yankees)
Jim McIsaac/Getty Images
You can't be much better than this guy, which makes for an interesting debate for who's tops in this ranking.
CC Sabathia is everything you want in a starting pitcher. He's durable, having never been on the disabled list. He's consistent, having won double-digit games every season of his career. Finally, above all, he's downright nasty.
The Yankees ace will enter his third season in the Bronx and 2010 was better than 2009. It's pretty hard to win 21 games and not earn a Cy Young award, but that's what happened last season. Felix Hernandez and David Price of the Rays each finished ahead of him, but he led the league in wins and reached the ALCS unlike the other two.
In a season in which the Yankees starting rotation has so much uncertainty with Andy Pettitte undecided on retirement and A.J. Burnett coming off a terrible season, Sabathia is the one constant the team can lean on.
Besides everything else he brings to the table, Sabathia saves the bullpen virtually every time out there. He threw in 237.2 innings last season, and has reached at least 230 in each of the past four seasons.
He never wants to hand the ball to his manager and by backing it up with great performances, Sabathia is one of the best out there.
1. Roy Halladay (Phillies)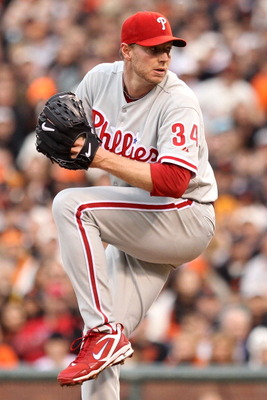 Ezra Shaw/Getty Images
The best pitcher in the game today has got to be Roy Halladay. He did everything possible last season other than getting a ring. In his first season in Philadelphia, Halladay won 21 games which led the NL along with these other feats:
Most innings pitched: 250.2
Most complete games: 9
Most shutouts: 4
Cy Young winner
Threw two no-hitters
Those are just some of the many categories that Halladay led the league and dominated in, and no one was surprised being it was the National League after terrific seasons up in Toronto.
The most impressive accomplishment of them all was the two no-hitters. One being a perfect game in Miami and the other being the second no-hitter in postseason history against the Reds in the NLDS.
The only thing anyone wanted to talk about heading into Game 1 of the NLDS was how Halladay would be nervous pitching in his first ever playoff game. He did the unthinkable and last thing imaginable, not allowing a single hit against a powerful Reds lineup that includes Joey Votto, Jay Bruce, and Brandon Phillips.
Unfortunately for him, his first season with the Phillies didn't end up with a championship, but no pitcher has done what he has over the course of his career.
He's led the league he's pitched for in complete games in five of the past six seasons. No other pitcher logs the innings he does in this era and with all the wins and masterpieces, his next stop after Philadelphia will be Cooperstown. A ring is all that's left for him.
Keep Reading