Philadelphia Phillies: 10 Things Phillies Fans Can Look Forward To for 2011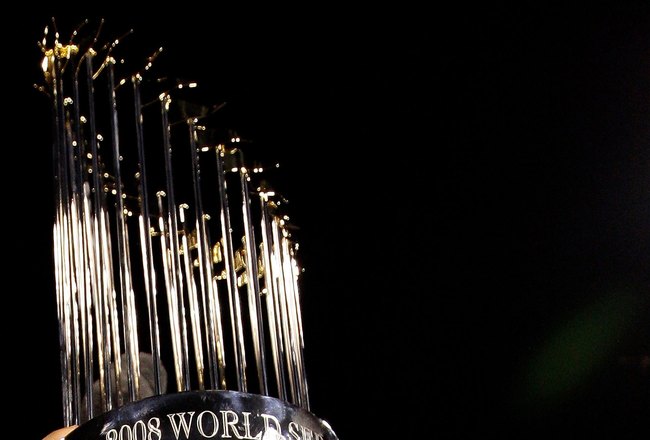 Pool/Getty Images
The Philadelphia Phillies shocked the entire baseball world when they signed Cliff Lee last month to a $120 million contract. Ever since the fans in Philadelphia have been anxiously awaiting the start of the season. With the addition of Cliff Lee to their already-stellar rotation consisting of Roy Halladay, Roy Oswalt, and Cole Hamels, the Phillies will be unstoppable and their opposition has the daunting task of facing two of the four aces every series.
Although the Phillies have seen the departure of fan favorite Jayson Werth, who signed a huge $126 million contract with division rival Washington, they have Domonic Brown and Ben Francisco to fill the void successfully. While the Phillies' outfield has less depth with the departure of Werth, fans will be eager to see what Brown and Francisco can do.
The Phillies fans are ready to watch their team start the 2011 season and potentially make it to the World Series once again. After losing to the San Francisco Giants in the NLCS this past October, the Phillies have much to prove to themselves: one with their rotation, and two by avenging their NLCS loss.
Expectations could not be higher for the Phillies and I believe they will live up to them.
These are the reasons why 2011 will be a magical year to remember.
10. They Will Play Jayson Werth 18 Games Next Season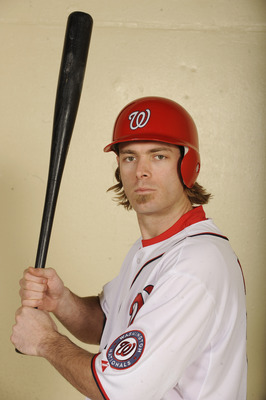 Mitchell Layton/Getty Images
Many Phillies fans are still grieving the loss of right-fielder Jayson Werth to their division-rival Washington Nationals. Most of those fans don't realize that they will still see him for 18 games next season. While Werth might do extremely well hitting at Citizens Bank Park against the Phillies, the die-hard fans will get to see their beloved player.
More importantly, the Phillies will play Jayson Werth 18 games in each of the next seven seasons, totaling 126 games. The Jayson Werth fans will be seeing a lot of him as a Washington National. Fans can easily take a train down to D.C. to watch him. Unlike Philadelphia, tickets are readily available as they rarely sell out games in Washington.
For Phillies fans that want to see Jayson Werth, it's a win-win situation.
For Phillies fans that don't want to have anything to do with Jayson Werth, the return to Citizens Bank Park may not be a friendly one.
Either way fan or not, you can't lose.
9. Right Field Will Bring Youth Back To The Team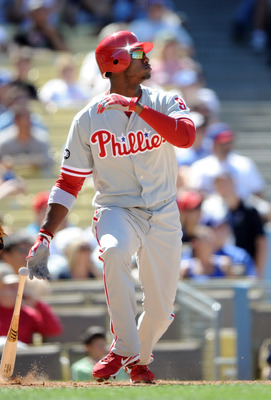 Harry How/Getty Images
Domonic Brown will have to prove himself to the rest of the Phillies that he is capable of starting in right field this season. While many think that he should start the year in AAA Lehigh Valley, there is an extremely good chance that he will share (or even take over) the right field duties with Ben Francisco.
Brown is young, at only 23 years old, and was recently ranked the No. 4 prospect in all of baseball by Baseball America.
This is also a year Ben Francisco will have to prove that he can start right field every day. Francisco has been a good bench player for the Phillies since they acquired him with Cliff Lee back in 2009, and considering he hasn't been playing every day, he has done very well.
Francisco is also fairly young, at age 29.
All eyes will be on right field both in spring training and during the season, and only the best player will get the job at the end of the day.
8. Joe Blanton Can Relax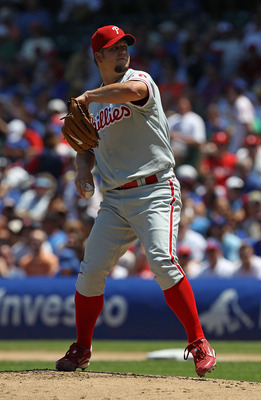 Jonathan Daniel/Getty Images
Joe Blanton has always been a pitcher that puts an enormous amount of stress on himself, especially in the first inning. Keep in mind that this was when Blanton was the third or even fourth starter. Now that he is at the back of the rotation, Joe Blanton does not need to worry about performing as well as he used to— if he has a bad day, which is not a rarity with him, he can count on the other pitchers making up for the loss.
This isn't a guarantee that Blanton will perform better. Sure, he should do better, but there is also the possibility that he will worry about being traded during the first half of the season. When July comes, Joe Blanton may have a lot on his mind and his mental stability during games might plunge.
Who's to say they can't blame him?
If Ruben Amaro, Jr. stays true to his word as of now, Blanton will stay on the team for the season. There shouldn't be any reason why Joe Blanton does not pitch at least with a decent record and ERA.
Blanton will do just fine.
7. Jimmy Rollins Will Be Healthy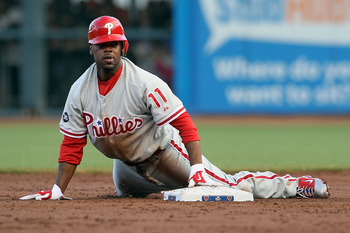 Justin Sullivan/Getty Images
You might be wondering why Jimmy Rollins is only seventh on this list. Although he is one of the Phillies' best base-runners, his hitting has declined over the past few seasons, and ever since the Phillies won the World Series in 2008, Jimmy just hasn't been the same.
Saying that Jimmy Rollins had an unfortunate year last season is an understatement. He was ridden with a calf injury he suffered at the beginning of the season and from there everything took a turn for the worst. Jimmy only played 88 games last year, and aside from the few games he played in the 2000 season, he posted career lows in batting average (.243), RBI, home runs, hits, doubles, triples, runs scored, slugging percentage and, most notably, steals. Considering this was his first-ever stint on the DL and that he was inconsistently playing, his season wasn't all that bad, but it could have been much better.
There is no reason why Jimmy shouldn't be back for 2011. This is the final year of his current contract, and assuming he wants to make more money in his new one, he will have to prove himself worthy of the raise. If this upcoming year is a repeat of last year and 2009, which was not a career year for him either, Jimmy might not expect an offer from Philadelphia after next season, let alone a raise.
Spring training will be a huge eye-opener for the Phillies as to his potential for next season.
Jimmy's got a lot to show this season.
6. Placido Polanco Will Be Healthy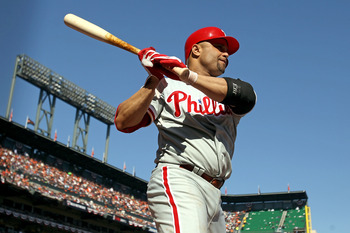 Ezra Shaw/Getty Images
The Phillies' most consistent hitter in the first half of last season, Polanco posted a .318 batting average through the All-Star break. However, following the break he posted a 280 average—not bad considering he had nagging elbow injuries (for which he received surgery in this offseason), but well below his career average. And even though he ended the season as the team's leader in batting average, he led the National League with a .324 batting average for a short period of time.
After trading him to Detroit in 2005 to allow Chase Utley to be the everyday second baseman, Polanco decided to return to Philadelphia after his previous contract expired at the end of last year and play third base. He showed promise in the beginning of the season, but he was placed on the disabled list on June 29 of last year because of his elbow issues, and his performance only declined throughout the rest of the season.
Polanco has already proven that he is a consistent hitter who almost always makes the most of his plate appearances. In 2010, he struck out only 8.1 percent of his at-bats, and he was also fantastic on two-strike counts.
He is reported to be recovering very well following his elbow surgery and is expected to be at 100 percent by the start of the season.
Assuming he stays healthy, you can bet that Polanco will be back on course for the 2011 season.
5. The Outfield Will Be At Full Strength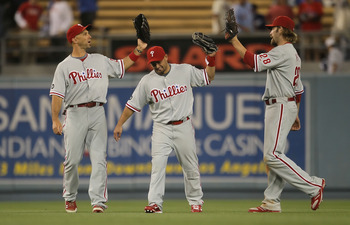 Jeff Gross/Getty Images
OK, so unless you've been living under a rock or didn't read the second slide, you know by now that Jayson Werth left the Phillies to sign a super-contract with the Nationals.
As I have already mentioned, the departure of Werth is a huge disappointment for most Phillies fans. However, the departure of one Phillies player shouldn't and won't make-or-break the team.
While Werth was the only Phillies player who didn't spend a stint during the 2010 season on the DL, there is still much promise for the outfield the Phillies have now. Raul Ibanez and Shane Victorino, who both had mediocre seasons last year (though Ibanez was good down the stretch), will unquestionably start and will most likely live up to expectations (especially Victorino).
And with the right field position vacant, Ben Francisco and Domonic Brown are vying to be the starter. Francisco has the major league experience and should start because of that, but Brown is younger and is a great player as well. The two could split duties throughout the season, or Francisco could start until Brown is ready to stay in the majors.
That's not to say that Ross Gload and John Mayberry Jr. don't have a chance to play in right field also.
The concern that the Phillies have is that, regardless of who replaces Werth—whether it is Francisco or Brown—the replacement will not be as productive a hitter as Werth was. However, Brown showed he can hit during his tenure in the majors last season and Francisco is a decent hitter, being used as a pinch hitter on occasion. If Francisco were to start, his stats would definitely improve, for he'd have more time and more opportunity to work on his hitting and defensive skills.
All things considered, the Phillies outfield will be back at close to full strength next season.
4. CHOOCH!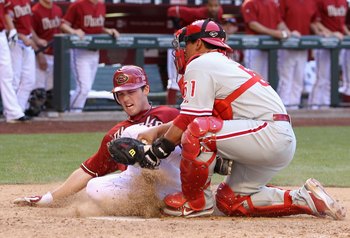 Christian Petersen/Getty Images
Unlike most of the rest of his teammates, last year was a year to remember for Carlos Ruiz.
He has become a fan favorite and he was the Phillies' most consistent hitter last season, and his clutch performance and defensive ability were unmatched by all of his fellow teammates.
Ruiz, or Chooch as the fans and teammates call him, posted a career-high in batting average and hits last year with a .302 average and 112 hits, beating his previous career-high average by over 40 points and career-high hits by 15.
He came close to topping his previous career records by posting 53 RBI, 8 home runs, 28 doubles and 43 runs scored. All were one shy of tying his career-highs, except runs scored—he peaked in 2008 in the category with 47 runs scored.
In addition to his near career highs, he also suffered a low when he was hit by part of a broken bat in the head following a swing by the Twins' Jason Kubel. Amazingly, Ruiz still posted a career-high in games played last season as well with 121.
Ruiz was named one of the most underrated baseball players in a recent article by Jason Stark—he is one of the most able and most productive catchers in baseball. He can gun down a man attempting to steal second with ease.
Chooch did great things last season, and more is sure to come in 2011.
3. Ryan Howard and Chase Utley Will Be Power Hitters Once Again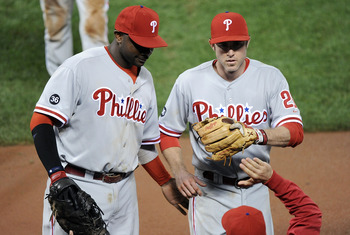 Harry How/Getty Images
As was the case with most of the Phillies last season, Ryan Howard and Chase Utley both had off years. Howard and Utley both spent time on the DL and their performances suffered throughout all of the season.
Howard, though still playing 143 games, spent his first-ever stint on the DL after sliding funny on his ankle and spraining it in the process. He hit a career-low 31 home runs last year, the first year since his rookie season in which he did not hit over 40 home runs. He also had a career low in RBIs with 108, runs scored with 87, slugging percentage with .505, and an OPS of .858. Howard did, though, have a career-low in strikeouts, with 157, and a career-high in triples, with five.
On the other hand, Utley played in only 115 games, which was also a career-low. He posted many other career lows, too, such as runs scored (75), hits (117), doubles (20), triples (2), home runs (16), RBIs (65), batting average (.275), and slugging percentage (.445). Like Howard, Utley did post a good career-low in strikeouts with 63.
But 2010 was definitely not a year Howard and Utley are proud of.
Although Howard, who was interviewed a few weeks ago, said that his ankle isn't 100 percent yet, it's much better than it was at the end of the season. As for Utley, his thumb should be better by now, and even though it didn't bother him much when he was back after the injury, he still never delivered.
Utley and Howard are the Phillies' best power hitters left since Jayson Werth is gone. They need to do better.
And 2011 is their time to shine.
2. The Phantastic Phour
Drew Hallowell/Getty Images
Needless to say, the Phillies' strength right now is the pitching rotation.
Roy Halladay became a Phillie on December 16, 2009 when he waived his no-trade clause to leave Toronto and evade free agency. He unanimously won the NL Cy Young Award last year as a result of his 21 wins, 2.44 ERA, 219 strikeouts, 1.04 WHIP, nine complete games, over 250 innings pitched, and just 30 walks given up. He became just the 20th pitcher to ever pitch a perfect game on May 29, 2010, and he became just the second pitcher to throw a no-hitter in the postseason, which he did in his first ever postseason start on October 6, 2010.
Roy Oswalt was acquired by the Phillies on July 29, 2010 in a trade with the Astros, which received three players, among them J.A. Happ. Oswalt lost his first start with the team the day after the trade, but he won the rest of them throughout the rest of the season. Upon joining the Phillies, Oswalt went 7-1 for the rest of the season with a 0.94 ERA and a 0.90 WHIP. Down the stretch, Oswalt was the Phillies' most reliable pitcher.
Cole Hamels had a comeback year. Although his 12-11 record in 2010 doesn't show it, Cole didn't receive a lot of run support in a majority of his starts. However, he is still only 27 and just entering his prime, and being close to the back end of a stellar rotation eased the pressure.
The Phillies had assembled one of the best baseball rotations in the league throughout the 2010 season. Little did they know, it was only going to get better.
On December 15, 2010, Cliff Lee, a former Phillie and the top free-agent pitcher on the market, shocked the baseball world when he signed for $50 million and two years less than what the Yankees offered him, but it wasn't with the other team in competition, the Texas Rangers. Cliff Lee spurned them both and chose to return to the city he loved—Philadelphia—signing a five-year, $120 million contract.
Joining an already fantastic rotation known as H2O (Halladay, Hamels, Oswalt), Cliff Lee now has helped form a potentially historic rotation. Now known by many names—R2C2, the Phantastic Phour, and the Four Aces—Cliff Lee has returned home and the Phillies are being considered the best team in the National League.
Surprised this was only No. 2? Wait until you see No. 1.
1. High Hopes For Another World Series Crown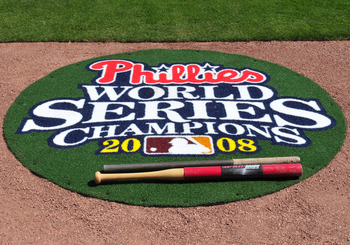 Al Messerschmidt/Getty Images
The Phillies will be back next season. They have undoubtedly formed the best rotation in baseball and among the best rotations in MLB history. With Roy Halladay leading a staff backed with Cliff Lee, Roy Oswalt and Cole Hamels, the Phillies pitching will be dominant next season. Other teams have to realize that, in every series, they will face at least two of the four aces on the team. That's scary!
Offense will also be a huge reason the Phillies will cruise into their fifth consecutive postseason. Ryan Howard and Chase Utley will be hitting home runs again. Shane Victorino and Jimmy Rollins will be stealing bases and hitting doubles and triples. And Placido Polanco and Carlos Ruiz will have high averages and will consistently get on base. Ibanez will have a better season. And Domonic Brown or Ben Francisco will excite the fans.
Defense will be a sure thing, too. Shane Victorino has won a Gold Glove each of the past three seasons. And the general lack of errors committed by the Phillies infield and outfield will lead them to victory.
All in all, the Phillies have already been projected to make it to their third World Series in four seasons. And who's to say that it won't happen? With such a spectacular rotation and a star-studded offense, the Phillies have high hopes for the 2011 season.
And 2011 is the Year of the Phillies. Don't be surprised if the Phillies bring home the Commissioner's Trophy next fall.
Keep Reading

Philadelphia Phillies: Like this team?