MLB Power Rankings: The Greatest Right Fielder in Every Team's History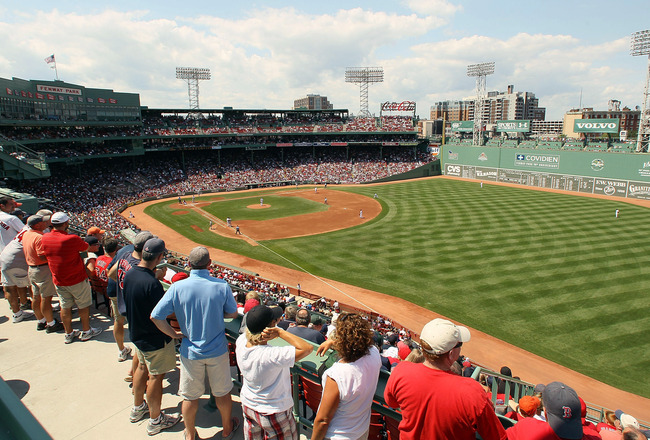 Elsa/Getty Images
Right Field is usually the place where the guy with the strongest arm is put so that he can throw players out going to third.
The ball is also not hit too often to right field, and in general this player is better in the batter's box than out in the field.
So with this in mind I thought I would pick the best right fielder in each teams franchise history. In this ranking I took into account both hitting and fielding, with a slight emphasis on the first.
If you don't agree with my opinion feel free to comment what you think.
Arizona Diamondbacks: Justin Upton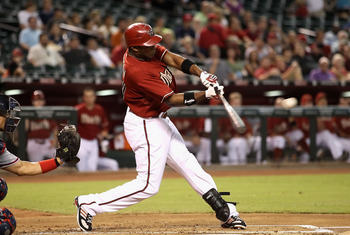 Christian Petersen/Getty Images
A newer franchise that began in 1998, the Diamondbacks have not had much talent in right field so far. The best player they have put out there may in fact be the one who is there now, Justin Upton.
The first overall pick in the 2005 MLB Draft, Upton is considered by most to be a five tool player for his ability to not only hit well, but also to field. Upton has a stellar year in 2009, in which he hit .300 and knocked 26 balls out of the park.
Upton is still learning to play the game, and it is fitting that a young star is the best right fielder in the history of a young team.
Atlanta Braves: Hank Aaron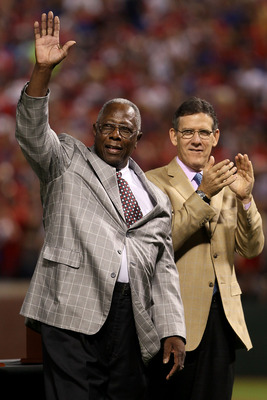 Elsa/Getty Images
This was an easy one, even in a team with a rich history like the Braves. Hank Aaron is not only the best right fielder of all time for the Braves, but also one of the best players at any position of all time.
A 25 time all-star, Aaron is the only player to hit 30 or more home runs in 15 seasons. Aaron only won the World Series once, but it was the same year that he won his only NL MVP award.
Aaron currently holds the MLB record for most RBI's. He was also a solid fielder, picking up three Gold Glove Awards.
Baltimore Orioles: Frank Robinson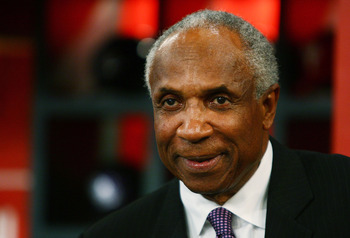 Mike Stobe/Getty Images
Another team with a long and rich past, the Orioles best right fielder award would probably go to Frank Robinson. Although Robinson played for multiple teams, he did contribute arguably his best five years to the Orioles.
Robinson is known as the only player to win the MVP Award in both the American and National League. He won with the Cincinnati Reds in 1961 and with the Orioles in 1966.
A 14 time all-star and two time World Series champ, both with the Orioles, Robinson could also field, winning a Gold Glove Award.
Boston Red Sox: Harry Hooper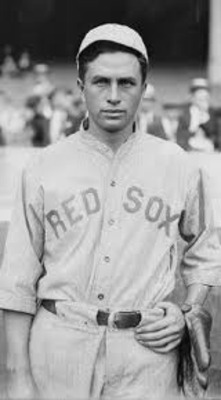 In a organization full of star left fielders, you have to go way back in the books to find their best right fielder. Harry Hooper played with the Red Sox from 1909 to 1921, and was one of the best defensive right fielders of all time.
Hooper still holds a few Red Sox records,including triples and stolen bases. Hooper is also the only Red Sox player to ever be a part of four championships, winning in 1912, 1915, 1916 and 1918.
Hooper made up one of the best outfields in MLB history from 1900-1915.
Chicago White Sox: Harold Baines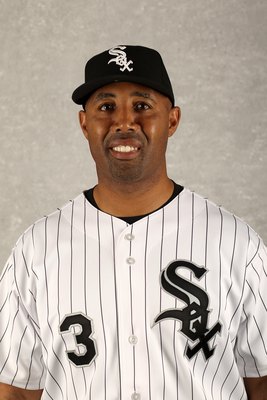 Ezra Shaw/Getty Images
The best right fielder in Chicago White Sox history is Harold Baines. Baines actually played with the White Sox on three separate occasions, and was voted to the all-star game three of his six times while being a part of the club.
Baines is a player that you wanted up with the bases loaded two outs bottom of the ninth because he seemed to come through in the clutch every time. He hit 13 grand slams in his career as well as 10 walk off home runs.
Baines was never a great fielder, and ended up moving to the DH position. He did hold the White Sox career home run record until Carlton Fisk passed him in 1990.
Chicago Cubs: Sammy Sosa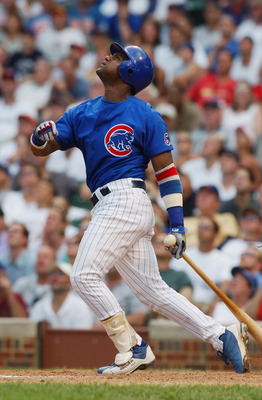 Jonathan Daniel/Getty Images
Although Sammy Sosa will always be looked at by fans as a cheater, he was also one heck of a right fielder for the Cubs. Sosa was a part of the famous duel between him and Mark McGwire to break Roger Maris' home run record.
Sosa was a seven time all-star and six time Silver Slugger winner. He still remains the only player to hit 60 or more home runs in three seasons.
Sosa did have a corked bat incident and is rumored to have used steroids, but behind all that taint he was still a great player.
Cincinnati Reds: Ken Griffey Sr.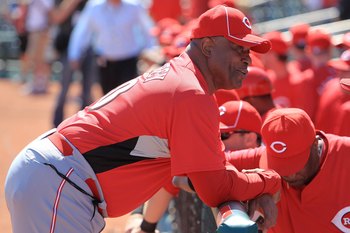 Chris McGrath/Getty Images
Because I did not want to repeat Frank Robinson here, although their could be a strong argument that he was the best, I instead chose Ken Griffey Sr. Although Griffey Sr. may be most famous for having his son Ken Griffey Jr., he also was a solid ballplayer himself.
Griffey Sr. managed to make it to three all-star games, and also won two World Series titles with the Reds.
With just a sliver below .300 career batting average, Griffey Sr. was a part of the "Big Red Machine" dynasty for the Reds.
Cleveland Indians: Rocky Colavito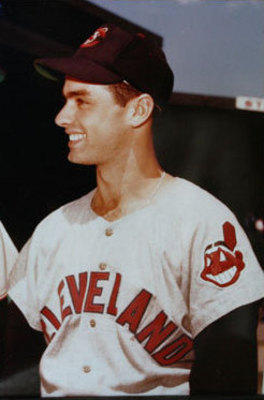 The Cleveland Indians have actually retired their fans number(455) but never a right fielder. One of their best though, if not their best was Rocky Colavito, a fan favorite during the late 50's.
Colavito has a freakish arm, once throwing the ball from home plate all the way over the center field wall. In 1958 he had a monster year, batting .303 with 41 home runs and 113 RBI's.
Colavito also managed to hit four home runs in consecutive at bats in a single game, an incredible feat.
Colorado Rockies: Larry Walker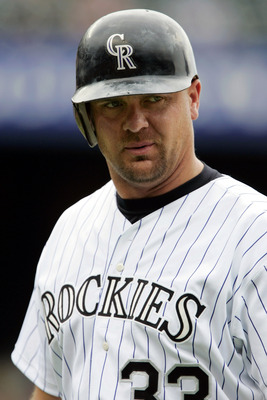 Brian Bahr/Getty Images
Another newer baseball franchise, the Colorado Rockies have been around in the MLB since 1993. In that time the Rockies have only had one MVP winner, and he is right fielder Larry Walker.
Walker won the MVP award in 1997 when he batted .366, hit 49 home runs, drove in 130 runs and stole 33 bases. He is the only player to have at least 25 stolen bases and a slugging percentage of over .700 in a single season.
Walker was also a great fielder, winning the Gold Glove Award seven times, five of these with the Rockies.
Detroit Tigers: Ty Cobb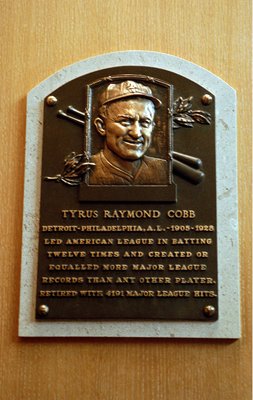 Ezra Shaw/Getty Images
The Detroit Tigers had the luxury of having Ty Cobb in right-field for almost 20 years, and a luxury it was. Cobb is now regarded as one of the, if not the, best baseball players of all time.
Cobb received the most votes in the inaugural Hall of Fame, and still holds the record for highest career batting average and most batting titles won.
Cobb was not an amazing outfielder, and holds the record for most errors by an outfielder in AL history. Fortunately he made up for it with his speed and batting skills.
Florida Marlins: Gary Sheffield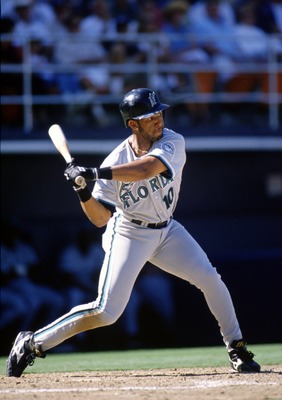 Stephen Dunn/Getty Images
Another expansion franchise that began in 1993, the Marlins best right fielder in their short history has been Gary Sheffield. Sheffield played for the Marlins from 1993 to 1998, and they were actually the team that moved him from third to right field.
Sheffield lead the Marlins to the 1997 World Series, and hit 122 home runs with the team throughout his career there.
The Marlins actually had the get rid of Sheffield the year after winning the World Series because they reportedly could not afford his contract.
Houston Astors: Jose Cruz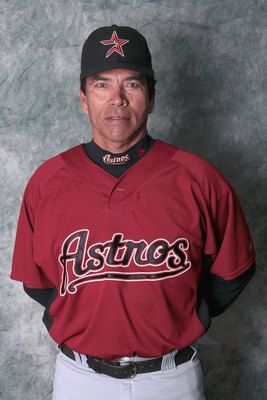 Marc Serota/Getty Images
Jose Cruz is one of the best known athletes in all of Puerto Rico, and this is mainly do to his playing days in Houston.
Cruz was one of the greatest hitters for the Astros, and won two Silver Slugger awards, both with the team. Cruz was also selected to two all-star games, and in completely different years than he won the slugger award.
Before begin passed by Craig Biggio in 2001, Cruz had played the most games of any player in Astros' history.
Kansas City Royals: Al Cowens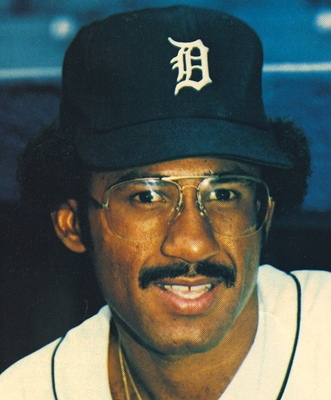 The Kansas City Royals have had limited success, especially of late, and it takes some deep digging to find a star right fielder. Al Cowens probably comes closest to filling that hole, Cowens played right field for the Royals for five years in the late 1970's.
Cowens has a spectacular year in 1977, in which he batted .312, hit 23 home runs and knocked in 112 runs. In this year Cowens not only won a Gold Glove Award, but also came in second place for the AL MVP award.
Cowens was most famous for an incident when instead of running to first base after hitting a ground ball he charged the pitcher who was looking away to get even for some prior history between the two.
Los Angeles Angels: Vladimir Guerrero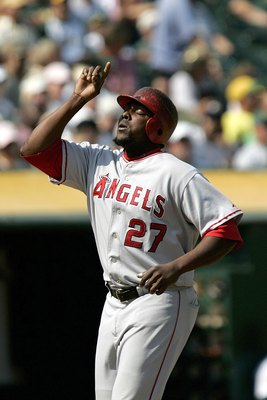 David Paul Morris/Getty Images
Guerrero recently played with the Angels, up until 2009. He had his most successful season in his career in Anaheim, when he won the MVP award in 2004.
In his six seasons with the Angels, Vlad lead them to five AL West Championships. Guerrero was also sent to the all-star game nine times.
Also a stellar fielder, Guerrero is known to have one of the strongest arms in baseball. He is a perfect combination of power hitting and power fielding.
Los Angeles Dodgers: Babe Herman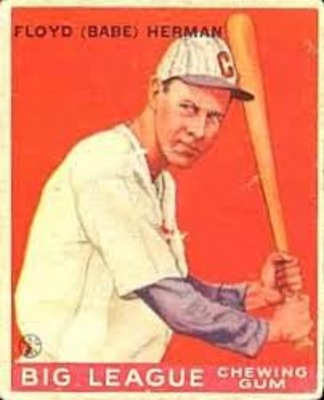 You have to go back to the days of the Brooklyn Robbins to find the best right fielder in Dodgers history. Babe Herman was quite possibly the best, and still holds the teams records for single season batting average (.393) on base percentage (.455) and slugging percentage (.678).
Herman was a feared hitter in the 1920's, and actually hit for the cycle three times. When Herman retired he still held the Dodgers record for home runs in a season with 35.
Herman was not the best fielder, and it was an adventure to watch him play the field. The same could be said about his base-running.
Milwaukee Brewers: Jeromy Burnitz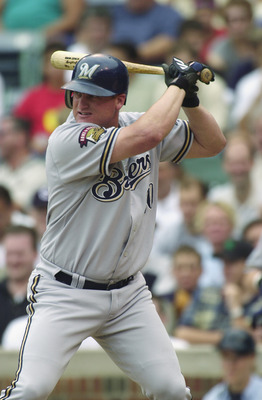 Jonathan Daniel/Getty Images
This was a tough decisions, because to be honest all of the good Brewers outfielders have played center or left field. Burnitz does have the eighth most home runs in team history, even though he only played with them for six seasons.
Burnitz was selected as an all-star in 1999 while with the Brew crew, and was a crowd favorite in Milwaukee.
For a short time Burnitz was actually the franchise's highest paid player.
Minnesota Twins: Sam Rice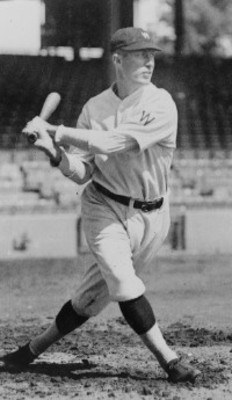 You have to go back to the days of the Washington Senators to find the best right fielder in Twins history. Rice lead the Senators to a World Series victory, and was a consistent leader in every statistical category.
He ended up with a career batting average of .322, and just 13 hits shy of 3,000.
Rice had one of the most famous defensive plays in World Series history, when he caught a ball and robbed a home run but then toppled over the wall. It was not until Rice's death that he confirmed that he in fact held onto the ball after he fell over the wall.
New York Mets: Darryl Strawberry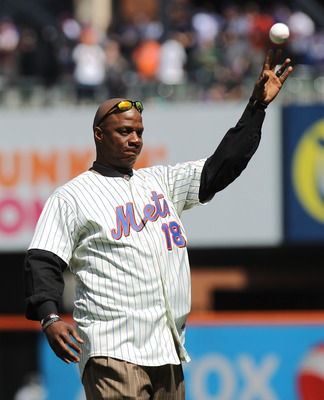 Nick Laham/Getty Images
One of the biggest bad boys in all of baseball, Darryl Strawberry was also quite the player on the field. During the 80's Strawberry lead the Mets to a World Series, and was also selected to seven all-star games (he went to eight total).
Strawberry also won the rookie of the year award and two Silver Slugger awards while being with the Mets.
Strawberry was one of the most exciting players to watch on the Mets, and a fan favorite. He was featured on posters and banners as well as having his own action figure.
New York Yankees: Babe Ruth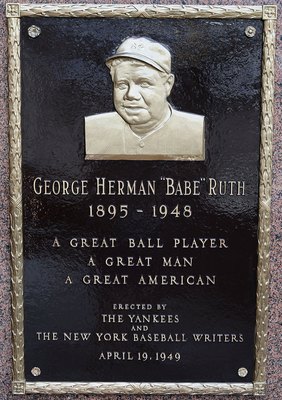 Jim McIsaac/Getty Images
One of the best baseball players of all time, Babe Ruth set the standard for what a right fielder should be all about. The Sporting News ranks Ruth as the best player of all time, even though he was selected to only two all-star games.
Not only was Ruth an amazing player, but he was a born winner. In his career he managed to win seven World Series titles. Ruth was a great power hitter, hitting 714 home runs in his career.
Besides being a great power hitter Ruth could hit for average too, with a career average of .342. He still holds the Yankees record for best single season average, when he batted .393.
Oakland Athletics: Reggie Jackson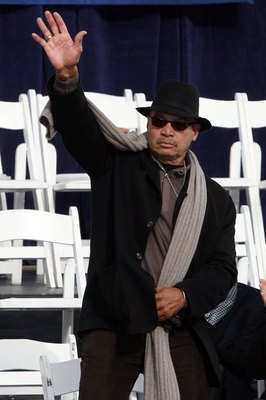 Jim McIsaac/Getty Images
Another player that could have been considered as the best right fielder for the Yankees is definitely the best right fielder in the history of the Oakland Athletics.
As a member of the Athletics, Jackson lead them to three consecutive World Series titles. He has been nicknamed "Mr. October" for his clutch hitting in the postseason.
A 14 time all-star, Jackson is one of the greatest at the position of all time.
Philadelphia Phillies: Chuck Klein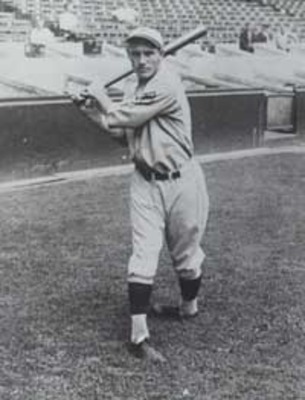 Chuck Klein had three separate stints with the Philadelphia Phillies in the 20's and 30's. Klein was one of the best known sluggers during the time period.
Klein was an instant success the second he entered the league, and still holds the record for most home runs in a players first two calender years in the league.
A two time all-star and one time MVP, Klein also hit for the triple crown one year. Klein was inducted into the Hall of Fame in 1980.
Pittsburgh Pirates: Roberto Clemente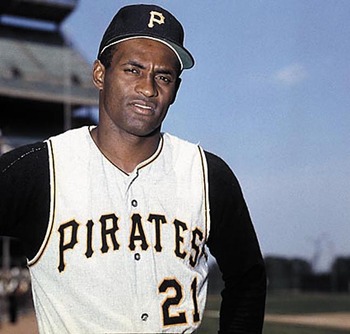 A truly amazing hitter and fielder, Clemente won 12 Gold Gloves and was also selected to 15 all-star games.
One of the most charitable players in the history of sports, Clemente lost his life in an aviation accident on the way to delivering aid.
Clemente played all 18 seasons with the Pirates, and won an MVP award and two World Series titles with them. Still honored today, Clemente was selected to the Hall of Fame in 1973.
San Diego Padres: Tony Gwynn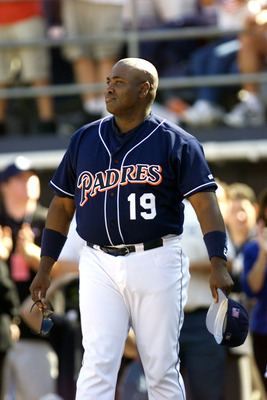 Stephen Dunn/Getty Images
One of the most consistent hitters in baseball history, Tony Gwynn was elected to the Hall of Fame with 97.6 percent of the votes on his first try.
Unlike most right fielder, Gwynn was a lot less about hitting the ball out of the park and a lot more about just making contact. In all of his seasons Gwynn never batted below .309.
Gwynn was also a great fielder, winning five Gold Glove Awards to go along with his 15 all-star game selections.
San Francisco Giants: Mel Ott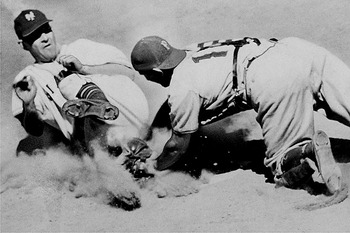 Although standing at only five foot nine, Mel Ott was a surprisingly strong power hitter, and the first player in National League history to reach 500 home runs.
Ott was a 12 time all-star selection, and also won the World Series with the Giants in 1933. He was elected to the Hall of Fame in 1951.
Ott lead the Giants in home runs for 18 consecutive years, and no other player has ever lead his team for that length of time in a single triple crown category.
Seattle Mariners: Ichiro Suzuki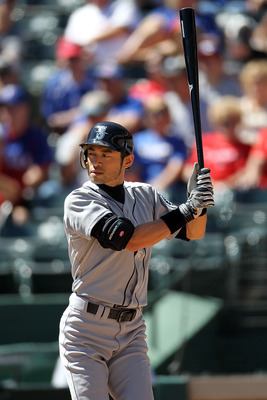 Ronald Martinez/Getty Images
One of the best hitters in baseball history, and one of the fastest too, Ichiro is the best current right fielder in the MLB and also the best in Mariners history.
Ichiro holds the single season record for most hits, and had ten consecutive seasons with over 200 hits.
A 10 time all-star, Ichiro has also won the Gold Glove Award ten times. He would have even more impressive statistics if not for having played in Japan for the first nine seasons of his career.
St. Louis Cardinals: Enos Slaughter
The St. Louis Cardinals received a big winning boost when Enos Slaughter was on their team. In his career Slaughter won four World Series titles, and two of these came with the Cardinals.
A 10 time all-star, Slaughter was a very good contact hitter. He actually had a three year break from the Cardinals to serve in the war.
Slaughter is still high up in many Cardinals records, including RBI's and doubles.
Tampa Bay Rays: Ben Zobrist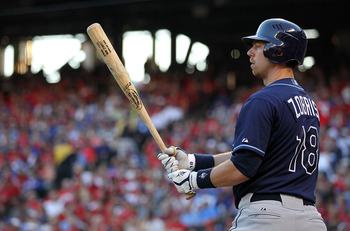 Ronald Martinez/Getty Images
One of the newest franchise's in baseball the Rays have not had much time to fill right field with a superstar. Their best right fielder in franchise history now plays second base for the team.
Zobrist played right field for the Rays during their magical 2008 run, in which they lost in the World Series.
Zobrist is not even 30 yet, and still has a bit of time to progress. He was selected to participate in the all-star game in 2009.
Texas Rangers: Ruben Sierra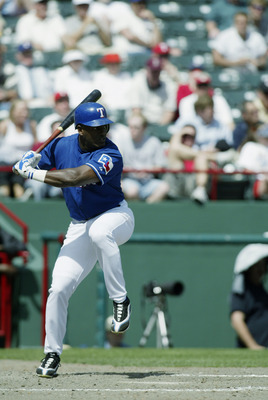 Ronald Martinez/Getty Images
Although Sierra changed teams 11 times in his career, he spent a good chunk of years with Texas. Sierra was a four time all-star, with three of these coming with the Rangers.
Sierra had great power and had a monster year in 1989. In that year he hit 29 home runs and drove in 119 runs. He came up just short of winning MVP, finishing second.
Sierra came back to the Rangers later his career, and ended up winning comeback player of the year with them in 2001.
Toronto Blue Jays: Shawn Green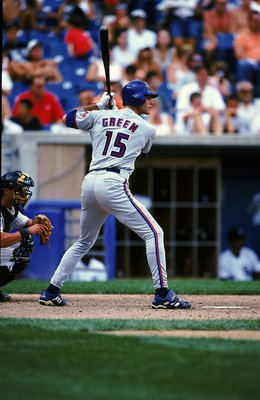 Jonathan Daniel/Getty Images
Shawn Green roamed right field for the Blue Jays from 1993 to 1999.
Green had a big year in 1999, winning the Silver Slugger Award and also the Gold Glove Award on his way to being selected for the all-star game.
Green had a smooth swing, but also a cannon of a arm and had 14 assists in 1998.
Washington Nationals: Rusty Staub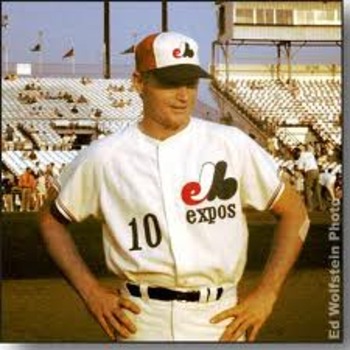 Because I already used Vlad with the Angels, I had to go back a bit further in time and find another right fielder that played the position well.
Staub played four seasons with the Expos, and was the teams first star and one of the most popular players.
Staub is the franchise's career leader in on base percentage.
Keep Reading

New York Yankees: Like this team?