2011 MLB Preview: Jose Bautista and the 20 Biggest Questions Facing the AL East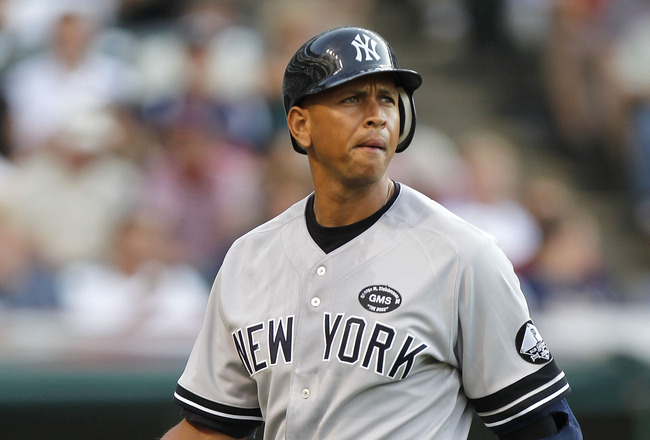 Gregory Shamus/Getty Images
The American League East is the highest profile division in baseball. Home to both the New York Yankees and Boston Red Sox, it contains two of the league's biggest spenders, and with the Tampa Bay Rays in the mix as well, they have three perennial pennant contenders.
But for all the attention the AL East gets, there's still a lot we don't know. Who will break out? Who will bust? Who will make the 25-man rosters? The uncertainties run far deeper than simply not knowing how the final standings will look next October.
In this slide show are the 20 biggest questions fans should be thinking about before Opening Day. So read on, and be sure to tell me what I got wrong!
No. 20: Is Adam Lind a Legitimate Power Hitter?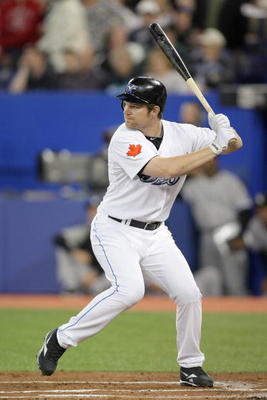 Dave Sandford/Getty Images
After tantalizing Toronto Blue Jays fans with flashes of his potential for three years, designated hitter Adam Lind broke out in a huge way in 2009, hitting .305 with 35 homers, 114 RBI, and a .932 OPS. He followed that up with a profoundly disappointing .237 average and .287 OBP in 2010.
Is he a legitimate middle-of-the-order threat or just another bust prospect?
No. 19: Can Nick Markakis Be an All-Star Again?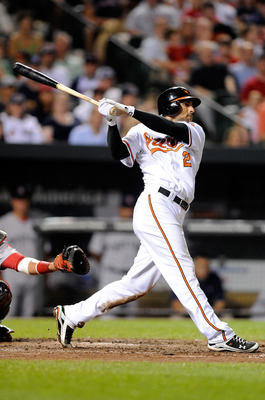 Greg Fiume/Getty Images
Two years ago, Baltimore Orioles right fielder Nick Markakis had just parlayed a great glove and superb plate discipline into an All-Star season (.306/.406/.491, 6.1 WAR). Since 2009 though, we've seen him devolve into a roughly average player (2.0 WAR/600 PAs).
At 27, it's not too late for a comeback, but will he ever post MVP-caliber numbers again?
No. 18: Who Plays Shortstop in Boston?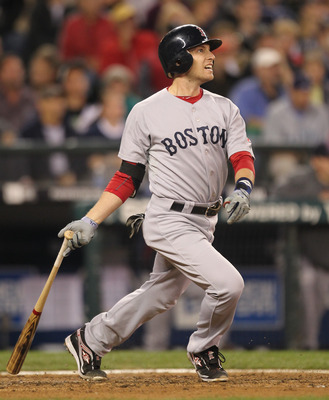 Otto Greule Jr/Getty Images
When the Boston Red Sox signed Marco Scutaro last winter, it was seen as the end of Jed Lowrie's "shortstop of the future" label in Boston. Of course, that was before Lowrie hit .287/.381/.526 as a utility infielder in 2010.
The starting job is Scutaro's to lose, but Lowrie could take his place by Opening Day.
No. 17: How Good Is Ben Zobrist?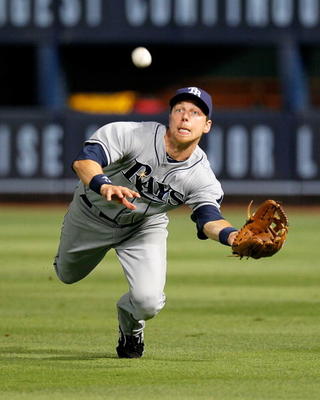 Kevin C. Cox/Getty Images
In 2009, Tampa Bay Rays utility man Ben Zobrist emerged as one of the best players in baseball, posting a .948 OPS and 8.4 WAR while playing superb defense at every position but pitcher and catcher. Given a more stable lineup spot in 2010, Zorilla saw huge drops in his average (.297 to .238) and slugging percentage (.543 to .353).
There's no question that he's a good player, but there's a difference between a solid starter and an MVP candidate.
No. 16: Can Desmond Jennings Replace Carl Crawford?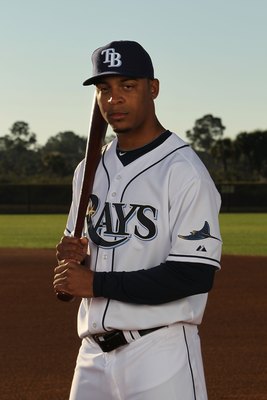 Nick Laham/Getty Images
For most teams, losing a player like Carl Crawford would create an impossible hole on the depth chart. The Tampa Bay Rays don't know what they're going to get from top prospect Desmond Jennings in 2011, but he has the raw talent to be a star.
Tampa Bay didn't have the money to re-sign Crawford anyway, but Jennings' presence probably helps the front office sleep at night.
No. 15: Is There Hope For Aaron Hill?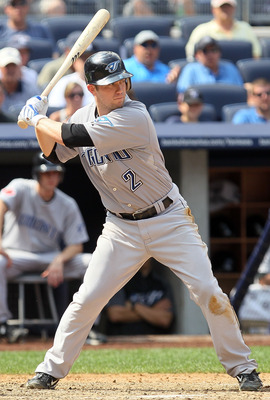 Jim McIsaac/Getty Images
Blue Jays second baseman Aaron Hill put on a hitting display in 2009, launching 36 bombs and driving in 108. But in 2010, his offense tanked: he hit just .205 with a meager .665 OPS.
For the Jays to have any chance in 2011, they'll need a bounceback year from their keystone man.
No. 14: How Long Must We Wait For Matt Wieters?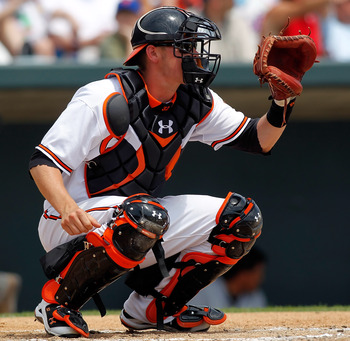 J. Meric/Getty Images
Before Orioles catcher Matt Wieters even set foot on a major-league playing field, he was heralded as a better, switch-hitting version of Joe Mauer (no pressure, though). And yet, the man whose unassisted octupal play was the secret inspiration for the movie Eight Men Out has hit just .266 with a .721 OPS in two MLB seasons—not bad for a catcher, but certainly not the stuff or legends.
In case it's not clear, it is way too early to call the 24-year-old a bust, but the wait for his stardom is frustrating.
No. 13: Can B.J. Upton Put It Together?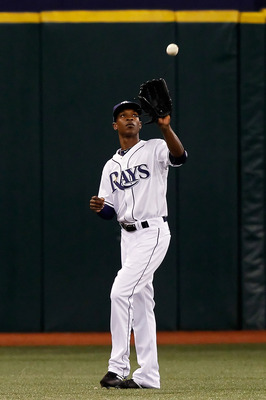 J. Meric/Getty Images
Tampa Bay's toolsy center fielder B.J. Upton approached stardom with strong seasons in 2007-8 (including his torrid run in the 2008 playoffs) but hasn't been terribly impressive since, with a .239 average and .715 OPS.
He's blessed with tremendous raw talent, but can he learn to hone it?
No. 12: What Should We Expect from Jarrod Saltalamacchia?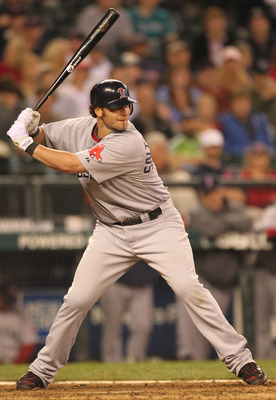 Otto Greule Jr/Getty Images
The media frenzy over Boston's acquisitions of Adrian Gonzalez and Carl Crawford overtook any disappointment about the Red Sox losing catcher Victor Martinez, and as a result we've seen surprisingly little ink about V-Mart's replacement, Jarrod Saltalamacchia. A former top prospect with the Braves, Salty has held part-time roles with three teams since breaking into the bigs in 2007 and has nothing particularly impressive to show for it.
Will he pull his weight at the bottom of the Red Sox' lineup?
No. 11: Is Derek Jeter on the Decline?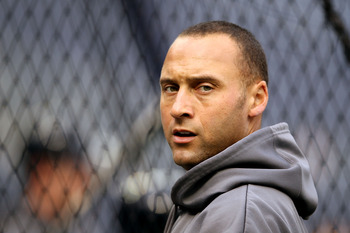 Al Bello/Getty Images
Forget the ludicrous Gold Glove and blathering about New York Yankees shortstop Derek Jeter's career—something wasn't quite right for the Bombers' captain in 2010. His .270/.340/.370 slashline and 2.5 WAR represented career lows across the board, and for the first time in 15 years, Jeter was a below-average hitter.
As the 36-year-old continues to age, will he be a drag on the team?
No. 10: What's Up With Jacoby Ellsbury?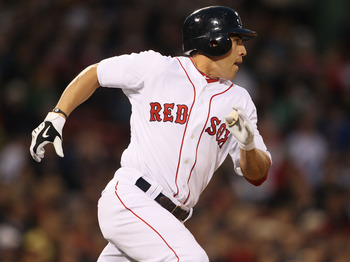 Elsa/Getty Images
Jacoby Ellsbury captured the hearts of Red Sox fans nationwide during Boston's 2007 World Series run, and followed up his impressive performance with two years of steady improvement. But in 2010, injuries limited Ellsbury to just 18 games, wherein he hit .192 with a .485 OPS.
Now back in center field, it's anyone's guess how he'll hold up in 2011.
No. 9: How Good Will Adrian Gonzalez Be?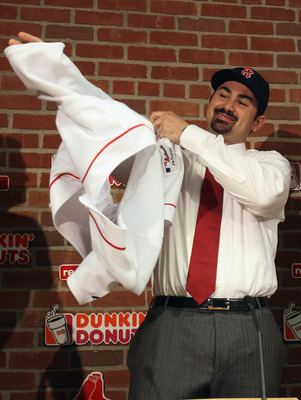 Elsa/Getty Images
Boston's newly acquired first baseman Adrian Gonzalez could have trouble adjusting to the AL East, but consensus seems to be that, after spending his career as the only star hitter on a team that plays in the best pitcher's park in baseball, A-Gone will only improve by moving into the heart of the Red Sox' imposing lineup.
Just how much will Fenway Park boost his numbers?
No. 8: Should We Worry About A-Rod?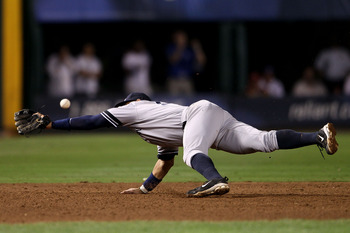 Elsa/Getty Images
Thirty homers, an .847 OPS, and 3.9 WAR would mean a solid season for most players, but not a three-time MVP who's making $33 million a year.
This was the third year in a row that Alex Rodriguez' numbers have taken a worsened. Yankees fans will be keeping an eye on him as he approaches his 36th birthday.
No. 7: How Bad Is A.J. Burnett?
Nick Laham/Getty Images
Giving A.J. Burnett $82.5 million looked pretty stupid two years ago, and after two years in pinstripes, the Yankees front office can't possibly feel good about the signing. But there's a difference between overpaying a solid pitcher, as the deal appeared to be at the time, and giving an eight-digit salary to a starter who manager Joe Girardi was afraid to use in the playoffs.
New York needs something better than Burnett's 2010 5.26 ERA to back up CC Sabathia.
No. 6: What's Wrong With Josh Beckett?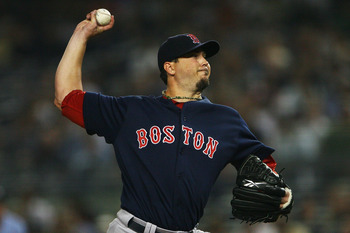 Andrew Burton/Getty Images
Last season wasn't the first time Red Sox pitcher Josh Beckett has disappointed, but his 5.78 ERA sure looks bad on his stat sheet. The easy answers are his .349 BABIP and 65.3-percent strand rate, which explain how his ERA climbed two runs without any major changes in his peripheral numbers.
His 4.01 xFIP (a superior statistic to ERA for measuring pitching talent) gives good reason for confidence, but a season that bad is really jarring.
No. 5: Is Jose Bautista For Real?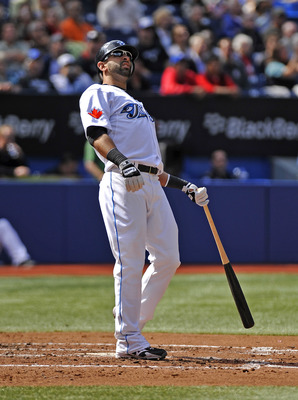 Brad White/Getty Images
The latest in a string of surprise power surgers, Blue Jays outfielder Jose Bautista followed up on six seasons of doing nothing in particular by blasting 54 homers for Toronto in 2010.
Is he a flash-in-the-pan fluke, or will his talent have staying power?
No. 4: Can Carl Crawford Maintain Elite Production?
Elsa/Getty Images
Boston's signing of Carl Crawford, the most sought-after free agent hitter of the offseason, was met with widespread acclaim from Red Sox Nation. But such a response seems unwarranted given Crawford's track record. In 2008, at age 27, Crawford suffered injuries and his OPS fell to just .718 as he chased his career lows.
Two great subsequent seasons seem to have erased those memories, but the possibility for a collapse still looms large.
No. 3: How Will The Yankees' 2011 Rotation Look?
Jim McIsaac/Getty Images
CC Sabathia is New York's ace, and A.J. Burnett and Phil Hughes are locks for spots in the rotation. But after that?
Assuming Andy Pettitte truly calls it quits, we're looking at a battle between Joba Chamberlain, Sergio Mitre, and Ivan Nova to fill out the final two spots by Opening Day.
No. 2: Will New York Stock Up Before the Trade Deadline?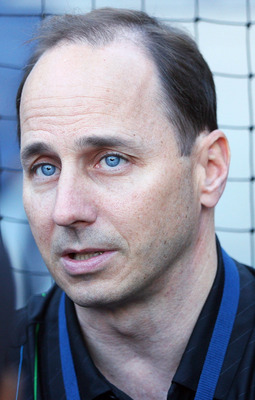 Andrew Burton/Getty Images
Having missed out an all their major free agent targets thus far (Rafael Soriano isn't going to make or break the team), the Yankees' standard line has been that GM Brian Cashman will take full advantage of the time until Jul. 31, 2011, to get the Bombers ready for a pennant run.
Will the Yankees do anything to make up for missing out on Cliff Lee and Zack Greinke?
No. 1: Who Will Stay Home in October?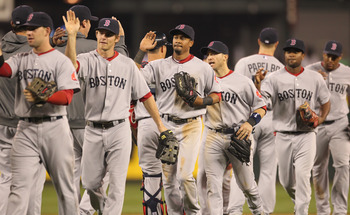 Otto Greule Jr/Getty Images
With apologies to the rest of the American League, it's pretty much assumed that the Junior Circuit's 2011 Wild Card team will come from the AL East. But that leaves three teams with nothing to do in the postseason.
With the Red Sox' 2010 injuries, the Yankees' stars' declines, and the Rays' losses of some of their best players, the main juggernauts all have vulnerabilities. Plus, the Blue Jays made a surprising run last year, and a talented Orioles core could keep things interesting.
One thing's for sure: at least a couple fan bases will feel jipped come October.
Lewie Pollis is a freshman at Brown University. For more of his work, visit WahooBlues.com. He can be reached at LewsOnFirst@gmail.com. Follow him on Twitter @LewsOnFirst or @WahooBlues.
Keep Reading

New York Yankees: Like this team?