2011 NFL Draft: San Diego Chargers' Mock Draft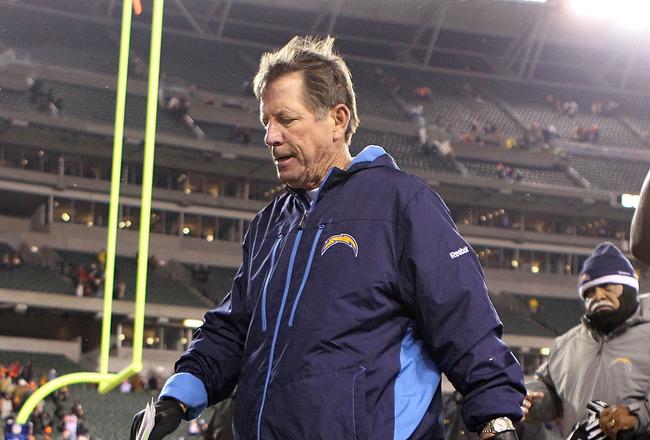 Andy Lyons/Getty Images
Th San Diego Chargers saw their fair share of injuries, most notably in their wide receiving corps, during the 2010 season.
With the 2011 NFL Draft now on the minds of those in San Diego, it is not the wide receivers or linebackers who need help, but rather the lines on both sides of the ball.
Running back Mike Tolbert was successful this season not because of the line, but because he could run over the majority of his tacklers.
The Chargers are stacked in most positions, but this upcoming draft could be a make-or-break draft for general manager A.J. Smith and company.
Let's take a look at how San Diego's draft could shake out.
Round 1, Pick 18: Gabe Carimi, OT, Wisconsin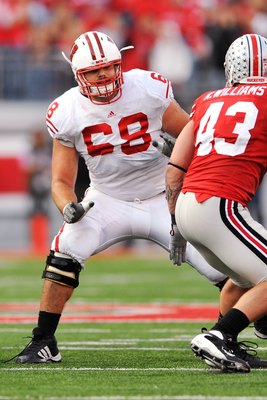 Jamie Sabau/Getty Images
Is it me, or do most Chargers fans think we need another wide receiver or linebacker?
The Chargers' offensive line has been depleted all year. Marcus McNeill's holdout, Jeromy Clary's horrible footwork and Louis Vasquez's injuries were all big problems this season.
Wisconsin's Gabe Carimi is a must-pick for the Chargers in the first round based on the following skills:
Pass Blocking
Carimi has the elite agility and nimble feet to protect the quarterback's blindside.
It is very difficult to turn the corner against him because of his lateral movement and solid footwork. He also protects the inside lane well, delivering a strong hand punch capable of knocking back an opponent.
Carimi uses his length to block his man with one hand and knock an edge blitzer off his path with the other.
Run Blocking
Carimi is known as an athletic pass protector, but also was a strong blocker in Wisconsin's run game.
He plays with leverage against stout defensive ends and tackles on the edge, while also getting under their pads and churning his legs to move them down or off the line.
As an effective combo blocker, Carimi gets a hand on a tackle and still manages to push ends out of the play on strong-side runs.
Initial Quickness
With an elite first step in his kick slide and lateral movement, Carimi does not get beat off the edge very often. He also explodes off the ball on run plays and is capable of driving his man back a few yards.
Defenders will take advantage of the quickness to take him upfield or knock him off balance, though.
Down field
Carimi has excellent footwork and agility to get down field. He reaches linebackers at the second level and defensive backs further down field equally well. He has good lateral movement once engaged, but tends to bend at the waist and punch instead of moving after initial contact.
Round 2, Pick 50: Casey Matthews, ILB, Oregon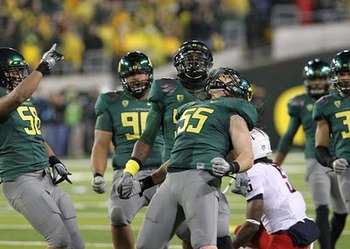 All of the Chargers' inside linebackers are free agents this year, with Stephen Cooper among the most notable. Cooper brings tenacity to a Chargers team that seems to be lacking that.
Casey Matthews, linebacker Clay Matthews' younger brother, has been a great player at Oregon. He could bring the same leadership Clay brought to the Packers' defense.
This pick makes sense from all angles.
Vision
Matthews can read a quarterback's eyes like a book. He understands where the ball is headed and immediately reacts to the ball in the air to make the tackle, deflection or interception.
Tackling
Matthews can wrap up a runner pretty easily considering how well he pursues the ball. Matthews also has extraordinary speed for a linebacker and reads a play very well.
Round 2, Pick Acquired From NYJ: Leonard Hankerson, WR, Miami
Leonard Hankerson is a beast of an athlete and still had a great season at Miami considering the quarterback situation.
If Vincent Jackson leaves this offseason, this pick certainly will start making a lot of sense.
The Chargers are a talented team with a great receiving corps, and Hankerson could certainly help them upgrade.
Release
Hankerson is a long-strider with deceptive build-up speed, using his long arms and lateral agility to combat press coverage.
Hands
After struggling early in his career with drops, Hankerson began improving his hands during the 2009 season. He generally catches the ball with his hands, but previously had allowed the ball to get into his pads and often tried to run before securing the pass.
With a wide wingspan and good leaping ability, Hankerson gives his quarterback quite a target, with the ability to extend and snatch the ball out of the air.
At times, though, he would not fully extend his arms so as to avoid a big hit, but improved in his overall physicality and consistency his senior season.
Route Running
Hankerson has the ability to defeat the initial jam with his hands and good lateral agility. He has enough speed to force cornerbacks to respect the deep ball, but struggles to sink his hips and create explosion out of his cuts due to moderate foot quickness and balance.
After the Catch
Hankerson has enough straight-line speed to run away from defenders when he is hit in stride, but doesn't possess the quick feet and balance to elude in tight quarters. Although, he did show better toughness, vision and determination running after the catch as a senior.
Blocking
Providing a good initial pop to the defender, Hankerson still lacks latching on with consistent intensity. He will look to help his teammates with a down-field block and could improve in this area with more effort.
Round 3, Pick 82: Jacquizz Rodgers, RB, Oregon State
Christian Petersen/Getty Images
Darren Sproles is set to leave as a free agent, and the Chargers need a running back and kick returner. Jacquizz Rodgers certainly fits that role and would come cheaper than Sproles.
Rodgers also adds a combination of speed and elusiveness that San Diego loves.
Speed
With similar speed to Sproles, Rodgers also has better change of direction. He is capable of returning kicks like Sproles, so he could definitely excel on special teams.
Elusiveness
As mentioned above, Rodgers has better change of direction than Sproles, knowing that Sproles attempts to juke more than Rodgers.
Round 3, Pick Acquired From Seattle: Sam Acho, DE, Texas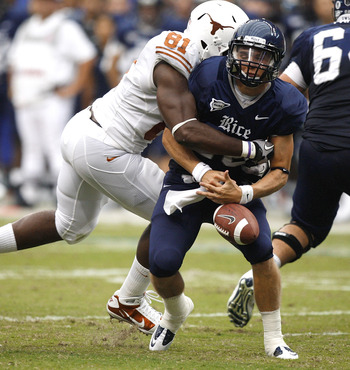 Bob Levey/Getty Images
Jacques Cesaire is a free agent, and Luis Castillo isn't doing much on the line, so Sam Acho should help the Chargers generate more pressure from the defensive line.
Pass Rush
Acho is a hustle pass rusher who needs work to excel at the next level. He has good thrust upfield after the snap, but lacks flexibility to get under a tackle's pads to turn the corner.
He must improve using his hands to free himself of the initial block and keeping his balance once he does.
Acho is strong enough to bull rush, but does not use that move very often on the edge. Attacking the pocket until the ball is away, Acho makes a good effort in the secondary and is capable of disrupting passing lanes.
Run Defense
Acho often takes on double-team blocks while lined up in the five-technique position. He also plays with fair strength at the point of attack and frees linebackers to make plays behind him.
As an assignment-sure player, he contains well on his side of the line when set up outside either tackle.
He keeps his eyes in the backfield when engaged and can punch and shed the block to get outside when not doubled.
He could disengage more regularly when inside and often watches backs run through the hole.
He plays with good anchor for his size with nice hustle to chase down mobile quarterbacks, but lacks the bulk to play five-technique at the next level.
Explosiveness
Not exceptional here, but Acho has a good combination of strength and explosiveness off the snap. He does not turn the corner on better offensive tackles, but can get into the pocket to pressure the quarterback if left unchecked. His strong upper body and length give him a good punch on initial contact for bull rushes and making plays against the run. He is not projected to be elite in rushing the passer, which limits his upside.
Strength
Acho has the strength to play at the next level, but more consistent hands would increase his value. He can stack the tackle on the edge and hold his ground against the run using leverage.
Tackling
Not exactly an explosive tackler, but Acho gives great effort in bringing down ballcarriers by any means necessary. He uses hustle and length to chase down plays to the sideline and downfield. His downside though is he's only adequate in change-of-direction in the backfield; he will be frozen and eluded by NFL-caliber backs as he fails to break down.
Round 6, Pick 178: Robert Sands, S, West Virginia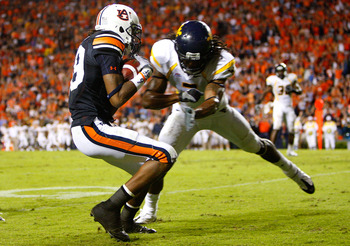 Kevin C. Cox/Getty Images
With the Chargers' last pick, I see them going with a safety.
Robert Sands fits the Chargers' love of tall players coming in at 6-foot-5.
Power
Sands can lay a hit on someone.He can make hard hits when needed and prefers to make a hard hit instead of deflecting the pass.
Speed
Sands has average speed, but makes up for it with his power. He can get beaten by wide receivers on deep routes, though.
Agility
With fluid hips, Sands is able to respond to double moves very well. He can also read receivers' eyes and make deflections instead of looking for the ball.
Keep Reading

San Diego Chargers: Like this team?