MLB Power Rankings: Ranking the Best Hitting, Pitching Prospect for All 30 Teams
Stephen Dunn/Getty Images

The battle for prospect supremacy is on.
And not just who's the top overall player. Or the top overall hitter. Or the top pitcher.
Rather, I think it would be more entertaining to try to rank the top hitter-pitcher duos in each organization, starting from the bottom and working our way up to the very, very best that the minor league system has to offer.
I am taking into account, of course, level of play, ceiling/potential, injury history and any position (starter-reliever) issues.
So let's check it out: The best hitting/pitching combinations in the minor leagues, ranked from 30th to first.
Enjoy!
Begin Slideshow

»
Best hitter: Erik Komatsu
Komatsu was named the Brewers 2010 Minor League Hitter of the Year and for good reason. He is easily the best hitter their organization has to offer. A .316 career hitter, Komatsu had his best season to date in 2010, hitting a career high .323 and ranking near the top of the Florida State League leaderboard in hits (157), runs (90) and doubles (31). The 22-year-old also showed excellent plate discipline, walking seven more times (68) than he struck out (61).
Best pitcher: Cody Scarpetta
Scarpetta has turned into quite a nice find for an 11th round pick. The 22-year-old right-hander has ascended to the upper-echelon of pitching prospects in the Brewers' system. And while that doesn't mean nearly as much as it would if Scarpetta were a Yankee, he is still pretty talented. He posted a 3.68 ERA in 27 starts this past season, striking out 142 batters in 128 innings.
Summary
There's bad...and then there's the Brewers. The front-office gutted their farm system to acquire Shaun Marcum and Zack Greinke, leaving them with one of the most thread-bare farm systems in recent memory. Pre-trades, they would have ranked near the top 10 with Jake Odorizzi and Brett Lawrie, but instead, they now have to suffer the indignity of having the worst hitter-pitcher duo of any major league organization.
Best hitter: Christian Yelich
There are some organizations that have so many talented hitters that trying to single one out is tough. The Marlins system isn't one of those. In fact, after Yelich, the most talented hitter would be Kyle Skipworth, who hit a combined .208 during his first two seasons before finally upping his average to .245 last year.
Yelich does have plenty of promise, however. He offers plenty of potential to hit for high average (a la Mark Grace or Will Clark), as well as some decent potential for power, but there are plenty of scouts and fact-checkers who aren't sold on his ability.
Regardless, check out the video and you'll find that Yelich has one of the prettiest, smoothest swings in all of the minors.
Best pitcher: Chad James
James was one of the most highly-regarded high school pitchers coming out of the 2009 draft. Taken by the Marlins 16th overall, James has had little success since signing. He posted a 5-10 record in 2010, complete with a 5.12 ERA and nearly 5.5 walks per nine innings. He racked up 18 wild pitches and while James was very stingy with the home runs (only three allowed all season), he still didn't have the kind of debut the Marlins envisioned.
Summary
In Yelich and James, the Marlins have two very interesting, high-ceiling prospects who could both turn out incredibly well. However, both players are still way too young to try to make any call on how good they could be. Both need to get back onto the field and prove themselves worthy of their first round status.
Best hitter: Brent Morel
Morel had an outstanding 2010 season, continuing what has been a very impressive career. He hit .322 splitting time between Double- and Triple-A, and earned a big-league call-up. He's a solid all-around hitter, with the potential to hit for average in the majors, as well as some decent power. He set career highs in almost every offensive category in 2010 and heads into 2011 as a serious contender to hold down the hot-corner for the White Sox.
Best pitcher: Chris Sale
Sale holds the distinction of being the first player from the 2010 MLB Draft to make an appearance in the big leagues. And he wasn't just window-dressing. Sale pitched in 21 games during the White Sox division crown chase, posting a 1.93 ERA and a 32-10 strikeout to walk ratio.
He came up huge during several games, and with four saves, he has led many to forecast that he is the team's closer of the future. The White Sox, however, have other plans. They intend to send Sale back to the minors to have him develop as a starter, his natural position.
Summary
While both Morel and Sale are incredibly talented prospects, the uncertainty of his long-term future (starter or reliever?) makes him somewhat of a quandary. A Joba Chamberlain-type quandary. If the White Sox can avoid screwing his development up, they should have quite a find.
Best hitter: Brett Jackson
If you've been one of the lucky ones who have been able to see Jackson play in person, you've most likely seen a hitter who has a quick bat, attacks the zone and puts up pretty impressive numbers. This past season was a coming out party for Jackson, who is one of the most athletic outfielders in the minor leagues. He hit .297 with 32 doubles, 14 triples, 12 home runs, 66 RBI and 103 runs. He struck out a ton (126 times in 128 games), but when he did get his bat on the ball, special things happened.
Best pitcher: Trey McNutt
A former 32nd round pick in 2009, McNutt has turned into quite the steal for the Cubs. The big right-hander was sensational in his short-season debut in 2009, and carried that momentum over into 2010 and had a huge year. He posted a 10-1 record and a 2.48 ERA, one of the best numbers in the minors. He finished with an amazing strikeout-to-walk ratio (132-37) and has averaged 10 strikeouts per nine innings for his short career.
Summary
The Cubs have plenty of promise in both Jackson and McNutt, but several scouts just aren't sold on the latter and just as many have their doubts about Jackson developing into a solid professional hitter. Based on their performance so far in their young careers, however, the Cubs should be mighty pleased.
Best hitter: Jerry Sands
Somewhere over the course of the 2010 season, Sands put to rest all concerns about his prospect status and developed into one of the Dodgers safest bets. Sands can hit. He mashed Low-A and Double-A pitching this past season, putting together one of the most impressive campaigns of any minor league hitter. He finished with a .301 average, 35 home runs and 93 RBI. Based on his career performance to date, Sands should definitely get a chance to prove himself at the big league level.
Best pitcher: Zach Lee
Lee shocked everyone when he decided to commit to baseball at least somewhat full-time, taking the Dodgers up on their first round offer. Lee was widely criticized as a pick that would simply allow the Dodgers to receive an additional first round pick when they inevitably didn't sign Lee, but now that he's a part of the fold, the Dodgers have quite the collection of young pitching. I'll be stoked to see him get back on the field this season.
Summary
In Sands, the Dodgers have an immensely talented hitter who everyone hopes doesn't flame out somewhere between where he is now and the big leagues. He could develop into an integral part of the Dodgers' lineup or he could just as easily walk the same path of professional minor league mashers Brandon Wood and Joel Guzman. Lee offers tons of upside, but he has yet to pitch an inning.
Best hitter: Brandon Belt
Like Sands, Belt is another pseudo-prospect first baseman who exploded onto the scene with one of the most impressive hitting seasons of any prospect. His season spanned three levels, culminating in a 13 game trial at Triple-A. Belt's season got off to a hot start in the Cal League, where he tattooed opponents' pitching to the tune of a .383 average. He then moved up to the Eastern League, where his bat suffered no jet-lag, hitting .337 with nine homers and 40 RBI. He finished the season with a .352 average, 23 homers and 112 RBI. He also rapped 43 doubles and 10 triples, all the while showing excellent plate discipline (93 walks, 99 strikeouts).
Best pitcher: Zack Wheeler
A former first round pick, Wheeler got on the mound and had a pretty solid pro debut, posting a 3.99 ERA over 58.2 innings. He struck out 70 batters in that period, making efficient use of his strictly monitored pitch count. Wheeler has all the tools to be a top-of-the-rotation starter, and just needs the time to season his game and develop his secondary pitches.
Summary
The Giants certainly have an up-and-coming duo in Belt and Wheeler. Belt could challenge for playing time with the Giants this spring training, while Wheeler will most likely make the natural progression through the system.
Best hitter: Wilmer Flores
Despite questions about his ability and doubts about his ability to hold down the shortstop position long term, Flores has continued to rake. His 2010 season was about as fine as you can imagine a 18-year-old playing in Low- and High-A ball having. He hit .289, rapped 36 doubles, tapped into his power a bit with 11 home runs and drove in 84 runs. Still incredibly young and fairly inexperienced, Flores' bat has huge potential.
Best pitcher: Jenrry Meija
The Mets have one of minor league baseball's most talented young pitchers in Meija. Only 20 years old, Meija is already knocking on the door after pitching very well in limited time at Double-A last season. Still, as good as he is, he has yet to hit the 100 inning mark in any of his four professional seasons, leading many to question whether his body can handle the stress of a long season.
Summary
In Meija and Flores, the Mets have one of the most talented international duos and certainly one that could develop into the best of any on this list. But the doubts about both players, especially Flores, could hinder both from becoming the All-Stars that they have the potential to be.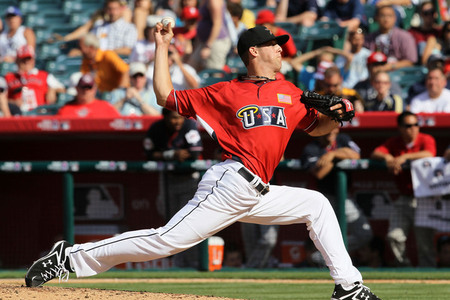 Best hitter: J.D. Martinez
Hitting is certainly the weakness of the Astros' farm system, but you can't blame Martinez.
He has quietly done his part, emerging as the Astros' best hitting prospect after a season that saw him hit over .340 for the second consecutive year. Martinez had a great year, splitting time between Low-A and Double-A. He hit .362 for Lexington before getting skipped a level to Corpus Christi, where he hit .302 with three homers and 25 RBI in 207 at-bats. Martinez isn't a big name and doesn't get too much attention, but wherever he goes he hits, meaning he'll have a big league future.
Best pitcher: Jordan Lyles
Lyles had an incredible year for the Astros, which is great because aside from him, there wasn't too much to get excited about on the pitching front. Splitting time between Double- and Triple-A as a 19-year-old, Lyles managed to go 7-12 with a 3.57 ERA. He struck out 137 batters in a career high 158.2 innings.
Summary
While Martinez, despite his fantastic hitting ability, is nothing to get really excited about, Lyles is. He doesn't turn 21 until October and with six Triple-A starts under his belt already, he should find his way to the big league roster before then.
Best hitter: Michael Choice
The A's were lucky to add a hitter of Choice's caliber with the 10th overall pick in last year's draft. Not only can he hit for high average and for above-average power, but he also has a great batting eye—one of the best in the system. Choice hit .266 in limited playing time last season and showed off a little bit of all of his talents. He should be a guy to keep an eye on in 2011, as he could move real fast.
Best pitcher: Tyson Ross
Ross has quietly put together quite the nice minor league career, culminating this past season with a promotion to the big leagues, where he didn't necessarily have the success that he, or the team, would have liked to see. He was consistently rocked in Oakland, finishing his run with an ERA well over 5.00. If he can get back to what he was doing so well in the minors, Ross could be a nice addition to the back of Oakland's rotation.
Summary
Most of the eggs in this basket are laying with Choice. I'm a big-time believer in his bat and his plate discipline. Ross, however, struggled immensely in the big leagues and you have to wonder if he has enough sheer talent to succeed in the majors long term.
Best hitter: Drew Cumberland
Cumberland is one of the finest pure hitters in the minor leagues. He's struggled with injuries during his pro career, but in 2010 everything came together for him. He set career highs in just about every offensive category, including batting average (.350), before his season was once again cut short. In 2011, he should get the opportunity to move up to Triple-A with an outside chance for a spot on the roster.
Best pitcher: Casey Kelly
A majority of the Padres' top prospect talent is thanks to the trade with the Red Sox that sent Adrian Gonzalez to Boston. Kelly is the best of the bunch. A former two-way star, he decided on pitching and that decision has served him well so far. His 2010 season was a bit rough. He gave up way too many hits and home runs and saw a dramatic spike in his walk-rate. As a 20-year-old who just completed a season in Double-A, you know the Padres are thrilled to add him.
Summary
A lot of the projection here lies with Kelly. Cumberland is who he is and might not be able to sustain a high average in the big leagues, even if he can stay healthy enough, but Kelly has future ace potential.
Best hitter: Nolan Arenado
The Rockies figured they were getting a pretty advanced high school hitter when they took Arenado in the second round in 2009, but even they should be impressed with how well he has performed at the plate. In 676 at-bats, the 19-year-old has posted a .308 average with 14 home runs and 97 RBI. He should only continue to get better as he progresses up the ladder, utilizing pretty good plate discipline.
Best pitcher: Tyler Matzek
Matzek, the 11th overall pick in 2009, got his career off to a very eventful start in 2010. He posted a strong ERA (2.92) and solid peripherals (8.9 K/9, six home runs allowed and a 5-1 record). That's the good. The bad is that he issued 62 walks in 89.1 innings. He erased many of those walks with his 88 strikeouts, but the high number of free passes are concerning. Still, Matzek has No. 1 potential.
Summary
In Matzek, the Rockies have their future No. 1 starter, and in Arenado, they could have a valuable piece to add to a contending squad in a couple of years. Both players should arrive around the same time.
Marc Serota/Getty Images

Best hitter: Tony Sanchez
The Pirates thought they were getting a brilliant defensive catcher when they went off the board and selected Tony Sanchez with the No. 4 overall pick in 2009. They did, and then some. Sanchez has surprised everyone with his ability to hit for as high an average as he has. He has a career line of .312/.413/.494, and appears to be getting even better at the plate as he rises through the ranks. He should begin 2011 in Double-A with an outside shot at earning a late season call-up.
Best pitcher: Jameson Taillon
There's a reason that Taillon was the first pitcher taken in last year's draft. He is a huge, powerful pitcher with unlimited potential. He throws in the mid 90s and has excellent developmental secondary pitches. His presence in the Pirates' system gives the organization their first true No.1-quality starter in a very, very long time.
Summary
Sanchez's hitting ability has been an unexpected surprise and combined with his quality defensive ability, he is one of the top catchers in baseball right now. Taillon, despite not yet throwing a pitch, is one of the top pitching prospects for a reason. He has the perfect pitcher's body, an easy delivery and vast potential
Stephen Dunn/Getty Images

Best hitter: Mike Olt
Olt is one of the weaker "top hitters" on this list, but he still is talented enough to garner consideration as the Rangers' best hitting prospect. He had a great debut season, hitting .293 with nine homers and 43 RBI in 69 games, and he is capable of hitting even better. He has a great eye at the plate and excellent balance.
Best pitcher: Tanner Scheppers
Scheppers doesn't have the upside that fellow Ranger farmhand Martin Perez has, but the fact that he's been solid everywhere he's been so far leads me to believe that Scheppers will come out on top in that battle. He has all the makings of a top-of-the-rotation starter and the only thing keeping him from that is the Rangers inability to make up their mind on how to use him. He looked sensational last season out of the bullpen and with their success with Neftali Feliz—another starter turned reliever—they might be keen on retaining his services out of the pen.
Summary
Nothing against Olt, but he just isn't in the same class as so many of these hitting prospects on this list. I'm a big believer in Scheppers, no matter his role. His heat is real.
Best hitter: Garin Gechinni
Gechinni was one of the top high school hitters available in the 2010 draft and despite not taking one professional swing, he's already the class of the Red Sox system, thanks to the trade that sent Anthony Rizzo packing.
Best pitcher: Anthony Ranaudo
Ranaudo was lights out during the summer, which is really good, because as good as he was, he was the exact opposite during his junior season at LSU. During that period, his control was terrible. He had way too many four, five or six-run outings, and he rarely ever made it past the fifth inning. Luckily for the Sox, he was able to regain some of his sophomore season mojo in the Cape Cod League, and he ended up signing for a pretty hefty bonus. With the departure of Casey Kelly, Ranaudo is now the go-to pitcher for the Sox.
Summary
The Sox two best prospects (in terms of hitting and pitching) are both members of the class of 2010. Gechinni has amazing hitting ability, but only time will tell if he can transition to being as good as a pro. And Ranaudo was amazing this summer, but only time will tell if he regresses to the kind of pitching we all saw while he was at LSU as a junior.
Jamie Squire/Getty Images

Best hitter: Bobby Borchering
Borchering has put together a solid run so far. He hit .270 this past season with 15 homers and 74 RBI, but suffered from the strikeout bug that plagues so many Diamondbacks prospects. He struck out 128 times in 588 at-bats and while the D-Backs will take the Ks with his offensive output, he could stand to cut down on them and improve his stock even more.
Best pitcher: Jarrod Parker
Parker is one of the best pitchers in all of the minor leagues when he's healthy—which he hasn't been for quite some time. He is reportedly 100 percent healthy coming back from Tommy John surgery and was seen hitting 97 mph in instructional league play this offseason. That bodes well for a team that needs as many top-of-the-rotation arms as they can muster.
Summary
In Parker and Borchering, the D-Backs have one of the highest ceiling combos of any team on this list. Parker, however, has had trouble staying healthy. When he is, though, he's one of the top arms in all of the minors. Borchering has been solid so far, but is capable of so much more.
Abelimages/Getty Images

Best hitter: Brett Lawrie
The Blue Jays added a real gem in Lawrie, who came over from Milwaukee in the Shaun Marcum trade. Lawrie, despite being Canadian (just kidding), is one of the best pure hitters in the minors. He hit .285 this past season with 36 doubles, 16 triples and eight home runs. He drove in 63 runs and scored 90 of his own. He easily ranked as the top hitter in the Brewers' system and is now the top guy in Toronto.
Best pitcher: Kyle Drabek
Drabek arrived in the big leagues in 2010 and in three starts looked like a seasoned vet, despite taking losses in all three contests. His minor league season looked much better results wise. He posted a 14-9 record and a 2.94 ERA and struck out 142 batters in a career high 162 innings. He looks completely rehabilitated from surgery a few years ago and looks poised to take up a front-of-the-rotation spot in Toronto.
Summary
In Lawrie and Drabek, the Blue Jays have two safe bets to reach their full potential. Lawrie has shifted positions more times than any other prospect of note, but as long as he has that pop in his bat, he'll be fine. And Drabek is a competitor unlike any other. He should bounce back from a tough start to his big league career and put together a fine season.
Christian Petersen/Getty Images

Best hitter: Bryce Harper
Harper is as good as the headlines read. And while he may not be capable of superhero feats, he is certainly capable of doing some things on the diamond and at the plate that not many people can claim. He is a special hitter.
Best pitcher: A.J. Cole
Cole was a highly-touted high school star who has only one inning under his professional belt. Still, despite the lack of experience, he has the potential to be a middle-rotation starter.
Summary
The Nats rank this high thanks solely to Harper. He's that special. Cole has potential, but Harper is really, really good.
Best hitter: Nick Castellanos
The Tigers shelled out quite a pretty penny to get Castellanos, widely regarded as the second best hitter in the draft behind Bryce Harper. But if he lives up to his billing, he should be worth at least the $3.45 million.
Best pitcher: Jacob Turner
Turner is a true future ace, and in an organization that develops top pitching talent like the Tigers do (recently anyway), he has a great chance to reach that ceiling. Like fellow first round pick Rick Porcello, it appears that Turner too is on the fast track to Detroit. He already put on quite a show in his debut season, striking out 102 batters (and walking only 23) in 115.1 innings. Turner reached High-A ball and performed admirably as a 19-year-old in his first year as a pro.
Summary
In Castellanos and Turner, the Tigers have two huge-ceiling prospects. I have no doubt that Castellanos will reach his potential. He has all the ability in the world and is a hard worker. And Turner has all the makings of a future No. 1 starter.
Best hitter: Ben Revere
Revere is possibly the finest hitter in the minors. He isn't flashy and he offers little to no power, but as a hitter, he has Ichiro potential. He should develop into a 200-plus hit hitter at the plate with .300 just a starting point for how high his average can go.
Best pitcher: Kyle Gibson
The Twins got a steal in Gibson, who has overcome injury concerns to develop into one of the finest complete pitchers in the minors. His fastball is just a tick below the other top guys on this list, but his secondary stuff is so good that it makes him almost a sure-fire bet to make it to Minnesota.
Summary
The Twins have an excellent balance between pitching and hitting in their farm system, and Revere and Gibson are as good as you get in terms or pure hitting and pure pitching.
Harry How/Getty Images

Best hitter: Domonic Brown
Brown is one of the finest hitting prospects in baseball, and he'll arrive to stay in Philly to start the 2011 season.
Best pitcher: Jarred Cosart
Cosart is the best that Philly has to offer, which doesn't say as much as it once did, when their system was chock full of Kyle Drabeks and Jason Knapps. But that doesn't mean Cosart isn't any good. He put together an impressive campaign in 2010, striking out 77 batters in 71.1 innings, while posting a 3.79 ERA. He throws hard and has some decent secondary pitches and should develop as a nice middle-of-the-rotation starter.
Summary
Thanks to Brown, the Phillies have one of the top prospects in the game. Unfortunately, they don't have any pitcher who can measure to him.
Stephen Dunn/Getty Images

Best hitter: Mike Trout
Mike Trout. He's that good. Good enough to give Bryce Harper, the next LeBron James, a run for his money as the top prospect in the game heading into 2011. He can hit, he can run, he can play defense. And he can do all of those things almost as good as anyone else in the game.
Best pitcher: Tyler Chatwood
Chatwood is an incredibly promising pitcher in a system that is heavier on depth than it is on star-power. Chatwood was a second-rounder from 2008 who put together a fine season in 2010, winning 13 games, posting a 2.84 ERA and striking out 109 batters in 155.1 innings. He's got good velocity and some solid breaking pitches, and he's close enough to big league ready that he'll get a look in spring training.
Summary
Even without Chatwood, Trout would still have the Angels in the top 15. He's that good. Adding Chatwood to the mix makes the Angels duo even more impressive.
Best hitter: Lonnie Chisenhall
Chisenhall is the best the Indians have to offer when it comes to pure hitting. He's much better than most of the fellow prospects whose teams play in the Indians division too. In fact, you'd be hard-pressed to find a hitting prospect as seasoned as Chisenhall, who only has two full seasons under his belt. In that time, the 22-year-old has shown the ability to hit for average and power, all while maintaining an even balance at the plate.
Best pitcher: Drew Pomeranz
Pomeranz was the best lefty pitcher available in the 2010 draft and the Indians pounced on him with the fifth overall pick. He is as seasoned and as experienced as a guy who has never thrown a professional pitch can be. That's how they roll in the SEC. He'll be an interesting guy to keep an eye on in 2011.
Summary
The Indians qualify as the "sleeper" team on this list. Chisenhall is a very underrated batsman and Pomeranz has loads of potential.
Lisa Blumenfeld/Getty Images

Best hitter: Dustin Ackley
In Ackley, the Mariners have one of the best pure hitters in the minors. He got off to a terrible start that almost derailed his entire 2010 season, but he bounced back and was arguably the best hitter in the minors after the All-Star break. He finished the season at. 267, which is in no way a true testament to the kind of season he had. He rapped 33 doubles, eight triples and hit seven homers to go with 51 RBI. He also displayed excellent plate discipline, drawing four fewer walks (75) than strikeouts (79).
Best pitcher: Michael Pineda
Pineda had already put together an impressive resume, but his 2010 campaign cemented his status as a top-of-the-rotation pitcher, the kind who will slot nicely right behind King Felix in the M's rotation. He finished the season 11-4 with a 3.36 ERA and struck out 154 batters in 139.1 innings. He breezed his way through Double-A before hitting a few bumps in with Tacoma, where the 21-year-old reunited with Double-A teammate Ackley
Summary
In Ackley and Pineda, the Mariners appear to have one of the safest bets to reach their potential in the big leagues. Ackley, despite learning a new position, could make an impact as early as next season, while Pineda should find himself a rotation spot out of spring training.
Best hitter: Zack Cox
The Cardinals picked up a steal with the 25th overall pick. Cox was easily the best non-Bryce Harper hitting prospect in this past draft and the Cardinals are lucky to add his services. He got in 17 at-bats in rookie ball and should be primed to go for the 2011 season, which could actually see him having an outside chance at reaching St. Louis if he continues to rake like he did in college.
Best pitcher: Shelby Miller
In Miller, the Cardinals have one of the best, most-promising pitching prospects in the minors. The 19-year-old had a terrible start to his season, so the Cards shut him down for a few weeks and let him straighten out his mechanics and get his head right. When he came back, he was a new pitcher. He finished the season on a tear, posting a 7-5 record and a 3.62 ERA with 140 strikeouts in 104.1 innings.
Summary
In Miller, the Cards have a true No. 1 starter. It's just a matter of getting him the innings and watching him grow. In Cox, they have one of the best bats in the minors and a player who should get to the big leagues in no time.
Jonathan Daniel/Getty Images

Best hitter: Yonder Alonso
Alonso would be the talk of Cincy's system if it wasn't for a MVP-winning first baseman at the big league level in Joey Votto. Still, Alonso has shown plenty worth of earning a shot should Votto get injured or falter. He hit .290 this past season, showing a good blend of power and high-average ability. He should develop into an excellent run producer at the big league level and another half-year of seasoning at Triple-A should only make him more impressive.
Best pitcher: Aroldis Chapman
Chapman is no stranger to the big leagues, appearing in 15 games this past season for the NL Central-winning Reds. He flashed excellent command, walking only five batters in 13.1 innings, while striking out 19. It doesn't hurt that he throws consistently in the 98-103 mph range.
Summary
The Reds have two of the most big league ready prospects on this list. Chapman has already arrived and Alonso should get there this season, even with Joey Votto's new contract extension.
Nick Laham/Getty Images

Best hitter: Jesus Montero
In Montero, the Yankees have one of the best hitters in the minors. And while Montero may not have a position to call home long-term, that doesn't prevent the Yankees from trying to find a place to stick his bat. He'll most likely see plenty of time this season after proving he has nothing left to prove in the minors. Montero is a career .314 hitter who has averaged close to 20 home runs the past three seasons.
Best pitcher: Dellin Betances
Betances represents the best of an amazingly talented group of young pitchers the Yankees have stockpiled in the past few years. The 22-year-old was limited early on in the 2010 season, but when he finally got on the mound, he was nearly unhittable. He posted a 8-1 record and a 2.11 ERA and he finished with 108 strikeouts and only 22 walks. With his control and command improving, Betances is ready to jump into the upper echelon of pitching prospects and could find himself in the Big Apple if he continues his dominance in 2011.
Summary
Despite the questions about Betances' health and Montero's ability to find a long-term position, the Yankees have two of the most talented prospects in all of minor league baseball.
Jeff Gross/Getty Images

Best hitter: Manny Machado
In Machado, the Orioles hope to have found the franchise shortstop they've been lacking since Cal Ripken made the move to third base in the late 1990s. He certainly has all the tools to get the job done and his bat is one of his most impressive assets. There's a reason that certain folks compared him to A-Rod coming out of high school. He's still incredibly young and inexperienced and the track record for five-tool shortstop prospects isn't necessarily the most promising, but Machado has limitless potential.
Best pitcher: Zach Britton
Britton transformed himself from a solid starter with an excellent sinker to a top five pitching prospect, simply by adding a few mph to his fastball and fine-tuning his changeup with a grip taught to him by Brian Matusz. Britton arrived last year in spectacular fashion, posting career highs in innings pitched and ERA, while becoming a 10-game winner in the minors for the second time. Britton should challenge for a rotation spot out of spring training and will be one of the first to hear his name called should a member of the big league rotation be felled with an injury.
Summary
In Machado and Britton, the O's have two players capable of regular All-Star appearances. While Britton was once thought of as a complimentary piece, he's now seen in some circles as a potential No. 1 starter. Machado, on the other hand, looks like he's going to be a beast, especially at the plate.
Kevin C. Cox/Getty Images

Best hitter: Freddie Freeman
In case you didn't notice, Jason Heyward wasn't the only Braves hitter to have an amazing year in 2010. Down at Triple-A, Freeman raked and raked and raked until the Braves were finally forced to call him to big league service. In the minors, Freeman put together one of the most impressive campaigns of 2010, posting a .319 average with 18 home runs and 87 RBI. Amazingly Freeman, despite having a legit shot at making the opening day roster, is only 21-years-old.
Best pitcher: Julio Teheran
As good a prospect as Freeman is, Teheran is better. He was disgustingly good last season, posting a 2.59 ERA over three levels, culminating in Double-A where he posted a 1.15 WHIP, plenty good, but the worst of his three stops. Most often thought of as a high-strikeout guy, Teheran barely strikes out nine batters per nine innings for his career. He is one of a few true No. 1 starters in the minors.
Summary
The Braves are one of four teams that have both an elite hitting prospect and an elite pitching prospect. Teheran is simply unhittable at times and has true number one stuff, while Freeman is an excellent hitter who should be a middle-of-the-lineup regular for years to come.
J. Meric/Getty Images

Best hitter: Desmond Jennings
There's a reason that the Rays weren't too sad watching Carl Crawford leave Tampa for Boston and millions of dollars. His name is Desmond Jennings and he very well may end up being a better player. Jennings exploded onto the scene in 2009, doing just about everything between Double- and Triple-A. This past season got off to a rough start, but Jennings bounced back and put together a fine campaign that resulted in his first big league call-up. This year he should become a fixture for years to come.
Best pitcher: Matt Moore
Jeremy Hellickson gets all the attention, but Matt Moore had arguably one of the most impressive campaigns in years for the Rays High-A affiliate. He finished the year with an ugly win-loss record, but anyone who knows anything about minor league baseball knows that stat is heavily overrated. Despite his 6-11 mark, he still pitched to a 3.36 ERA and struck out an astonishing 208 batters in only 144.2 innings. For Moore's career, he's averaged 12 strikeouts per nine innings. It's only a matter of time before Moore takes his place in the rotation alongside Hellickson.
Summary
The Rays have an elite duo in Jennings and Moore. Both have All-Star potential and Jennings should get to kick-start his big league career as early as this season. Moore will follow in time and both players should help the Rays build a consistent winner for the next 5-10 years.
Jeff Gross/Getty Images

Best hitter: Mike Moustakas
Picking a top hitter in a system like K.C.'s is like asking someone to choose the best rock-and-roll band of all-time from the following candidates: the Beatles, U2, KISS and the Rolling Stones. There's really no easy way to do it and you can pick any of them (the Beatles) and feel good about your decision. Make no mistake, Eric Hosmer and Wil Myers are incredibly talented hitters in their own right, but Moustakas is special. He has power that rivals any hitter in the minors (and possibly the big leagues), but is also a very underrated hitter for average. It just happens that most of his hits tend to go for doubles (41 in 2010) or home runs (36).
Best pitcher: John Lamb
Picking a top pitcher is just as hard when your system is as deep as the Royals is. You have Mike Montgomery, Chris Dwyer and Aaron Crow...not to mention new-comers Jeremy Jeffress and Jake Odorizzi. But Lamb stands out above all others. His 2010 season was sensational: a 2.38 ERA, one of the best in the minors, a high propensity of strikeouts and a low propensity for walks. Add in the fact that he throws in the low-to-mid 90s with an above-average curveball and an improving changeup, and you have all of the makings of a future All-Star.
Summary
In this day and age, it's pretty rare for a team to have an elite hitting prospect and an elite pitching prospect. The Royals have several of both and their top guys, the best of their best, stand head and shoulders above everyone else.