NFL MVP Watch 2011: Where Does Matt Ryan Rank?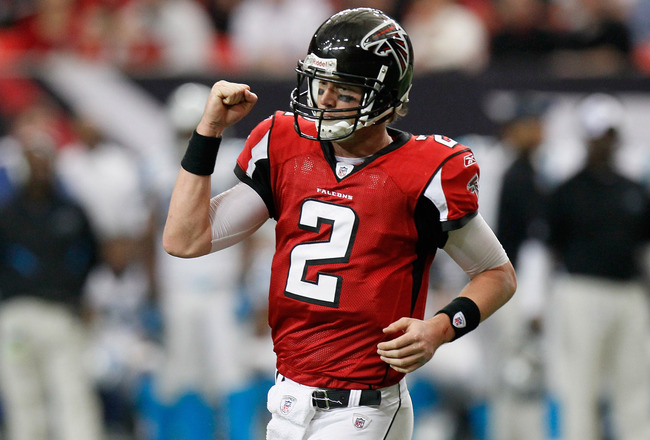 Kevin C. Cox/Getty Images
With the 2010 NFL season in the books, we now get to turn to the NFL MVP watch. Where Does Matt Ryan stand among the rest?
Most of the focus lately has been on Michael Vick and Tom Brady, but there are other horses in this race, and you don't have to be a quarterback to get MVP votes.
Quarterbacks and the skill positions end up with the MVPs because of their flair, so it's unlikely even the best offensive lineman out there will get the award, but we'll look at all the guys who may have a shot, and rank them from the bottom to the top.
In a few weeks, we'll know the answer. Until then, have fun speculating.
15. Logan Mankins, OG New England Patriots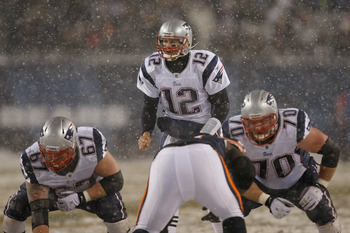 Scott Boehm/Getty Images
While the chances of Logan Mankins actually getting the MVP award are fairly remote, you can't deny the impact he had on the Patriots' offensive line this year and his role in putting Tom Brady in the forefront of the MVP race.
Mankins is looking at a new contract this offseason, and Brady is hoping Mankins signs it.
14. Ndamukong Suh, DT Detroit Lions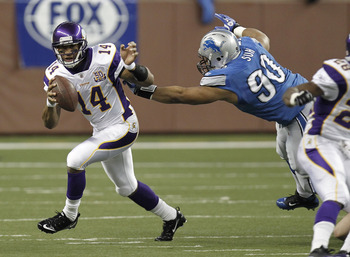 Gregory Shamus/Getty Images
Ndamukong Suh probably has the best shot at the Rookie of the Year award, but that doesn't mean he doesn't deserve consideration for the MVP award.
No one has transformed a defense this year like Suh. The Lions defense now has a giant playmaker on it, and he'll be there for the next decade, wreaking havoc on the offensive linemen and quarterbacks.
13. Drew Brees, QB New Orleans Saints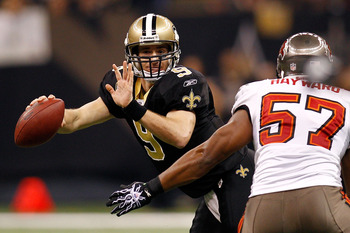 Chris Graythen/Getty Images
Brees would be another longshot, but the fact is Brees threw for more than 4,000 yards this season and has 33 touchdowns. He led the Saints to the postseason again, and the Saints are poised to make another run to the Super Bowl.
12. Julius Peppers, DE Chicago Bears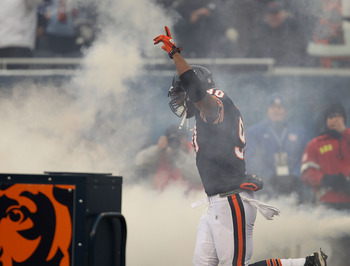 Jonathan Daniel/Getty Images
Julius Peppers turned out to be one of the best free agent signings of the offseason, living up to the large contract he was given.
With the Bears this year, Peppers has 50 tackles, eight sacks, three forced fumbles and two interceptions. Those stats don't even tell the whole story because Peppers finds the ball and changes the way the offense operates, as they are forced to adjust to Peppers' play.
11. Ed Reed, S Baltimore Ravens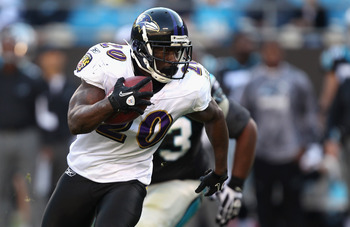 Streeter Lecka/Getty Images
Ed Reed is a game changer. Reed plays like a guy who knows what the quarterback is going to do before the quarterback even knows what he's going to do.
Reed jumps routes and disrupts plays like few others in the game, and there's no doubt he should be in the MVP conversation.
10. Michael Turner, RB Atlanta Falcons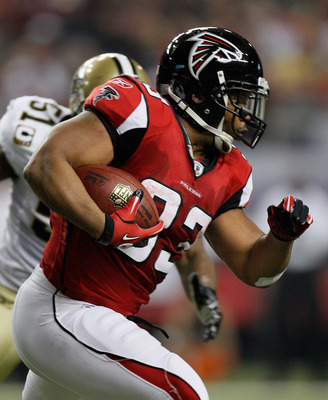 Kevin C. Cox/Getty Images
Michael Turner should be higher, but the truth is there are just too many guys ahead of him who will get the votes.
Turner has 1,371 yards on 334 carries, averaging 4.1 yards per carry and 12 touchdowns.
Those are great numbers, but it probably won't be enough.
9. Philip Rivers, QB San Diego Chargers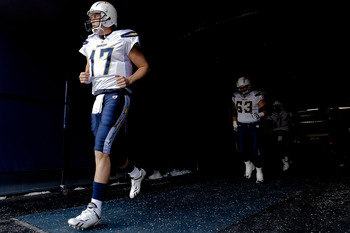 Justin Edmonds/Getty Images
Philip Rivers has great numbers this year with 4,397 yards, 30 touchdowns, only 12 picks, and a QB rating of 103.9.
However, the Chargers missed the playoffs, so that'll probably mean there won't be enough support for an MVP trophy this year.
8. Peyton Manning, QB Indianapolis Colts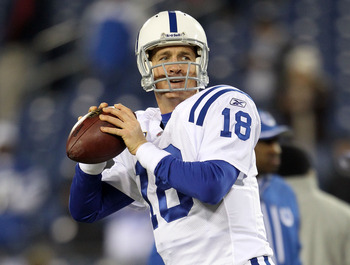 Andy Lyons/Getty Images
Peyton Manning had more than 4,400 yards passing, 31 touchdowns and only 17 interceptions on the year. However, since 11 of those interceptions happened in a three-game stretch, that probably kills his chances of getting the MVP this year.
7. Troy Polamalu, S Pittsburgh Steelers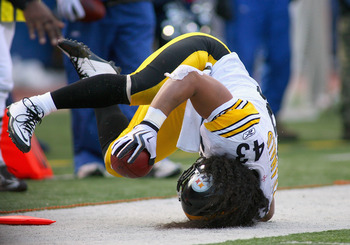 Rick Stewart/Getty Images
To get an idea of just how different the Steelers' defense is without Troy Polamalu, go watch game film of the games where Polamalu is on the sidelines in street clothes.
Polamalu automatically transforms a good defense into an elite defense, and this is a case where his absence should be all the evidence voters need to give him the MVP votes he deserves.
6. Clay Matthews, OLB Green Bay Packers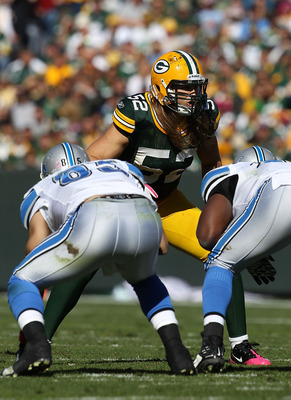 Jonathan Daniel/Getty Images
Clay Matthews is a monster whose full potential still has not been realized. Matthews is a sacking machine, with 12.5 sacks on the season, and he was injured for two games.
Matthews, after two seasons in the NFL, already gets more respect than a lot of 10-year veterans. No one works harder or is more dedicated than Matthews. He comes from good pedigree, and he'll be on MVP lists for years to come.
5. Matt Ryan, QB Atlanta Falcons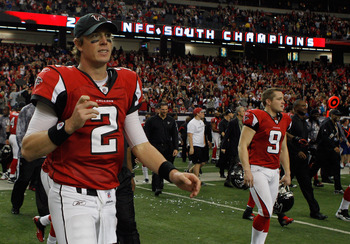 Scott Halleran/Getty Images
Matt Ryan ranks higher than Brees, Manning, and Rivers because he has the more complete team around him.
While the other threw for more than 4,000 yards a piece, Ryan got to hand the ball off a lot to Michael Turner. However, knowing when to hand off and knowing when to throw not only is hallmark of a coach, it's essential to be a successful quarterback in the league when the two-minute drill is on.
4. Maurice Jones-Drew, RB Jacksonville Jaguars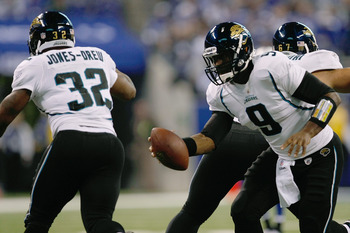 Scott Boehm/Getty Images
Maurice Jones-Drew is the Jaguars offense. No one is running quite like he is right now, and it's a shame he lost a few games to injury, otherwise MJD might be a lock for the MVP award.
He didn't get a lot of touchdowns, only five on the year, but he ran for 1,324 yards on 299 carries in 14 games, averaging out to 4.4 yards per carry. Had he played the full season, he would've most likely had more than 1,500 yards and at least another touchdown or two to round out the numbers.
3. Aaron Rodgers, QB Green Bay Packers
Matthew Stockman/Getty Images
Like Troy Polamalu, you don't fully realize just how valuable Rodgers is to the Packers until he's not on the field.
When Rodgers got knocked out of the Lions game earlier this season, their offense looked lost without him.
On the year, though, Rodgers threw 3,693 yards in 14 games with 27 touchdowns and only 10 picks.
These numbers should be higher, and Packers fans know why *cough* PENALTIES *cough*.
2. Michael Vick, QB Philadelphia Eagles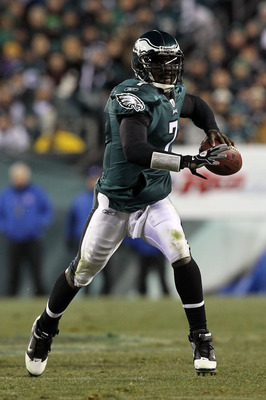 Jim McIsaac/Getty Images
Michael Vick will be a real hot-button topic when the MVP talk comes up for several reasons. One, he only played 12 games, losing four to injury. The other being Vick's past, which will keep some people from voting for him.
In the 12 games Vick played, he still threw more than 3,000 yards, 21 touchdowns and only six interceptions. Extrapolate another four games onto that, and he probably has numbers equal to or better than any of the other quarterbacks on this list.
Those numbers still don't include what Vick got on the ground, with 676 yards rushing and nine touchdowns, averaging 6.8 yards per carry.
1. Tom Brady, QB New England Patriots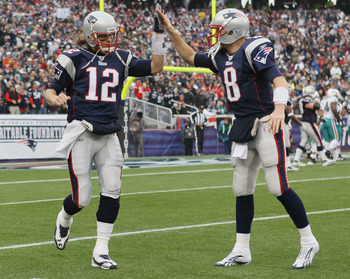 Elsa/Getty Images
Besides Tom Brady's talent for making stars out of everyday offensive players, the one number you want to focus on here is his interceptions.
Four.
That's it in the entire season, of which Brady played almost every snap. Brady threw for 3,900 yards, 36 touchdowns, and finished the season with a 111 QB rating.
But the complete lack of interceptions is what stands out, and for that, his accuracy, leadership, and absolute dominance, Brady will get the MVP trophy.
Keep Reading