Minnesota Twins: All-Time Players From A To Z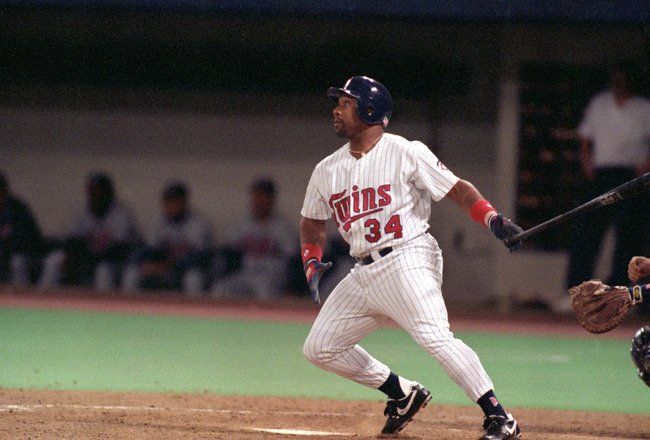 Rick Stewart/Getty Images
The Washington Senators packed their belongings in the winter of 1961 for colder pastures, and then became known as the Minnesota Twins.
It seems every time I discuss the Twins with someone who is not from the area the first discussion of topic is routinely "Why are they called the Twins?"
I reply and explain that the cities of Minneapolis and St. Paul are called the "Twin Cities."
Anyways, here is a list of the best Twin for each letter of the alphabet, using their last names.
Those who have unusual last names (like Q, X, or Z) will be unknown but the rest are all held deeply in our hearts.
Enjoy, and I hope to hear some constructive feedback.
(Writer's Note: Each player's stats include only those as a Minnesota Twin, and not as a Washington Senator. Sorry, Walter Johnson.)
A: Rick Aguilera, RP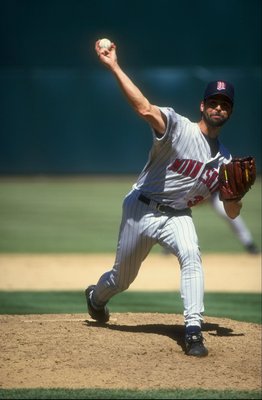 Otto Greule Jr/Getty Images
Years as a Twin: 1989-1995, 1996-1999
W-L: 40-48
SV: 254 (1st in Twins history)
ERA: 3.57
Three-time All-Star: 1991, 1992, 1993
Member of 1991 World Series Champions

Rick Aguilera opens up the slideshow, being perhaps the second best relief pitcher in team history. He is first in team history in saves, just ahead of Joe Nathan, and was the closer for the Twins during the 1991 World Series championship year.
In that same 1991 season, Aguilera had 42 saves, which was a single season team record until "Everyday" Eddie Guardado broke it in 2002.
He spent 11 years with the Twins and was revered as one of the game's top closers in the 1990s.
Runner-up: Bob Allison, OF, 1961-1970
B: Bert Blyleven, SP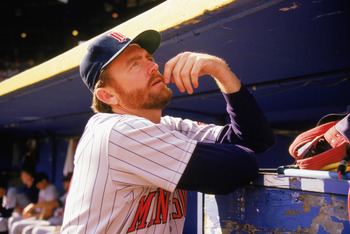 Jonathan Daniel/Getty Images
Years as a Twin: 1970-1976, 1985-1988
W-L: 149-138 (2nd)
ERA: 3.28 (3rd)
SO: 2,035 (1st)
Two-time All-Star: 1973, 1985
Member of 1987 World Series Champions
One of the greatest pitchers to ever don the red, white, and blue, Bert Blyleven is still a staple in the Minnesota Twins organization. Years after his retirement he is still doing the color commentary for Twins broadcasts.
Blyleven was one of the most feared pitchers in all of baseball during the 1970s and 1980s. He racked up 149 wins during two different stints with the Twins, and 287 total in his 23-year career. He also had a career 3.31 ERA and 3,701 strikeouts, good for fifth all-time.
Many complain that Blyleven belongs in the Hall of Fame, and I believe they are right. Once voting commences for the 2011 inductees, don't be surprised to see Bert get the nod this summer.
Runner-up: Earl Battey, C, 1961-1967
C: Rod Carew, 2B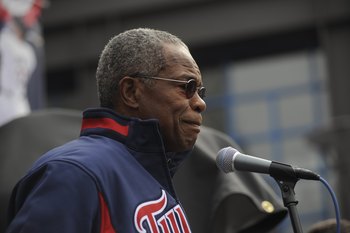 Hannah Foslien/Getty Images
Years as a Twin: 1967-1978
BA: .334 (1st)
H: 2,085 (2nd)
3B: 90 (1st)
12-time All-Star: 1967-1978
1977 AL MVP
1991 Hall of Fame Inductee
Rod Carew is widely considered one of the two or three best second basemen ever.
Known for his hitting prowess, Carew spent the first 12 years of his career as a Twinkie, and was an All-Star every year during his tenure in Minnesota. He won the 1977 AL MVP and was inducted into the Baseball Hall of Fame in 1991 on his first ballot. He has since had his #29 retired by the Twins and Angels.
He accumulated more than 3,000 hits in his whole career, and still sits atop the Twins' all-time leaders in batting average (.334) and triples (90), as well as being second in hits behind Kirby Puckett.
Runner-up: Michael Cuddyer, OF, 2001-present
D: Chili Davis, DH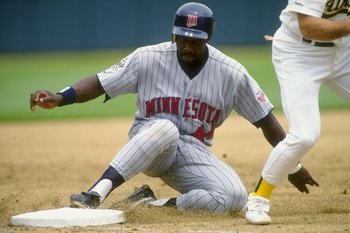 Otto Greule Jr/Getty Images
Years as a Twin: 1991-1992
BA: .282
HR: 41
RBI: 159
Member of 1991 World Series Champions
Chili Davis was in the major leagues for 10 years before he stumbled into the last-place Twins of 1990. The Kingston-born native was the first-ever Jamaican in the game. He started at DH for Minnesota in 1991, and helped lead them to their first World Series title with his switch-hitting.
I know Chili was only up north for two years, but he made the best of them, slugging 41 home runs and hitting 61 two-base hits.
He went on to hit 350 homers in his 19-year career, and he won two more titles while with the New York Yankees in 1998 and '99.
Runner-up: Ron Davis, RP, 1982-1986
E: Scott Erickson, SP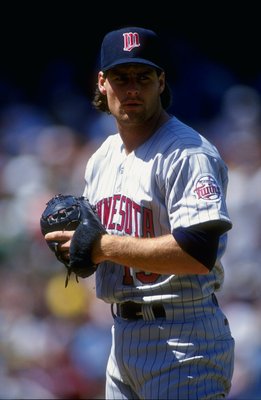 Otto Greule Jr/Getty Images
Years as a Twin: 1990-1995
W-L: 61-60
ERA: 3.97
SO: 527
One-time All-Star: 1991
Member of 1991 World Series Champions
Another key contributor to the 1991 World Series victory, Scott Erickson led the majors that season with 20 wins and finished second in the Cy Young voting, behind used-to-be-legend Roger Clemens.
After three solid years with the Twins, he took a turn for the worst. In 1993 he gave up the most hits in the majors, but then somewhat redeemed himself by throwing the third no-hitter in Twins history in April 1994.
When he left Minnesota in 1995 things never got better for him, but he still holds that special place for his role in bringing home the title.
Runner-up: Dave Engle, 1B, 1981-1985
F: Dan Ford, OF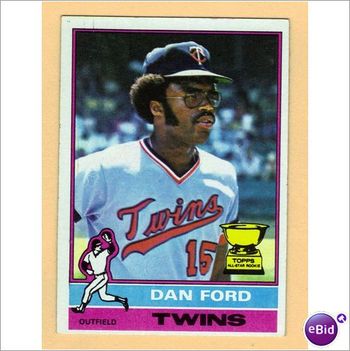 Years as a Twin: 1975-1978
BA: .274
HR: 57
RBI: 287
A relatively unknown, Dan Ford was known for his sunglasses in addition to his power technique. His best season came in 1976, when he smashed 20 dingers and drove in 86 runners. "Disco Dan" was also the first player to hit a home run at the recently renovated Yankee Stadium that same year.
He later won a title in 1983 with the Baltimore Orioles.
Runner-up: Lew Ford, OF, 2003-2007
G: Gary Gaetti, 3B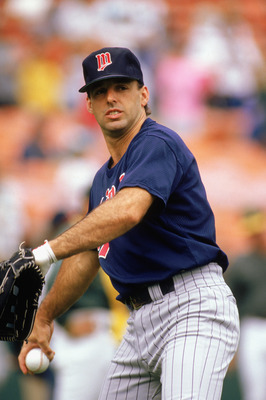 Otto Greule Jr/Getty Images
Years as a Twin: 1981-1990
HR: 201
RBI: 758
Two-time All-Star: 1987, 1988
Four Gold Gloves and a Silver Slugger
Member of 1987 World Series Champions
In 1987, Gary Gaetti became the first person to homer in his first two postseason at-bats. His power hitting assisted in bringing the Twins their first World Series title later that year.
His best season was 1986 when he batted .287 with 34 homers and 108 runs batted in.
"G-Man"'s career never was the same after he left The Land of 10,000 Lakes, and he bounced around between five other teams before finally hanging it up in 2000. He finished his 20-year career with 355 home runs and 1,341 runs batted in.
Runner-up (tie): Dan Gladden, OF, 1987-1991; Eric Gagne, SS, 1983-1992
H: Kent Hrbek, 1B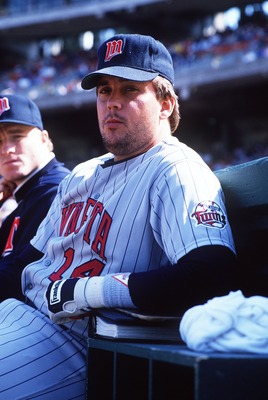 Otto Greule Jr/Getty Images
Years as a Twin: 1981-1994
HR: 293 (2nd)
RBI: 1,086 (2nd)
H: 1,749 (5th)
OBP: .367
One-time All-Star: 1982
Member of 1987 and 1991 World Series Champions
Kent Hrbek is one of the five best offensive players the Minnesota Twins have ever had. He hit the first home run in the Hubert H. Humphrey Metrodome in April of 1982.
He hit 293 homers and drove in 1,086 runs during his historic 14-year career.
Since retiring, "Herbie" has been hosting a show on Fox Sports Net North. During his playing days he was known around Minnesota because he woke up teammates to go hunting on the morning of Game 7 of the '87 Series.
Showing their appreciation, the Twins retired #14 in Herbie's honor.
Runner-up: Torii Hunter, OF, 1997-2007
I: Hank Izquierdo, C
Year as a Twin: 1967
AVG: .269
H: 7
Virtually an unknown, Hank Izquierdo played sparingly in a catcher's role in 1967 for the Twins. He had 26 at-bats in 16 games, reaching base safely seven times.
Runner-up (and the only other Twin with the last name beginning with "I"): Ricardo Ingram, OF, 1995
J: Jacque Jones, OF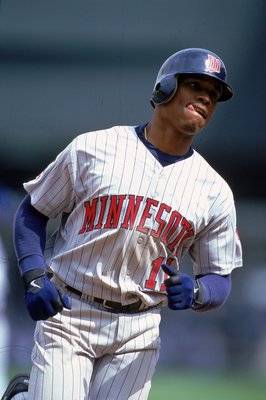 Matthew Stockman/Getty Images
Years as a Twin: 1999-2005, 2010-present
BA: .279
HR: 132
RBI: 476
2B: 189
Jacque Jones was, for awhile, the lead-off hitter for the Minnesota Twins. He could hit, steal, and field and was a valuable player in the Twins' revival around ten years ago.
The Twins' outfield in 2004 and 2005 was notorious for being the fastest in the league. It boasted Jones in right, Torii Hunter in center, and Shannon Stewart in left.
Jones is trying to revive his career that suddenly seemed over in 2008. He is currently at the AAA Rochester Red Wings, an affiliate of Minnesota's club.
Runner-up: Tom Johnson, RP, 1974-1978
K: Harmon Killebrew, 1B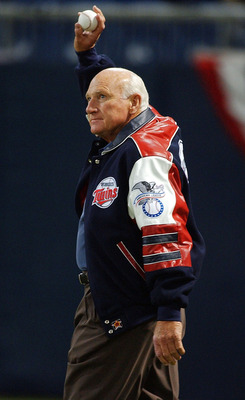 Jonathan Daniel/Getty Images
Years as a Twin: 1961-1974
HR: 489 (1st)
RBI: 1369 (1st)
1969 AL MVP
Ten-time All-Star: 1961, 1963-1971
1984 Hall of Fame Inductee
Before I explain the greatest power hitter in the history of the Minnesota Twins, let me take this moment to tell you that those numbers above are only when Killebrew was a Twin, and not a Senator.
If you included his Senator totals, it would read 573 home runs and 1,584 runs batted in. How beast is that?
Regardless, Killebrew has the most storied career out of any Twins' slugger and holds the club records in home run and RBI's, as well as placing fourth in hits behind three Hall of Famers. "Hammerin' Harmon" himself was inducted into Cooperstown in 1984.
Although he never won the title, he and Tony Oliva led the team to a pennant in 1965.
To thank him for all of this, the Minnesota Twins have retired his #3 jersey.
Runner-up: Jim Kaat, SP, 1961-1973
L: Tim Laudner, C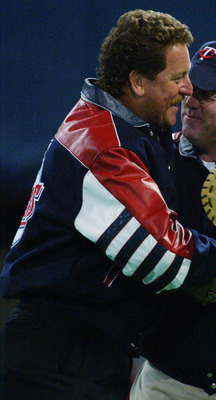 Matthew Stockman/Getty Images
Years as a Twin: 1981-1999
HR: 77
RBI: 263
One-time All-Star: 1988
Member of 1987 World Series Champions
Tim Laudner was a 22-year old Iowa farm boy when he came up into the majors in 1981. He had a solid nine-year career, hitting 77 homers and driving in 263 base runners.
He was the starting catcher during the Twins' magical 1987 postseason run to the Series. A year later he posted his best season, hitting 13 home runs and batting in 54 runs. He was voted to the All-Star Game in '88 in Cincinnati and started. Just one year later he abruptly retired.
Runner-up: Gene Larkin, 1B, 1987-1993
M: Joe Mauer, C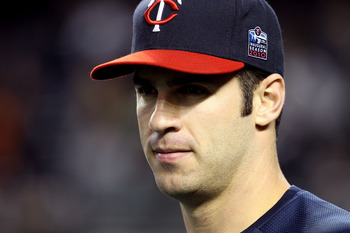 Jim McIsaac/Getty Images
Years as a Twin: 2004-present
BA: .327 (2nd)
OBP: .408 (1st)
RBI: 472
2009 AL MVP
Four-time All-Star: 2006, 2008-2010
Three-time Batting Champion: 2006, 2008, 2009
Three Gold Gloves and four Silver Sluggers
People mocked the Twins for taking him number one over prized prospect pitcher Mark Prior. Look who's laughing now.
Perhaps the best hitting catcher in baseball history, Joe Mauer has done (in just seven seasons) what no catcher has ever done before: win three batting titles and four Silver Sluggers.
Mauer has signed through 2018 with his hometown team, ensuring that barring a life-threatening injury he will be the greatest catcher in Twins history and one of the best (if not the best) catcher that has baseball has ever seen.
I was tempted to pick Justin Morneau with this selection, but instead I realized how much Mauer has indeed done for a catcher and how he will have a lasting impact on the game.
Runner-up: Justin Morneau, 1B, 2003-present
N: Joe Nathan, RP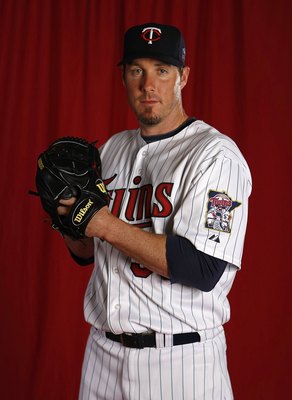 Gregory Shamus/Getty Images
Years as a Twin: 2004-present
W-L: 46-22
SV: 247 (2nd)
Four-time All-Star: 2004, 2005, 2008, 2009
Joe Nathan is closing in on a team record-- total saves. He is currently 10 off the pace of Rick Aguilera's 257, who closed for the Twins throughout the 90s. His 2.75 career ERA isn't too shabby either.
Nathan has been to the All-Star Game four times and won Rolaids Relief Man of the Year in 2008.
He missed the entire 2010 season due to Tommy John and is looking for a full recovery to ensure he can break that record. He is simply one of the best in the game at what he does day after day.
He should be the Twins' all-time saves leader by mid-May at the latest.
Runner-up: Joe Niekro, P, 1987-1988
O: Tony Oliva, OF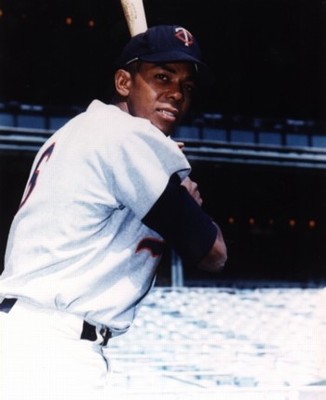 Years as a Twin: 1962-1976
BA: .305
HR: 220 (4th)
RBI: 967

2B: 329 (3rd)
Eight-time All-Star: 1964-1971
1964 AL Batting Champion
1964 AL Rookie of the Year
Tony Oliva burst out onto the scene in 1964 for the Twinkies, winning the Rookie of the Year as well as leading the American League in batting average with an outstanding .323 number. He also led the AL in hits with 217, as well as runs scored.
Infielder and teammate Zoilo Versalles called him "the next Ty Cobb."
He, along with Versalles (who I will get to later) and Harmon Killebrew, led the Twins to an AL pennant in 1965 before losing to the Los Angeles Dodgers, who were led by ace legend Sandy Koufax.
His number six jersey has been retired by Minnesota, one of only five to have been given the honor.
Runner-up: David Ortiz, DH, 1997-2002
P: Kirby Puckett, OF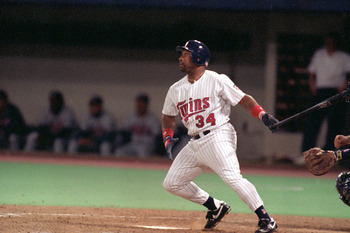 Rick Stewart/Getty Images
Years as a Twin: 1984-1995
BA: .318 (4th)
HR: 207 (5th)

RBI: 1085 (3rd)
10-time All-Star: 1986-1995
Six Gold Gloves and six Silver Sluggers
2001 Hall of Fame Inductee

Member of 1987 and 1991 World Series Champions
The late Kirby Puckett defines the Minnesota Twins' franchise: he is hard-working, he is a class act, and he avoided using illegal substances throughout his storied career.
He grew up in a rough neighborhood in Chicago, Illinois, and demonstrated that if you work hard enough you can get out of a really bad situation.
Always a fan favorite and perhaps the most beloved Twin ever, Puckett helped lead the team to its' only World Series titles (1987 and 1991) and will go down as one of the greatest players to ever call Minneapolis home.
Puckett was an All-Star selection his last 10 seasons, and was the MVP of 1993 version.
He would've had greater numbers in the majors, but was forced to retire after he lost sight in one of his eyes. He was then elected by the baseball writers in his first attempt to get to Cooperstown in 2001.
On March 5, 2006, he suffered a stroke in his Arizona home and died the next day. It was a tough day for Twins fans, and the team immediately retired his #34 jersey, becoming the fifth Twin to have such an honor.
"Kirrrrrrbyyyyy Pucketttttt", as his name was announced at the Metrodome, will live on in the hearts of everyone in the state of Minnesota.
Runner-up: Jim Perry, SP, 1963-1972
Q: Frank Quilici, 2B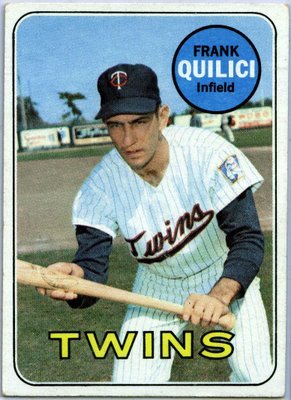 Years as a Twin: 1965, 1967-1970
RBI: 53
Member of 1965 World Series Champions
Frank Quilici was an infield utility during his five years with the Twins, and he was inserted quickly into the starting lineup in the 1965 World Series when regular Jerry Kindall was sidelined.
He had two hits off Don Drysdale, which was the highlight of his career.
Quilici did the Twins' radio color commentary during the 1970s and '80s.
Runner-up: Frank Quinones, 3B, 1992
R: Brad Radke, SP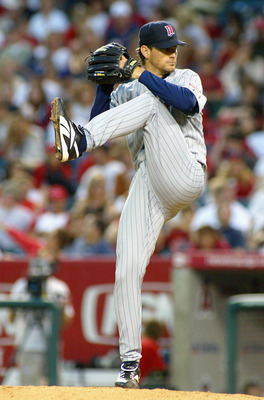 Christian Petersen/Getty Images
Years as a Twin: 1995-2006
W-L: 148-139 (4th)
ERA: 4.22
CG: 37
SO: 1851 (4th)
One-time All-Star: 1998
Brad Radke was the Twins' opening day starter for nine years in a row. That's a pretty amazing streak when you consider that Johan Santana was a starting pitcher for four of those years.
The Eau Claire, Wisconsin native was always there whenever the Twins when they needed a reliable starter.
One of the best control pitchers of his era, Radke led the league in 2001 with a 5.7-to-1 strikeout to walk ratio and was an All-Star three years before in '98.
Radke was elected into the Minnesota Twins Hall of Fame in 2009.
Runner-up: Rich Rollins, 3B, 1961-1968
S: Johan Santana, SP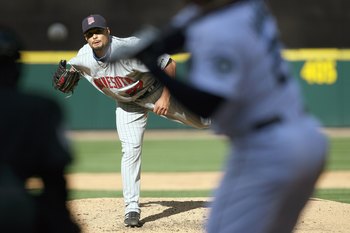 Otto Greule Jr/Getty Images
Years as a Twin: 2000-2007
W-L: 93-44
ERA: 3.22 (best in modern era)
SO: 1381 (5th)
Three-time All-Star: 2005-2007
One Gold Glove
Two-time Cy Young winner: 2004, 2006
There was a time not too long ago when Johan Santana was the best pitcher in baseball, winning two Cy Youngs in three seasons during his stay in Minnesota.
He possessed some of the nastiest pitches known to baseball, and his specialty was his fierce "Bugs Bunny" changeup that saw batters strikeout consistently against the Venezuelan.
In his first full year as a starter in 2004 he took home the award after a season that saw him go 20-6 with a 2.61 ERA and 265 strikeouts, topping the majors in the second and third categories.
However the Twins' small-market money couldn't afford Santana and he was shipped off to the New York Mets for a bunch of prospects. He hasn't been the same pitcher since.
Nonetheless, Johan Santana is a name that is revered in the state of Minnesota and will be for years to come. If he ever gets into the Hall, I can only hope he finds it in his heart to wear the "TC" cap that he sported for eight great seasons.
Runner-up: Roy Smalley, IF, 1976-1981, 1982, 1985-1987
T: Kevin Tapani, SP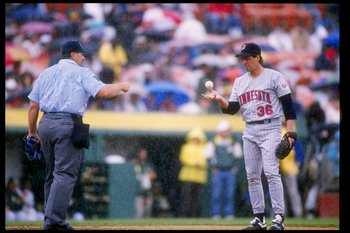 Otto Greule Jr/Getty Images
Years as a Twin: 1989-1995
W-L: 75-63
SO: 724
Member of 1991 World Series Champions
Kevin Tapani spent seven solid seasons in the Gopher State, and is most known for being the number two starter, below the legend Jack Morris and above 20-game winner Scott Erickson, in the magical 1991 season.
That year Tapani had his best in the big leagues, going 16-9 with a 2.99 ERA in addition four complete games and 135 batters whiffed in 244 innings pitched, a career high. Despite the great season he was still a mediocre-looking seventh in the Cy Young race (both Morris and Erickson were above him).
The Des Moines, Iowa native finished his career with 145 total wins and had a great 1999 with the Cubs where he went 19-9 despite a high 4.78 ERA.
He retired in 2001 and currently resides in Minnetonka, Minnesota with his wife and children.
Runner-up: Cesar Tovar, IF, 1965-1972
U: Ted Uhlaender, OF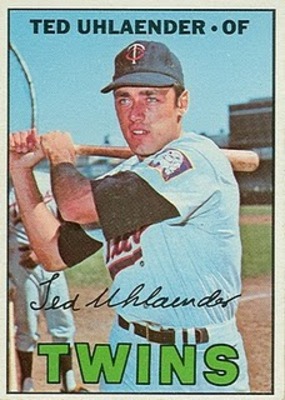 Years as a Twin: 1965-1969
HR: 25
RBI: 186
Ted Uhlaender, a Chicago native, was the team's primary center fielder from 1965 to 1968.
His best season came in 1968 when he was fifth in the American League in batting average with a .283 number. He also drove in 62 runs the following year.
He later played for the Indians and the Reds and became an assistant coach for the Indians years later.
He died of a heart attack outside his Kansas ranch in February 2009.
Runner-up: Scott Ullger, 1B, 1983
V: Frank Viola, SP
Tim DeFrisco/Getty Images
Years as a Twin: 1982-1989
W-L: 112-96 (5th)
ERA: 3.86
SO: 1216 (5th)
Two-time All-Star: 1988, 1989
1987 World Series MVP
1988 Cy Young Award
Member of 1987 World Series Champions
Well, this was the toughest decision I had to make-- Frank Viola or the late Zoilo Versalles?
One owns an MVP; the other a Cy Young.
The reason I picked Viola has to do with two things: one, he won a title with the team; and second, Versalles' batting average was just under .250 in his tenure with the Twinkies.
"Sweet Music", a hard-throwing lefty, is fifth in team history in wins and strikeouts, with 112 and 1216 to his credit, respectively.
He was the hero of the '87 World Series victory (the Twins' first), and won the Cy Young award the following year, winning 24 games and posting a 2.64 ERA while striking out 193 batters, the first two being career highs (or lows, depending on how you look at it).
I almost feel bad for Versalles though, even though I have already explained his accomplishments. The fact of the matter is that Viola takes the cake.
Runner-up (with sincerest apologies as well): Zoilo Versalles, SS, 1961-1967
W: Al Worthington, RP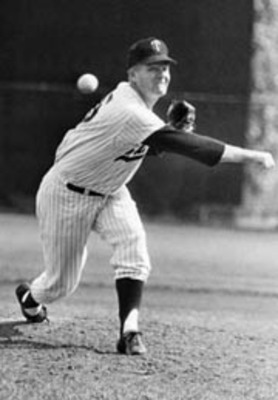 Years as a Twin: 1964, 1965-1969
G: 327 (10th)
SV: 88 (7th)
Al Worthington was a solid closer during his six-year tenure with the Minnesota Twins.
He was one of the best closers (and control throwers for that matter) in the majors during the mid-to-late 60s.
In 1965, when the Twins lost in their first ever World Series appearance, Worthington had his best year. He had 21 saves, 10 victories, and a 2.13 ERA. In 1968 he lead the majors with 18 saves.
Worthington is not someone who jumps out at you when you talk about Twins' relievers, but he is seventh in team history with 88 saves, a stat that is impressive considering how difficult the ninth inning closure was to come by during that era.
Runner-up: Gary Ward, OF, 1979-1983
X: ??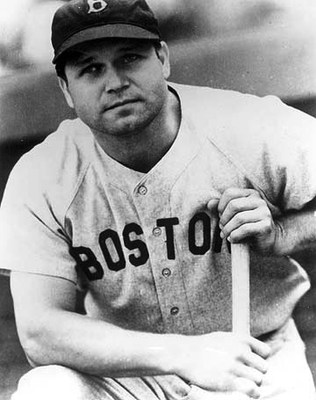 There are no players listed in the Minnesota Twins history database with a surname starting with the letter X, and I'm not sure there ever will be.

The picture is of Jimmie Foxx, quite possibly the only major leaguer to ever have not only one X, but two, in his name.
Foxx never played for the Twins but subsequently had an excellent Hall of Fame career.
Y: Delmon Young, OF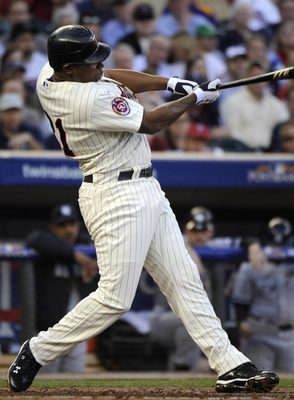 Hannah Foslien/Getty Images
Years as a Twin: 2008-present
HR: 43
RBI: 241
OBP: .328
SLG: .443
Delmon Young, at the ripe age of 24, is the third player currently on the team listed, along with Joe Mauer and Joe Nathan.
Young had his best season a year ago, when he smashed 21 dingers and led the team with 112 runs driven in. His upgraded offense was one of the main reasons the Twins took home their sixth division title in the last nine chances.
Young has put his character controversies behind him, and I expect him to be with the club for many seasons to come, and to put up 2010-like statistics for several years.
All that needs work are the awful fielding skills he possesses, and to rid himself of that awful nickname-- "Double Play Delmon."
Regardless, fans in 'Snowta love Delmon and can see him leading them to the playoffs time and time again in the years ahead.
Runner-up: Rich Yett, 1985, RP
Z: Geoff Zahn, SP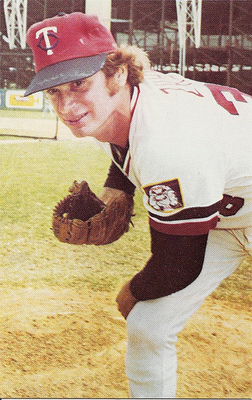 Years as a Twin: 1977-1980
W-L: 53-53
ERA: 3.90
CG: 36
Geoff Zahn, a Baltimore, Maryland native, was a consistent model during his four seasons with Minnesota.
All four years he won at least 12 games, and a high of 14 twice in '78 and '80.
From 1977 to 1982 he won at least 10 games every single year. Now that is indeed consistency.
A left-hander, Zahn's best season was in 1978 when he went 14-14 with a career low 3.08 ERA and a high with 106 strikeouts.
He was a solid starter for the Twins and went on to play well in five seasons with the California Angels and finish his career with 111 wins coupled with 109 defeats, and a stellar 3.74 ERA.
Runner-up: Jerry Zimmerman, C, 1962-1968
Summary Of List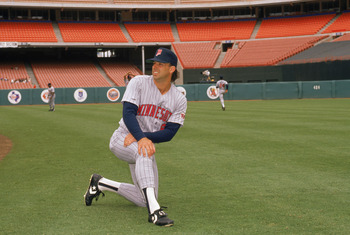 Gary Gaetti is the lone third baseman on the list.
Ken Levine/Getty Images
By position:
C- three (Izquierdo, Laudner, Mauer)
1B- two (Hrbek, Killebrew)
2B- two (Carew, Quilici)
3B- one (Gaetti)
SS- none
OF- six (Ford, Jones, Oliva, Puckett, Uhlaender, Young)
DH- one (Davis)
SP- seven (Blyleven, Erickson, Radke, Santana, Tapani, Viola, Zahn)
RP- three (Aguilera, Nathan, Worthington)
Hope you all enjoyed it! I would love some constuctive feedback!
Thanks again!
-Joseph Fafinski
Keep Reading

Minnesota Twins: Like this team?