New York Jets: Back in the AFC Playoffs With More Questions Than Answers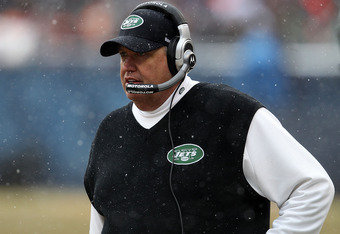 Jets' head coach Rex Ryanb looks through the lake-effect snow on Sunday at Chicago
Jonathan Daniel/Getty Images
With the Jets leading the Bears by seven points early in the second half, their offense faced a 4th and three at their own 40 yard line.
Head coach Rex Ryan made another decision that was emotionally based rather than by rational thought.
He faked a punt, but not only that, the formation was changed to replace Brad Smith with Mark Sanchez as the "personal protector" for punter, Steve Weatherford.
Weatherford was having a pretty good game punting the football, and at that point, the Jets' defense was playing decent football, but without pausing to consider those facts, the head coach made a call that was more apropos to a kid playing Madden, than a professional head coach.
You think the Bears might have noticed that Sanchez was switched into the position? After all, the Jets had never even displayed that look all season. Smith has always been in that position.
The Bears were more than ready, and they stopped the pass attempt cold.
With the short field, Jay Cutler wasted no time on a deep ball to Johnny Knox who secured it with a nice over the shoulder catch, tying the game at 24.
From that point on, the third quarter belonged to the Bears as the Jets' defense was reeling and Cutler and the Bears scored three times in the frame to take over the game.
Jonathan Daniel/Getty Images
Fortunately for Ryan and his Jets, the Jacksonville Jaguars lost in overtime thanks to a David Garrard interception that set up a game-winning Graham Gano field goal.
The issue though is still with Ryan's game management. This isn't the first time that the coach has made an emotional decision that put his team in a bad spot in a game. He routinely challenges calls without cause, particularly early in games, leaving himself short on challenges in bigger game situations.
This nearly cost him a game in Denver, when a questionable TD catch that put the Broncos in the lead went unchallenged because Ryan was left with only one challenge after throwing the red flag on an obvious fumble early in the game.
Last weekend against the Steelers, Ryan decided to throw on third down at midfield, leaving the Steelers with a timeout on their attempt at a game-winning drive.
I know that the Steelers failed on that drive, and the Jets' chances at the playoffs were all but assured before they even took the field on Sunday.
Six things: Two Jets' losses, two Jaguars' wins, and two Colts' wins, needed to occur for the monumental Jets' collapse to occur. That was very unlikely to happen.
But, there is a bigger issue here. The Jets were a team that was one half away from the Super Bowl last year, and went into this year with "soon to be champs" as their mantra.
"Soon to be champs" don't have inconsistent offenses like this team does. "Soon to be champs" don't have defenses that allow huge plays with the regularity that this team has allowed in two of the last four weeks. And "soon to be champs" don't have head coaches that think with their heart and not with their head.
There is plenty of room for emotion in football. It is obvious that Ryan motivates his players and the players love to play for him. But until this coach is able to master the mental part of the game, the Jets will be hard-prressed to win any championships.
This article is
What is the duplicate article?
Why is this article offensive?
Where is this article plagiarized from?
Why is this article poorly edited?

New York Jets: Like this team?