Future MLB All-Stars: American League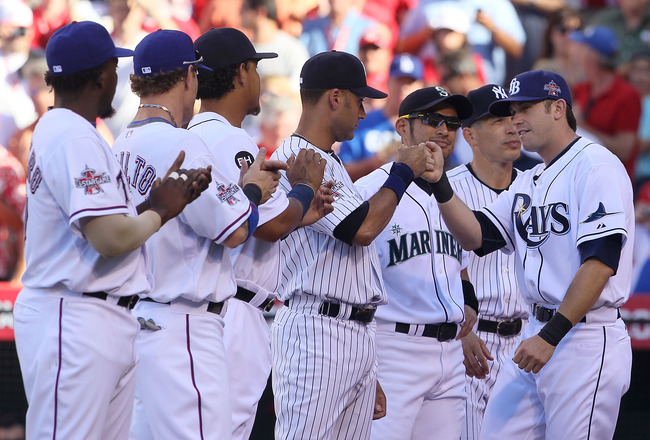 American League All-Stars
Jeff Gross/Getty Images
What do Elvis Andrus, Jose Bautista, Adrian Beltre, Clay Buchholz, John Buck, Trevor Cahill, Robinson Cano, Fausto Carmona, Neftali Feliz, Phil Hughes, Jon Lester, David Price, Rafael Soriano, Nick Swisher, Matt Thorton, Jered Weaver and Ty Wigginton all have in common?
They were each named to their first All-Star Game in 2010. This particular bunch represented almost half of the American League roster last summer.
With so many up-and-coming players making a significant impact in the Majors, let's make a few predictions on guys who will become perennial American League All-Stars but have yet to appear in the Midsummer Classic.
Catcher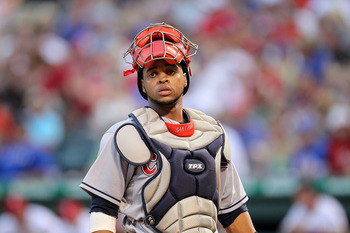 Carlos Santana
Ronald Martinez/Getty Images
Carlos Santana: CLE
Santana only has 46 big league games under his belt, but he showed that he belongs at the highest level. He got on base at a clip of .406 while batting in the middle of the order.
As a switch-hitting catcher breaking in with Cleveland, Santana will draw comparisons to former Indians catcher Victor Martinez—and those comparisons may not be too far off.
Another catcher who drew some consideration for this spot is Matt Wieters of the Baltimore Orioles, another 24-year-old, switch-hitting catcher who is developing power early in his career.
First Base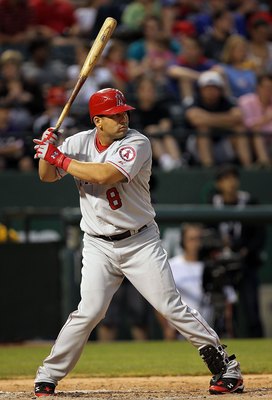 Kendry Morales
Ronald Martinez/Getty Images
Kendry Morales: LAA
Kendry Morales might have made the All-Star roster in 2010 had he not broken his leg late in the month of May.
Prior to the unlucky injury, Morales had gotten off to a great start with 39 RBI through his first 51 games. This performance followed a 2009 season in which Morales hit .306/.355/.560.
He has a great glove to go along with a certain offensive prowess at the plate, which will lead to All-Star appearances in the near future.
Second Base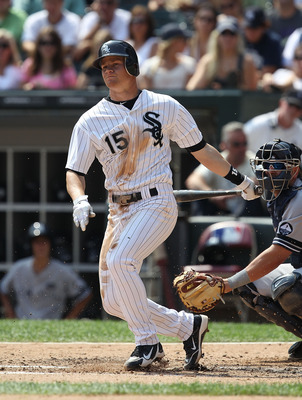 Gordon Beckham
Jonathan Daniel/Getty Images
Gordon Beckham: CHW
Beckham was a shortstop in college, broke into the Majors as a third baseman and now resides at second base. He struggled at the plate in his second year, but his transition to second base was successful, as he put up a respectable .981 fielding percentage.
Beckham will rebound after a sophomore slump, and he has the potential to be a consistent power threat.
Shortstop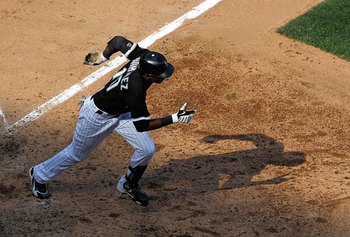 Alexei Ramirez
Jonathan Daniel/Getty Images
Alexei Ramirez: CHW
The White Sox could have a special duo up the middle for years to come with Alexei Ramirez and Gordon Beckham. Ramirez has been the model of consistency during his three years in the Majors and was able to earn the Silver Slugger for AL shortstops this season.
Another shortstop with a bright future is Alcides Escobar, a newcomer to the AL with an outstanding glove. If Escobar is able to make a considerable improvement on his career .634 OPS, he will have a shot at representing the Royals in the All-Star Game for many years to come.
Third Base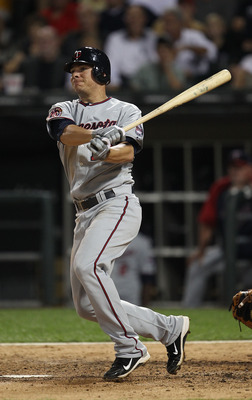 Danny Valencia
Jonathan Daniel/Getty Images
Danny Valencia: MIN
As the year went on, this guy just kept hitting. Valencia ended the season hitting .311 with 40 RBI in just under 300 at-bats. He will only get better as he adjusts to Major League pitching and hits in a lineup that has quickly become one of the best in baseball.
It will be tough for Valencia to get tons of recognition because third base is a stacked position in the AL with Evan Longoria, Alex Rodriguez, Kevin Youkilis and Michael Young all known to be great all-around players.
Left Field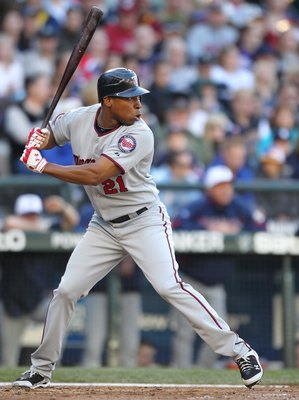 Delmon Young
Otto Greule Jr/Getty Images
Delmon Young: MIN
Delmon Young has always had the talent to become an amazing hitter, and he was able to put it all together this year. The 25-year-old set career-high numbers in doubles, homers and RBI while hitting .298 in 153 games.
Young has made an impression that will not soon be forgotten as he continues to develop into one of the better clutch hitters in baseball.
Center Field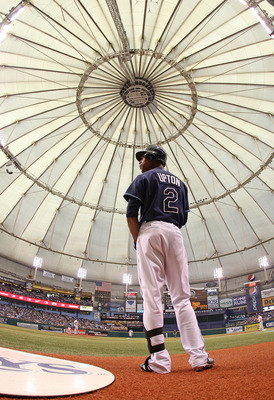 B.J. Upton
Mike Ehrmann/Getty Images
B.J. Upton: TB
This was a tough one. Center field is a talented position in the American League filled with young players who will have a great shot at making All-Star teams.
I decided to go with B.J. Upton because he is the most talented of the group and will be unstoppable if he can put it all together for a couple seasons.
Upton has shown flashes of brilliance at the plate and is already one of the best defensive center fielders in the game. He will need to overcome his strikeout issue in order to fully take advantage of his power and speed.
Other center fielders who had a shot at this list are Franklin Gutierrez, Jacoby Ellsbury, Denard Span and Austin Jackson.
Right Field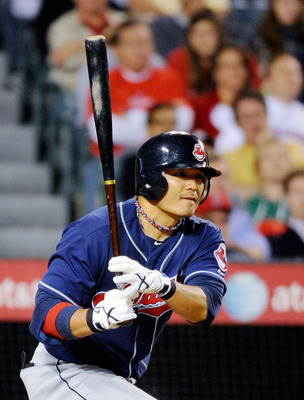 Shin-Soo Choo
Kevork Djansezian/Getty Images
Shin-Soo Choo: CLE
Choo has become a great hitter since becoming the everyday right fielder for the Indians in 2009. Over the last two seasons, Choo has driven in 176 runs along with scoring 168 of his own. This run producer will continue to develop as a balanced hitter and steady defender.
Starting Pitcher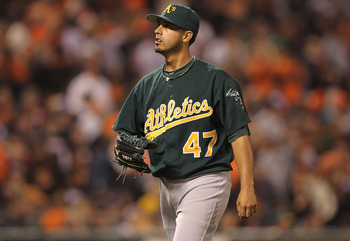 Gio Gonzalez
Jed Jacobsohn/Getty Images
Gio Gonzalez: OAK
The A's have become one of the best organizations in the Majors when it comes to producing top-notch talent for the rotation.
Gio Gonzalez is another of their highly touted arms, and he was able to put it all together in 2010. He went 15-9 in 33 starts and sported a 3.23 ERA while striking out 171 opposing batters.
Gio has the chance to become an elite starter and a regular at the Midsummer Classic.
Relief Pitcher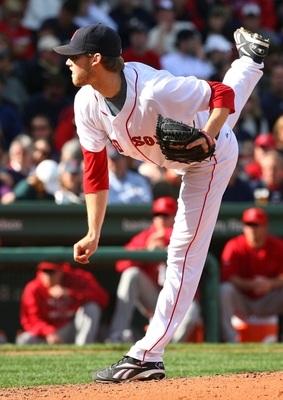 Daniel Bard
Jim Rogash/Getty Images
Daniel Bard: BOS
The Red Sox are in the process of rebuilding their bullpen this offseason. One guy that they aren't so worried about is Daniel Bard. The second-year Boston setup man is coming off a season in which he had a 1.93 ERA in 73 relief appearances.
If the Red Sox do end up moving Jonathan Papelbon, Bard will certainly be in the mix to replace him at closer. Whether as a setup man or as a closer, Bard is well on his way to multiple trips to the All-Star Game.
Keep Reading