The Good, The Bad and The Ugly From Pittsburgh Steelers and New York Jets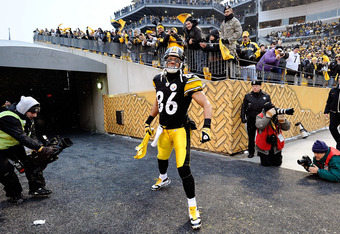 Karl Walter/Getty Images
The Good

Lose and In

For the Steelers, going into this game the saying was "win and in." Only that they didn't and somehow still clinched a spot in the AFC playoffs before I had driven myself home from Heinz Field last night.

The consensus on talk radio, even going into this afternoon, was that by some odd formula the Steelers were able to clinch the berth. Why couldn't anybody figure it out? Who knows, but when you take a look at it you'll see that the Steelers have a conference record of 8-3. That might have something to do with that. This is obviously the most important aspect of yesterday's game if the Baltimore Ravens somehow would win and not give the Steelers a shot to clinch the division.


Steelers and Offense. Oxymoron?

After not scoring an offensive touchdown last week against the Cincinnati Bengals, the Steelers offense played a much improved game Sunday night. Most importantly, they were able to punch the ball into the end zone twice, both times while in the red zone. One of the scores was a climax of a very long 96-yard drive in the second quarter.

They dominated in almost every offensive category.

First Downs: 25 to 17

Rushing Yards: 147 to 106

Passing Yards: 264 to 170

Despite that, this team still found a way to lose in the true "sand through your fingers" style they have employed since Mike Tomlin took over back in 2007.


The Bad

Conservative Defense

Maybe it's just because Dick Lebeau is calling off the dogs in order to compensate for the absence of Troy Polamalu, but it clearly doesn't work the way they want it to. Since 2008, they are 28-9 with Polamalu on the field and 5-7 when he's on the sideline. The defense has averaged around 14 points given up a game with him and without him it balloons to 23. They gave up 22 yesterday, with a net of 20.

We always hear Tomlin preach about how the standard doesn't change when a player fills in for an injured star. Well, if the standard doesn't change, then why does the defense seems a bit more conservative than it usually is?

The pass rush seemed to still be stuck in traffic on I-376, because they were definitely nowhere near Mark Sanchez, who coming into this game was a turnover away from getting benched. From my count they only had three hits on him and one sack which was the property of James Farrior.

When Ryan Mundy came on one of the few blitzes, he even got close Sanchez, but he whiffed on what would have been a huge sack. It' was a bug missed play and leads us to wonder what would have happened if Polamalu would have been in the same spot.


The Ugly

Special Teams Looked Like The Bad Kind of Special

This is arguably the worst special teams performance of the season, aside from Jeff Reed's botched field goals earlier this year. The problems were mainly in kick coverage and it showed from kickoff when Brad Smith took it to the house from 96-yards away. In my opinion, this is what cost the Steelers the game. Smith had 140 total yards in returns and Jeremy Kapinos had a net average of 25 yards. I think those two numbers tell much of the story.

Special teams is very important, much to the chagrin of many unintelligent fans, but yesterday we saw how important it is. The New York Giants for some reason didn't punt the ball away from Desean Jackson as regulation expired, and paid dearly as he returned it for a touchdown. Then later that night the Green Bay Packers had the New England Patriots on the ropes with two minutes in the first half but allowed an offensive lineman to return a kickoff to their four.

In both of those instances and with what happened at Heinz Field, the screw ups were game-killers.


Coaching

This seems to be the problem with every bad loss the Steelers have. I've already touched on how the defense seems to literally lower the boom when they don't have certain personnel, but who the hell calls a shotgun draw from inside your own five yard line? Apparently Bruce Arians does.

We can spend all week long trying to figure out whose fault it was that Jason Taylor found his way to Mewelde Moore in the end zone, but what bothers me about this is that when an assistant coach calls a play over the radio, it also goes through the headset of the head coach. Why doesn't Tomlin hear that call, realize it's completely stupid with the current state of the offensive line and overrule it?
If you enjoy my work, you can find more at my blog www.pittsburghsportsontap.com
This article is
What is the duplicate article?
Why is this article offensive?
Where is this article plagiarized from?
Why is this article poorly edited?

Pittsburgh Steelers: Like this team?