New York Jets Make Huge Stop on Final Play To Beat Pittsburgh Steelers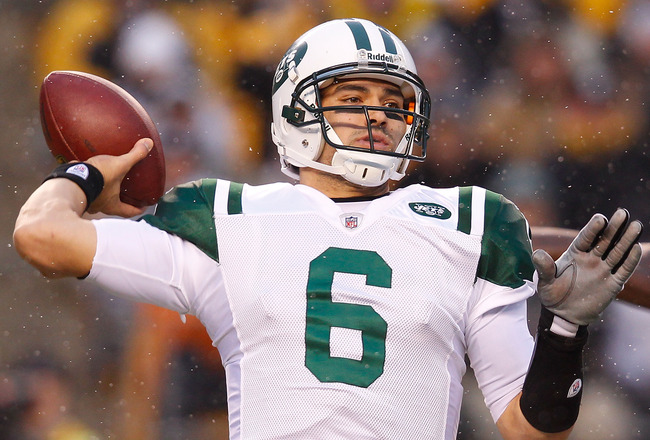 Jared Wickerham/Getty Images
The Jets needed to snap their mini two-game losing streak and it wasn't going to be easy facing the Steelers in a city they've never won in.
But with a great game plan and some well-timed execution, the Jets knocked off the Steelers, making a huge game-winning stop on the final attempt from Ben Roethlisberger.
Mark Sanchez had a much better game, finally playing interception-free football and the Jets mixed it up on offense to form a well-balanced attack.
Continue reading for a breakdown of the Jets' Week 15 victory with opinion and analysis.
Jets Do Good Job Against League's Best Run Defense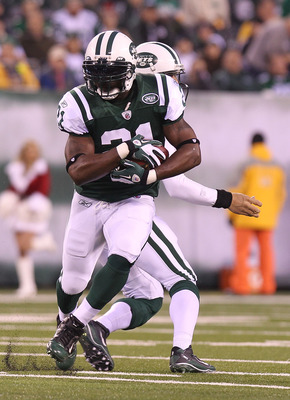 Nick Laham/Getty Images
Supposedly, the most important topic for the Jets in this game was staying away from running with the ball. The Steelers have statistically one of the best run defenses in NFL history, only allowing 60 yards per game on the ground.
The Jets, knowing they'd have to play tough to have a chance to win, took their chances and succeeded. They didn't just pass the ball all game long which was supposed to be the main key.
Mark Sanchez didn't even attempt 30 pass plays as the duo of LaDainian Tomlinson and Shonn Greene rushed for a combined 89 yards. That's nearly 30 more yards than the Steelers gave up on average entering this game and the balanced mixture helped the Jets the entire game.
When they needed it most, Tomlinson broke off an 11-yard run and the Jets ran on the Steelers early and often.
The 23 total carries proved a lot to the Jets. It proved they perhaps can still be a ground and pound team and that they're not intimidated by the Steelers run defense if they were to meet in the playoffs.
It was a smart game plan by Brian Schottenheimer and the Jets will have to face the second-best run defense in the Bears next week.
Jets Defense Not Bad But Third Down Defense Is Awful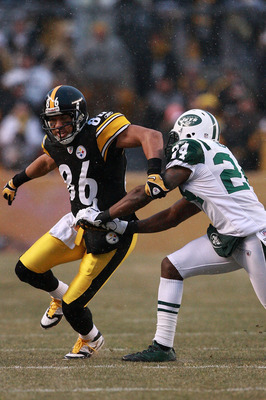 Karl Walter/Getty Images
The Jets only gave up 17 points to a Steelers offense that isn't so great in the first place. But no matter what, limiting Roethlisberger and his guys to under 20 is a good job.
What's not a good job is allowing 11 third down conversions. That's what the Jets allowed in this game and most of them were for a ton of yards. The two biggest plays on third down allowed was a 17-yarder and a crucial 24-yarder with the Steelers driving to try and win the game.
The Steelers were on their own 27-yard line, down 22-17, when Roethlisberger connected on a 29-yard pass play to Emmanuel Sanders. Eventually, they would lose the game on the final try as time expired but if they had won, that would've been a killer.
The Jets have had this problem for years. Although they were the best team in the league against the third down last season, they still give up the long ones when they hurt the most.
The defense actually did get to Roethlisberger at times in the game and they did pressure him, but on third down it seemed as if he had no defenders to get by.
Whether it's 3rd-and-2 or 3rd-and-25, the Jets always give it up and they better correct their problems in a hurry, before playoff time comes around in three weeks.
Braylon Edwards Comes Through For His Quarterback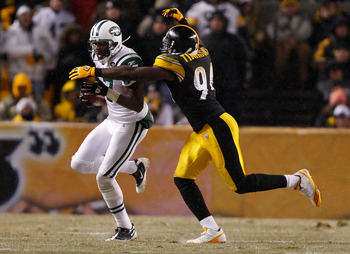 Jared Wickerham/Getty Images
This game called for a receiver to come up big for Mark Sanchez. Steelers safety Troy Polamalu didn't play due to an ankle injury, and thinking they'd get nowhere on the ground, the Jets needed to have a big play maker.
They got just that as Braylon Edwards came out of nowhere to have his first 100-yard receiving game of the season.
He made a big play early in the game when he caught a 38-yard pass down field from Sanchez and was the go-to-guy. He caught eight passes for exactly 100 yards, averaging 12.5 yards per catch.
From the Steelers 49-yard line, Sanchez threw a pass that Edwards caught at the 11, as the Jets would settle for a field goal to take a 10-7 lead.
In his return to Pittsburgh, Santonio Holmes didn't have a huge game, only going for 40 yards, and Jerricho Cotchery was a total non-factor, so this was the perfect game for Edwards to come through.
Kicker Steve Weatherford Plays Big Role In Victory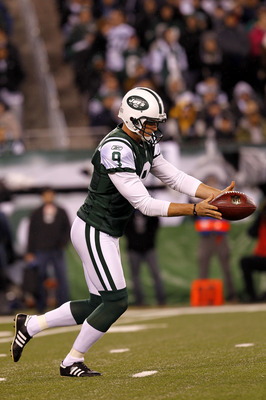 Chris Trotman/Getty Images
It's not that often that the kicker makes a post-game article, let alone the punter. But for this game, the punter gets his own slide as Steve Weatherford was one of the stars of the game.
The Jets played some good defense and in return got good field position all game because of the great punting of Weatherford.
Out of his four punts, three were inside the 10-yard line, forcing the Steelers to go almost the entire field to score. Now, the Steelers did drive 96 yards for a touchdown during one series, but that was the fault of the Jets defense.
Perhaps the biggest punt the Jets have had all season came with three minutes to go in regulation. Leading the game, 20-17, Weatherford pinned the Steelers at their own three-yard line.
On the first play of the drive, Mewelde Moore was tackled in the end zone by Jason Taylor to give the Jets a huge safety and a five-point lead.
Safeties are rare unless the kicker pins the ball inside the five and that's what Weatherford did all game until it benefited his team.
On a snowy, windy day at Heinz Field, Weatherford came through with flying colors.
Mark Sanchez Rebounds With Solid Effort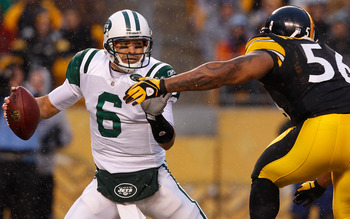 Jared Wickerham/Getty Images
It wasn't the greatest game he's ever had, but Mark Sanchez certainly improved upon his awful play of late. In Pittsburgh, one of the toughest places for an opposing quarterback to play, Sanchez snapped a string of eight straight games with an interception.
It was against a Steelers defense without their top member of the secondary, Troy Polamalu, but that doesn't matter. Sanchez was getting picked off by any caliber of cornerback or safety, and this game was a step in the right direction.
He didn't even throw a pass that was close to being intercepted like he did against the Dolphins last week that were dropped.
Concerning his quality of play, Sanchez had a solid game. He completed 19-of-29 passes for 170 yards and didn't throw a touchdown but did run one in himself. He made smart decisions the entire game, making accurate passes while being helped by his running backs.
He also added another efficient play to his game. At least twice did he fake a snap or fake a pass. On a 4th-and-1 from the Steelers seven-yard line, Sanchez faked a hand off to Shonn Greene and ran the ball down the left side for the touchdown that tied the game at 17-17.
In the fourth quarter, on a 3rd-and-6 from the Steelers 47-yard line, Sanchez faked a fumbled snap and handed it off to LaDainian Tomlinson who took it down the left side for a 10-yard gain. It's a play that Sanchez doesn't do too often, but it worked pretty well.
His offensive line did a good job of protecting him as he was only sacked once, and all in all it was a bounce back game for Sanchez.
Closing Opinion and What's Next For Jets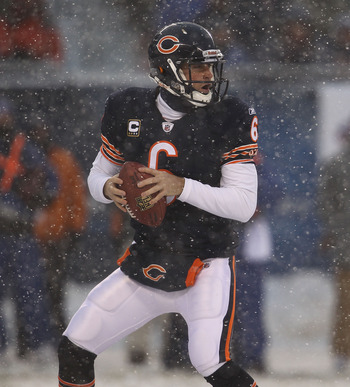 Jonathan Daniel/Getty Images
The Jets really needed to win this game. It wasn't going to be easy and most people predicted them to lose, but they silenced the critics for at least a week.
After the whole Sal Alosi saga and the embarrassment of losing 10-6 to the Dolphins at home after a drubbing by the Patriots, the Jets proved that it's a week-to-week league.
Now, the Jets at 10-4, have matching records with the Steelers and Ravens in the AFC and are on the verge of clinching a playoff spot.
Even if the Jets lose next week, all they need is one win against the Bills in Week 17. It doesn't matter what any other team does as the Jets have a two-game lead with two games to play.
They'll attempt to lock up a playoff spot next week against the Bears in Chicago. The Jets will have an extra day of rest than the Bears who don't play until Monday night.
The Bears are a tough team as they are currently 9-4 entering Monday's game in Minnesota, although they're only 4-3 at home.
Jay Cutler will be another huge test for the Jets defense as will be the Bears second ranked run defense.
But for now, the Jets are flying high with a nice record and positioning in the playoff standings. The champagne will be on ice in Chicago next Sunday.
AFC East Standings After Week 15
New England 11-2
NY Jets 10-4 (6)
Miami 7-7
Buffalo 4-10
(6) - Jets current seed in AFC
Keep Reading

New York Jets: Like this team?