Cliff Lee: 10 Reasons the Philadelphia Phillies Are Now the Favorites in the NL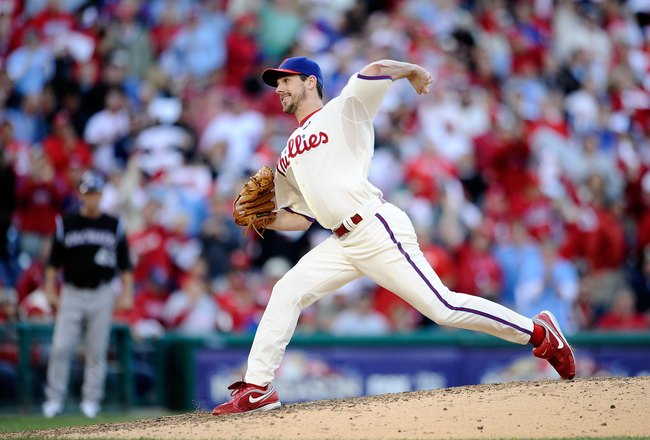 Jeff Zelevansky/Getty Images
The current National League Cy Young Award winner, former American League Cy Young Award winner and three-time 20-game winner. Two-time 20-game winner and a sixth-place finish in the 2010 National League Cy Young Award voting. 2008 National League Championship Series and 2008 World Series MVP. Add to that another former American League Cy Young Award winner with a 20-game win season under his belt, and you've assembled an impressive cast of starting pitchers (and a stocked trophy case.)
That's exactly what the Philadelphia Phillies have done.
When the signing became official on Wednesday afternoon, the Phillies put names to that impressive resume, and effectively assembled one of the greatest rotations, on paper, to ever grace the world of baseball—Roy Halladay, Roy Oswalt, Cole Hamels and Cliff Lee.
When the Phillies acquired Oswalt at the 2010 Trade Deadline, fans were ecstatic. Added to a rotation that already boasted powerful arms in Halladay and Hamels, the Philly faithful quickly dubbed the new big three with catchy nicknames like "Roy Story 2" and "H2O." So when the Phillies "lurked on the periphery" long enough to swoop in and sign this year's top free-agent prize, fans and analysts alike were quickly dubbing the quartet the "Phantastic Phour," "the Phab Phour," "Smokin' Aces" and my personal favorite, "Charlie's Aces." On paper, this rotation has the potential to be one of the greatest rotations of all time and take the National League by storm.
But does the addition of Cliff Lee make the Phillies the best team in the National League?
The following 10 slides should show you just why it does.
10.) Year of the Pitcher II?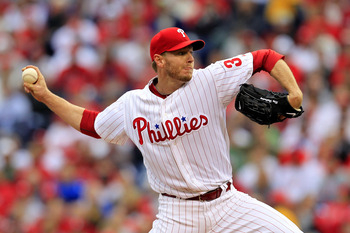 Roy Halladay highlighted the "Year of the Pitcher" in 2010, throwing both a no-hitter and a perfect game.
Chris Trotman/Getty Images
2010 truly was a remarkable year for pitching.
In the regular season, Roy Hallady and Oakland's Dallas Braden each threw perfect games, and Detroit's Armando Galarraga nearly threw another before losing it with two outs in the ninth inning on a blown call by first base umpire, Jim Joyce. A notch below perfection, Colorado's Ubaldo Jimenez, then-Arizona Diamondbacks' starter Edwin Jackson and Tampa Bay's Matt Garza each threw a no-hitter. Halladay would then extend the "Year of the Pitcher" into the postseason, throwing the first postseason no-hitter since Don Larson's "playoff perfecto" in 1956.
And those were just the major accomplishments.
The combined ERA of all Major League Baseball teams was 4.07, and that includes the Pittsburgh Pirates' staff, who posted the worst ERA in baseball at an even 5.00. The San Francisco Giants carried their "Year of the Pitcher" into the postseason, where their staff of Tim Lincecum, Matt Cain, Jonathan Sanchez and Madison Bumgarner led the Giants to a world title.
In fact, the only two teams to make the playoffs and not finish in the Top 10 in ERA were the Cincinnati Reds, who were on the opposing end of that Halladay no-hitter, and the New York Yankees, who battled injuries in their rotation throughout the season, forcing them to send starters like Sergio Mitre, Chad Gaudin, and Dustin Moselely to the hill at various times throughout the year—and they still finished with an ERA of 4.06 in a very tough American League East.
Hitters managed a batting average of just .257 in 2010, posting near exact averages in the American League (.258) and the National League (.257). Keeping that batting average down was an insane amount of strikeouts. More than 33,000 hitters were set down on strikes in 2010, with the league average per team at 1144. Proving that this was the year of the pitcher, the team that led both of those categories, batting average against and strikeouts, would walk away as World Champions.
Ruben Amaro believes that championship teams are built around pitching and defense, and recent champions prove that his theory is well rooted.
In 2008, his Philadelphia Phillies won the World Series largely thanks to a great offense, but it was the strength of his starting rotation, headlined by now "ace No. 4," Cole Hamels, who would be named both NLCS and WS MVP, after going 4-0 with an ERA of 1.80, and a dominant bullpen headlined by "Lights Out" Lidge, on his way to a perfect season.
The 2009 New York Yankees made it through the postseason on the backs of three great pitchers in their own right: CC Sabathia, AJ Burnett and Andy Pettitte, and of course, legendary closer Mariano Rivera. The 2010 San Francisco Giants continued the tradition by doing much of the same, throwing a young ace with two Cy Young Awards already under his belt and a closer that led the league in saves.
So if we can expect much of the same from pitchers in 2011 as we witnessed in 2010, Amaro has assembled an elite squad. If, as he reaffirmed at Lee's press conference on Wednesday, championships are won around pitching and defense, the Phillies are in a great position to be the best team in the National League in 2011—they have four legitimate aces rotating throughout the season, a very underrated back of the bullpen, and a defense playing behind them that committed only 83 errors in 2010, good enough for the league's sixth best fielding percentage at .986.
9.) The Phillies Have an Offense?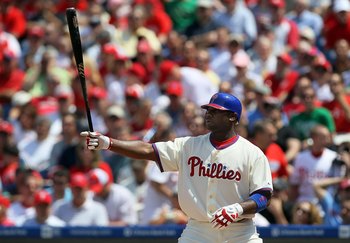 Jim McIsaac/Getty Images
Yes, they do, and a pretty good one at that.
There is one major effect of the Cliff Lee signing that doesn't exactly catch the eye—it takes the pressure off an offense that struggled mightily over the course of the 2010 season from underwhelming performances, injuries and over-expectations. Expected to have one of the league's best offenses in 2010, it was the pitching of Roy Halladay, Cole Hamels, and eventually, Roy Oswalt, that led the Phillies to the playoffs.
The offense, on the other hand, appeared to be in a year-long slump. Despite scoring the seventh most runs in baseball (772), they finished 12th in hits (1451), ninth in home runs (166) despite a lineup featuring annual power-houses Ryan Howard, Jayson Werth, Raul Ibanez, Chase Utley, Jimmy Rollins and Shane Victorino, 12th in batting average (.260), 11th in on-base percentage (.332), 12th in slugging percentage (.413), and subsequently, 11th in OPS (.745). As stated in the previous slide, it was a team that won games with pitching, not offense as in years prior.
So, how does the addition of Cliff Lee and the subtraction of Jayson Werth even out? In a few words, a lack of pressure on the offense to compete at an over-achieving level.
When the Phillies send any of their four aces to the hill, the Phillies offense can rest comfortably knowing that they'll need to give Halladay (2.44 ERA), Lee (3.18 ERA), Oswalt (2.76 ERA) or Hamels (3.06 ERA), a maximum of four runs a game to give them an above average chance to win—and that's a crude method of determining the value of an offense, which has the tendency to explode on unsuspecting starters.
Adding Cliff Lee to a rotation that already featured three aces in their own right takes the pressure off the Phillies' offense to score an absurd amount of runs in a game in order for a chance to win, which had been the Philly way in years past and takes the pressure off a bullpen that has been well taxed over the past couple of seasons.
Following a season where Jimmy Rollins, Carlos Ruiz, Chase Utley, Ryan Howard, Placido Polanco, backup catcher Brian Schneider and primary left-handed pinch hitter Ross Gload all spent time on the disabled list, the Phillies offense is set to bounce back in a big way, and the Phillies top-notch rotation will be there to ease them into the season.
8.) The Comfortability Factor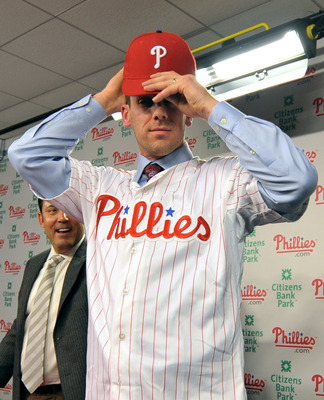 Drew Hallowell/Getty Images
Sometimes in baseball, there are certain aspects of the game that can't be explained and backed through stats and advanced SABRmetrics. For instance, Cliff Lee signing with the Philadelphia Phillies shocked the baseball world. Does pitching in a place where Lee knows that both he and his family make Lee a happy, successful man?
Only time will tell.
With that in mind, it is well worth noting that Lee turned down several larger offers to play in Philadelphia. The New York Yankees offered him a six-year deal worth $132 million, with a vesting option for a seventh year that would pay him $16 million more, totalling seven years and $148 million dollars. Lee finally squashed rumors that Yankees' fans spitting on his wife had anything to do with his decision, but that familiarity and the National League style of play appealed to him.
For those same reasons, Lee turned down a six-year, $138 million deal, with a vesting option that would have been worth $23 million more, bringing the total of that deal to seven years, $161 million. That deal, however, featured huge deferrals. In the end, Lee accepted fewer guaranteed years and less dollars to resign with the Phillies—five years, $120 million, with an "easily reachable" vesting option for a sixth year at $27.5 million.
Needless to say, Lee's decision to accept the Phillies' deal, which could total six years and $131 million, shocked the baseball world, and left disgruntled Yankees' and Rangers' fans accusing him of being the "new LeBron."
Apparently, that doesn't bother Lee one bit. Accepting a deal that made both he and his family happy was clearly important to him, and pitching in a rotation that includes fellow Cy Young winner Roy Halladay, and a pair of former NLCS MVP's, Roy Oswalt and Cole Hamels, surely doesn't hurt. "The Comfortability Factor" is one of those intangibles that stat-geeks are going to hate, but you have to admit, Cliff Lee is a man on a mission.
7.) A Balance in the Force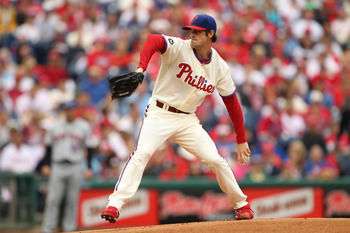 Hunter Martin/Getty Images
"Remember, a Jedi's strength flows from the Force." - Master Yoda
Yoda was a man—creature—of many wise words. However, the Phillies' strength, which in large part will be called "the starting rotation," benefits from more than just "the Force." It benefits from an impeccable balance in its handedness. The Phillies will send two of the best right-handers in the game, Roy Halladay and Roy Oswalt and two of the best left-handers in the game, Cliff Lee and Cole Hamels, to the hill every fifth day (oh yeah, and whoever that fifth starter guy is going to be!)
Each of these pitchers brings a different pitching style, different pitching mechanics, a different arsenal of pitches and a different pace to the game, and each of them does it very well. Teams that are preparing to face the Phillies are going to have a very tough time doing so.
For example, a team that prepares to face Halladay will note that he throws a set of six pitches with frequency—a straight fastball, a world-class cutter, a sweeping curveball, a two-seam fastball, a change-up, and of course, that heavy sinker. It's never that easy though. Halladay will throw those pitches from a number of different arm angles and to a number of different locations, making the possibility of predicting a pitch nearly impossible. According to one of the newest of FanGraphs' excellent SABRmetrics, Halladay only wastes a mere 18.5 seconds, on average, in between his pitches, so as soon as one hits the mit, another is almost on it's way.
And that's preparation for just one game.
On the next day, a lineup could have to face Cliff Lee, a left-hander. Lee's repertoire includes a straight fastball, a two-seam fastball, a change-up with big break, and and much like Halladay, a big, sweeping curveball. Like Halladay, Lee works quickly. With good command of all of his pitches, Lee works nearly as quickly as Halladay, leaving an average of just 20.5 seconds between each pitch.
You get the idea. Once a team deals with those two, they'll still have to face "Little Roy" and Cole Hamels.
Assuming that the Phillies enter the season with the rotation as is projected, they'll have a perfect balance—Halladay (R) / Lee (L) / Oswalt (R) / Hamels (L). With that right-left-right-left combination, the Phillies are drawing comparisons to the legendary 1971 Baltimore Orioles rotation of Jim Palmer (R) / Dave McNally (L) / Pat Dobson (R) / and Mike Cuellar (L).
This new Phillies rotation will look to accomplish one of the many things that historic rotation did with their perfect balance—feature a rotation of four 20-game winners.
6.) Phillies Spend Money on Lee, Save Prospects by Not Talking Greinke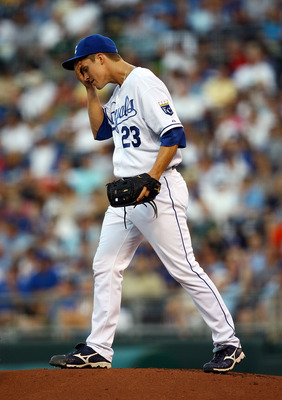 Jamie Squire/Getty Images
During the Winter Meetings, news began to leak that the Phillies and Royals had spoken about a potential Zack Greinke deal, but the talks never really progressed. Now that Cliff Lee is wearing red pinstripes once again, it's fairly obvious why. Instead of dealing a package of talented prospects to Kansas City for Greinke, or any other starter available in a trade, for that matter, the Phillies spent their capital on bringing Lee back to the City of Brotherly Love.
What's the impact?
Any deal that would have brought Greinke to Philadelphia would have sent Domonic Brown to Kansas City, and in the long-term, that would have seriously depleted the Phillies farm system. Names that had come up in speculation were top pitching prospects Brody Colvin and Jarred Cosart, who could enter the Phillies rotation as early as 2014, and outfielder Jonathan Singleton, who could be the heir apparent to Raul Ibanez in a few seasons.
In the short-term, the Phillies are able to add a true ace, who has prove that he can perform both on the big stage in October and under the pressure of a large market city like Philadelphia, and an up-and-coming outfielder who has the potential to develop into a star in the National League. While the Phillies would like to get his feet wet in a platoon, like that other outfielder they used to have, Jayson Werth, Brown will develop into a quality outfielder over time.
Though we'll never know, signing Lee may have saved the Phillies' Brown, improving their National League supremacy hopes for not only this season but for many more to come.
5.) We've Seen This Before, Right?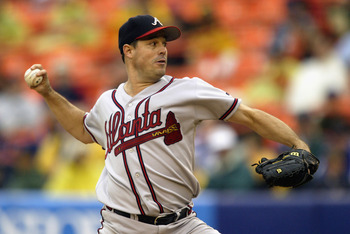 Chris Trotman/Getty Images
Most recently, we saw a rotation similar to this in 1993, when the Braves sent their own "Four Horsemen" to the hill. Though this rotation, barring a few minor tweaks, would remain in tact for the next several seasons, 1993 drew similar comparisons to the 2011 Phillies.
In 1992, the Braves had a great rotation, but they were about to get even better. In the offseason that followed, they would acquire Greg Maddux, who would go on a complete tear in the following years, helping the Braves put together one of the greatest rotations of all time. Along with Tom Glavine, John Smoltz and Danny Neagle, the Braves would go on a stretch of 11 division titles, winning it all in 1995. From 1993 through 1998, the Braves would absolutely dominate the National League Cy Young Award voting, with Maddux winning three and Smoltz and Glavine each earning a Cy Young.
The Phillies look to do much of the same.
Already on a four-year stretch of division titles, the Phillies hope that the Lee signing will invigorate their roster the same way Maddux put the Braves over the top. With Halladay, Lee, Oswalt and Hamels all capable of winning Cy Young awards, they are in a good position to become the same type of team that the Atlanta Braves were throughout the 90s—a team that can completely devastate not only their own division, but the National League as a whole.
4.) Keeping the Bullpen in the Bullpen
Jim McIsaac/Getty Images
I will go on record saying that I believe that the Phillies bullpen is not as bad as the rest of baseball seems to think it is, and the Cliff Lee signing only solidifies that thought.
In 2010, the Phillies bullpen was "middle-of-the-pack" for just about everything they did. They finished 18th in ERA (4.02), 15th in saves (40), 22nd in strikeouts (381) and 24th in opponent's batting average (.257). Keep in mind, however, they did so in only 421 innings pitched—second fewest to the Seattle Mariners.
Signing Cliff Lee isn't going to get the bullpen on the field any more. He finished tied for second place in Major League Baseball in complete games with seven. The man who finished in first? Roy Halladay, with nine. Phillies' starters in 2010 recorded 94 quality starts. That is 94 starts where the starting pitcher lasted at least five innings and did not allow more than three earned runs, and that's without Cliff Lee, who had 18 quality starts of his own.
That makes easy work for the bullpen, and the addition of Lee is going to make their job even easier. Here's why.
Assuming that the Phillies are able to move Joe Blanton, which they've been rumored to be exploring, two starting pitchers will enter Spring Training in competition for the fifth starter's (wait...there is a fifth starter?) spot—Kyle Kendrick and Vance Worley. Kendrick winning the job most likely means that Worley, who will make the league's minimum salary in 2011, will head back to AAA.
However, if Worley, who is considered by some as the favorite, wins the competition, Kendrick will most likely head to the bullpen, as he is set to earn over $1 million through arbitration, making him an expensive commodity for AAA. His bumping to the bullpen would have negative implications for 2009 Rule 5 Draft pick, David Herndon, who will earn the league's minimum salary and take his 4.30 ERA to Lehigh Valley.
Lee's presence also completely destroys free-agent, right-hander, Chad Durbin's, leverage with the Phillies. Though the Phillies were in contact with him before the Lee signing, the need for a reliever who can pitch multiple innings becomes less prevalent. If Durbin wants to return to Philadelphia, he'll have to take a page out of Lee's book and lower his demands to pitch where he wants.
The monstrous rotation also allows the Phillies to pitch to their strengths, inserting their relievers into roles that they excel in. Jose Contreras and newly signed left-hander Dennys Reyes will combine to pitch the seventh inning, with Contreras facing tough right-handers and Reyes facing tough left-handers. Ryan Madson and Brad Lidge will assume their usual roles as set-up man and closer, respectively.
What does that mean for the rest of the bullpen?
Inexperienced or struggling arms like Dannys Baez, Antonio Bastardo, Scott Mathieson, Mike Zagurski and David Herndon will become filler to a now seemingly strong bullpen.
3.) Some Much Needed Depth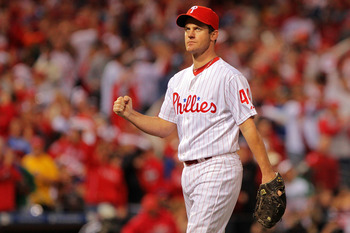 Doug Pensinger/Getty Images
When the Phillies signed Cliff Lee, they knew it would have some effect on the outcome of their current rotation, but how does the signing of Lee effect the rest of the Phillies' rotation, on the Major League and Minor League level?
Less than a week ago, the Phillies seemed content with opening the season with a rotation that featured Roy Halladay, Roy Oswalt, Cole Hamels, Joe Blanton and one of Kyle Kendrick or Vance Worley. With the Lee signing becoming official, everyone from Oswalt on is pushed down in the rotation, creating unparalleled depth at the Major League level. Though the Phillies have been gauging the market for interest in Blanton, many executives say that the Phillies won't be forced to deal him for a weak package.
Thanks to some heavy back-loading of the first year of Lee's contract, they may be able afford to keep Blanton for 2011 and shop him with one year left on his contract during next year's offseason. Until he is officially somewhere other than Philadelphia, we'll assume that Joe Blanton is a Phillie.
The Phillies have created unparalleled depth at the Major League level. For instance, take a look at some possible matchups between the Phillies and Astros, who are set to square off in Citizen's Bank Park for the first series of the 2011 season. Assuming that Houston uses the same rotation as last season, Opening Day will feature a showdown of Roy Halladay (21-10, 2.44 ERA) vs. Wandy Rodriguez (11-12, 3.60 ERA). The rest of the series will feature Cliff Lee (12-9, 3.18 ERA) vs. Brett Myers (14-8, 3.14 ERA) and Roy Oswalt (13-13, 2.76 ERA) vs. JA Happ (6-4, 3.40 ERA).
The Phillies will send three aces to face the Houston Astros, before hosting the New York Mets the following weekend. The first game of that series will feature Cole Hamels (12-11 3.06 ERA) vs. Jonathan Niese (9-10 4.10 ERA).
You get the idea.
Think about these probables, for a moment. It is entirely possible that in any four-game series, an opposing lineup will have to face all four of Halladay, Lee, Oswalt and Hamels, and at least three of them. In any three game series, the probability of facing three of the Phillies four aces is nearly doubled, and in the rare two game series, that probability is tripled. While the average ERA of the league's No. 4 starter is around four, Cole Hamels posted an ERA of 3.06 in 2010. The Phillies have a depth at the Major League level that goes nearly unrivaled throughout Major League Baseball.
What they've also done is create Minor League rotation depth.
It is entirely possible that both Kendrick and Worley open the season at AAA. Injuries happen, and having a guy like Kendrick, who has Major League experience, and some success, in both the regular season and postseason is a valuable asset. Pair him with the competition of an upcoming, promising starter like Vance Worley, and the Phillies will have a couple of starters to turn to, should they need to, at the AAA level.
Any way you look at it, winning a series against the Phillies is going to be a struggle, with a legitimate "stopper" taking the hill four out of every five days.
2.) My Success Is Your Success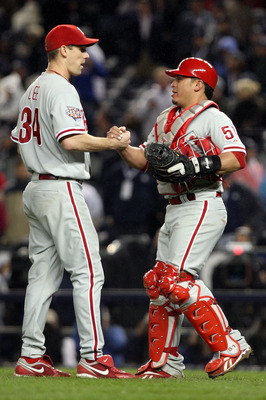 Jed Jacobsohn/Getty Images
Though there has been much ado about the Phillies' "Four Horsemen," some of their stats have been a bit misleading. For example, Roy Oswalt's second half with the Phillies was much more dominant than his first half with the Astros. This could play a huge role in the Phillies' success going forward.
Roy Halladay completely dominated the National League during his first tour in the Senior Circuit. On his way to compiling a 22-10 record, Halladay tossed a perfect game, led or was tied for first in the National League in wins, games started, innings pitched, BB/9 and WAR. He would become the unanimous National League Cy Young Award winner and continued his 2010 success into the postseason, going 2-1 with a 2.45 ERA, including a masterful pitching performance in his first ever playoff game, where he no-hit the Cinncinatti Reds.
When the Phillies acquired Cliff Lee in 2009, his only stint in the National League, he was more than the Phillies had hoped for, after sending four of their top prospects to the Cleveland Indians. In 12 starts for the Phillies in 2009, Lee was 7-4 with an ERA of 3.39. It was his postseason performance that would draw Phillies' fans and officials alike to Lee's charm. He would throw 40.1 innings in the 2009 post-season, going 4-0 with a 1.56, including two wins against the New York Yankees in the World Series.
Roy Oswalt has had his share of National League success as well. A long-time resident of the NL Central with the Houston Astros, Oswalt made his presence felt in the NL East in a big way. In 12 starts for the Phillies in 2010, Oswalt was an impressive 7-1, with an ERA of just 1.74. Like Lee the year before, he continued his regular season success into the postseason, posting a record of 1-1 with an ERA of 2.75, including a rare appearance as a reliever. He would finish sixth in the NL Cy Young Award voting.
Cole Hamels is the most familiar starter in regards to the National League, but in other regards, he's about a new pitcher to the league as the rest of the group. After tweaking his mechanics and adding a cutter to his arsenal, Hamels posted a record of 12-11 with an ERA of 3.06. Despite only making two starts in the 2010 post-season, the former World Series MVP was 1-0 with an ERA of 1.80.
Projected over the course of a full season, the Phillies' rotation has the potential to completely dominate the rest of the National League, with past success as a reference.
1.) Potential Postseason Heroes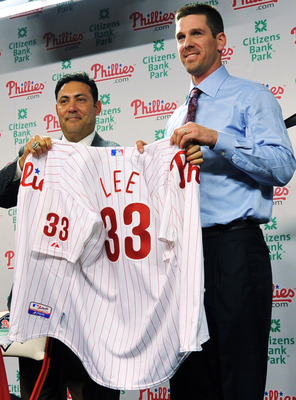 Drew Hallowell/Getty Images
As foreshadowed in the last slide, the Phillies starters are much more than regular season pitchers. With Roy Halladay finally introduced to the playoffs in 2010, all four of the Philly aces have had success over the course of their careers in the postseason, and I believe it's safe to say, you can't call yourself the best of the NL until you're hoisting the pennant at the conclusion of the NL Championship series.
Can the Phillies do it? Their past playoff performances indicates they can.
Throughout his career with the Toronto Blue Jays, Roy Halladay was widely regarded as one of the best pitchers in the game, and this acclamation came with the fact that he'd never started a postseason game. So, when he opened the series against the Reds in 2010, expectations were high, and Halladay didn't disappoint. In fact, he surpassed expectations, no-hitting the Reds in the second postseason no-hitter in the history of baseball, the first being Don Larsen's 1956 perfect game. Halladay's 2-1 record in his first career postseason was an impressive rookie showing, but no doubt, he'll be out for blood in 2011.
The same sentiment can be expressed by Cliff Lee. In the past two years, Lee has made two trips to the World Series with two different teams and has walked away with zero rings. Despite that, Lee has been extremely impressive in the playoffs, on the big stage. Over the course of his career, in 10 postseason starts, Lee is 7-2 with an ERA of just 2.13. He has walked less than one batter per nine innings in the post season, while striking out over nine. Match those facts with the fact that he'll now be facing a team's No. 2 starter, as opposed to their ace, and Lee could get even better.
Even more absurdly, another ace with postseason experience will be facing the opposing team's third starter. Roy Oswalt has been to the postseason with the Phillies and the Astros and has had success with both teams. Named the NLCS MVP in 2005 with the Astros, Oswalt is 5-1 with an ERA of 3.39 in his postseason career.
The Phillies' fourth ace, who could arguably miss out on some action in the first round of a playoff series, Cole Hamels has more playoff hardware than any of the three. Named the MVP of both the NLCS and WS for his heroics in 2008, Hamels is sure to sneak into playoff games somewhere. Having been to the postseason in each of the last four seasons, Hamels has compiled a career playoff record of 6-4, with an ERA of 3.45. Those numbers are slightly misleading. Hamels struggled in one game against the Colorado Rockies in 2007 and through most of the 2009 playoffs but excelled in both 2008 and 2010.
As Cliff Lee said in his press conference Wednesday afternoon, the Phillies aren't going to be handed anything. Though many people around baseball expect them to cruise through the regular season, they'll have to earn it. They have the talent to do so, and any team that has to face this rotation in a playoff series is in trouble.
The Phillies are the team to beat in the National Leauge once again, and there may not be a team that can stop them.
Keep Reading

Philadelphia Phillies: Like this team?