Chiefs vs. Chargers: What Happened To Brodie Croyle's Rocket Arm?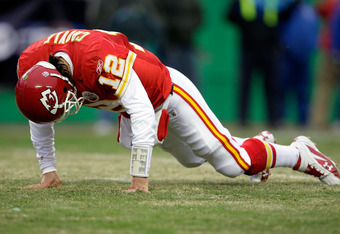 Jamie Squire/Getty Images
As I read all of the previews for the Chiefs vs. Chargers game this week, I have to admit that I almost bought into it.
I read all week about how powerful Brodie Croyle's arm is and how even without Matt Cassel, the Chiefs would be able to move the ball.
The opening kickoff went to Kansas City. The first four plays were given off to Chiefs running backs. Even with a nice burst for 10 yards from Jamaal Charles, the Chiefs were faced with a third and 10.
The first pass from "strong-armed" Brodie Croyle went for negative one yard. The punt team comes onto the field.
In Week 1 against Kansas City, the Chargers had trouble getting into the end zone, scoring only 14 points all game. San Diego was out to prove that they are better than that.
On the first Charger possession, they converted on three third downs, marching down the field and ending the drive with a 17 yard touchdown pass to WR Malcolm Floyd.
Still waiting for "rocket-arm" Brodie Croyle to open it up over the top, the Chiefs go three and out. Then the Chargers easily move the ball down the field for a second time and get into the end zone again.
It didn't get much better after that.
Jamie Squire/Getty Images
Kansas City was unable to convert a third down conversion all game and were held scoreless for the first time this season. With less than two minutes left in the game, third-string QB Tyler Palko completed a pass to Chris Chambers for a fourth down conversion.
Croyle did nothing to move the offense. Any pass that he did complete for any kind of yardage was taken back because of a penalty. There was no field management whatsoever from Croyle.
About the only good thing you can say about him in this game is that he did not throw an interception. This, coupled with a poor showing from the No. 1 rushing offense in the league, made for one tough game to watch.
Kansas City had a grand total of 67 offensive yards. That is 19 through the air and 48 on the ground.
This game was extremely important because of the division and playoff implications. With a Bolt win, they are now only one-game behind Kansas City in the AFC West.
If Kansas City does not win out, the Chargers will take Kansas City's spot in the playoffs.
This game also gave the Chiefs a chance to show the rest of the league that they are a team to be reckoned with. Instead, it showed how easy it is to confuse and exploit the young KC defense.
Tamba Hali's sack/strip and Eric Berry's interception mean nothing if the Chargers go for 10 plus yards on every other play. They mean even less if the offense can't convert.
Stephen Dunn/Getty Images
This game also showed us that Kansas City is not ready for the playoffs. The Chiefs are not ready to play against an elite team and have a chance to win. Sure, we can blame the offense on some of this loss but the defense gave up 31 points.
The secondary looked slow and confused and the zone gaps gave Philip Rivers all the space he needed to make his throws. The Chargers were able to push the defensive line backwards on nearly every run.
I will say that the best thing that we can hope for is for Matt Cassel to be able to return soon. If Brodie Croyle starts against the St. Louis Rams in Week 15, you won't even need to watch the game.
While the Rams are not anywhere near as good as the Chargers, they have an explosive young team that is capable of winning at home. Kansas City will also have their hands full trying to contain all-pro running back Steven Jackson.
Without serious progression this week and a healthy Matt Cassel, the Chiefs will miss the playoffs.
If you had bought into all of this hype about Croyle coming in and saving the team from Matt Cassel's injury, I give you a chance now to repent for that.
If you are still think that Kansas City can win without the management of Cassel, you may need to rewatch the other nine losses that Croyle had as a starter.
This article is
What is the duplicate article?
Why is this article offensive?
Where is this article plagiarized from?
Why is this article poorly edited?

Kansas City Chiefs: Like this team?