Ben Roethlisberger and the 10 Most Painful 2010 NFL Injuries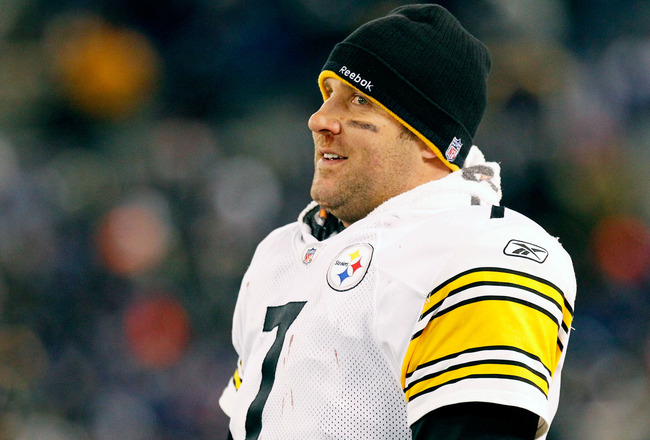 Geoff Burke/Getty Images
There have been some nasty injuries in the NFL over the years.
Some injuries caused players like Joe Theismann to end their careers, and were just as painful as teams watched their chances at greatness slip away with the loss of one of their best players.
With Steelers quarterback Ben Roethlisberger in the news this week after needing a nose job to fix a sideways beak he got courtesy of Haloti Ngata, I thought it would be a great time to have a look at the most painful injuries of 2010, and their effect on the season so far.
10. Dallas Clark – Indianapolis Colts – Hand/Wrist
Elsa/Getty Images
While Dallas Clark's injury is still a bit of an anomaly, it is clear that the hand/wrist injury that required season-ending surgery hurt worse than any painkiller can numb.
At this point, it is harder to say who the injury hurt worse, Clark or Peyton Manning…
Clark was not only a 2009 Pro Bowl selection, he was Manning's favorite receiver in an offense that lacks any resemblance of a running game.
With Clark out, and both Anthony Gonzalez and Austin Collie bitten by the injury bug as well, Manning has thrown more interceptions in recent weeks than he has in full seasons of his career.
9. Matthew Stafford – Detroit Lions – Grade 3 Separation of Throwing Shoulder
Leon Halip/Getty Images
Stafford suffered a grade two separation of his throwing shoulder that forced him out of action for six weeks early in the season, and just when it looked like he and the Lions were beginning to gain momentum, the hammer fell again.
Stafford hit the turf hard in Week 9 against the Jets, and this time the news was even worse. A grade three separation of his throwing shoulder is likely to bench him for the foreseeable future.
Last year's No. 1 overall pick has shown the poise and physical tools to be an elite quarterback in the NFL with time and maturity, but the problem lies in the issue of time spent on the field. Stafford has spent more weeks on the rack with injuries than on the field during his short career.
The franchise quarterback is supposed to be the face and persona of the organization. Unfortunately for all concerned in Detroit, Stafford's hobbled career thus far depicts the untapped potential of high-round draft picks, and the shortcomings of a franchise marred by bad decisions.
8. Dez Bryant – Dallas Cowboys – Fractured Fibula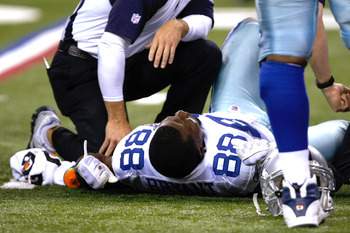 Scott Boehm/Getty Images
The Cowboys haven't had much going for them in 2010. Firing head coach Wade Phillips mid-season and having Tony Romo on the rack until late December at best, have made for a rough season in Big D.
The one bright spot other than the emergence of Jason Garrett as the new head coach has been rookie wide receiver Dez Bryant.
Bryant was injured returning a kickoff during a Dallas win against the Colts Sunday afternoon.
He will spend the last four games of the season on the IR after undergoing surgery to repair broken bones and ligament damage in his leg and ankle.
7. Ryan Grant – Green Bay Packers – Broken Leg/Torn Ligaments in Ankle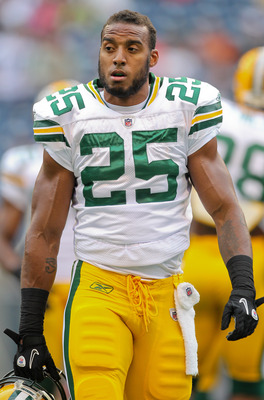 Otto Greule Jr/Getty Images
Ryan Grant suffered a season-ending injury in Week 1 of the NFL season that involved tearing ligaments in his ankle that will require several screws to be inserted into his ankle as a result.
Grant also suffered a broken leg just below his knee that will heal on its own, but the total extent of the injuries has left Grant on crutches for 10-12 weeks.
After gaining in excess of 1,200 yards in each of the last two seasons, Grant has been greatly missed by the Packers this season, as his replacements have failed to assert themselves in his absence.
6. Jim Leonhard – New York Jets – Fractured Tibia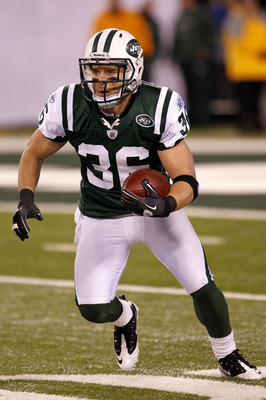 Chris Trotman/Getty Images
On a team full of stockpiled veterans and a head coach larger than life, Jim Leonhard was quite possibly the cog that made the whole defense work in New York.
Leonhard was not only the team's No. 1 kick returner, he was also the defensive signal caller, and frankly the heart and soul of the Jets defense.
In a freak play towards the end of practice Friday, Leonhard got tangled up with receiver Patrick Turner and it ended up costing him the rest of the season with a severe fracture to the tibia.
Leonhard had to be carted off the field, and the rest of the team was said to have finished the rest of practice in silence as the severity of the injury and its implications on the Jets season began to sink in.
5. Tony Romo – Dallas Cowboys – Broken Clavicle
The scream heard round the world…or at least Dallas.
Quarterback Tony Romo said he let out a scream as he felt his clavicle break under the weight of Michael Boley, and there is no doubt so did most of Dallas.
Romo was plowed by Boley after delivering a completion to Miles Austin in the second quarter of the Cowboys' 41-35 loss to the New York Giants during Week 7. His eight-week prognosis is coming to a close in the next couple of weeks, but regardless of his return, his team is no longer in contention in the NFC East.
While John Kitna has performed respectably in Romo's absence, when a team loses their starting quarterback it changes the entire dynamic of the team's ability and personality.
Jason Garrett's ascent to the top of the Dallas coaching ranks has likely had more to do with the recent attitude adjustment than Kitna's play, and it might be the best coaching point he makes to remind Romo to watch out for runaway trucks named Michael Boley.
4. Kyle Vanden Bosch – Detroit Lions – Ruptured Disk in Neck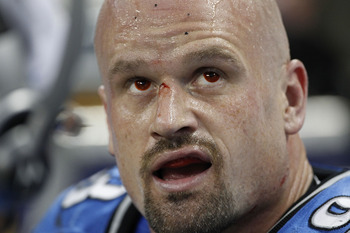 Leon Halip/Getty Images
Vanden Bosch has always been an all-out type of player. So when he finds himself injured, it is usually with an injury that is of the same nature.
The Lions were forced to put their All-Pro defensive lineman on the IR for the remainder of the season after a bulging/borderline-ruptured disk in his neck required surgery.
While there is no big hit or highlight video to go with this injury, the pain that comes from this type of ailment is excruciating, and so is the loss of one of the best players on the Detroit roster.
3. Brett Favre – Minnesota Vikings – Sprained Shoulder/Broken Bones/Bruised Ego
Brett Favre has always been a larger-than-life figure and personality on the NFL stage, and piece-by-piece Favre has been chopped down to size this season. In fact, this season has been one big injury to Favre's reputation as a player and as a person.
After playing through broken bones in his foot/ankle, eight stitches in his chin, and a bruised ego that has seen the likes of public personal embarrassment and the on-the-field issues that started his retirement bid in 2007, Favre's latest injury might do the trick.
The sprained shoulder that he suffered at the hands of the Buffalo Bills on Sunday afternoon is an injury that sidelines a normal quarterback for weeks, not days.
While you have to give Favre his props for being one of the toughest ol' boys to ever hop off the tractor to pick up a pigskin, this hit and the results very well could be the end of his consecutive-game streak.
2. Ben Roethlisberger – Pittsburgh Steelers – Broken Nose
As I mentioned in my Week 13 installment of "the good, bad, and ugly," the state of Roethlisberger's nose after Haloti Ngata got through with it brought back memories of a runaway tool chest in the film Home Alone 2.
After seeing Ben Roethlisberger's face following the Steelers' third offensive play of the game, I had just one question as I searched for the runaway tool chest running down the field…
When did the Baltimore Ravens sign Kevin McCallister?
The Steelers quarterback had surgery on his broken nose Monday morning after having it turned sideways Sunday night. While TMZ might not be waiting outside his door to see the latest version of his reconstructed honker, Steelers Nation waits with bated breath to see what will emerge from the operating room.
The Steelers expect to see Roethlisberger miss some practice time this week leading up to their game against Cincinnati, but he is expected to play when their division rivals come to town this Sunday.
This won't be the first reconstructive facial surgery Roethlisberger has had to undergo. Roethlisberger had to endure surgery following his motorcycle accident in 2006 as well.
1. DeSean Jackson – Philadelphia Eagles – Severe Concussion/Memory Loss
Take one look at this hit, and you will most likely understand why DeSean Jackson forgot most of his short-term memories as he looked up and saw stars and birds circling his head.
The guy got flat-out jacked up by Falcons corner Dunta Robinson, and let it be observed that when a hit lays out both the giver and the receiver of the contact...it hurt bad, and is completely deserving of top honors here as the most painful injury of 2010.
The hit Dunta Robinson leveled on the defenseless Jackson was not the cause of his first concussion, and while he may have come back from the hit to continued success this season, it was the beginning of some of the tougher rules we are seeing on hitting in the NFL.
Follow me on Twitter @JCyprowski
Become a Fan @http://bleacherreport.com/users/112168-jonathan-cyprowski
Keep Reading