Denver Broncos Face Spygate II: What It Means for Bill Belichick's Coaching Tree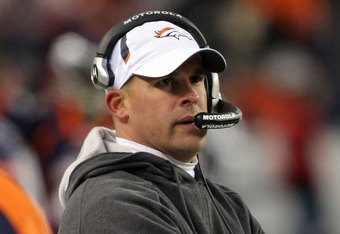 Doug Pensinger/Getty Images
The Bible states that every good tree bears good fruit, but a bad tree bears bad fruit. A good tree cannot bear bad fruit, nor can a bad tree bear good fruit (Matthew 7:17-18, NLT).
In a report on profootballtalk.com, the NFL is investigating the Denver Broncos for allegedly video taping the walk through practice of the San Francisco 49ers while in London.
Where have we heard this kind of story before? Oh, that's right, Spygate.
Many people believe that Spygate only involved videotaping defensive signals during game situations. Not true. Part of the allegations of Spygate were that the Patriots videotaped the walk-through practice of the St. Louis Rams prior to Super Bowl XXXVI.
Some would say that because of the videotape, the Patriots' Ty Law was able to intercept a pass and return it for the score.
When the Denver Broncos traveled to London to face the San Francisco 49ers, the Broncos were 2-5. Coach Josh McDaniels, since joining the Broncos, has overturned the roster, trading away a franchise QB (Jay Cutler) and two offensive Pro Bowl weapons in Brandon Marshall and Tony Scheffler. He also made a very questionable trade to move back into the first round of the 2010 NFL Draft to select Tim Tebow.
McDaniels is an offensive coach, and currently his offense is ranked fifth in passing and 32nd in rushing. That lands the Broncos at 14th in total offense.
Chris McGrath/Getty Images
These combined issues have McDaniels placed on the hot seat in the NFL. He needs to show some improvement, or the Broncos could be looking for a new coach next year.
Desperate times call for desperate measures.
Which leads me back to the point of the article. As I stated in the bible verse in the beginning of this article, a good tree will not make bad fruit, nor will a bad tree make good fruit.
Do these allegations against the Broncos show a direct link to the coaching tree in which he came from?
For years, it was believed that Bill Belichick was the most amazing coach since Vince Lombardi. It was amazing how he always seemed to have an answer for whatever the opposing team could do. Yet, every time one of his coordinators left, they failed.
Romeo Crennel - Cleveland Browns. Record: 24-40.
Charley Weis - University of Notre Dame. Record: 35-27.
Eric Mangini - New York Jets. Record: 23-25. Cleveland Browns. Record: 8-16.
Josh McDaniels - Denver Broncos. Record: 11-14.
Not only that, if you look at the prior coaching of Bill Belichick, he was nowhere near as successful as he has been since joining the New England Patriots. In his five seasons coaching the Cleveland Browns (1991 to 1995) he had a total of one winning season (1994, 11-5) while compiling a record of 36-44, with only one playoff appearance, where he lost to the Pittsburgh Steelers in the AFC Divisional Game.
During his first season in New England, the Patriots were anything but Super, having a record of 5-11, for last place in the AFC East.
Then, amazingly, he became the new Lombardi.
Now, some people may say that McDaniels did not even know what was happening.
Well, the article then goes on to say that the Broncos Director of Video Operations is Steve Scarnecchia. Scarnecchia was also employed by the Patriots, with McDaniels during the Patriots Spygate scandal.
Scarnecchia is on a "personal leave of absence" while the NFL investigates the report.
In my opinion, it is becoming ever more clear that the Bill Belichick coaching tree is not one that has a great deal of success when the field is even.
This article is
What is the duplicate article?
Why is this article offensive?
Where is this article plagiarized from?
Why is this article poorly edited?

New England Patriots: Like this team?