Cam Newton: How High Could He Be Taken in 2011 NFL Draft?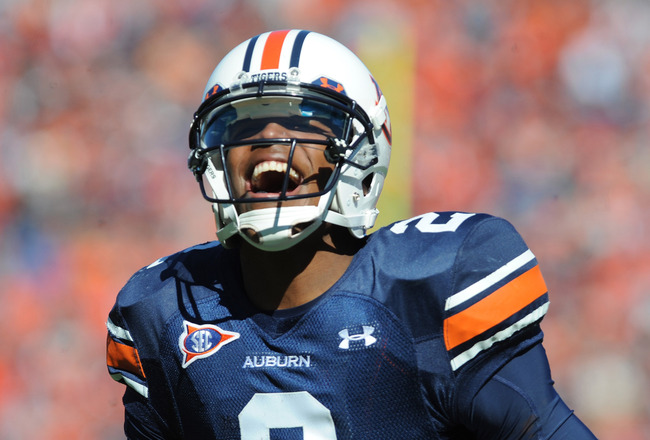 Al Messerschmidt/Getty Images
Auburn junior QB Cam Newton has been in headlines over the last week for off-field controversy as much as he has on-field brilliance.
If recent allegations of improper benefits and academic dishonesty come to fruition, there is a chance Newton will be deemed ineligible by the NCAA. In that case, it's likely he would enter the 2011 NFL draft.
How high could the current Heisman front runner go?
Following are several factors that will influence where Newton could be selected in April's NFL draft.
Unrivaled Athleticism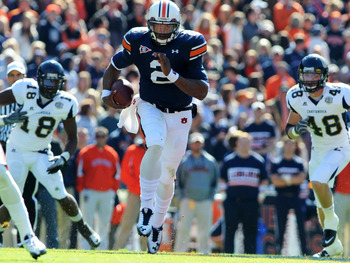 Al Messerschmidt/Getty Images
At 6'6", 250 pounds, Newton is the most physically imposing offensive player in college football. He blends his defensive end-like size with the speed and agility of a man six inches shorter and 50 pounds lighter.
Newton has rushed for an SEC-leading 1,146 yards this season and averages a stellar 6.5 yards a carry. He has shown the ability to run past, through and around SEC defenders, who are generally considered the fastest and most athletic in the country.
The junior has been at his best on the ground in Auburn's biggest matchups, as he totaled 405 yards rushing in wins over Arkansas and LSU, the latter of which is considered one of the nation's best defenses.
Additionally, Newton has flashed the ability to make plays as a receiver. He hauled in a 22-yard TD catch in a victory over Ole Miss, outleaping a defensive back and getting his feet inbounds in the process. While Newton won't be doing much catching at the next level, his natural skills in that area speak volumes about his overall athleticism.
Quite simply, there's never been an athlete quite like Newton at the quarterback position. His amazing natural gifts as an athlete will jump off the film as teams evaluate him as an NFL prospect.
Underrated Passing Skills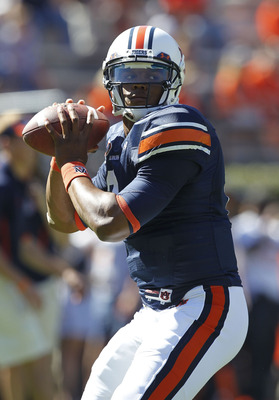 Mike Zarrilli/Getty Images
Despite the fact that Newton has run nearly as much as he's thrown this season, the Auburn QB has exhibited vast talent as a passer.
That he carries such a heavy burden in the run game is more a result of his incredible prowess in that aspect than it is his lack of polish when throwing the football.
Often overlooked are Newton's stellar statistics in the passing game. He ranks second nationally in passer rating and has thrown 19 TDs against only five interceptions.
In terms of attributes as a thrower, Newton has a strong base of fundamentals. Possessing a very strong arm, he is capable of making every throw in offensive coordinator Gus Malzahn's playbook. Newton has also been very accurate this season on short, intermediate and deep throws, as evidenced by his stellar 67.2 completion percentage.
Mechanically, he is more advanced than most other dual-threat QBs and shows a quick and consistent over the top delivery.
While Newton is in need of polish in terms of dissecting defenses and making fast decisions, his talent as a passer alone would merit a high draft grade from pro scouts.
Inexperience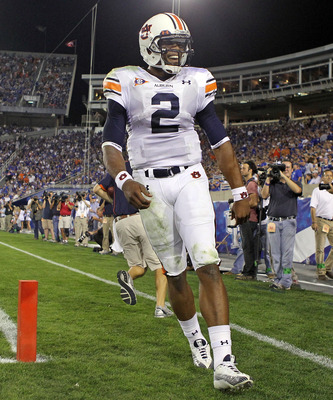 Andy Lyons/Getty Images
Perhaps more than at any other position, experience matters at QB in determining a player's draft stock. Newton, having started not even one full season at the FBS level, is severely lacking in that respect.
While he's shown nothing to indicate he couldn't be a successful pro, it is possible teams could shy away from him simply due to his limited exposure to high-level football.
Newton hasn't amassed much meaningful film in his career, as teams will be wary of evaluating him off tape from his time at Blinn College.
However, recent history suggests teams may be bucking the notion that experience trumps all when drafting a quarterbacks. Sam Bradford and Mark Sanchez completed just two full seasons as starters but were still selected in the draft's top five picks.
Still, when discussing Newton as a prospect, teams will undoubtedly point to his lack of playing time against top competition as a potential red flag.
Off the Field Concerns?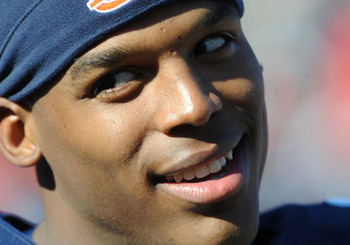 Al Messerschmidt/Getty Images
Since arriving at Auburn, Newton has been a model student-athlete and the face of the Tigers program. However, concerns about his past could scare teams off once April rolls around.
Newton was accused of stealing a laptop computer his sophomore season at Florida and was ultimately suspended from the team by coach Urban Meyer. However, he was never convicted of a crime by law enforcement and has always maintained that he bought the computer from a man selling items out of his truck.
While Newton's "crime" seems closer to irresponsible than reprehensible, NFL teams will no doubt further investigate the situation.
Recently, allegations surfaced that a man who represented Newton during his transfer recruitment was soliciting a six-figure payment in return for the QB's signature on a national letter of intent.
Several schools reportedly were ready to pay for Newton when Kenny Rogers—the man in question—told Mississippi State he was willing to take less from them because Newton was a fan of the Bulldogs program and head coach Dan Mullen. The NCAA is investigating the situation.
Just yesterday, news outlets began reporting that Newton was guilty of academic dishonesty three times during his time at Florida and at one point faced expulsion from the university. The Auburn QB is accused of putting his name on another student's paper and purchasing an essay off the Internet. Instead of going before Florida's Student Conduct Committee, reports say, Newton opted to transfer to Blinn College.
Whether or not these relatively trivial missteps are indicative of Newton's true character is something NFL teams will investigate. Though accusations of taking improper benefits and cheating are significant to the NCAA, it is likely Newton's incident with the laptop will be most important to his position with the NFL.
Newton has thrived this season as the face of college football. He's performed as wonderfully off the gridiron as he has on it in 2010. However, it's possible his checkered past could impact his draft status.
How High Could He Go?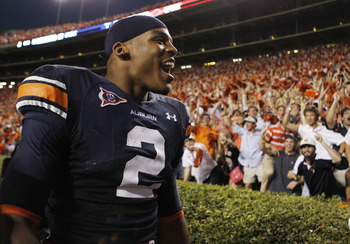 Mike Zarrilli/Getty Images
Taking everything into consideration, Newton grades out as a first-round prospect for the 2011 NFL draft.
In terms of upside, there may not be a draft-eligible player who has more than Newton. He combines amazing athleticism with solid passing fundamentals and seemingly fantastic traits as a leader on the field.
However, due to his inexperience, off-field concerns and the mystery surrounding dual-threat quarterbacks' success in the NFL, it is unlikely he will surpass Stanford's Andrew Luck and Arkansas' Ryan Mallett on the QB pecking order.
He and Washington's Jake Locker (who has been struggling horribly as of late) will battle to be the draft's third QB selected. Given that, history suggests Newton should come off the board starting anywhere from the middle of the first round.
Considering just a year ago he was playing junior college football, that Newton is considered a potential pro prospect at all is amazing. That he is fighting to be selected in the first round speaks volumes about his natural ability and how incredibly successful he's been since taking the reins at Auburn.
Keep Reading

Auburn Football: Like this team?