Brett Favre Throws for Most Yards in Career in Minnesota Vikings Thriller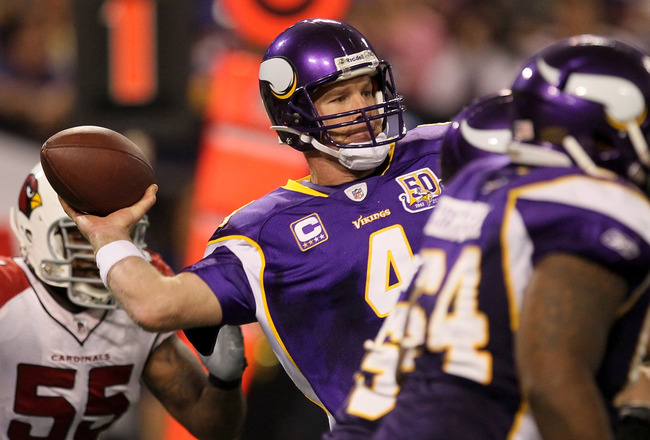 Brett Favre Threw for 446 Yards On Sunday, Most In His Career
Stephen Dunn/Getty Images
Just when you're about to close the book on Brett Favre's career, he adds another page, and I don't mean in the gossip chapter. In a roaring comeback against the Arizona Cardinals yesterday, Favre led his Vikings into overtime and on to victory, keeping the season alive for the Purple and Gold. He threw for 446 yards, the most in his 20-year career, as Minnesota pulled out a win despite a 14-point deficit with just four and a half minutes to go.
Down 24-10, the Vikings had a chance to cut the lead on their first possession of the fourth quarter, but wound up empty-handed when a six-minute drive expired at the Arizona one. Starting from the Minnesota 17-yard line, Favre completed 10 passes but failed to convert on a 4th-and-1 throw to tight end Jeff Dugan just outside the end zone. Other than a two-yard scramble by the quarterback, the Vikings did not run the ball the whole series.
Following a defensive stance that forced Arizona to a three-and-out and left the Vikings in Cardinal territory, the Vikings quickly scored on two passes and a four-yard Adrian Peterson run.
After the kickoff, the Cardinals again failed to get a first down and punted, giving the Vikings the ball on the Minnesota 23, down by seven, with only two and a half minutes left. Three completed passes to Bernard Berrian, Adrian Peterson, and Visanthe Shiancoe found the Vikings on the Arizona 25 with 34 seconds to go. On 3rd-and-6, Favre dropped just a bit back and threw a dart up the middle past Arizona safety Adrian Wilson into the hands of Visanthe Shiancoe for the touchdown. Tie game.
Arizona won the toss in the overtime, but for the fourth time in a row could not manage a first down. It would be the last time they would touch the ball. Peterson broke it open with a 30-yard run on the first Viking play in OT and would wrap it up with the final three offensive plays before Ryan Longwell tied the bow, 27-24.
The Vikings' ship is still taking on water, but they tarred a few leaks this Sunday, critically taking a win against a fading, but potential wild-card rival, the Cardinals. The Lions' and Buccaneers' losses helped a tad, too. The seas are still stormy ahead, though. Outside the division leaders, there are still six teams in the conference with better records. And with all the titanic drama going on off the field, the Vikings have a lot to deal with to stay afloat. There are whispers that speak of mutiny, and throwing Moss overboard only seemed to fuel the fervor for a coup, perhaps led by 446-yard throwing Brett "Fletcher" Favre.
Overtime
One might expect big-stage Brett Favre, who holds the all time career records for passes completed and passing yards, to have many 300-yard and a handful of 400-yard games (I did), but that's not exactly the case. Yesterday was only the second time in Favre's career that he threw for 400 yards—way back in 1993, Favre's second full season, he recorded 402 in a loss to the Chicago Bears. In 297 games, Brett has thrown 300 or more yards 62 times, an average of about four times a season. To be sure, that's still a lot of times. But Favre's records are more a testament to his longevity, consistency and determination through playing with broken bones and bloody chins.
Brett Favre's Top 10 Games, Passing Yardage (Year, Opponent)
1. 446 (2010, Arizona Cardinals)
2. 402 (1993, Chicago Bears)
3. 399 (2003, Oakland Raiders)
4. 395 (1996, San Francisco 49ers)
5. 392 (2009, Chicago Bears)
6. 390 (1999, Tampa Bay Buccaneers)
7. 388 (1998, Carolina Panthers)
8. 383 (2004, Houston Texans)
9. 381 (2007, Detroit Lions)
10. 369 (2007, San Diego Chargers)
Vikings Fans! Join the forum. Check out WeAreVikingsFans.com
For more on the Minnesota Vikings, check out Bleacher Report's Vikings Site.
This article is
What is the duplicate article?
Why is this article offensive?
Where is this article plagiarized from?
Why is this article poorly edited?

Minnesota Vikings: Like this team?