MLB Hot Stove: Cliff Lee Talk, Trades, Free Agents and More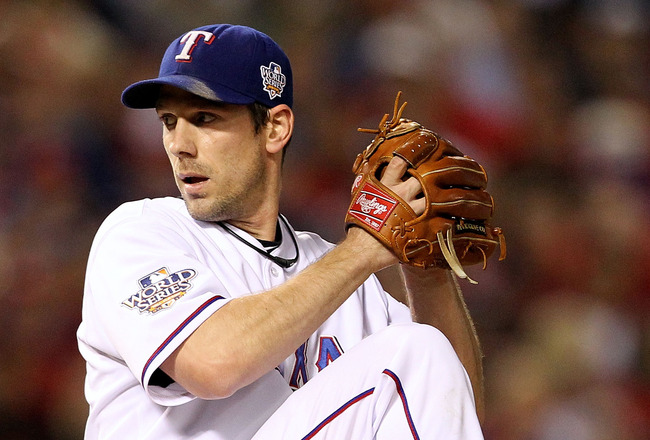 Ronald Martinez/Getty Images
For those of us who are huge baseball fans and enthusiasts, this is our favorite time of the year, especially those of us whose season came to an end over a month ago.
Free agency, trades, the general manager meetings and the winter meetings. All things where we fans salivate and we check every single, solitary, baseball website we can get our beady little eyes on.
There will be rumors from here until teams start to report to their respective spring training camps in Florida and Arizona.
The teams we root for will begin to take shape and we'll watch and hope the players we want are interested in coming to our town.
Until then, we wait and we get ready for what could be the most interesting offseason in a long time.
But that's why we love this time of year.
No. 15: Chris Young (San Diego Padres)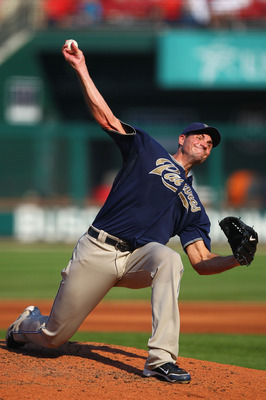 Dilip Vishwanat/Getty Images
To no one's surprise, the San Diego Padres declined the team option they held on big 6'10" right hander Chris Young.
He spent most of the last two seasons on the disabled list but did come back strong over his last few starts of the 2010 season.
This doesn't mean the Padres don't want to bring him back, but they weren't going to do so at a $8.5 million rate.
No. 14: Vladimir Guerrero (Texas Rangers)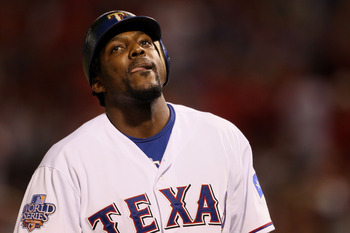 Elsa/Getty Images
The Texas Rangers declined to pick up outfielder Vladimir Guerrero's $9 million option, adding him to the free agent pool.
I wouldn't expect the Rangers will bring him back, especially after his disappearing act in the World Series, finishing with just one hit in 14 at-bats.
If they do bring him back, it's going to have to be at a much lower rate, but the Rangers have other options on the free agent market to land a younger player to either play the outfield or the designated hitter role.
No. 13: Josh Willingham (Washington Nationals)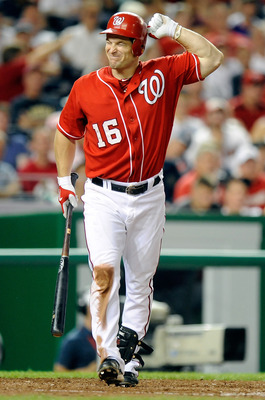 Greg Fiume/Getty Images
Washington Nationals outfielder Josh Willingham was another guy that came up in trade discussions this past July, but the Nationals weren't willing to deal Willingham, especially because they felt Adam Dunn was on his way out of town and they needed another option at first base.
He'll be a free agent after the 2011 season and while Josh has made it clear that he wants to be with the Nationals, it doesn't necessarily mean a deal will get done.
No. 12: Dan Uggla (Florida Marlins)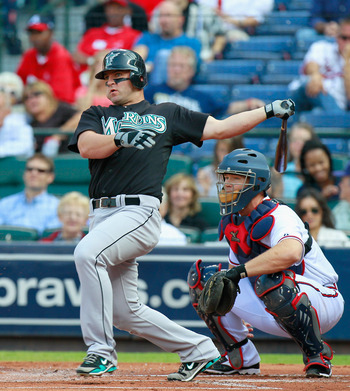 Kevin C. Cox/Getty Images
Dan Uggla was a name a lot of teams inquired about before the trade deadline back in July. With free agency getting underway, teams are able to talk to said free agents after this coming weekend.
The Marlins aren't known for keeping their players long-term, so Uggla might be back in trade discussions either this winter or at the deadline in July of next year.
No. 11: Brandon Webb (Arizona Diamondbacks)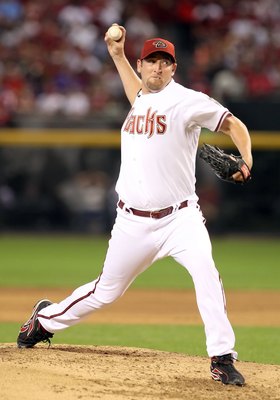 Christian Petersen/Getty Images
The Arizona Diamondbacks released a statement in which they suggested that right hander Brandon Webb more than likely will not be back with the team next season.
New general manager Kevin Towers said, "Although we have not entirely closed the door on Brandon returning to the D-backs next season, I understand the process he and his agent are going through at this time as a free agent."
Webb spent the entire 2010 season on the disabled list after undergoing shoulder surgery on his pitching shoulder.
Teams will tread lightly with Webb and will need him to show that he's 100 percent healthy before they sign him.
No. 10: Derrek Lee (Atlanta Braves)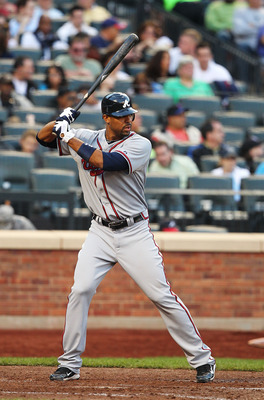 Al Bello/Getty Images
Derrek Lee looked like he was going to be a lifer with the Chicago Cubs. However, the team traded him to the Atlanta Braves where he played out the rest of the 2010 season.
He will be part of the free agent class and might end up back with the Cubs or could look for an American League team needing a designated hitter.
No. 9: Lance Berkman (New York Yankees)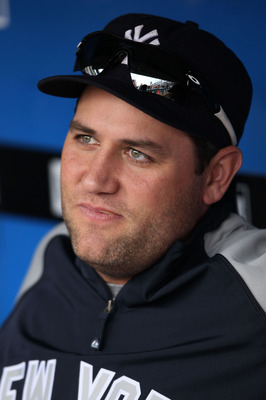 Elsa/Getty Images
The New York Yankees officially declined the option for the 2011 season on Lance Berkman, officially making him a free agent.
One might wonder if he'll sign back with the Houston Astros or if he'll try to latch on with a team that has a legitimate chance at being a contender next season.
No. 8: Adrian Beltre (Boston Red Sox)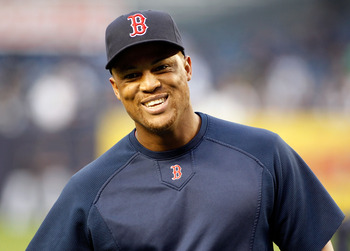 Mike Stobe/Getty Images
The Boston Red Sox declined the option on Adrian Beltre and he'll hit the free agent market after having one of his best years in quite some time.
He finished the 2010 season hitting .321 with 28 home runs and 102 RBI. Those numbers alone will have teams noticing and jockeying for his services.
He might get a good sized two- or three-year deal from a team needing a third baseman.
No. 7: Heath Bell (San Diego Padres)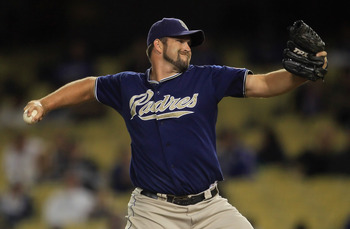 Jeff Gross/Getty Images
Padres closer Heath Bell is another player on the roster who could end up on the trading block either during the winter or by the trading deadline in July.
Most "experts" thought Adrian Gonzalez and Heath Bell would be on their way out by the July deadline last year, but thanks to the Padres being in first place most of the year, the team elected to keep them around.
Unfortunately, their NL West run ended with a loss to the Giants.
No. 6: Prince Fielder (Milwaukee Brewers)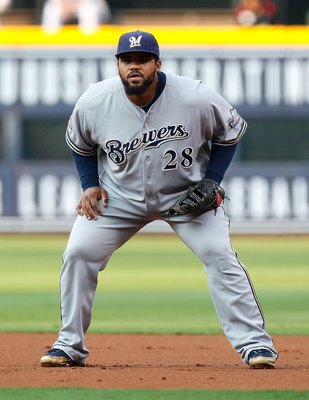 Kevin C. Cox/Getty Images
Another first baseman who was almost traded before last July's deadline was Milwaukee Brewers first baseman Prince Fielder.
He's a free agent after the 2011 season and, like Adrian Gonzalez, most teams believe the Brewers will not sign him long-term.
While he won't be the first guy on every team's list, he will be in the top five in the trade candidates list.
No. 5: Kerry Wood (New York Yankees)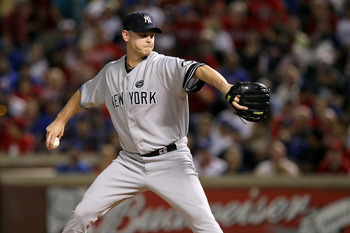 Stephen Dunn/Getty Images
The New York Yankees declined the option on Kerry Wood, officially adding him to the free agent pool. However, if I'm the Yankees, I don't know how you don't bring this guy back as good as he was when they traded for him from the Cleveland Indians.
In 25 appearances for New York, Wood was 2-0 with a 0.69 ERA after sporting a 6.30 ERA in 23 appearances with the Indians.
If the Yankees don't sign him, there's going to be someone who would love to bring this guy in.
No. 4: Jim Thome (Minnesota Twins)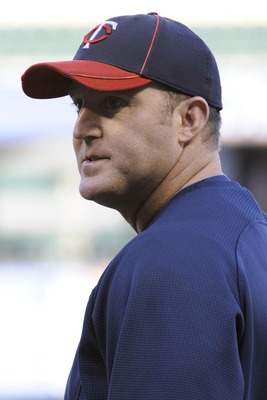 Hannah Foslien/Getty Images
The Chicago White Sox thought Jim Thome was done, they thought he was washed up. So, they traded him to the Los Angeles Dodgers where he played the remainder of the 2009 season.
After a stint with L.A., he was signed by the Minnesota Twins where it seems he's resurrected his career.
He is a free agent and could catch on with an American League team or possibly with a National League team looking for a first baseman.
No. 3: Carl Crawford (Tampa Bay Rays)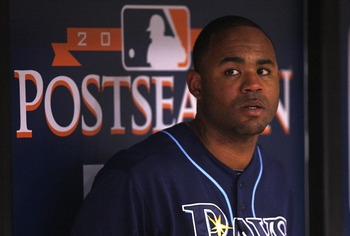 Mike Ehrmann/Getty Images
Carl Crawford could be one of the most sought after outfielders on the free agent market. There's been talk that the Yankees could be after him but don't count out a few other American League teams needing to get younger in their outfield.
His contract won't come cheap either, so whoever wants him is going to have to pay up.
No. 2: Adrian Gonzalez (San Diego Padres)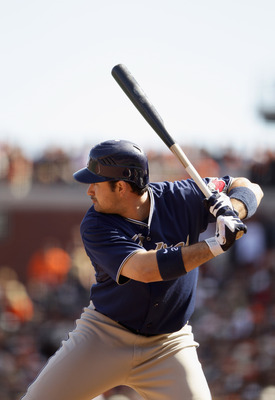 Ezra Shaw/Getty Images
The one guy who will be one of the most sought after players is San Diego Padres first baseman Adrian Gonzalez.
Though Padres general manager Jed Hoyer insists that the team is not trading him this winter, not to mention they picked up his option for the 2011 season, most teams believe the Padres will not be able to sign him long-term.
So, if they can't trade him now, they will have to trade him come the trade deadline in July whether they're in the NL West race or not.
No. 1 Cliff Lee (Texas Rangers)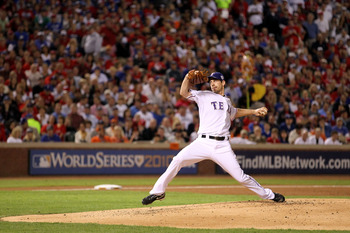 Ronald Martinez/Getty Images
This is the guy everyone's talking about. This is the guy that will be on just about every team's radar whether they can afford him or not. This is the guy everyone wants.
Cliff Lee will hit the free agent market and the frenzy for his services will begin.
The Texas Rangers want him back, the New York Yankees want him because they can't beat him. And somewhere in there, the Angels, Dodgers and a few other teams could also get involved.
There are those who are rooting for the Rangers to bring him back and there are others who want the Rangers to land him again because they don't want to see him in pinstripes.
He's going to command top dollar but since he proved that he's actually beatable in the World Series, maybe that dollar figure won't be quite as high as one might think.
Well, actually, it might be just as high as we might think.
Keep Reading