First Things First: Chicago Cubs' First-Base Options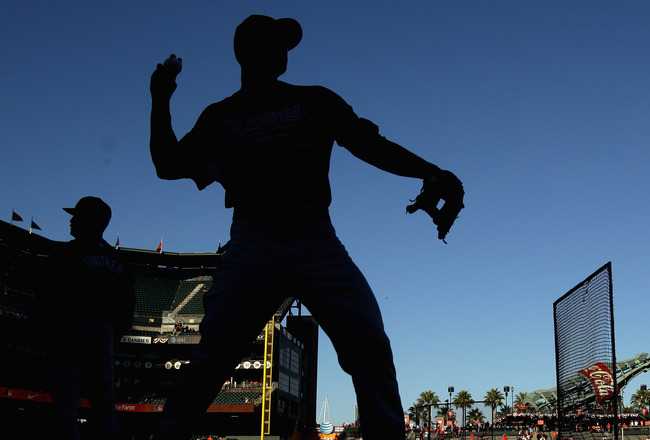 Ezra Shaw/Getty Images
It makes me a little uneasy to not be penciling in Derrek Lee at first base for the Cubs next season.
Since I was 14 years old, I've only known him manning first. Lee was ever the defensive specialist, and I grew jaded in simply expecting him to make every play, every single difficult pick.
Lee got it all done with ease, and I would mention his Gold Gloves if I felt the award had any merit (which it doesn't). Yet his defensive prowess is actually very deserved.
That's not all with the big man. To top things off, he had two MVP-quality offensive seasons, with multiple above-average years interspersed.
Outside of missing the majority of 2006 due to injury, and a lackluster final season with his team, he was a symbol of of how baseball should be played. He was the headliner on this team, through and through.
With his departure, the next North Side first baseman will have some large cleats to fill. Owner Tom Ricketts has implied that this team won't be spending much cash this off-season, but there are a multitude of cheap first basemen the team could take a flier on.
It goes worth noting that Adrian Gonzalez will be a free agent next off-season. This fact, paired with the multiple other expensive contracts coming off their books makes the Cubs the early front-runners to sign San Diego's super-star first baseman. This all makes a one-year deal on someone much more prevalent.
So let's see which Free Agents would fit the Chicago Cubs in this mind-set and pocketbook...
Adam Dunn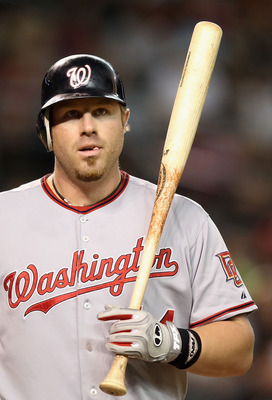 Can't tell if he looks hungry for a home run. Or like, 7 Baconators.
Christian Petersen/Getty Images
I should have realized how polarizing Adam Dunn would be to Cubs fans. I'll give you the Cliff's Notes version on the man, the myth, the Dunn:
-Adam Dunn is a model of consistency. A given for 40 home runs and 100 walks almost every single season. The 287-pound behemoth is also absolute an RBI machine.
- He is an Iron Man. Never missing any noticeable time due to injury, he would be a rock for a re-building team.
-He drastically improved his defensive play this season. At one point, he was the worst defensive outfielder in baseball. Today, he is a simply below-average defensive first baseman. So his liability has lessened enormously.
-Yes, he does strike out 150 to 200 times a year. Yet when you pair with that the fact that virtually wherever he goes, he's instantly the most powerful and most patient player on his team, it vastly outweighs any negatives. Hitting 40 home runs and walking 100 to 120 times a season will do that for a guy.
-The reported value of Dunn is three years for $40 million. That's a little more in the moolah department than I'd like the Cubs to invest, but a three-year deal is pretty damn tolerable. Would much rather they offer the 2 year, $20 million deal he recently signed, but I guess that won't be happening.
The Cubs desperately need an injection of consistency and offense. That is very blatant. Dunn gives you more of that than any other Free Agent available, period.
End of the day, I'm a little scared by how much he wants (Which, all things considered, IS reasonable). Yet this man could realistically hit 45+ home runs playing half his games in Wrigley. He is very much liked by his teammates, and his elite offensive prowess has already been brought up ad nauseam.
I think he's the best free agent option, but that the money issue will inevitably scare the Cubs away. I don't see it happening in the slightest. It's recently been said that the Cubs should be completely ruled out of the race.
Victor Martinez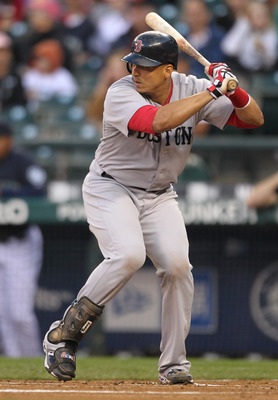 Otto Greule Jr/Getty Images
Never being a defensive catcher of note, Martinez has seemingly been on the track to first base his entire career.
Playing almost 700 innings at first the past two seasons, he has been getting his work in. Enough to play a passable game at the position.
Apparently the Red Sox don't seem too concerned about re-signing him though. The Tigers have shown interest already, and he does make a lot of sense for them.
They actually seem to want a 5+ year deal, and to leave him at his natural catcher position. That may be too good for V-Mart to pass up, and I would reasonably expect him at the backstop in Detroit in 2011.
The man will be 32 come next season, and anything over three years for the Cubs doesn't make much of any sense.
A very good offensive catcher for sure, but his value is drained at first base. Especially for his $11 million dollar or higher price-tag.
Another option to reasonably cross off the list for the Cubs.
Carlos Pena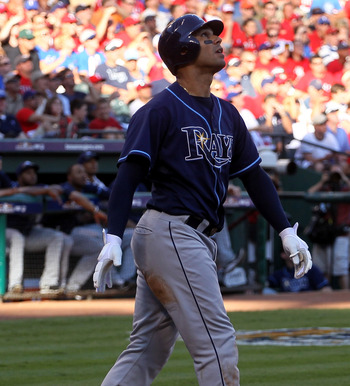 Always the fan of Air Shows, Pena drops his bat mid-pitch to admire the acrobatics
Stephen Dunn/Getty Images
A former first-round pick, Pena definitely didn't come out of nowhere to put up his monster season in 2007. Although it was more than a tad delayed.
He had been a source of patience and moderate power with Detroit, but it wasn't until his first year with Tampa Bay did he break-out. Hitting 46 home runs, 121 RBI, and an OPS over 1.000, he'd finally put up the type of season that his talent had hinted at.
It wasn't a long stay in the elite ranks for Pena, however, as his steady decline since that fantastic season has been very disappointing.
Over the past four years, Pena's on-base percentage and batting average have dropped consecutively. His OBP has gone from .411 in 2007, to .377 in 2008, to .356 in 2009, and finally to a disappointing .325 in 2010.
Although he was a decent amount unlucky with his batting average on balls in play this past year, he hit a completely unacceptable .198 on the year.
Positives? He is still hitting for healthy power, and walking well above average. He isn't showing the same patience as in his career season, but the man will get on base at a very good rate if he can simply not be so damn unlucky with his batting average.
Thing is, he's already 32 years old, and he's an overrated defensive player. He has been a sub-par defender at first base for the past two seasons, but defensive reputation dies hard.
At one point not too long ago, he may have been an asset, but people need to accept that he is no longer the same player with the glove.
Unless the Cubs can acquire him on a one-year, lower-end deal, there is no reason to invest in him. Yet if that type of deal is possible, his upside in joining the NL and playing in Wrigley Field may yield a nice surprise.
Paul Konerko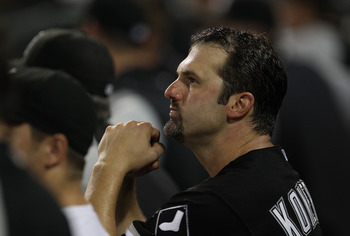 Jonathan Daniel/Getty Images
I'll make this short and sweet.
Konerko is 35 years old. An undeniably poor defensive guy.
He also just so happens to be coming off the best offensive season of his career, so he'll be demanding what may be the last lucrative deal of his career. Meaning, he is already out of the Cubs' spending stratosphere.
Even with his offensive surge of 2010, giving Konerko a three- or four-year deal worth over $50 million would be wildly ridiculous for this Cubs team.
So, I'd rather not hear how he's a "dark horse candidate" for this team. He's not an option in the slightest.
Nick Johnson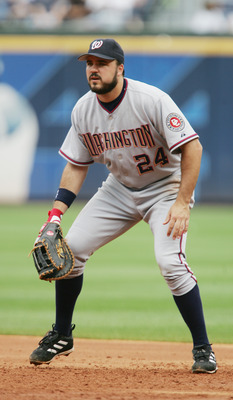 "I'm going to kill Jim Halpert"
Doug Pensinger/Getty Images
Only listed him because of the queasy feeling I got when I found out that the Cubs might have more-than-slight interest in him. To sum Johnson up:
-Very bad defensively.
-Very injury-prone.
-32 years old.
-Happens to look like Pam's ex-fiance Roy, from "The Office". (Maybe not a negative to you, but it bothers me)
-Minimal power.
-Will demand $4 million-$5 million on a one-year deal.
So obviously, seems like someone the Cubs would have interest in that type of "talent", right?
Good God.
The positives about Johnson, you ask? I'll at least mention his extreme patience at the plate. That's about it.
Would much rather let three minor league nobodies have their shot at first base before paying Nick freaking Johnson 5 million to give it a go. Nick Johnson "giving it a go" is code for Nick Johnson getting 150 at-bats, then breaking his wrist.
Ty Wigginton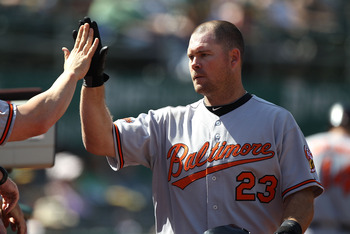 Jed Jacobsohn/Getty Images
Unless he's an option for pure bench duty, then I want nothing to do with him. Wigginton is 33 years old, and has played pathetic defense virtually his entire career.
He's also been a poor offensive player in the last two seasons, which is a serious issue for someone who can't play passably at any position.
It seems he can only produce the occasional offensively-productive season when he isn't playing every day.
As a full-time starter at first base? A hearty "no, thank you" is in order.
Aubrey Huff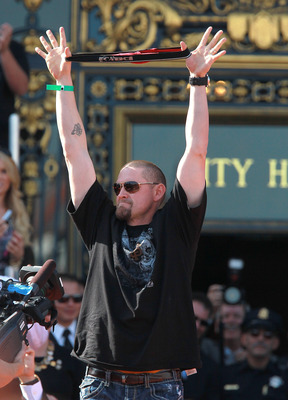 That (rally) thong thong thong thong
Justin Sullivan/Getty Images
The Giants have expressed their sincere interest to re-sign the soon-to-be-34-year-old Huff. And I bet he agrees to it.
Aubrey Huff couldn't possibly go any place where he'll be more appreciated than San Francisco, after manning first base for their World Series-winning club.
After the mess that was his dreadful 2009 season, split between the Orioles and the Tigers, he rebounded very strongly with the Giants this last year.
In over 650 plate appearances, the man clubbed 26 home runs and 35 doubles. He also hit .290, paired with his incredible patience, which led to an absolutely stellar .385 OBP. It is reminiscent of his earlier days with Tampa Bay, and of his great 2008 season with Baltimore.
Although he has never been known for his defense, he played more than adequately in 2010 to boot.
All-in-all, I would be perfectly content if the Cubs could swing a $5 million-$7 million one-year deal with him. I just don't see it as realistic.
Also can't see him leaving the reigning champions with their elite pitching staff, to come to a rebuilding club.
Just doesn't make sense.
Jorge Cantu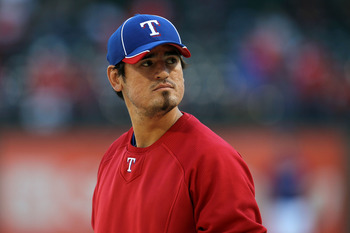 So you think I can't grow lame facial hair?! Cantu!
Stephen Dunn/Getty Images
Cutting to the chase, Cantu was just awful in 2010. A sub .700 OPS is a low point for almost any position player, but it's just ridiculous for someone who plans on manning first base.
I would say it was an aberration, but he put up a scarily identical season in 2006, so there is realistic concern with that low production.
Albeit, Cantu being 29 years old may bring some optimism for his next team.
He's also had his two most productive seasons as early as 2008 and 2009. Even still, he is just limited by a low-potential ceiling. He'll never get on base or walk well, and just won't hit for enough power to off-set that deficiency, especially for a first baseman.
If he was able to play a passable second base, his value would be immensely higher. Although since he is limited to playing a mediocre first base, his value just isn't that special.
All in all, he's Adam LaRoche with less upside. If he's signing a similar, low-end deal like LaRoche as well, then it would be a mistake to get him.
Adam LaRoche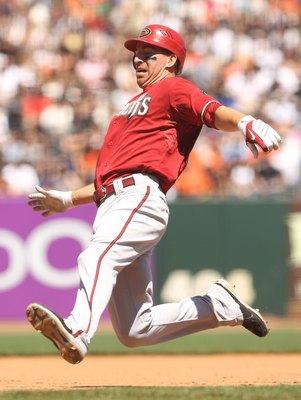 Ezra Shaw/Getty Images
Which brings us to LaRoche, who's is coming off his third consecutive year of 25 home runs on the nose. He's hit 20 or more over the past 5 seasons, so you at least know he owns consistency in the power department.
His .320 on-base percentage and .788 OPS in 2010 are a little lower than you'd like from him. If he could produce to his standards he set in 2008 and 2009 though, a low-end investment in him would be a nice move for any team. Being only 30-years-old, any steep drop-off should not really be expected either.
LaRoche also had one of his better defensive seasons this past season in Arizona.
Problem areas for LaRoche? For one, he simply cannot hit left-handed pitching. He struggled to the point where a platoon is a necessity.
It all means he could still start and produce effectively roughly 75% of the time, but a partner who mashes lefty would have to be found. Someone on-roster could be paired with him pretty easily.
He made $7.5 million this past season with incentives, and I would not mind a similar 4.5 million, incentive-laden deal.
He's incredibly streaky, but LaRoche looks like the perfect one-year deal for a team in transition. My favorite choice of the group.
Keep Reading

Chicago Cubs: Like this team?