Houston Texans Fail to Take First Place, Lose to Indianapolis Colts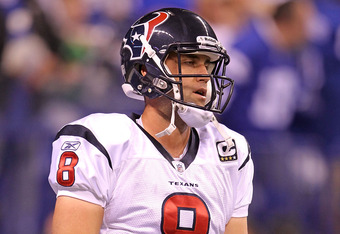 Andy Lyons/Getty Images
With an opportunity to sweep the Indianapolis Colts and take first place of the AFC South, the Houston Texans (4-3) were beaten in dominating fashion on Monday Night Football.
With the 30-17 victory, the Indianapolis Colts (5-2) move into first place of the AFC South instead.
Matt Schaub and the offensive line were horrendous in the first half. They played with no poise, no emotion, no sense of urgency. Plus, the game-plan lacked logic.
Dwight Freeney took Duane Brown's milk money.
Overall, the Colts hit Matt Schaub five times, including three sacks. Dwight Freeney had two.
Out of his comfort zone, Schaub was five of 15 for 37 yards and a pick-six in the first half.
"For me personally, especially in the first half, I feel like I gave up a lot of pressure," said LT Duane Brown. "When you play in this stadium against a great front four they bring a great pressure package. You gotta be able to hold up in key situations. We weren't able to do that."
The big men up front lacked the intensity displayed in their Week 1 dominance of the Colts.
On a Good Note
Arian Foster was great when given the chance. He had 102 rushing yards and a TD on just 15 carries. The NFL's second-leading rusher added a career-high nine receptions for 65 yards.
Foster looked unstoppable in the fourth quarter as Matt Schaub dumped the ball to him five times for 40 yards on the final drive.
Andre Johnson also had a great day on paper, finishing with seven receptions for 106 yards and a TD. He just couldn't seem to get open and make plays when it really mattered. I think the ankle was bothering him.
The defense showed some improvements. They held Peyton Manning to 268 yards passing. Ranked 32nd in pass defense, that is certainly an improvement against the league's best.
The rush defense regressed slightly, but that is to be expected in DeMeco Ryans' absence. As a whole, the defense was above average.
Do They Learn Nothing?
Gary Kubiak and Rick Dennison apparently learned nothing from Arian Foster's Week 1, 231-yard rushing performance against the Colts.
Foster wasn't given the ball once on the first drive, and after starting the second drive with three carries for 18 yards, Schaub dropped back and threw two incomplete passes.
This theme continued throughout the game, as the Texans threw the ball 38 times and ran it 18 times.
In the first play of the second quarter, Matt Schaub took a two-step drop and threw a quick pass to Kevin Walter. The play resulted in an interception returned for a touchdown.
Let's break this down and make it easier on Gary Kubiak and the coaching staff:
1. Foster ran for 231 yards in the Week 1 victory over the Colts
2. When the game started, Matt Schaub had no time in the pocket as the Colts defensive line dominated the Texans.
3. Foster was producing positive yards on every carry he got, while Schaub was getting pressured into incomplete passes.
It was not only logical to continue to run the ball, it was obvious. There was no reason to throw a tight pass to gain maybe eight yards on first down. The result was devastating. When the Colts gained a 27-10 lead, it was too late.
Having two weeks to prepare, the Texans had no excuse to look so poor offensively.
Moving on
The Texans will host the San Diego Chargers next Sunday at Reliant Stadium. This is virtually a must-win game, as the Titans and Colts look increasingly scary.
The Texans' pass defense has to keep improving this week in preparation for the hot arm of Phillip Rivers. No quarterback in NFL history has as many yards through eight games as Rivers.
The Texans have placed Adewale Ogunleye on waivers and called up DE Tim Jamison from the practice squad.
Jamison was undrafted out of Michigan in 2009. He was on the Texans' roster last season.
Andre Johnson was a bit gimpy at times on his tender ankle, but it appears he will be fine.
This article is
What is the duplicate article?
Why is this article offensive?
Where is this article plagiarized from?
Why is this article poorly edited?

Houston Texans: Like this team?