World Series 2010: Tim Lincecum Lifts San Francisco Giants to First Championship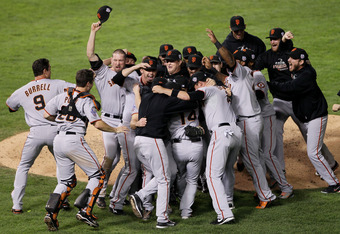 Elsa/Getty Images
After back to back Cy Young seasons, many baseball fans viewed San Francisco Giants ace Tim Lincecum's 2010 season as a disappointment.
In the hearts and minds of San Francisco Giants fans, Lincecum's regular season performance means nothing. After his most recent start, Lincecum is more than a two-time Cy Young, more than an ace, and more than a baseball player. He is the man who brought a championship back to San Francisco.
With his 3-1 victory over the San Francisco Giants, he became the driving force behind the first Bay Area team to win any sort of championship since the 49ers won Super Bowl XXIX.
For lifelong Giants fans, his start signaled the end of a era that started with the 1954 World Series, when gas cost $.21 per gallon. Since moving to the Bay Area in 1958, the Giants had visited the Fall Classic three times without winning, before finally upending the Giants this year.
In many ways, Lincecum, with his slight frame and wavy hair, embodied the spirit of the city, pushing the boundaries of both physical ability and social
This Giants team, however, was much more than just a skinny right-hander on the pitcher's mound. On any night, the Giants could beat you, with anyone on their roster.
Game Five certainly embodied this year's Giants team. It saw amazing pitching, solid defense, and an unlikely source of offense.
The game started out as advertised. Cliff Lee, who hadn't lost a postseason game before this series, matched Lincecum zero for zero early on, and both teams had a combined three hits heading into the seventh.
The Giants finally got something going in the seventh, getting the first two men on, but when Cliff Lee made a spectacular play to make it second and third with one out, and Pat Burrell struck out for the seventh time this series, the feeling of usual dread crept up into the hearts and souls of Giants fans.
Images of World Series past crept into the minds of Bay Area citizens. Willie McCovey's line drive. The Loma Prieta earthquake. Game Six.
They found their savior in an unusual source. Up to the plate stepped Edgar Renteria, who has twice been the final out of a World Series—when he ended the 1997 World Series with a single, and grounded out for the Cardinals, ending the 87-year "Curse of the Bambino".
This time, Renteria experienced the other side of exorcising demons, crushing a letter-high pitch just over the left field seats, putting the Giants up 3-0.
With Lincecum on the mound, it was all but over. After being shaken briefly by a Nelson Cruz home run, Lincecum was untouchable once more. He finished off the game with ten strikeouts and just two hits in eight innings, before giving way to closer Brian Wilson.
Wilson, who has been nails all season, locked down the heart of the Rangers' order, retiring Josh Hamilton, Vlad Guerrero, and striking out Nelson Cruz on a swinging strike up-and-in.
From Cody Ross, the NLCS MVP who was picked up on waivers, and Renteria, who was named Series MVP after spending a large chunk of the season on the disabled list, to Bruce Bochy, who finally won a World Series after being swept by the Yankees 12 years earlier, and Buster Posey, who became the first rookie catcher to win a World Series since 1966, this group of castoffs and misfits embodies a city that's always pushing the envelope.
For anyone who's sat in the cold air of Candlestick Park or Seals Stadium, or sat next to the radio listening to Mike Krukow or Russ Hodges, this is redemption.
This article is
What is the duplicate article?
Why is this article offensive?
Where is this article plagiarized from?
Why is this article poorly edited?

San Francisco Giants: Like this team?