World Series 2010: Rating Each Squad's Starting Pitchers through Game 3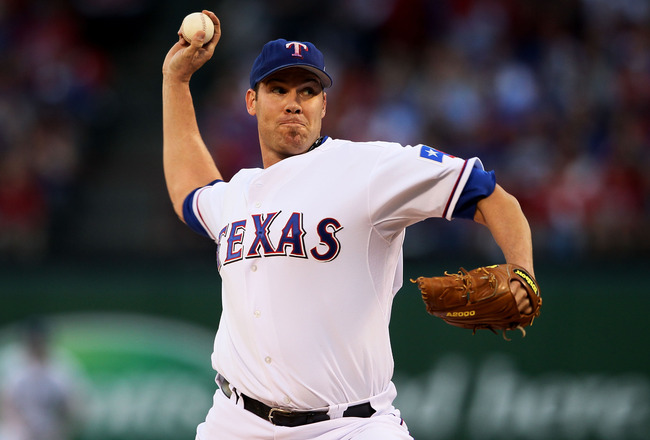 Elsa/Getty Images
Colby Lewis was exactly what the doctor ordered for the Texas Rangers.
After the San Francisco Giants jumped out to a commanding 2-0 lead in the 2010 World Series, Lewis held the Giants to two runs in seven-plus innings of work as the Rangers drew within one game by defeating the Giants on Saturday, 4-2.
In doing so, Lewis became the winning pitcher in all three home playoff victories in the history of the Texas Rangers franchise.
Before this year's Fall Classic began, many believed that starting pitching would be a huge factor in the outcome, but up until Saturday night, it was the offense of the Giants that stole the show.
With momentum now on the side of the Rangers, and the matchup in favor of Tommy Hunter in Game 4, Texas has a legitimate chance of squaring up the Series on Sunday.
When looking at the dynamics of the Giants lineup, it's not difficult to see why San Francisco was successful against Cliff Lee and C.J. Wilson.
The Giants feature predominantly right-handed hitting in their batting order and have had much success against left-handed pitching throughout the entire 2010 postseason.
As Lewis was the right man for the job on Saturday, Hunter, also a righty, will be in a similar scenario Sunday night. Hunter brings in a 7-0 record in the regular season at Rangers Ballpark and will face Giants rookie left-hander Madison Bumgarner in Game 4.
As Game 5 nears, the aces of each staff will be called upon once again, and if the Series is stretched into six or seven games, starting pitching could very well be a deciding factor as to which team will come away with the championship rings.
The following slides show each starter who has pitched thus far in the Series, rate and analyze each pitcher's performance, as well as speculate how they will fare if utilized in the latter part of the Series.
Tim Lincecum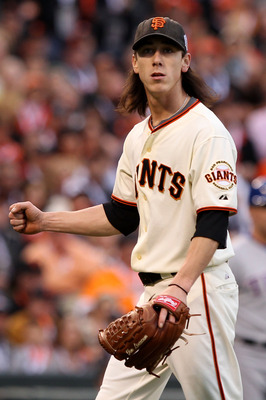 Jed Jacobsohn/Getty Images
Tim Lincecum wasn't completely electric in Game 1, giving up eight hits and four earned runs while only fanning three batters in five-plus innings of work. Yet he did just enough to earn the victory for San Francisco and help the Giants take a critical 1-0 lead in the Series.
The Rangers offense was very patient with the ace of the Giants staff, as they forced Lincecum to throw 93 pitches before he was finally replaced in the fifth inning.
Perhaps it was just nerves. The two-time Cy Young Award winner certainly has the stuff to shut down the Rangers, although Game 5 will be played at Rangers Ballpark in Arlington.
Lincecum deserves a passing grade for his Game 1 performance and has an opportunity either to give San Francisco control or even lead the Giants to a World Series championship on Monday.
Cliff Lee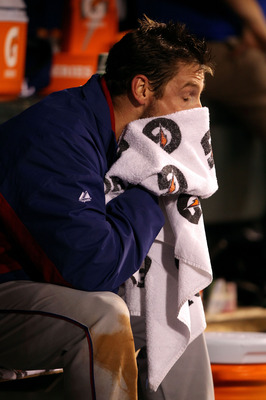 Jed Jacobsohn/Getty Images
Up until Wednesday's World Series opener, Cliff Lee had been nothing other than brilliant during his career in the postseason. Even with the loss in Game 1, Lee still boasts a 7-1 career record with a 1.96 ERA in the playoffs.
Lee couldn't quite find his spots on Wednesday night, and the Giants were patient early on in the first cycle of at-bats before bringing fire in the fifth inning. Lee's stat line showed eight hits surrendered, and he allowed six earned runs in four-plus innings while throwing 104 pitches.
While Lee consistently missed pitch locations and fell behind in counts, the Giants became aggressive and sprayed the ball all over AT&T Park. He just wasn't the same Cliff Lee everyone is accustomed to seeing.
Nevertheless, Lee's postseason performance speaks for itself, and although he deserves a failing grade for Game 1, he is very capable of returning on Monday and shutting down the Giants.
Matt Cain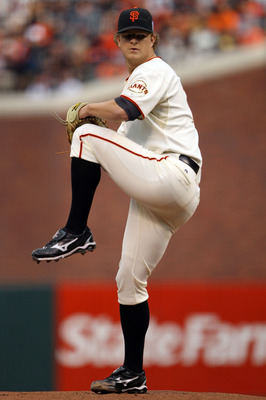 Doug Pensinger/Getty Images
Matt Cain has been nothing short of brilliant the entire 2010 postseason.
Cain continued his mastery in Game 2, as he tossed seven and two-thirds innings of shutout ball to help the Giants take a commanding 2-0 series lead by defeating the Rangers, 9-0.
He only allowed six total base runners all evening, and his postseason scoreless streak remains completely intact.
Although he only struck out two, he pitched with pinpoint accuracy. He stayed ahead in the counts all night, forcing the Rangers to bite on pitches that were on the fringes of the strike zone.
As the matchups favor Cain against a primarily right-handed Texas lineup, he certainly has the advantage if a Game 6 is necessary at AT&T Park next Wednesday.
Cain deserves an excellent rating for Game 2, and his grade for the entire playoffs thus far is near perfect.
C.J. Wilson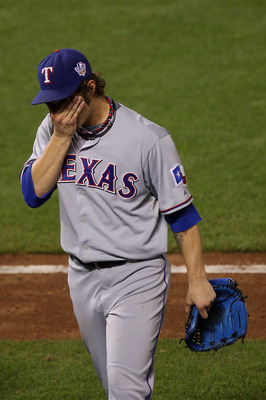 Jed Jacobsohn/Getty Images
If one happened to glance at the scoreline for Game 2 without actually watching the game, it would have been difficult to imagine that it was actually tightly contested up until the eighth inning.
Rangers starter C.J. Wilson proved to be very effective, but Matt Cain was just plain better.
Wilson tossed six solid innings, surrendering two runs on three hits and two walks while striking out four before leaving the game with an undisclosed injury.
However, San Francisco's game plan was to make Wilson work and try to force Texas into the middle bullpen early, which worked perfectly. After Derek Holland couldn't find the strike zone while facing three batters, the Rangers bullpen virtually imploded.
The prevailing wisdom is that Wilson may have blister problems with his fingers, and it's unknown at this time whether he will be available to start in Game 6 if the series stretches that far.
Still, despite the Rangers' loss, it's only fitting to give Wilson an above-average grade for his performance in Game 2.
Colby Lewis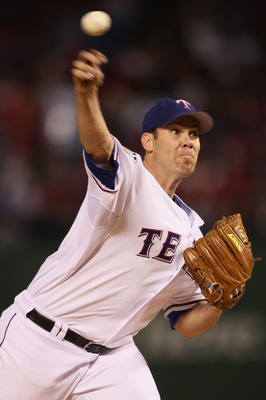 Elsa/Getty Images
Being down two games heading into Game 3, the Rangers needed a solid performance from starter Colby Lewis, and Lewis took the mound and delivered.
Lewis went seven and two-thirds innings on Saturday, holding the Giants to only two runs on five hits and two walks while striking out six.
He was effective early against the Giants' mainly right-handed lineup and consistently kept the San Francisco off-balance by throwing first-pitch strikes and staying ahead in the counts all night.
Lewis leaned on his slider more than any other pitch, making San Francisco dizzy when he located it down and away.
Lewis' pitch count was right where it needed to be all night. However, he found himself in trouble after an Andres Torres home run in the eighth that forced Texas manager Ron Washington to call upon his bullpen.
Lewis deserves a commendable rating for his performance on Saturday; however, his inability to close out the eighth inning prevents him from receiving a very high grade.
If the Rangers can take at least one of the next two games, Wilson may be called upon to start Game 6.
Jonathan Sanchez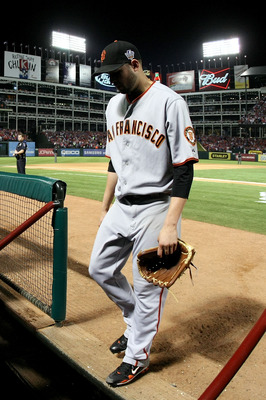 Elsa/Getty Images
Jonathan Sanchez's biggest weakness all season has been his inability to survive the first inning unscathed, and when he proved his effectiveness in the opening frame Saturday night, it looked as if the Rangers were in for a long evening.
When the San Francisco lefty settles in and finds his groove, most times he's virtually untouchable.
However, after a Nelson Cruz leadoff double in the bottom of the second and a Benjie Molina walk later in the inning, Sanchez delivered a fastball down the center of the dish to Rangers rookie Mitch Moreland, who took the pitch into the right-field seats to record his first-ever home run against a lefty pitcher.
From there, Sanchez was spotty with his control and was pulled in the fourth inning after surrendering four runs on six hits and three walks. Josh Hamilton later went yard for the Rangers, too, giving Texas all the run support they needed.
If the Series extends to a Game 7, Sanchez could very well get the nod for San Francisco at AT&T Park next Thursday. And although his last two playoff outings can be rated as below-average, he certainly has the potential to deliver for the Giants if he can find his control, making for a very exciting World Series finale.
Keep Reading

Texas Rangers: Like this team?