New York Giants vs. Dallas Cowboys: Preview and Prediction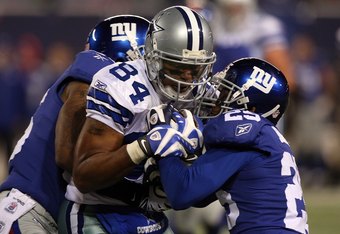 Jim McIsaac/Getty Images
The biggest stage each week in the NFL is Monday Night Football. This Monday, two NFC East rivals, the Giants and the Cowboys face off in a must-win contest for Dallas, who sits at 1-4 and at the bottom of the division.
Before the season started, the Dallas Cowboys were a preseason pick to win the East, and possibly the NFC. Tony Romo has some elite talent to throw to and the combination of Felix Jones and Marion Barber was supposed to do a lot of damage to opposing defenses.
Six weeks into the season and the Cowboys have lost four of their first five games, all of them by seven points or less. Penalties, lapses in coverage and inopportune turnovers—by Romo especially—have cost Dallas games and the mistakes seem to just pile up the later in the game it is.
On the other hand, the Giants got off to a rough start this year, going 1-2 in their first three games, but since then, they have three straight victories and have beaten teams in convincing fashion, sporting a defense with a mean streak and a more disciplined offense.
At 4-2, New York is tied with the Eagles for the division lead and could virtually end the Cowboys chances of making the playoffs with a victory in Big D on Monday night.
Dallas' Offense vs. New York's Defense
Although the Cowboys have struggled to win games, the offense has put up some big numbers. They have the fourth ranked passing offense, racking up 305 yards per game, but have had a rough time running the ball, ranking 23rd in the NFL. The offensive line isn't getting the job done and has a penalty problem that needs to be fixed if they want to be successful.
Aside from his seven interceptions, Tony Romo has been extremely efficient throwing the ball. He has a 69.4 completion percentage and as much as it pains me to defend Romo—being a Giants fan—a handful of his interceptions were either great defensive plays or bad luck on his part.
Last week, E.J. Henderson of the Vikings picked off a pass that ricocheted off of a defenders helmet up into the air and then made a fantastic play on a throw over the middle, dropping back into coverage after faking the blitz and snagging the football in front of Jason Witten.
The Giants defense has been nothing short of superb as of late, and they rank second against the pass and seventh against the run. Justin Tuck and Osi Umenyiora have returned to old form, sacking the quarterback and forcing turnovers and MLB Jonathan Goff has matured immensely under the guidance of Perry Fewell.
With the Cowboys woes at offensive line and the Giants stout d-line, look for New York to get plenty of pressure on Romo, which can lead to some turnovers for Big Blue. The Giants secondary is also full of players who know how to cover receivers, which helps give this d-line more time to get to the quarterback.
If Dallas can't neutralize the pass rush by being effective on the ground, it could be a long day for the blue and silver.
New York's Offense vs. Dallas' Defense
The Giants offense features a very balanced attack. Eli Manning has developed into a consistent player and the offense looks very comfortable right now, running and passing the ball effectively. They rank 12th in the league in passing and fifth in rushing, making it very hard for defenses to contain them.
The Cowboys haven't been terrible on defense, but I think their league ranks of 10th against the pass and fourth against the run are skewed considering they haven't really played a high powered offense yet. They have a shaky secondary, but their run defense has been stellar this year, which means the G-Men are going to have to establish the run early in order to opening passing lanes for Eli Manning.
Manning has quietly had a very good season. He is distributing the ball and making key throws in the red zone and on third downs. Ahmad Bradshaw seems to get better every week, and even Brandon Jacobs has quit the pouting and is running hard again.
The offense just makes it look so easy when they are working on all cylinders, and the Cowboys will have to force Eli into some bad decisions if they want to have a chance. DeMarcus Ware and Jay Ratliff are very good at getting penetration and getting to the QB, and they will be the difference makers for the 'boys on defense.
Dallas will have to contain the run and focus on Hakeem Nicks, who has reached the end zone six times already this year and has emerged as the Giants top receiving option. Mike Jenkins and Terrence Newman will have their hands full, but they are a solid duo and could pose a problem for New York.
Prediction
In a game the Cowboys have to win in order to stay alive in the NFC East race, they will come out aggressive and hungry, but if they aren't disciplined and commit penalties at the rate they have been, it could suck the life out of them again.
I expect this to be a great game, with both teams trading punches—literally and figuratively—making this a relatively high scoring contest.
Ahmad Bradshaw is more focused on ball security and it has shown in the last two weeks, and Brandon Jacobs seems to be comfortable in his secondary role. I believe the Bradshaw runs for 110 yards and a score and Jacobs adds 40 yards and a score to keep the Cowboys on their heels on defense for the duration of the game.
Romo will have a nice performance, tossing three touchdowns on his way to another 300-yard day, and Miles Austin will contribute that total with eight catches for 125 yards and two scores.
In the end, it will be the Giants that come out victorious in a very close contest that will come down to the final drive.
NEW YORK 34, DALLAS 31
This article is
What is the duplicate article?
Why is this article offensive?
Where is this article plagiarized from?
Why is this article poorly edited?

New York Giants: Like this team?