Seattle Seahawks Host Arizona Cardinals, Look To Take Lead in NFC West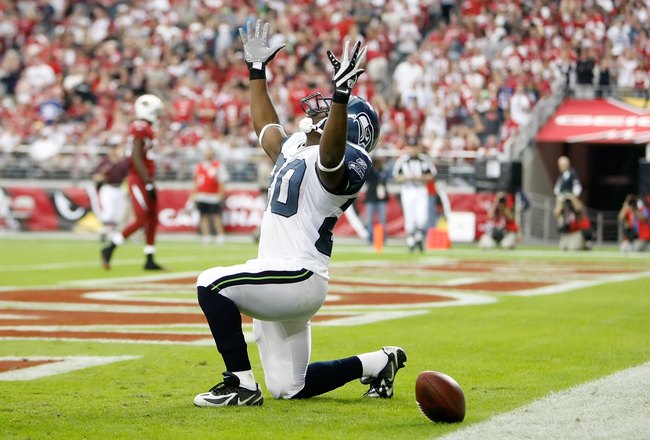 Justin Forsett
Jeff Gross/Getty Images
Tied for first in the NFC West, the Seattle Seahawks and the Arizona Cardinals meet Sunday for the first time this season at Qwest field. After garnering surprise wins against the Saints and the Bears respectively, both teams' re-tooled offenses will be looking to prove they are the real deal and to take hold of the division.
Arizona's last outing featured undrafted rookie quarterback Max Hall (BYU) in a home win against the defending Super Bowl champions, the New Orleans Saints. The win is less attributed to Hall (one interception, two fumbles) than it is to his support staff—one of Arizona's three touchdowns was scored by an opportunistic offensive tackle and the other two were claimed by Arizona's defense.
With no rushing or passing TDs by Arizona and some inexplicably dropped plays on the part of the Saints (kind of their theme this year), Arizona's win here is a technicality and does not indicate any reason the Cardinals should be considered the best in the west.
And the Seahawks are going to prove it.
Last week in Chicago, fans and skeptics were finally able to see the pieces of Pete Carroll's offense come together.
In his first full-length outing, rookie Russell Okung singlehandedly nullified formidable defensive end Julius Peppers.
Marshawn Lynch and Justin Forsett were reunited to create a running game which took the pressure off the so far less-than-stellar passing game, and kept the Bears' defense off-balance.
Hasselbeck connected with his eager young receiving corps for 242 yards and a touchdown (Deon Butler) with no interceptions (a first for him this season).
Big target, and former first round draft bust Mike Williams was a factor, catching a career high 10 balls for a career high 123 yards.
The Seahawks' defense was electric, sacking Cutler six times and spending the rest of the time tipping passes and forcing incompletions.
All this against the odds, on the road, at 10am. Not the norm for the Seattle Seahawks.
Playing at home, with the 12th man in full force, after an unlikely, well-executed win against a top ranked team, Seattle has a clear edge over the Arizona Cardinals who are coming in off a bye week with a still shell-shocked rookie at the helm.
Against the Saints, Hall relied primarily on the considerable talents of Larry Fitzgerald (seven catches, 93 yards). While there were no interceptions last week against a concussed, sporadic, (classic) Cutler, the Seahawks defense had their fingertips all over the ball, dramatically messing things up for the Bears.
And, Hall should make it that much easier.
Hall is unsure of himself and his receivers and hangs on to the ball too long. And, while Arizona's offensive line is considerably better than Chicago's, the Saints still had Hall scrambling all over the field.
Chris Clemons and company are eighth in the league for sacks with 17 (New Orleans only has 11).
The Arizona rookie should be expecting a hazing.
The one tangible advantage Arizona has that the Bears didn't is a tape of Seattle's last game. Chicago had no way of knowing for sure how Carroll intended to use his new running back super duo.

Carroll was able to easily draw coverage using Lynch as a battering ram on rushing plays and a decoy on passing plays and wiggling Forsett through on third downs. Arizona (ranked 24th against the run) is likely to be more prepared for that...hopefully, over-prepared. 

Which should open up Mike Williams.
The amount of coverage needed to be effective against a giant like Williams plus a juggernaut like Lynch is enough on its own to free up the rest of the field. With Arizona's mediocre defense (15th against the pass) the Seahawks' latest offensive build should be able to blow down the field play after play.
Arizona has very little ammo to fight back with. If they choose to run a ground game instead of taking it to the air they'll be out of luck: Seattle has allowed only 352 rushing yards this season (second only to Pittsburgh's 318).
Even if Derek Anderson starts instead there is little hope for the Cardinals. Anderson losing the starting spot to an undrafted rookie after four weeks is indication enough of his lack of talent.
The Seahawks have this one in the bag. Come Sunday night the Pacific Northwest will be dreaming of postseason.
This article is
What is the duplicate article?
Why is this article offensive?
Where is this article plagiarized from?
Why is this article poorly edited?

Seattle Seahawks: Like this team?