2010 NLCS and ALCS Preview: Chase Utley and the All-Final Four Team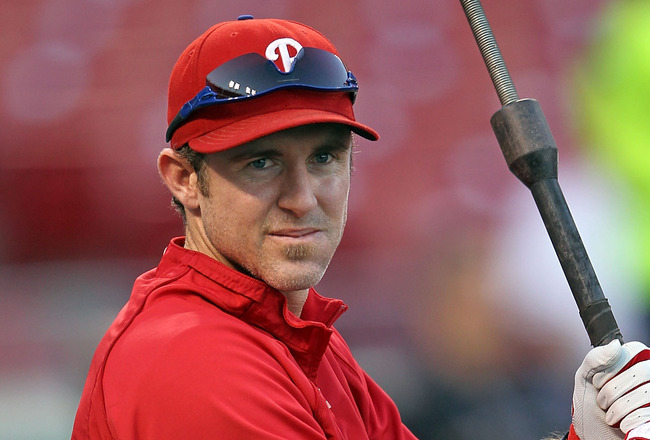 Andy Lyons/Getty Images
Yes, I realize that the Final Four is synonymous with college basketball and March Madness, but why not apply it to the October Madness of postseason baseball?
Sure, the NCAA has 64 (okay, 65, which may expand) teams fighting it out in a single elimination tourney, but the MLB playoffs are just as exciting. Thirty teams play down to eight over the course of 162 games, and then they must play in the pressure cooker of a best-of-five just to reach the ALCS or NLCS—the Final Four, if you will.
I thought it would be fun to come up with one team to represent the four teams still standing, as if they were playing a mythical team (call them the Mythical Monsters) comprised of all of the players from the other 26 teams. And just for fun, we'll play a virtually simulated series of sorts against those Mythical Monsters.
As for the Final Four team, will the Phillies' Chase Utley beat out the Yankees' Robinson Cano? Will we take the youthful Buster Posey over the quite experienced Jorge Posada behind the dish, or go in another direction?
As for that great pitching staff, how do we determine who gets the ball in Game 1 to defeat those Monsters?
Read on, my friends.
Oh, yeah—we'll call our team the NYSF Philly-Rangers
Behind The Dish Is...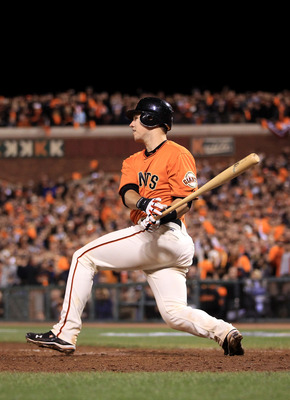 Ezra Shaw/Getty Images
The candidates for catcher on our NYSF Philly-Rangers are:
Rangers: Bengie Molina, 36, came over from the Giants this season and solidified the Rangers battery. The veteran was a two-time Gold Glover with the Angels and remains a solid player.
Yankees: Jorge Posada, 39, has been doing this for a long time and is still among the better hitting catchers in baseball. The five-time All-Star has been with the Yankees since 1995.
Phillies: Carlos "Chooch" Ruiz is not yet a household name, and perhaps you need to see him every day to appreciate how terrific a player he is. He hit .302 this year with an OBP of .400, and he has hit very well (.299) in his previous postseason action.
Giants: Buster Posey came up in late May and is already considered—along with Brian McCann, and perhaps ahead of him—the best-hitting catcher in the NL. The sky's the limit for this young receiver, who already does a great job handling that terrific pitching staff.
My Ranking
It's fairly close, but I rank them:
Posey
Ruiz
Posada
Molina
Suiting up for the Mythical Monsters is Joe Mauer of the Twins.
First Base: Will Howard Make the NYSF Philly-Rangers?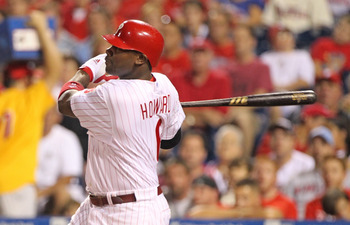 Hunter Martin/Getty Images
Rangers: Mitch Moreland, 25, came up to appear in 45 games this year and posted okay numbers.
Yankees: Mark Teixeira, 30, is a two-time All-Star and three-time Gold Glover who gets you at least 35 homers and 110 RBI every year while playing an excellent first base.
Phillies: Ryan Howard, 31, is still arguably the most feared pure power hitter in the game. The three-time All-Star and former MVP had a good year in 2010, even if injuries reduced his production somewhat.
Giants: Aubrey Huff, 33, rebounded from an off year in 2009 to post very good numbers for the NL West Champs this year.
My Rankings
It's extremely close between Teixeira and Howard as their offensive performance was quite similar this season, but I favor Tex's defense.
Teixeira
Howard
Huff
Moreland
Mythical Monsters: Albert Pujols beats out Votto, Cabrera and others in the most stacked position in the majors.
The Second Baseman Is...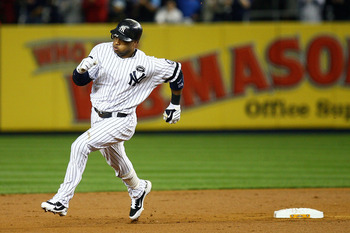 Andrew Burton/Getty Images
Rangers: Ian Kinsler, 28, is a very solid all-around player who missed 50-plus games this year, hampering his production. He was a 30/30 guy in 2009.
Yankees: Robinson Cano, 27, was the Yankees' most consistent player all season. He is a lifetime .309 hitter with some pop, and a solid defender who only committed three errors all year. The only drawback seems to be that he has not yet been a very good postseason hitter.
Phillies: Chase Utley, 31, remains one of the best all-around players in the game. He has started five consecutive All-Star teams and won the last four Silver Slugger awards. The 2010 season was a frustrating, injury-plagued campaign for him, but he seems to be in good form now.
Giants: Freddy Sanchez is a "nice" player who hits close to .300 but gives you little in the way of speed, pop or OBP.
My Ranking
Utley (based on his off-the-charts intangibles)
Cano
Kinsler
Sanchez
For the Monsters: Assuming he's healthy, I'll take that pesky Dustin Pedroia of the Sawx.
Shortstop: Does Jeter Retain His Spot?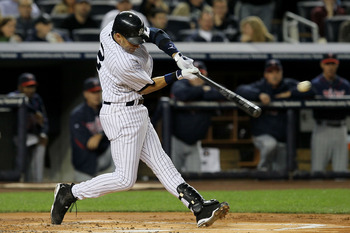 Jim McIsaac/Getty Images
Rangers: Elvis Andrus, just 22 and with a great name, made his first All-Star game this year and has a world of talent. He gives you lots of speed (30-plus steals in both of his two seasons) and great range defensively, and he is a fairly productive hitter.
Yankees: I don't have to tell you all about Derek Jeter's resume, which includes five World Series titles, 11 All-Star games, four Gold Gloves and countless heads-up plays. The 36-year-old is a career .312 postseason hitter, and his next run scored in the playoffs will be his 100th.
Phillies: Jimmy Rollins, 31, has one thing Jeter doesn't: a regular-season MVP award in 2007. Rollins has made four All-Star teams and has won the last three Gold Gloves. Still a great defensive shortstop when healthy, he has battled injuries all year, and his offensive numbers have dipped the last few years.
Giants: Juan Uribe, 31, had great power numbers this year (24 HR, 85 RBI) while playing a very good shortstop. The nine-year veteran has had a solid if unspectacular career in the bigs.
My Ranking
Jeter
Andrus
Uribe
Rollins (This one hurts, as a healthy Rollins would compete for the No. 1 slot.)
Monsters: The Rockies' Troy Tulowitzki
Third Base: Who Else?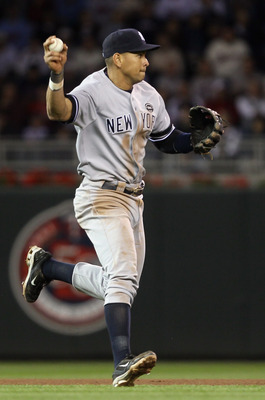 Elsa/Getty Images
Rangers: Michael Young, 33, is (quietly) a six-time All-Star and a career .300 hitter. Barring injury, he will surpass 1,000 runs and 2,000 hits next year. Not bad.
Yankees: You already know everything (sort of) about Alex Rodriguez. In an off year by his standards, A-Rod still had 30 HR and 125 RBI in only 137 games. Surprisingly, for a player so derided for his lack of production in big games, the 35-year-old Rodriguez is a lifetime .300 hitter with an OPS of .956 in the postseason.
Phillies: Placido Polanco, 35, made a great transition to third base and to the NL this year. He is a lifetime .303 hitter who is also within range of topping 2,000 hits and 1,000 runs next year. Like Young, Polanco is a professional hitter and player.
Giants: Neither the 30-year-old Mike Fontenot or the 2010 edition of Pablo Sandoval (still just 24) will scare the opposition. Now, watch one of them hit a walkoff homer in Game 7.
My Ranking
A-Rod
Polanco (Close call over Young; I prefer Polly's glove)
Young
Fontenot/Panda
For the Monsters: Evan Longoria
Right Field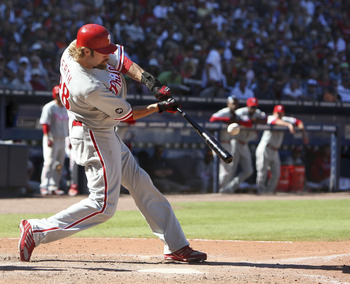 Mike Zarrilli/Getty Images
Rangers: Jeff Francouer topped 100 RBI in 2006 and 2007, his first two full seasons with Atlanta, but the 26-year-old has not done all that much since. He has turned into a serviceable player. (I know, I hate that term too.)
Yankees: Nick Swisher, 29, is a very productive "Swish-hitter" (sorry) who sometimes gets lost in the Yankees' cavalcade of stars. He has hit 29 homers in each of his two years in the Bronx. His batting line of .288 with 29 HR, 89 RBI, 91 R and an OPS of .870 is quite good.
Phillies: Jayson Werth (31) gives you similar, if slightly better, standard numbers than Swish and adds more speed and defense.
Giants: Cody Ross (29) is already on his fifth team. What can I say about him? He's also solid—a step above serviceable?
My Ranking
Werth
Swisher
Ross
Francoeur
Monsters: Shin-Soo Choo just noses out Ichiro.
Put Me In, Coach...Center Fielders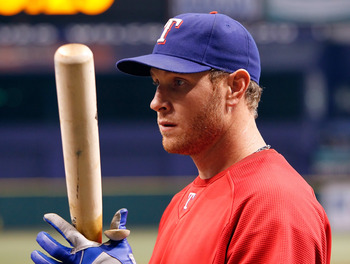 J. Meric/Getty Images
Rangers: Josh Hamilton (29) was on his way to a probable MVP when he went on the DL on September 4, and surfaced just in time for the playoffs. Hamilton led the AL in BA, OBP and OPS this year. He looked terrible at the plate in the ALDS, but expect him to bounce back in the ALCS.
Yankees: Curtis Granderson (29), after a slow start this year, is starting to really turn it on. He hit .455 with three RBI and two runs in the three-game sweep pf the Twins.
Phillies: Shane Victorino (also 29) may very well win his third straight Gold Glove this year. One of the emotional spark plugs for the Phillies.
Giants: Andres Torres (32) finally got to play full-time this year and rewarded the Giants with a good year: .268/16/63/84 with 26 stolen bases in 139 games.
My Ranking
Hamilton
Victorino
Granderson
Torres
Monsters: Carlos Gonzalez (He played an almost equal amount of games in CF as LF this year.)
The Left Fielders: Cruz-ing Along?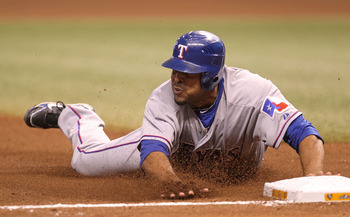 Mike Ehrmann/Getty Images
Rangers: Nelson Cruz. The Rangers have to find a way to keep this talented 30-year-old on the field more. In just 108 games this year, he hit .318 with 22 homers and 78 RBI (and an OPS of .950). In the ALCS, he hit .400 with 3 homers.
Yankees: Brett Gardner. The speedy 27-year-old batted .277 with 47 stolen bases and 97 runs.
Phillies: Raul Ibanez, 38, came to life after the All-Star break to post a .275/16/83 line in 2010.
Giants: If Ibanez came to life after the All-Star break, Pat Burrell's midseason trade from Tampa Bay may have resurrected his career. Burrell, 34, hit .266 with 18 homers and 51 RBI in 96 games with the Giants.
My Ranking
Cruz
Burrell
Ibanez
Gardner
For the Monsters: Carl Crawford
The Pitching Staff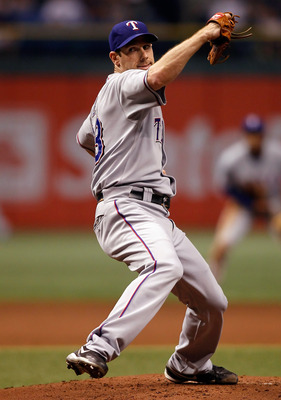 J. Meric/Getty Images
Let's take a look at the team's aces, all of whom will pitch Game 1 of the AL or NL Championship Series (except for Cliff Lee, who will pitch Game 3).
Texas: Cliff Lee (32). What can you say about a guy who dominated the playoffs last year— he went 4-0 in five games and should've been 5-0—and dominated the ALDS this year, winning Games 1 and 5. His total postseason numbers are historically great so far: 6-0 (in 7 starts), 3 CG, 56.1 IP, 54 K/6 BB, a 1.44 ERA and a WHIP of 0.78. And if you watched all of those starts, he actually pitched even better than those ridiculously great numbers would indicate.
Yankees: CC Sabathia, just 30, is a true ace and workhorse who may very well notch his second Cy Young Award this year. The only knock on his sterling resume is his relatively lackluster career postseason line (6-4, 4.41, with too many walks).
Phillies: Barring a weird vote, Roy Halladay (33) will win his second Cy Young Award this year. Doc is perhaps the most respected and best starting pitcher in baseball, and his postseason debut—a no-hitter versus the mighty Reds lineup—did not hurt his legacy any.
Giants: What can ypu say about Tim Lincecum, who is only 26 and has won back-to-back Cy Youngs the last two years. After a down first six months, he became unhittable in September, and his own playoff debut was an insane 1-0 complete game, two-hit shutout with 14 Ks and only one walk.
So, who gets the ball in Game 1?
See the next slide for my starting rotation...
By the way, for my closer I'll take Mariano Rivera (40), followed (or maybe preceded) in the pen by Brian Wilson (28), Neftali Feliz (22) and Brad Lidge (33).
My Starting Rotation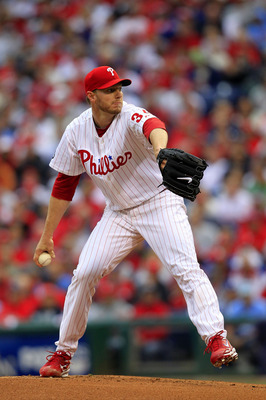 Chris Trotman/Getty Images
You cannot go wrong with any of Lee, Sabathia, Halladay or Lincecum as your Game 1 starter.
Cliff Lee has been the best big-game pitcher in baseball the last two years. Halladay and Lincecum have each only had one shot at postseason glory, but they may have authored the two best debuts in baseball history. CC is wonderful, but has struggled in the playoffs.
Putting CC as my No. 4 was a somewhat easy choice. I've also slotted the youthful Lincecum as my No. 2. He's capable of absolute brilliance, but I want a little more experience for those all-important odd games: 1, 3, 5 and 7.
After many coin flips, I'm going to open with Doc (who will get Games 1 and 5) and save Lee for Game 3 and a potential Game 7. No pitcher on Planet Earth is as cool under pressure as Lee.
My Starting Rotation
Halladay
Lincecum
Lee
Sabathia
For the Monsters, let's go with:
Felix Hernandez
Jon Lester
Adam Wainwright
Chris Carpenter
(I need to study this more.)
The NYSF Phillies-Rangers Vs. the Monsters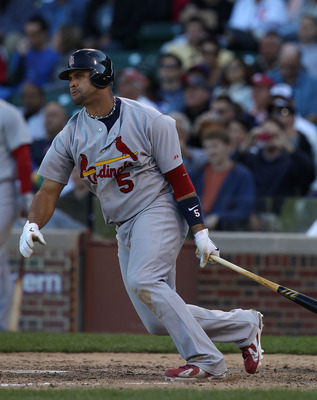 Jonathan Daniel/Getty Images
Okay, we had to play this out a little more.
The Monsters lineup (No DH)
1) Dustin Pedroia, 2B
2) Joe Mauer, C
3) Albert Pujols, 1B
4) Carlos Gonzalez, CF
5) Evan Longoria, 3B
6) Troy Tulowitzki, SS
7) Shin-Soo Choo, RF
8) Carl Crawford, LF
9) Pitchers: Hernandez / Lester / Wainwright/ Carpenter
The NYSF Philly-Rangers lineup
1) Derek Jeter, SS
2) Chase Utley, 2B
3) Alex Rodriguez, 3B
4) Josh Hamilton, CF
5) Mark Teixeira, 1B
6) Jayson Werth, RF
7) Nelson Cruz, LF
8) Buster Posey, C
9) Pitchers: Halladay/ Lincecum/ Lee/ Sabathia
For the predictions, stay with us...
Predictions for the Series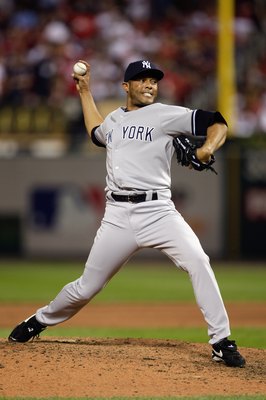 Jamie Squire/Getty Images
For the mythical game between the "Final Four All-Stars" and the Monsters, I'll take the All-Stars (a.k.a. the NYSF Ranger-Phillies) in seven games.
I like the Monsters' lineup a little better—they do have Pujols—but I love the Ranger-Phillies' starting rotation...and there's always Mo as my closer, if he'll even be needed with those four horses on the mound.
Nobody but me probably cares about this matchup, but this indicates that there are some great players and pitchers in the ALCS and NLCS. And we haven't even mentioned pitchers like Andy Pettitte, C.J. Wilson, Roy Oswalt, Cole Hamels, Matt Cain and Jonathan Sanchez.
My Predictions for the Championship Series
ALCS: I'd love to pick the Rangers, but the Yanks seem to have it rolling pretty well right now.
Yanks in 6.
NLCS: Even if we call the starting pitching a toss-up, the Phils figure too have too much punch and experience in their lineup.
Phils in 6.
Can anyone say rematch? Can anyone in Philly say revenge? (But let's get there first.)
Your thoughts on all this? Please comment below with passion and civility.
Keep Reading

Philadelphia Phillies: Like this team?