NLCS 2010 Preview: Five Ways the Giants Can Upset the Phillies
Ezra Shaw/Getty Images
When the San Francisco Giants topped the Atlanta Braves 3-2 last night, they earned their first trip to the NLCS since 2002.
Waiting for them, of course, is the Philadelphia Phillies—the two-time defending champions of the National League.
The Phillies, based on both their success the last few years and the strength of their position players, are considered the favorites by most baseball fans and pundits. But what of those Giants, a franchise that has not yet won a World Series since moving to the Bay?
Do they have a chance?
What are five ways that the Giants can win this series?
First, let's take a brief look at how the teams match up.
So...How Do the Teams Match Up?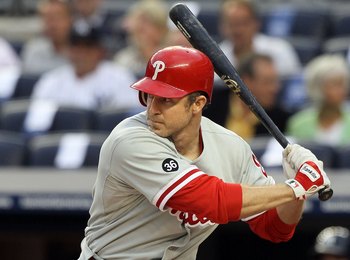 Jim McIsaac/Getty Images
Baseball is a game of matchups more so than one of comparisons. In other words, does it matter more how Aubrey Huff and Ryan Howard compare statistically, or how Huff may hit Roy Halladay and company and how Howard matches up with Tim Lincecum and company?
Having said that, it's much more fun to look at the players position-by-position (side-by-side) and ask the simple question, "Who would you rather have?"
So, let me pose the question this way. If you were starting a team for one best-of-sevebn series, and you can pick players from the Phillies and Giants, who would you pick from each team?
Stay tuned for my picks: I welcome your comments at the conclusion of the slideshow.
Who Would Suit Up For The "Philadelphia Giants?" (Infield)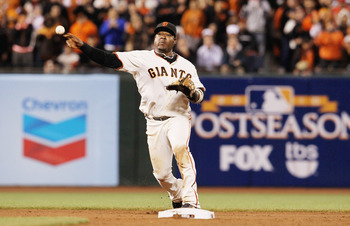 Justin Sullivan/Getty Images
Leaving starting pitchers aside for now, here would be my quick picks to fill out the eight position players.
Catcher - As a Phillies fan/writer, I see everyday how good Carlos Ruiz is, and what he means to the team. But the Giants became a very good team when Buster Posey came aboard. Slight edge to Posey, who may even (deservedly) steal the Rookie of the Year vote from Jayson Heyward.
First Base - Aubrey Huff rebounded from a comparatively down year in 2009 with a very solid 2010, and Ryan Howard didn't quite hit the heights of his previous four years. Still, my pick is Howard, who has risen to the occasion in many postseasons.
Second Base - Freddy Sanchez is OK, but let's save some time, and concede this one to Chase Utley.
Shortstop - I would take a healthy Jimmy Rollins here over Juan Uribe in a battle of the veteran infield captains. But Rollins has suffered through injuries and does not appear to be 100 percent now, swinging my pick to Uribe.
Third Base - In 2009, I would have chosen Pablo Sandoval, but he has not been himself this year. The superior all-around player is Placido Polanco.
The next slide: Philadelphia Giants Outfield
The Philadelphia Giants Outfield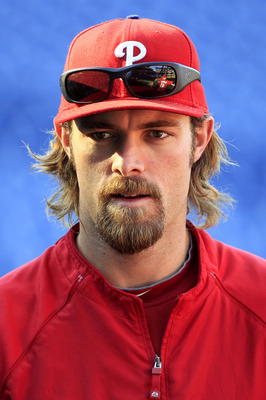 Chris Trotman/Getty Images
If I were choosing a combined outfield for my new team, my toughest choice would be leftfield.
Left Field - Pat Burrell seems to have been reborn since coming over from Tampa Bay in June. Raul Ibanez has also wielded a hot bat since the All-Star break. Didn't the Phillies have this choice coming into 2009? Call this one even on my lineup card.
Center Field - Andres Torres is a nice player whose stats are somewhat similar to Shane Victorino's. I'll give a slight edge to Victorino here, based on his past postseason heroics.
Right Field - Cody Ross is an underrated player who played a big role yesterday in a victorious Game 4 versus the Braves. But would you take him over Jayson Werth? Didn't think so.
So, call it five Phillies (Howard, Utley, Polanco, Victorino, Werth) to 2 Giants (Posey and Uribe) and one "push" (Burrell/Ibanez) on my mythical lineup card.
So, with my premise that both teams have great starting pitching, let's get to the five reasons that the Giants can upset the Phillies.
5. The Panda Sets His Clock Back to 2009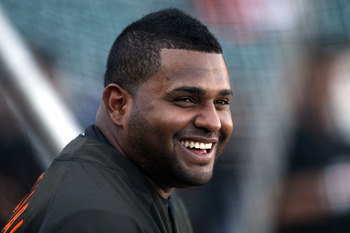 Ezra Shaw/Getty Images
The 24-year-old Pablo Sandoval burst onto the 2009 scene as one of the breakout players in all of baseball. He was a chunky, lovable hitting machine who was the key man in a generally undermanned Giants lineup.
Let's compare his stats from last year and this year. He has had virtually the same amount of at-bats in both years.
2009: .330 BA, 28 HR / 90 RBI / 79 R with an OPS of .943
2010: .268 BA, 13 HR / 63 RBI / 61 R with an OPS of .732.
Pablo has seen a dramatic dropoff across-the-board, but he only has to get hot for five games or so. And if he does, the Giants' lineup becomes much more potent.
4. An Old Friend Shows Up At The Wrong Time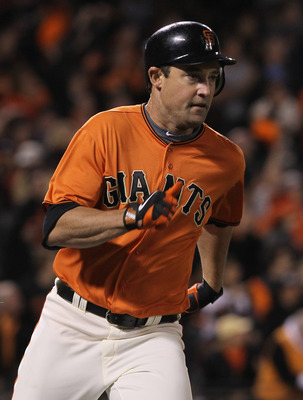 Justin Sullivan/Getty Images
Pat Burrell, on the whole, was a productive player for the Phillies from 2000-2008. And on the whole (maybe) he'd still rather be in Philadelphia.
Well, he'd rather be anywhere than in Tampa,. where he floundered for a year and a half.
But don't cry for Pat, who has become one of the key bats in the Giants lineup, hitting .266/18/51 (with an OPS of .872) in 96 regular season games.
Burrell returned to Citizens Bank Park in mid-August and hit two homers in the series. Giants fans hope that's a trend for the NLCS.
3. The Weight Of History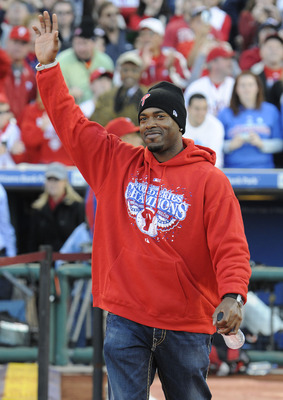 Jeff Fusco/Getty Images
Most pundits believe that the Phillies have too much punch in their lineup and too much experience for the Giants to beat them.
The Phillies are trying to become the first NL team since the 1942-44 Cardinals to make it to three straight World Series. Even great teams like the 1970s Big Red Machine (Cincinnati) could not get it done.
So what if winning three straight pennants is just as hard as a horse winning a Triple Crown?
What if it's now the Giants' turn to finally win a World Series? They've never won one in over 50 years in San Francisco; the last Giants title was in 1954 when some guy named Willie Mays (not Dwight Clark) made "The Catch."
It may just be their time.
2. The Battle of the Closers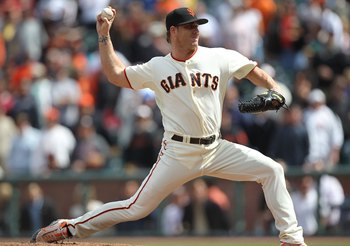 Jed Jacobsohn/Getty Images
The old "Brian Wilson" used to play (music) in Southern California for a pretty successful team called The Beach Boys. He had some "control issues" but he was a first ballot Hall of Famer.
The new Brian Wilson has become one of the dominant closers in baseball while playing for that Northern California club. And while he still has occasional control issues (he did walk two batters in the bottom of the ninth last night while protecting a one-run lead.), his record is terrific.
In a battle of the closers, most would take Wilson over the Phillies' Brad Lidge.
Their 2010 regular season stats:
Wilson was 3-3 with a 1.81 ERA and a WHIP of 1.18 in 70 games. He saved a league-leading 48 games with five blown saves.
Lidge was 1-1 with a 2.96 ERA and a WHIP of 1.23 in 50 games. He saved 27 games with five blown saves.
In fairness, Lidge has been very reliable the last couple of months, but the Phillies do not want to have to come from behind versus Wilson. That scenario does not inspire good vibrations.
1. What If the Giants Big Three Are Unhittable?
Ezra Shaw/Getty Images
The main reason that both of these teams made it to the NLCS is their starting pitching, mostly their Big Three.
Beating the Braves last night was huge for the Giants, as they did not have to pitch ace Tim Lincecum in a Game 5. Doing so would have meant that Lincecum could not come back until at least Game 2.
So, which starting rotation do you like better?
Game 1 (and possibly Game 4 and Game 7 if a three-man rotation): Tim Lincecum v. Roy Halladay. Does it get much better than this?
Halladay (the probable 2010 Cy Young Award winner) had the much better regular season, although Lincecum had the better September. Halladay quite famously threw a no-hitter in his postseason debut, and Lincecum was almost equally impressive in his. (How about a two-hit shutout with 14 strikeouts and one walk in a 1-0 win).
Game 2 will most likely put Matt Cain versus Roy Oswalt, two pitchers with very similar numbers. Both Oswalt (13-13, 2.76, 1.03 WHIP) and Cain (13-11, 3.14, 1.08 WHIP) would be the staff ace for some teams.
Of course, Jonathan Sanchez and Cole Hamels are also pitching like No. 1 hurlers. Hamels (13-11, 3.06, 1.08) and Sanchez (13-9, 3.07, 1.24) are two of the better lefties in the league. In a nutshell, Sanchez is harder to hit but he does yield more walks.
If the teams decide to go with a four-man staff, consider that an edge for the Giants (young Madison Bumgarner: 7-6, 3.00 over veteran Joe Blanton: 9-6, 4.82.)
I would rate the teams' Big Three very even, and give the Giants a slight edge if they go to a four-man, with either Bumgarner or possibly the enigmatic Barry Zito over Blanton or possibly Kyle Kendrick.
My Pick For the Series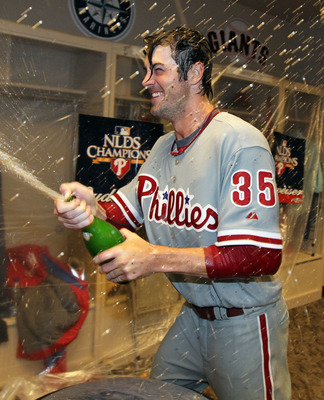 Andy Lyons/Getty Images
So, have I convinced myself that the Giants can indeed pull off the upset?
Well, I am convinced that they can do it and that it would not be that monumental an upset if they did. Their starting pitching matches up well with any team in baseball, their closer is a little better, and it has proven very difficult for any NL team to go to back-to-back-to-back World Series.
The five reasons given were legitimate, but in the final analysis, I think that the Phillies win will on the strength of their experience, confidence and better starting eight.
Call it Phillies in six in a very compelling series. And cover your eyes if you get within range of Cole Hamels at the conclusion of this very compelling NLCS showdown.
I welcome your comments below.
Keep Reading

San Francisco Giants: Like this team?