Proof of Roger Clemens Set-Up: Radomski & McNamee's Program & the Paper Trail
August 16, 2008
 Pride Goes Before The Fall - Proof of The Set-Up
Aug. 16, 2008
Washington, D.C.
Recently, Kirk Radomski gave Federal Agents shipping receipts that were said to be addressed to Roger Clemens and, according to the Daily News, would finally "link" Clemens to HGH.
Then again, the Daily News reported the same while using an "unnamed source" about Shaun Kelly, Jeff Bagwell, Andy Pettitte and Mindy McCready; so it would be consistent if they are wrong about this receipt "linking" anyone to HGH...other than Radomski and McNamee themselves.
Did McNamee out himself as the Daily News's unnamed source of information (because Radomski is a known source) so, who is the unnamed one regarding the report on shipment-receipts, amongst other false Daily News reports?
Radomski said that he handed the "linking" receipts (from 2003) to the Department Of Justice and said that:
1) "Brian McNamee did NOT sign the package receipt slip
2) "The package got to Clemens before McNamee did."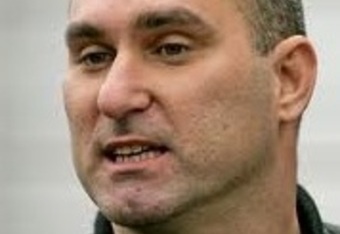 And Radomski just ran straight into a wall! Radomski's "good friend", Brian McNamee, swore under-oath that, "to his knowledge Clemens had nothing to do with PEDs after 2001."
Given the several different signatures (headline photo), the different penmanship that McNamee uses to sign his name and his apparent lack of consistent spelling, how would anyone prove that McNamee didn't sign the receipts, especially when the package addressed him? 
Which signature is Brian McNamee's from the above photo of hand-written checks now in evidence??
Radomski included McNamee on the "package's" receipt, but failed to address it correctly:  "To Roger Clemens – Care of Brian McNamee," is how Radomski addressed the package and receipt - which is backwards - it is Roger's house, not McNamee's.
McNamee's name is on the receipt which means that it was intended for McNamee, not Clemens -unless McNamee was lying when he swore under oath that "to his knowledge, Roger nothing to do with PEDs after 2001." 
The fact that "the package" was addressed incorrectly proves that using the US Postal Service to "ship" controlled substances across state borders wasn't Radomski and McNamee's preferred "method of transport."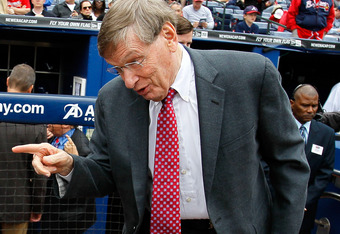 Kevin C. Cox/Getty Images
Since Radomski knows where McNamee was three years ago, with him in New York, then why didn't they just follow their normal "method of  transport" in using Brian as "the mule?"
McNamee has a history of transporting drugs across state lines himself, so why would they need to send a HGH-Package through the mail at all?  
 1) McNamee pushed and then transported HGH to Pettitte, in 2003, all the way to Tampa Bay Fla., where he treated him as well. 
2) McNamee also pushed and then transported GHB (date rape drug) to Florida and used it  on his "assault" victim in 2001, who was given "a near-fatal dose."
3) McNamee pushed and then transported HGH to Chuck Knoblauch in Florida, 2001
Considering the above facts, it is not a stretch of the imagination to think that McNamee would "push" HGH on Debbie; after all, McNamee is a "drug pusher" and that's how he gets Radomski more business.
When considering that the HGH package was sent in 2003, will Henry Waxman and investigators pursue perjury charges on McNamee - who said in his deposition under oath that "Clemens had nothing to do with PEDs after 2001" - or is the technicality over "out of context answers" just reserved for Roger?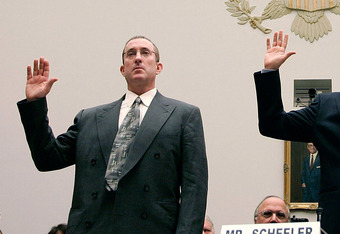 Pool/Getty Images
Taking something out of context is old political trickery for use by people like Henry Waxman, who does it to push himself in front of the cameras for free face-time and does it to push his party's agenda - to make them seem more important, which they are not.
The real judge is important, as is the Federal Prosecutor's Office - which is overseen by the President's Office, not the Oversight Committee.
McNamee testified that he was "worried" that Roger might fail a drug test in 2004. When ask to clarify, because he told investigators that he had no knowledge of Clemens using since 2001, McNamee testified that "oil-based PEDs can stay in your system for 18 months." 
This is not consistent with McNamee saying, "to his knowledge Roger had nothing to do with PEDs after 2001 (the grudge year when McNamee threatened to sue Roger) because 18 months removed from 2004 would be 2002 – not 2001.
Dr. McNamee said in his deposition that "Roger asked him to inject Debbie and teach her where to inject it" - McNamee also said that Debbie was "shocked that Roger actually let Brian train her how to use."  
If Roger was such the user, then Roger wouldn't need a third party- who threatened to sue him - to teach his wife "where to inject it," because Roger would have known where to inject it and then his wife wouldn't have been so "shocked," like McNamee testified to her being.
Chip Somodevilla/Getty Images
At the hearing Representative Fox (p 165) asked McNamee, "your testimony is that Roger stopped taking HGH in 2001 because he didn't like HGH, so why would he want his wife to take something that he didn't like?"  The question remained unanswered.
Note: Pg - 166 - that McNamee swore to Fox that his motivation was not money and that he would not write a book – but his "good friend," Radomski, is writing one, though. Would McNamee collaborate on a book with Radomski, if there were proper compensation and a way to cover it up?
Emery helped to get McNamee out of hot water at the deposition – but he can't when it comes to Brian having too many signatures or submitting false evidence to the Department of Justice.
McNamee was asked about the different colors in the vials at the Hearing; but he wasn't pressed on it.  His evidence is the wrong color to be Winstrol or HGH.  Winstrol (Stanozolol 50) is white, not clear - like what fills McNamee's vials.
Lidocaine is clear, though. HGH is light amber not dark red, like what is in McNamee's vials. B12 is dark red though and Clemens said he has used both given him by McNamee.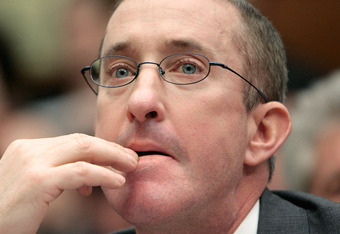 Chip Somodevilla/Getty Images
At the hearing, McNamee went on to deny any deals when under oath to Congress saying, "No deals."
His lawyer later filed to have Clemens Defamation Suit dismissed based on "McNamee having absolute immunity – a deal offered him by Federal Prosecutors" by way of private citizen, George Mitchell – which is as clear as mud.
Why do some take Radomski or McNamee as credible? Controversy sells; that is why the media needs a scandal to make profits, but fans don't have to buy the false reports.
It is the classic argument as to why not use "jail-house snitches" or criminals as witnesses at all.  By definition a criminal breaks the law, not abides by them; especially not the ones concerning lying and definitely not when it comes to them in staying out of jail.
See David Stern (NBA Commissioner) press release about Tim Donaghy. 
Kirk profited a total of $33,995 from selling controlled substances to baseball players, but the unnamed Federal Informant  testified that Kirk paid $50,000 cash for a pool - and stated that Kirk never used checks, or credit cards to buy gas, food, or home supplies – it would leave a paper trail proving his actual income over things like – vitamins.
A total of $50,000 cash is more than what he made off of players, which was $33.9K.  Suffice it to say he had other illegal incomes, unless owning a "car wash" requires one to spend cash only and being a bat boy pays that well nowadays.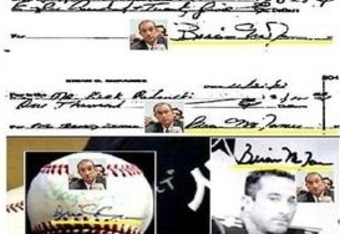 1) McNamee testified to paying Radomski with vitamins
2) There are two checks in the Mitchell Report, shown above. 
3) If these checks are not from PED use in Baseball, then why are they in the report?
According to testimony at the Hearing, McNamee first threatened the law suit against Clemens in 2001 and Lanny Breuer said the he "manufactured evidence" and has had it since 2001 as well. 
McNamee lied and testified that his grudge against Roger "was a dead issue in 2003" (p. 221 of McNamee deposition).  McNamee said that "Andy was upset with Roger too, for not promoting InviteHealth," who employed McNamee and and was his supply of "vitamins" to pay Radomski - as if Andy would care about Brian's business.
Then Pettitte testified (pg 32/33) that "McNamee was still angry at Roger in 2003," so the rift wasn't a 'dead issue at all." McNamee's grudge was so bad that he told Andy about Roger's alleged PED use out of anger, and Andy testified that he still didn't believe him.
McNamee lied again! I lost count as to how many times he perjured himself, so far.
Andy Pettitte was not upset with Roger because the promotion deal - that's McNamee's grudge alone. McNamee lied about his grudge "being a dead issue in 2003" and that "Andy was mad, too" - which is evidence that McNamee really held onto his grudge a long time and supports Hardin's Set-Up Theory.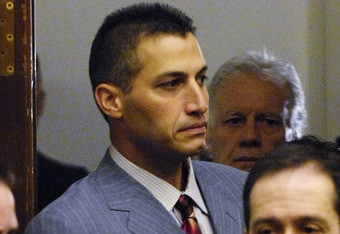 Jonathan Ernst/Getty Images
Radomski and McNamee, who (according to a FBI informant) tried to hide paper trails, decided it was okay to obtain a receipt for Roger in 2003, the same year that McNamee was still angry at Clemens, for which McNamee is tried to hide saying "it was a dead issue."  And Pettittte made clear he was lying.
Hardin is right, it was a set-up. Couple that with McNamee's testimony that he had no knowledge that Clemens was involved with PEDs after 2001 and it paints a pretty clear picture.
Andy also told McNamee that he was going to be honest and tell about his use if ever asked. McNamee, who told Andy that "HGH would help him," then begged Andy not to tell anyone about his involvement – like any criminal would.
Pettitte said that "McNamee told a lot of 'big stories' and (he) didn't believe most of them; but just wanted to placate McNamee."  Trainer Scott Shanahan said the same thing about McNamee – that he "always had big stories and you could tell he was lying."
 McNamee stated in the Mitchell Report that he told Radomski that "Andy and Roger were with "The Program" and this was supposed to be code for, "using PEDs."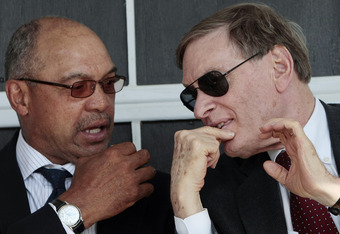 Dave Martin/Getty Images
In his deposition, McNamee clearly defines what "The Program" is - an avenue for laundering money made from dealing drugs.
On page 23 - McNamee tells investigators that "The Program" was the exchange of Radomski's controlled substance (HGH, PEDs or GHB) for McNamee's vitamins (From InViteHealth) - leaving no money trail.
But McNamee said that Clemens was "with the program" and meant that Roger was supposed to promote the "vitamin company" - in hopes of justifying the future influx of money to be laundered. No money trail??
On page 70 - McNamee said "Kirk and I were good friends.  We took care of each other and did favors for each other," when talking about illegal drug deals and proper compensation. 
This is not too consistent with Mrs. Eileen Taylor-McNamee (soon to be ex) being concerned that Clemens was jeopardizing Brian's integrity as a Trainer with the PEDs, which McNamee 'used' as a reason for keeping the alleged evidence - at his wife's beseeching (per McNamee!).
The "favor" Kirk did was "giving" McNamee thousands of dollars worth of illegal drugs (like GHB and HGH) in exchange for hundreds of dollars worth of "vitamins." 
Radomski was found guilty of money laundering and distribution.
Radomski was also connected to Pete Rose Jr, dealing GHB, in addition to PEDs - which is a proof-positive "link" to McNamee, who used GHB. McNamee used GHB in 2001 during the commission of an assault while in Florida.  He lied to the investigating authorities then.

Chip Somodevilla/Getty Images
Somehow, those concerned with avoiding paper trails found themselves abusing the US Postal Service and shipping controlled substances, with receipts, across state borders and into Texas.  The drugs shipped into the State of Texas were for the use by Texas Residents – which is why the case will remain in Texas.  The shipment receipt alone almost demands the case stay in Texas.
Judge Keith Ellison is taking his time deciding whether to move the venue.  Given that McNamee and Radomski sent illegal drugs into his state - one would think that Texas has a legal interest to be served in all this, as drugs are flooding their borders by way of the mail systems, too. 
Judge Ellison would have to consider the several different McNamee signatures and also consider McNamee's Program with Radomski and how they victimized Texas residents while abusing the US Postal Service. 
In 2005, McNamee was named in the Jason Grimsley Affidavit – as a amphetamine contact. 
             McNamee said he was introduced to Radomski by Jason Grimsley.
In 2005 (the same year Pettitte asked Clemens about PEDs), Grimsley said in his affidavit that McNamee was only an amphetamine contact. After Grimsley introduced them in 2001, Radomski and McNamee became good friends and "ran a program" together.  But McNamee testified that Roger stopped using in 2001. WHERE DID HE GET THE ALLEGED PEDs PRIOR TO RADOMSKI?
The fact that it took until 2001 for McNamee to be introduced into the PED Racket does not do well for McNamee's accusations prior to 2001, and there are no witnesses or "good friends" that can "help" McNamee with the accusations prior to 2001.
Chuck Knoblauch stated in his deposition (p. 8)  that McNamee approached him in 2001 and pushed HGH on him.  Chuck then paid Jason Grimsley in 2001 for HGH – who got the drugs from Radomski by way of McNamee - the Mule - who also administered them.
McNamee had it out for Clemens, but had the goods on Pettitte and Knoblauch - so, why not cash in all the chips at once – go all-in so to speak, especially when busted so badly and having carried a grudge so long?  Our good friends at The Daily News have told us everything having to do with Brian McNamee. We know what he thinks and how sorry they feel for him, and they have given us more false stories from him & other unnamed sources, than it's worth.
Where did the DNA come from? The same shots Dr. Taylor & Tommy Craig gave testimony about giving Roger Clemens in Toronto. The B-12 shots -- the same ones McNamee told Clemens to go to him for instead of the team because "it's what he does (as a "doctor").
Thanks to the Daily News and Richard Emery, we all have a front-row seat to what is going on in the federal investigation and their latest is that "the Feds are looking for witnesses now" – as if they haven't been since 2005.  Maybe the witnesses they are now looking for are supposed to replace the ones they already have: McNamee and Radomski.
Richard Emery ought to be less concerned about how Hardin will treat Andy, and a lot more concerned about Hardin tearing McNamee apart on the witness stand, because he will "have to" answer all of the questions this time and for once, follow through when pressed. 
Hardin's representation was ruled in favor by Judge Ellison and Emery's "motion to dismiss Rusty" was denied. The real courts want fact, not fluff.