MLB Playoff Predictions: Why the Cincinnati Reds Can Shock the Phillies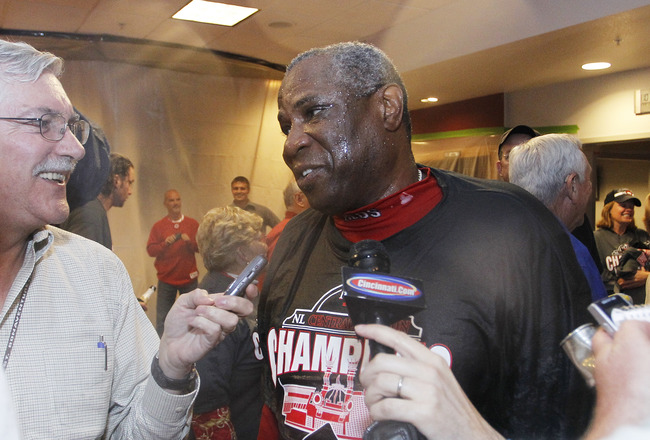 Joe Robbins/Getty Images
The Philadelphia Philles were the proud owners of the NL's best record during the regular season, and hold home field advantage against the Cincinnati Reds in their Division Series playoff matchup, beginning Wednesday.
So why should anyone believe that the Reds, and their recently extended manager Dusty Baker, can topple the heavily phavored Phils?
Oh, let me count the ways.
While we all recognize that Philly has as good a starting rotation as there is in the postseason, led by Roy Halladay, Roy Oswalt and Cole Hamels, the Reds have an impressive, if young, staff of their own.
Plus, they hold an X factor in young gun Aroldis Chapman and his 105-mph fastball.
Bottom line: The pressure is on the Phillies simply because they are expected to win, while the Reds come in loosy-goosy and ready for anything.
So, come join me as I show you why the underdog is not always to be taken lightly in a short series.
Aroldis Chapman Is This Year's Mariano Rivera Circa 1996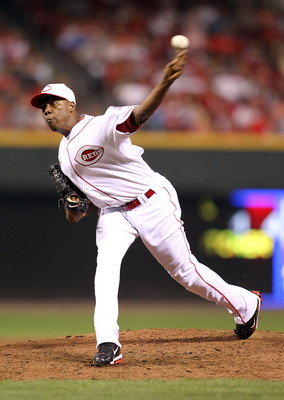 Andy Lyons/Getty Images
Sure, this Chapman fella won't be starting in the series, but as a reliever he has the ability to be pretty dominant either closing out games or setting up in the seventh and eighth innings.
Look, this guy legitimately throws 100+ mph gas and has been clocked as high as 105, the fastest officially timed fastball in MLB history. He topped the then-'roided up Joel Zumaya by just 0.2 m.p.h.
In 1996, Mariano Rivera served as set-up man for closer John Wetteland. Now the '96 Yankees were not exactly the Bronx Bombers. They won primarily on the strength of their pitching. And, like these Reds, you wouldn't exactly say "wow" when you looked at their starters.
In '96 Rivera had a totally ridiculous 1.88 FIP and a WHIP under one. So how does this compare to Chapman and the Reds?
Well, just like those Yanks, once you reach the seventh inning against these Reds in the playoffs, the game is basically over as long as the Redlegs are winning.
While Rivera struck out 10.9 batters per nine innings,Chapman has 12.8 this season.
Now, Rivera threw more than 100 innings in '96 while Chapman threw just 13.1 innings in 2010. So this is no lock, but imagine what impact Chapman would have if he could pitch both the eighth and ninth innings in games throughout the playoffs.
Hey, it's not like Dusty Baker is shy about running pitchers out there, is it?
Call Chapman the "X-factor."
Introducing Your 2010 NL MVP...Joey Votto!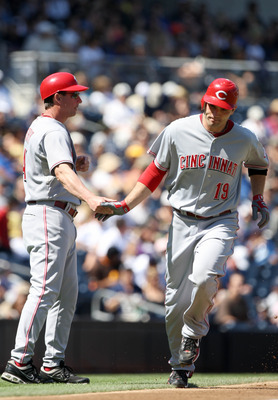 Donald Miralle/Getty Images
This could be just the stage for Mr. Votto to finally shed his relative anonymity, and become the star true baseball fans already know he is.
Votto led the Reds in almost every offensive category and should be the front-runner for the NL MVP, but, as we all know, until you do it on the grandest stage, you are just another Adrian Gonzalez.
Votto hit .324 with 37 homers, 113 RBI and an OBP of .424. And he hits better on the road than at home—and he absolutely kills right-handed pitching.
Against right-handers such a Roys Halladay and Oswalt, this guy should be dominant.
Plus, he's a fly ball hitter who will be playing in a fly ball-friendly park in the majority of games.
Versus Philadelphia, Votto hit .393/.485/.786/1.271 in 28 ABs.
Perhaps the best strategy for Philly is to pitch around Votto.
Pitching Around Votto Won't Guarantee Success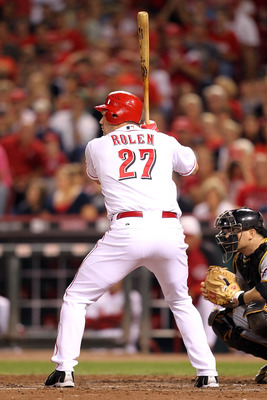 Andy Lyons/Getty Images
While Joey Votto is definitely the Albert Pujols of the Reds, there are other good hitters who can hurt the Phillies if allowed to.
Third baseman Scott Rolen is a proven veteran who wouldn't mind sticking it to his former team. Rolen hit .285 with a .358 OBP and 20 homers, though he cooled off from a very early hot start.
Emerging young star Jay Bruce is another guy you ignore at your own peril. Bruce slugged 25 bombs with a similar OBP.
Rounding out the offense, Brandon Phillips hit for some power, stole some bases, and proved to be a valuable clutch hitter.
Even Drew Stubbs and Jonny Gomes hit for power, though they did not get on base as well.
No Halladay Or Oswalt, but the Starting Pitching Is Better Than You Think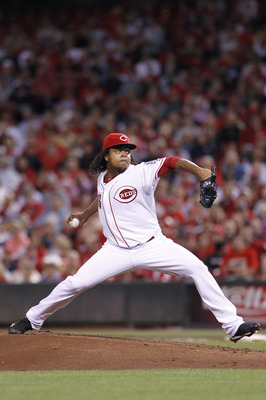 Joe Robbins/Getty Images
The Reds starters are mostly young but talented. Despite Dusty's reputation for not liking young players, he is apparently going with youth over veterans to start the series against Philadelphia.
Game 1 starter Edinson Volquez has come a long way to reach this point.
He had a terrific 2008 season, going 17-6 with a 3.21 ERA, then had surgery, followed by a suspension for a positive drug test.
Yet he ended his 2010 with four consecutive solid starts, allowing six runs over 27.2 innings, striking out 31.
In his first three starts in August, Volquez allowed only three runs in 17.2 IP.
Further, lefties like Ryan Howard and Chase Utley hit only .229 versus Volquez in 2010.
Rounding out the rotation, Bronson Arroyo led the staff in wins with 17, while Johnny Cueto led the team in strikeouts and ERA.
Francisco Cordero saved 40 games, and Arthur Rhodes was terrific with 28 holds.
Aaron Harang and Homer Bailey have higher ERAs, but have good stuff at times, and rookie Mike Leake went 8-4.
The Bullpen Is Solid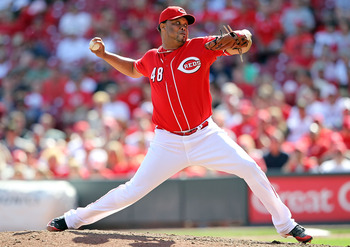 Andy Lyons/Getty Images
As we already mentioned when discussing the impact of Chapman, this bullpen can hold you down if it gets an early lead.
In addition to their newfound weapon in Chapman, the Reds have guys like Nick Masset and Arthur Rhodes, who have performed well in 2010, and can shut down the Phils in the late innings.
Then, once they get to the ninth with a lead, there is Francisco Cordero and his 40 saves. While he has blown eight saves and has not struck out as many as hoped, perhaps Chapman can take his place if needed.
All in all, this is a better bullpen than the Phillies have, in my opinion.
The Pressure Is on the Phillies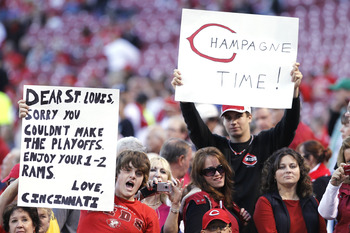 Joe Robbins/Getty Images
The final reason why the Reds have a good shot at winning this series is that they are simply not supposed to.
The Phillies are the favorites. After all, they have home field advantage and the star players.
Names like Howard, Utley, Rollins, Halladay, Werth, and Oswalt are well known. They have the experience, too.
Meanwhile, the Reds don't know they aren't supposed to be here. All the pressure is on Philly. That makes the Reds loose and capable of shocking the world by beating the Phillies.
Believe it.
Keep Reading

Cincinnati Reds: Like this team?