Surprise, Surprise: 10 NFL Players Who Have Raised Eyebrows So Far This Season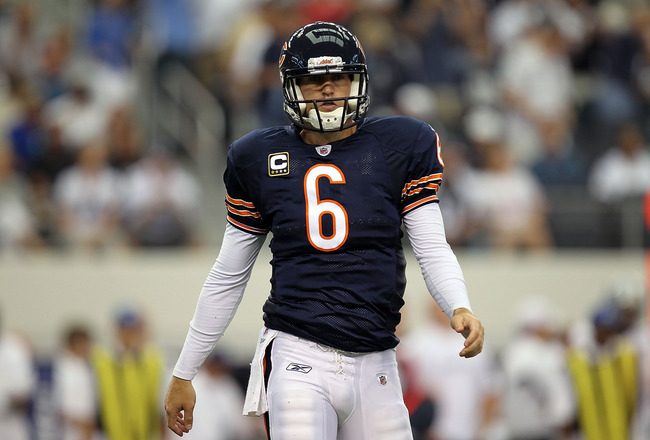 Ronald Martinez/Getty Images
It's only early days in the 2010 NFL season. The players are still fresh from their offseason break, and even though some teams are panicking at the sight of an 0-2 hole, it isn't exactly time to panic for those unfortunate players and teams in the league right now.
Aside from the disappointing storylines that have plagued the recently, behind all of the controversy and tribulation has in fact been a surprising story, particularly in many players' case.
If we all look past Darrelle Revis' hamstring issue, and Brett Favre's lack of performance, some promising signs have been shown by the league's younger talent, especially when it comes to the quarterback and running back position.
Statistically speaking, we have seen it all in the past two weeks. Peyton Manning has continued along his typical impressive streak, and Clay Matthews has had no problem at all rattling a few heads on his way to 6 total sacks.
But was has been more surprising has come the likes of players that no one expected to do well this early on.
So who am I talking about it exactly?
Well as already mentioned, many of these guys are on the offensive side of the ball, but the following Top 10 players should give you all a taste of who has been notably surprising, along with what to expect from each player in the coming weeks.
10. Kyle Orton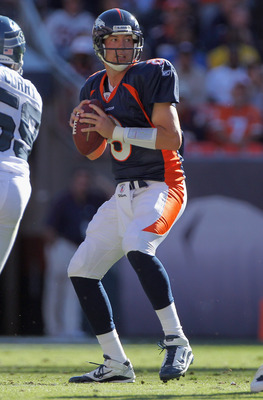 Doug Pensinger/Getty Images
Stats So Far This Season: 602 yards, 3 touchdowns, 1 interception.
Sure Kyle Orton's stats haven't been overly fantastic the past two weeks, but what is important to keep in mind is the fact that he's managed to maintain the starting role, and has also boosted Denver to 1-1 record.
According to analysts alike, Kyle Orton is the main man to watch this week, as he is alleged to be a potential sleeper pick statistically, against the Indianapolis Colts.
Now, as funny as this may seem to some considering that the Colts defense was almost impenetrable against the New York Giants last Sunday night, this theory of Kyle Orton's potential big time game, isn't all that absurd.
Firstly, Kyle Orton seems to have gained some confidence back. Of course he doesn't have the big name wide receiver threat in Brandon Marshall to rely on, but perhaps this is a good thing, considering Orton can now run the offense on his own.
Secondly, Kyle Orton is slowly but surely getting better. In a comparison to Jay Cutler, Kyle Orton was one of the more criticized quarterbacks following 2009, and now that he has stayed out of the media and away from controversy, he finds himself in a much better position.
For those optimistic fans, keep an eye on Kyle Orton this weekend. He's showed signs of having a big game the past two weeks, and maybe there is the slight chance that he breaks free from his chains, and helps the Broncos upset the Indianapolis Colts.
Surprising?
Maybe not as much on the stat sheet, but he has been surprising in terms of performance and reliability early on.
9. Brandon Jackson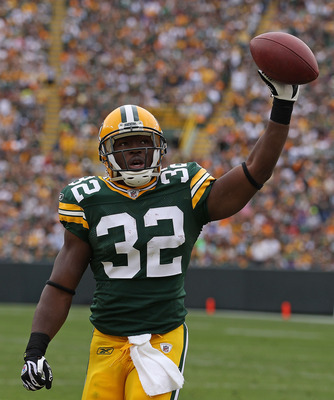 Jonathan Daniel/Getty Images
Stats So Far This Season: 92 yards, 1 touchdown.
Similar to Kyle Orton, Brandon Jackson hasn't had a breakout first two weeks on the stat sheet, yet it is the potential that he shows for the rest of the season that is a little scary.
Since the shock injury of Ryan Grant that saw the Packers lose their starting rusher, young replacement Brandon Jackson was finally granted his spot in the limelight, after years of development under head coach Mike McCarthy.
The one thing that Brandon Jackson has shown in his game and a half as the starting rusher, is speed and determination.
Ryan Grant was never noted as a quick footed rusher, so it is more than just a luxury for Packer fans to see some burst of life out of the backfield.
As for the determination side of things, Brandon Jackson never takes no for an answer. We have seen him on the occasion bouncing off of defenders, and if he keeps this mentality up, he could easily develop a poor start to the season, to a very pleasing one.
Keep an eye on Brandon Jackson this weekend, as the Packers take on the Bears.
This is the type of game that should suit Brandon Jackson, and we may see that determination come into play when he states across the field at Brian Urlacher and Julius Peppers.
Statistically speaking, 92 yards is far from impressive, but at least he has assured Packer fans that the rush game is in safe hands.
8. Jahvid Best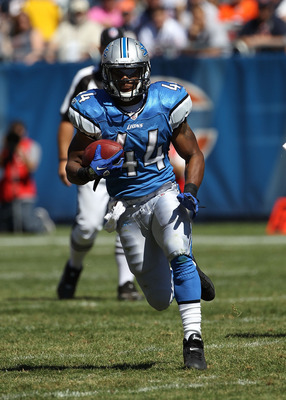 Jonathan Daniel/Getty Images
Stats So Far This Season: 98 yards, 4 touchdowns.
Jahvid Best's rushing abilities have been well and truly noted throughout his College and Professional career, but was has managed to slip under the radar a little is Jahvid Best's receiving skills since his arrival in Detroit this season.
By looking at Jahvid Best's receiving yards, the story is painted. Seeing as though he leads the rookie receiving group with 170 yards and 1 touchdown, Best's hand skills have been extremely surprising this early on in the season.
I guess the best part of this story is that the Detroit Lions now have the back that they have wished for quite possibly since the departure of Barry Sanders some 12 years ago.
To say Best has been surprising may in fact be an insult to his overall skill.
I think just about everybody expected him to excel under head coach Jim Schwartz, and even though his receiving ability has gone a little astray, it is in fact no great news to hear that he has a surefire set of sticky hands.
In the future expect bigger and better things out of number 44. Matt Stafford may not be 100%, but this only further illustrates the point that Jahvid Best now acts as not only a fantastic rusher to have, but also as a second option receiver if the going gets tough.
The Lions take on the Minnesota Vikings this weekend in a tough away game. Detroit may find themselves in an 0-3 hole on the flight home, although don't discount Detroit entirely. With Jahvid Best lighting up, anything is possible.
7. Austin Collie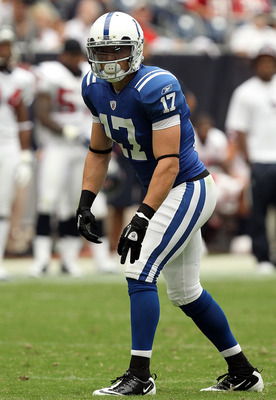 Ronald Martinez/Getty Images
Stats So Far This Season: 188 yards, 2 touchdowns.
Austin Collie was by far one of the few standout rookie wide receivers last season.
Not only was he a part of a Super Bowl runner up side, he also managed to impress head coach Jim Caldwell enough to earn himself an "on again off again" starting role.
When looking down the statistical leaders list under the wide receiver column, the usual names pop up.
Miles Austin sits atop, along with the likes of Chad Ochocinco, Andre Johnson and Colts teammate Reggie Wayne.
However, once you search below these usual standouts, young Colts receiver Austin Collie pops up, in a rather high ranked spot.
To the tell truth here, it is no great secret that Austin Collie is talented. Already this season he has managed to post 188 yards and 2 touchdowns, and even though Peyton Manning is his quarterback, he continues to excel.
And is he a surprising player?
Well to see a rookie hit the ground running after a very impressive first year, certainly allows him to qualify under this regard.
The future looks bright for Collie, and more importantly the Colts receiving game is set for many more impressive years.
Perhaps by season's end we won't be surprised by Collie, as we will be used to his dominant play, but still, he has raised a few eyebrows once again this season.
6. Jason Allen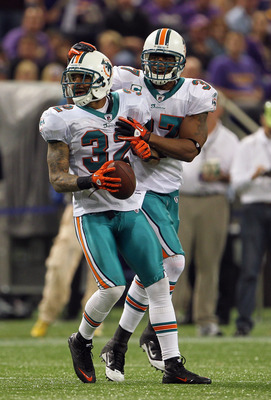 Jamie Squire/Getty Images
Stats So Far This Season: 17 tackles, 2 interceptions.
Finally a defensive player breaks this list, and what better way to celebrate the Miami Dolphins 2-0 record by taking a look at surprising yet outstanding cornerback, Jason Allen.
When you think of big-name cornerbacks, the usual likes of Charles Woodson and Darrelle Revis come to mind. But as casual as this is for most fans, Jason Allen finds himself ahead of both of these guys so far this season, especially on the stat sheet.
What has been impressive about Jason Allen is his play. Already he has racked up two interceptions for the Miami Dolphins, and even though this isn't totally out of character for him, it is a little abnormal considering his pickless season last year.
Right now you could easily say that the entire Dolphins team is a surprise. They were listed as sleeper picks during the offseason, and now that they have knocked off both Buffalo and Minnesota, the team looks dangerous.
As for key players, Jason Allen is definitely one. He's been a force for the Dolphins so far, and the picture above really does tell a thousand words. This is a happy player, and two interceptions is what the Dolphins need right now from a surprising player.
5. Michael Vick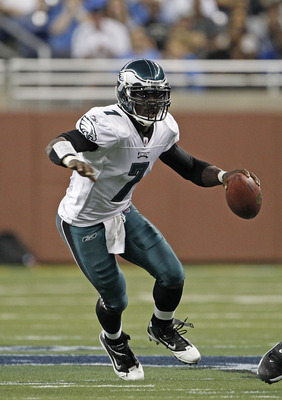 Leon Halip/Getty Images
Stats So Far This Season: 459 yards, 3 touchdowns.
Michael Vick has certainly impressed just about everybody so far this season.
Similar to Brandon Jackson's story, since the concussion of Kevin Kolb, Michael Vick was thrown into the starting role during halftime against the Green Bay Packers two weeks ago. What went on to unfold though wasn't what we expected, as Michael Vick performed exceptionally well.
Unfortunately for Michael Vick at the present time though, he does face some quarterback controversy in Philadelphia, no matter how much Andy Reid states that there is no problem at hand.
The first issue that arises is of course Kevin Kolb. It appeared that Kolb would be given a second chance this week against the Jacksonville Jaguars, only to be swapped last minute and replaced by Michael Vick.
So when will Kevin Kolb get that second opportunity? We'll have to wait and see.
The second issue for Vick is expectation. As Donovan McNabb so kindly stated, nothing short of a Super Bowl is good enough for Eagle fans, so perhaps Vick has dug himself a minor hole by performing so explosively in the opening two weeks.
But now matter which way you look at the situation, Michael Vick has been a huge surprise.
After three years away from the game, to come back and play with the same intensity and skill level is amazing, especially for a quarterback who is entering his older years in the league.
In all reality, Michael Vick will continue to excel this season, and the Eagles will depend on him a lot.
Posting 459 yards in two weeks is great for a player that has suddenly been faced with the starting burden, and what a surprise Michael Vick has treated us all to.
4. Darren McFadden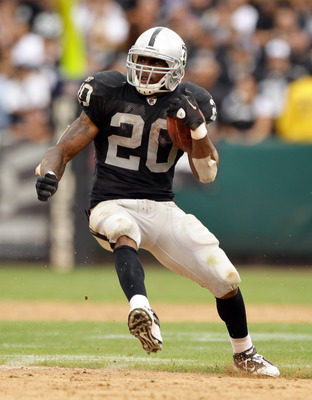 Ezra Shaw/Getty Images
Stats So Far This Season: 240 yards, 0 touchdowns.
It's a surprise in itself to find an Oakland Raiders player in the Top 5 on this list, but there is simply no denying how good Darren McFadden has looked as of late this season.
Since the start of his 2010 campaign, Darren McFadden has accumulated for 240 yards.
Although he is scoreless, he has been one of the few bright lights to come from Oakland recently, especially since Jason Campbell has been struggling as of late.
But with this all in mind, why is Darren McFadden such a surprise player right now?
To be quite frank, Darren McFadden was starting to look like a potential draft bust by the end of the 2009 season.
With 12 games under his belt and only 357 yards and 1 touchdown, Darren McFadden was struggling to maintain his explosive name that followed him in the NFL during his rookie season.
However, for the time being, it seems all of that pressure has been alleviated.
In terms of surprising stories, Darren McFadden has come out all guns blazing for a team that is notably lacking confidence, talent, skill and quite possibly, good coaching.
For the Raiders this is great news, but for McFadden fans it is even better.
It seems now that is career is back on the safe side, and even if it is only early days, already he has nearly topped his overall yards mark from a season ago.
If he keeps this pace going he should crack the 1,000-yard mark this season, and barring any injuries, may join the likes of Nnamdi Asomugha to be one of the few great players on the Raiders roster.
3. Donovan McNabb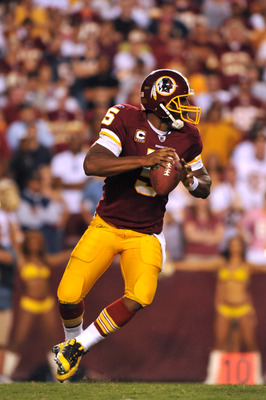 Larry French/Getty Images
Stats So Far This Season: 597 yards, 1 touchdown.
Before anyone tries to criticize Donovan McNabb's stats, I suggest you take a look at how accurate he has been during his first two weeks in Washington, seeing as though he led the team to a win over the Dallas Cowboys, and an overtime loss to the Houston Texans.
Ah, Donovan McNabb, what would be do without you?
Sure, he has been questionable, but at least for now he has lived up to the hype, and has really payed dividends for the Redskins as a team.
When it comes to whether or not Donovan McNabb is a surprise, it is fair to say that he has seemingly knocked the socks off of a few fans.
Many people wrote ol' No. 5 off for this season, stating that he "simply didn't have the talent to handle a struggling team."
Fortunately for McNabb, he has proven all of the haters wrong so far, and the Redskins seem to have a new outlook on life, as confidence and a new found happiness has swept over Mike Shanahan's men.
If the stars align and all things go to plan, hey, the Redskins could actually win the NFC East or make the Wildcard this season. After all, the Cowboys are 0-2, and it's not like the Eagles and Giants look any better.
Much of this new look team is partially due to Mike Shanahan and other players, but there's no doubt McNabb's leadership and experience has accounted for a lot.
He's surprised just about everyone, and now that he is doing well, people seem to appreciate him a whole lot more. Let's hope this show continues, as McNabb can be really fun to watch when he is hot.
2. Arian Foster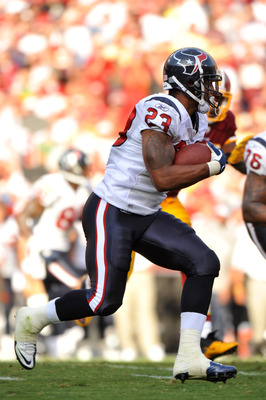 Larry French/Getty Images
Stats So Far This Season: 300 yards, 3 touchdowns.
There's no greater joy than seeing a second-year player make a bang in his first-ever start in the NFL.
Thinking back four months ago, no one expected to see much of Arian Foster, but that was of course before rookie Ben Tate went down injured.
From the very get-go, Arian Foster looked dominant. He was the main factor that pushed the Houston Texans over the edge against the Indianapolis Colts, and his big time effort won the hearts of Houston faithfuls nationwide.
Now, although Arian Foster didn't have as bigger game against the Washington Redskins as he did against the Indianapolis Colts, he did help Houston immensely on their final drive toward kicking the game winning field goal.
Aside from what Arian Foster has done though, it's what he may do in the future that has defenses shaking in their boots.
Firstly, this guy is fast, and secondly, he can really break tackles. It's a combination that the Texans love, and Gary Kubiak has utilized him nicely.
To see a breakout player like Foster explode from nowhere is perhaps the biggest surprise of the season.
If he somehow goes on to be a part of a Super Bowl-winning Texans team this year, well it will certainly be due partially to his efforts.
For now, acknowledge what Foster has been able to accomplish, it's surprising, yet so promising at the same time.
1. Jay Cutler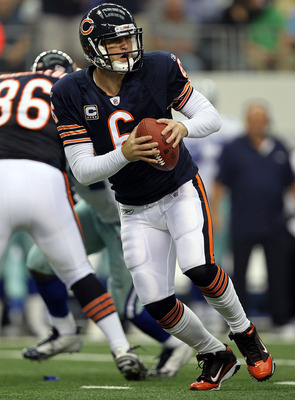 Ronald Martinez/Getty Images
Stats So Far This Season: 649 yards, 5 touchdowns, 1 interception.
From being on the hot seat in Chicago, to being praised by faithful Bear fans, Jay Cutler has turned his 2009 misfortune around this season, and has already delivered the Bears 2 wins in so far this year.
Thinking back to last season, Jay Cutler looked simply awful. He threw pick after pick, and never portrayed even the slightest amount of chemistry with his receivers, even when weaker teams popped up on the schedule.
But boy, how things have changed.
Okay, so we are only two weeks into the season, still, there is no denying that Cutler has surprised us all so far, right?
Exactly.
Going forward, Jay Cutler should gain confidence from all of this. He's proven that he doesn't need the best of receivers to get the job done, and although running back Matt Forte has carried the load well, Cutler has stood up as the team leader under head coach Lovie Smith.
This Monday night the Bears get a big time test against the Green Bay Packers at home. Not only is this a classic rivalry, it's a game that Cutler has notably struggled in, as he looks to redeem himself for last years double loss to the men in green and gold.
Can he do it?
Looking at his form there's no reason he can't. For the time being though, Jay Cutler has been the most surprising player to come from the league this season, and after his poor 2009 year, he looks to continue along this path.
Keep Reading

Chicago Bears: Like this team?