Dexter McCluster and the 2010 NFL Draft's 10 Best Bargains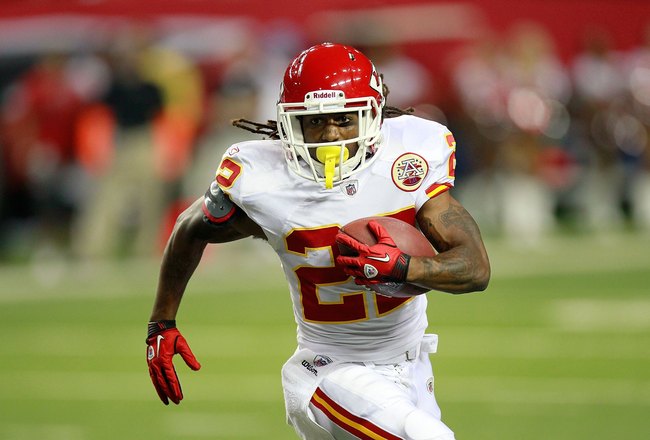 Kevin C. Cox/Getty Images
When the Kansas City Chiefs picked Dexter McCluster early in the second round, many pundits were puzzled. The Chiefs had a good young running back, they said, and McCluster would be available later in the draft.
Monday night against the Chargers, McCluster proved to the doubters why he was worth a high pick, as he returned a San Diego punt 94 yards for a score in Kansas City's 21-14 win.
With his size, speed, and versatility, McCluster appears to be quite the value pickup for the Chiefs. But was he the biggest steal in the draft? Based off a combination of current production and potential, here is a list of the 10 guys who will end up being steals in the 2010 rookie class.
10. Golden Tate, WR, Seattle Sehawks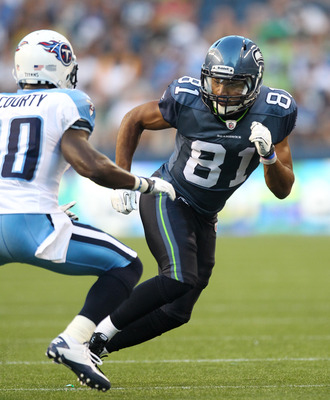 Otto Greule Jr/Getty Images
It's not every day that a defending Biletnikoff award winner falls into your lap in the late second round, but that's precisely what happened with Tate and the Seahawks. He's not the fastest wideout ever, and he needs to improve his route running skills, but given some time he'll turn into an elite wideout in the NFL.
Tate was recruited as a running back out of high school but was switched to wide receiver with his build. He's still learning the position and has mentioned that he's struggling with the complexities of the NFL game. He mentioned similar problems during his tenure at Notre Dame but eventually became the Biletnikoff award winner.
Expect a similar career arc in the NFL, assuming the Seahawks give him a chance. Maybe Pete Carroll remembers Tate torching his Trojans for 119 yards and two touchdowns last year and holds a grudge. If he doesn't remember, maybe he should; it might get Tate on the field.
9. Jimmy Clausen, QB, Notre Dame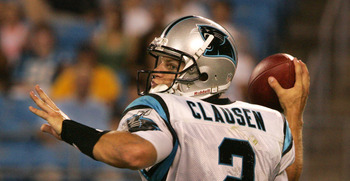 Mary Ann Chastain/Getty Images
Much like his Irish teammate Tate, quarterback Jimmy Clausen fell further down the board than most analysts predicted. The Panthers, who have needed a young franchise quarterback for some time now, snapped Clausen up with the 48th pick of the draft.
Clausen has a strong arm and good accuracy, but he's smaller than most NFL quarterbacks. Given the way current Carolina starter Matt Moore played in Week 1 (182 YDS, 1 TD, 3 INT), Clausen could find himself starting sooner rather than later.
8. Aaron Hernandez, TE, New England Patriots
Jim Rogash/Getty Images
Hernandez was arguably the best pass-catching tight end in the 2010 Draft, and the former Florida Gator showed it on Sunday, hauling in a 45-yard Tom Brady pass in the Patriots 38-24 win over the Bengals on Sunday.
Hernandez wasn't the first tight end off the board (Jermaine Gresham to the Bengals), or even the first one taken by his team (the Patriots selected fellow upside tight end Rob Gronkowski in the second round), but he's got good hands, great speed, and the size to make him a tough player to tackle.
7. Rob Gronkowski, TE, New England Patriots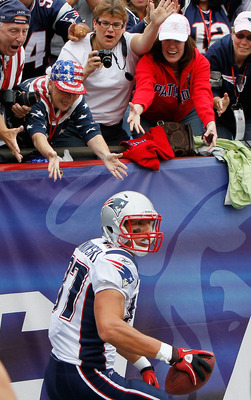 Jim Rogash/Getty Images
Gronkowski caught just one pass in Week 1 for one yard. But that single yard was enough to give him a touchdown, which places him higher on this list than his fellow rookie. Gronkowski is the more complete tight end, with better blocking skills than Hernandez. He's a great receiver, but not quite as good as Hernandez was.
Still, his balanced game makes him more of a steal than the former Gator was.
6. T.J. Ward, S, Cleveland Browns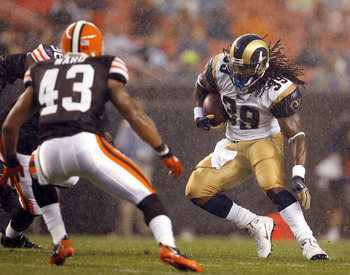 Matt Sullivan/Getty Images
Ward showed why the Browns felt comfortable using a second-round pick on him, as he racked up 11 tackles and a forced fumble in Cleveland's Week 1 loss to the Buccaneers.
Ward had health issues in college but proved on Sunday that he was well worth the second-round pick. If he can stay healthy in Cleveland, they'll have gotten a first-round caliber player for a second round price.
5. Brandon LaFell, WR, Carolina Panthers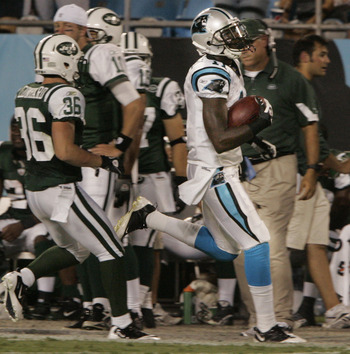 Mary Ann Chastain/Getty Images
LaFell may finally be the answer to the Panthers' wideout woes, and he grabbed a pair of receptions for 22 yards against the Giants on Sunday. He's got good speed, size, and hands, and he is a character guy, meaning if he pans out, the Panthers got a steal by nabbing him in the third round of the draft.
4. Nate Allen, S, Philadelphia Eagles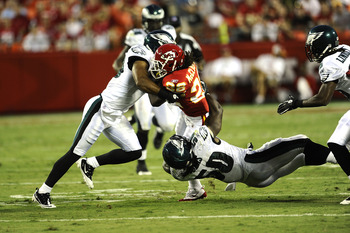 G. Newman Lowrance/Getty Images
Allen, shown here tackling Dexter McCluster, is a big, rangy safety from South Florida. He's a hard hitter and has already pulled down an interception in 2010. He projects as a solid safety, who can be the defensive leader the Eagles need him to be.
3. Jordan Shipley, WR, Cincinnati Bengals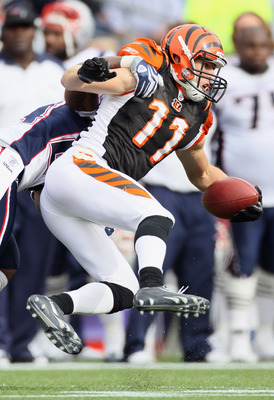 Elsa/Getty Images
Shipley was the best wideout Texas had in 2009, yet the 5'11" receiver saw his height drop him down the board to the third round. He's got good speed and excellent hands, making him the perfect slot receiver. He's proven to be incredibly valuable to the Bengals' efforts already, having racked up 81 yards on five catches in Week 1 against the Patriots. On an offense with big name wideouts, he could end up being the most valuable of them all.
2. Dexter McCluster, WR/RB, Kansas City Chiefs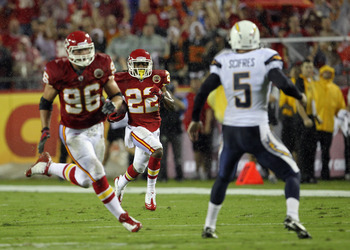 Jamie Squire/Getty Images
McCluster's biggest asset is his versatility. He can line up at running back, wide receiver, and is going to be one of the better kick returners in the league this year. He's already flashed his return skills; it's only a matter of time before he shows what he can do on offense, as well.
1. Mike Williams, WR, Tampa Bay Buccaneers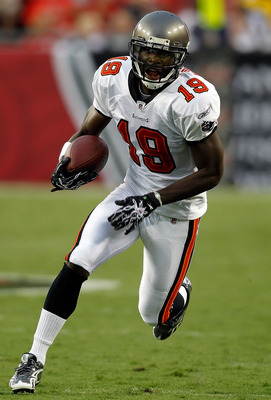 J. Meric/Getty Images
Williams was written off as a head case after he quit Syracuse's football team midway through the 2009 season. That being said, he's got more upside than any receiver in his class, with the size, speed, atheltic ability, and hands to be an elite wideout.
He flashed some of that potential on Sunday against the Browns, racking up five receptions for 30 yards and a touchdown. If he keeps his head on straight, he could be a fantastic steal, considering the Bucs got him in the fourth round.
Keep Reading