The Year Of The NL Rookie: 13 Rookies With A Shot At The ROY Award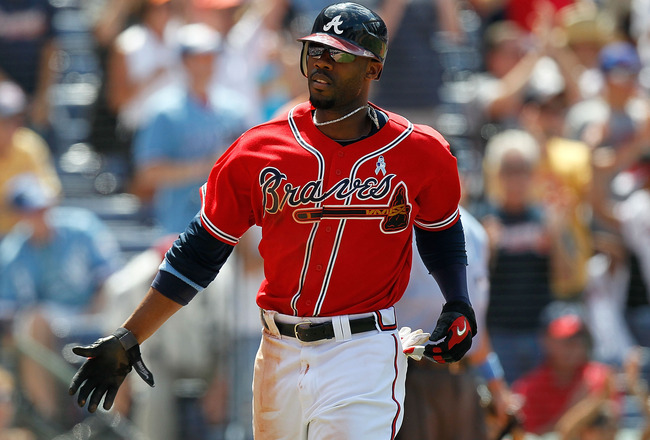 Jason Heyward was an early favorite for NL Rookie of the Year award.
Kevin C. Cox/Getty Images
In 2010, we've witnessed five no-hitters (two perfect games), it would be six (three perfect games) if you include the infamous Armando Galaragga blown call. It has been dubbed 1968 all over again, the Year of the Pitcher. It is a deserving name for this season but another phenomena has hit MLB, the emergence of countless NL rookies leading their teams as their present and future.
The American League is really thin on rookie talent with only Detroit rookies Austin Jackson and Brennan Boesch along with Rangers All-star closer Neftali Feliz are considered serious candidates for that award in the AL.
The National League race this season is sort of reminiscent of the 2007 race with featured Ryan Braun, Troy Tulowitzki, Hunter Pence, Chris Young, Kyle Kendrick, James Loney, and Yunel Escobar as great candidates for the Rookie of the Year award.
The '07 class was stronger at the top but the 2010 class has a broader field of legitimate candidates who will need a string of clutch performances down the stretch to emerge victorious amongst rookies in the National League.
Here are the 13 National League rookie candidates and their credentials for a Rookie of the Year award in 2010...
Jason Heyward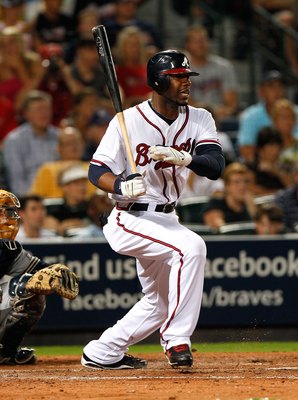 Kevin C. Cox/Getty Images
Jason Heyward, as known as the "J-Hey Kid", was an early favorite for Rookie of the Year honors especially after having an outstanding April and May, hitting 10 HRs and with 38 RBIs.
Yet, injuries plagued Heyward in June and he went on the disabled hit with a thumb injury which gave other rookies a look at while he was out. Heyward bounced back in July with a .356 batting average but hit no HRs. He may be enduring a power outage, but if the Atlanta Braves are to contend without Chipper Jones, Heyward needs to come up big. If he does, he finds himself as a finalist for Rookie of the Year honors.
Statistics (thru Friday, August 13th)
Batting Average: .262
Home Runs: 12
RBIs: 51
Stolen Bases: 8
Doubles: 23
OPS: .828
BA/RISP: .300
Games: 95
Gaby Sanchez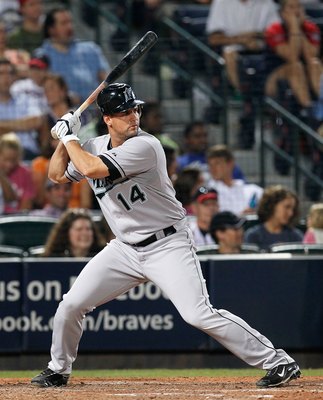 Kevin C. Cox/Getty Images
Gaby Sanchez has silently been a great candidate for Rookie of the Year honors. He has been the Marlins first baseman since the start of the season and is at the top in almost every category (batting average, home runs, and RBIs).
While Jason Heyward struggled in June, Gaby Sanchez emerged, hitting .375 with 4 HRs and 16 RBIs. He has been the steadiest player in the Marlins lineup and will need to deliver for the Marlins if they have any shot of making the playoffs in a crowded Wild Card race in the NL. Sanchez currently leads NL rookies with a .290 batting average (in terms of number of qualified plate appearances).
Statistics (thru Friday, August 13th)
Batting Average: .290
Home Runs: 12
RBIs: 53
Stolen Bases: 5 (0 caught stealing)
Doubles: 27
OPS: .809
BA/RISP: .336
Games: 106


Jaime Garcia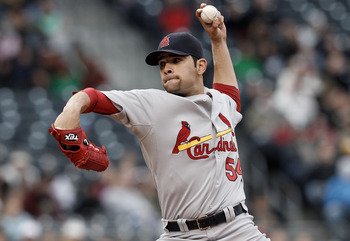 Jared Wickerham/Getty Images
While much of the early season hype was on Jason Heyward for rookie of the year, Garcia has been was of the better pitchers in the year of the pitcher in MLB. Garcia is the third best pitcher in the Cardinals starting staff behind Adam Wainwright and Chris Carpenter but would be an ace in most rotations right now.
Garcia had a Cy Young worthy first half with a 2.17 ERA and a 8-4 record but has cooled off post all-star with a 4.73 ERA. If the Cardinals win the division or wild card for that matter, Garcia will get a big boost in the voting.
Statistics (thru Friday, August 13th)
W-L Record: 10-5
ERA: 2.71
Strikeouts: 99
WHIP: 1.31
OP/BA: .241
Innings: 126 1/3
Buster Posey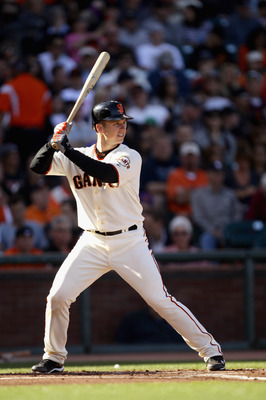 Ezra Shaw/Getty Images
Buster Posey had done something even established major leaguers this season can't seem to do in the National League and that is hit. Posey has a batting average hovering around the mid .300s and in the Year of the Pitcher, predominately in the National League, a .322 batting average is good for first.
Posey has had a 21 game hitting streak to add to his candidacy including a stretch in early July where he hit .514 (19 base hits), 6 HRs, and 13 RBIs which set rookie records for a stretch of 10 days.
Buster Posey may have come up latter than the majority of the candidates for Rookie of the Year but he is a catcher which is a big plus when it comes to voting. Now he did play some first base but he has seen all of his time at catcher since the trade of Bengie Molina. If San Francisco Giants make the playoffs, they sure should thank their rookie catcher Buster Posey for getting there.
Statistics (thru Friday, August 13th)
Batting Average: .331
Home Runs: 8
RBIs: 41
Doubles: 13
Triples: 2
OPS: .885
BA/RISP: .349
Games: 65
Ike Davis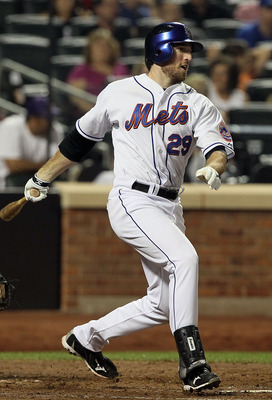 Jim McIsaac/Getty Images
Like another fellow rookie first baseman with the Marlins (Gaby Sanchez), Ike Davis has been up with his team, the New York Mets since April and did come on to scene with a nice start. Davis hit .324 with a home run and six RBIs in 34 at-bats in April. Yet, Davis has cooled off a bit since then which may hurt his candidacy. The Mets were also surging in the early months but like Davis cooled off and it doesn't give him much of a boost.
Yet, Davis is in playing in New York of the toughest places to play for a player and if his bat gets hot in late August and September, Davis could find himself as a favorite for the Rookie of the Year award.
Statistics (thru Friday, August 13th)
Batting Average: .251
Home Runs: 15
RBIs: 54
Doubles: 21
OPS: .760
BA/RISP: .275
Games: 100
Stephen Strasburg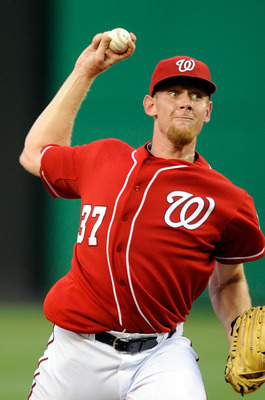 Greg Fiume/Getty Images
You can't forget about Stephen Strasburg for Rookie of the year candidacy. After all he came up which much hype and has since performed admirably. Yet his delayed call-up, trip to the disabled list, and rough start could hurt his chances. One things for sure, hype will be on his side, because most baseball fans know his name and it will improves his chances.
Strasburg should get a few votes when it comes time to vote for the rookies but if he is limited down the stretch all he can hope for is one of these no-hitters showing up on his night or day and hope for the best. The number of starts and innings for that matter logged in by Stephen Strasburg is a big factor no matter what.
Statistics (thru Friday, August 13th)
W-L Record: 5-3
ERA: 3.07
Strikeouts: 79
WHIP: 1.13
OP/BA: .225
Innings: 58 2/3
Mike Stanton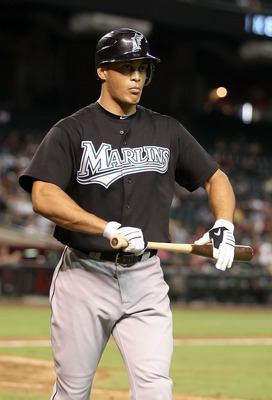 Christian Petersen/Getty Images
Like Stephen Strasburg, Marlins outfielder Mike Stanton made his debut the same day as him (June 8, 2010) but his debut never amounted to the hype that Strasburg got. Stanton went 3 for 5 in his debut with two runs scored. He would go on to struggle but he has since regained his form that he showed in the minor leagues where he had 21 HRs at the time of his callup.
If you were to count his minor league numbers with his major league numbers he would have 33 HRs trailing Jose Bautista with 36 HRs, that's pretty impressive. The other thing is he has only played for two months and yet has as many home runs as Jason Heyward and teammate Gaby Sanchez. Games played might hurt him but if he keeps it up Stanton could prove to be the leading contender for the ROY award.
Statistics (thru Friday, August 13th)

Batting Average: .260
Home Runs: 12
RBIs: 37
Stolen Bases: 4
Doubles: 14
OPS: .869

BA/RISP: .302
Games: 53
Chris Johnson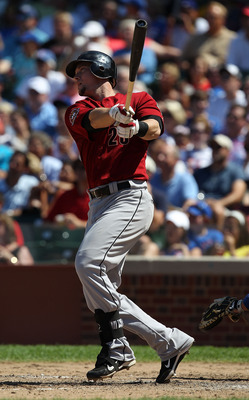 Jonathan Daniel/Getty Images
The other Chris Johnson, not the running back, has been the hottest player in MLB the past few weeks and the bright spot for the Houston Astros falling the trades of their franchise players (Roy Oswalt and Lance Berkman). Johnson may have a great chance for the award as well if his batting average stays where it is now and the production keeps on going like the Energizer Bunny.
Again, games played might be his biggest enemy like some others vying for the award but if he can keep it up, espically in the Year of the Pitcher, why not?
Statistics (thru Friday, August 13th)

Batting Average: .361
Home Runs: 5
RBIs: 33
OPS: .936
Doubles: 12
BA/RISP: .419
Games: 48
Jonathan Niese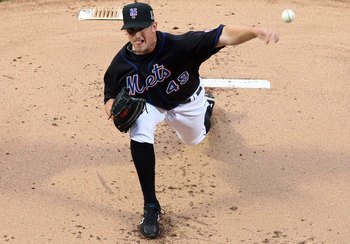 Jim McIsaac/Getty Images
Jonathan Niese promises to be a solid pitcher for many years to come and has put up solid numbers this season, including pitching a one-hitter for the Mets early this season. The dreaded no-hitting curse for the Mets continues. Niese has been up and down with the Mets since 2008, but has not logged enough innings to qualify as a rookie. Therefore Niese is a third year rookie but a good one for a shot this season.
Niese has perhaps been overshadowed by another rookie, his teammate Ike Davis which hurt his chances but being a pitcher has its advantages and a string of good starts until seasons end sure can't lower his chances at ROY honors. Still Niese has some shot at the award and this is what his has done thus far:
Statistics (thru Friday, August 13th)
W-L Record: 7-5
ERA: 3.50
Strikeouts: 100
WHIP: 1.36
OP/BA: .262
Innings: 126
Tyler Colvin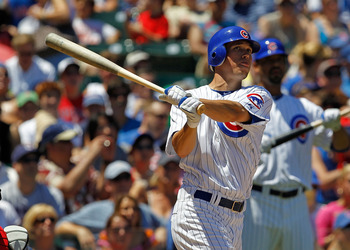 Jonathan Daniel/Getty Images
If Tyler Colvin wins Rookie of the Year it'll be because of his power. He currently leads all NL rookies in that category, second on his team behind Alfonso Soriano's 19 HRs. His power bat could be a major plus in considering him for award in a dominant pitching season.
Colvin has been a bright spot with the Cubs this season with the struggles of Derrek Lee and Aramis Ramirez, the lost season, and confrontations involving Carlos Zambrano. Colvin should be a fixture in their lineup for many years to come and if he can get on a run towards the end of this season, he puts himself in favorable territory for the award.
Statistics (thru Friday, August 13th)
Batting Average: .254
Home Runs: 18
RBIs: 42
OPS: .831
Doubles: 14
Stolen Bases: 4
Games: 105
Starlin Castro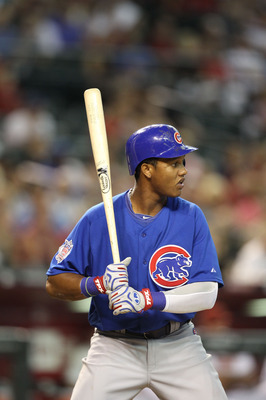 Christian Petersen/Getty Images
From another Cub rookie to another, Starlin Castro has been quite the spark plug for the Chicago Cubs on a dreadful season. Castro broke in with the Cubs in early May and did it in great fashion with a three run home run in his first career at bat and bases clearing triple giving him 6 RBIs in his debut which is a MLB record for a player in the modern era.
Castro's bat has heated up in past couple of months, hitting .358 combined in July and August and .389 since the All-Star break. While his team may not be quite as hot, Castro on the other hand is and if he continues his run he'll make for an intriguing and close ROY voting in the National League.
Statistics (thru Friday, August 13th)

Batting Average: .320
Home Runs: 3
RBIs: 37
OPS: .804
Doubles: 21
Triples: 3

Stolen Bases: 6
BA/RISP: .278
Mike Leake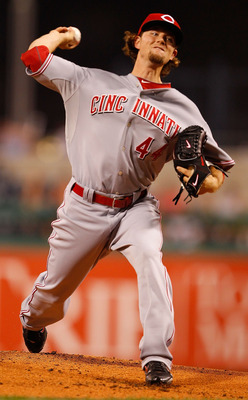 Jared Wickerham/Getty Images
For the first couple of months of the season, Mike Leake was challenging division rival pitcher and rookie Jaime Garcia for ROY honors as he had a 2.57 ERA and a 4-0 record but has cooled off a bit in recent months.
What impresses most about Leake is that he came up to the majors without even touching the minor leagues and the fact that he pitched the way he did really had many people amazed. Leake has ran into a little trouble but a turn around in the way of a division crown and clutch performances could help Leake's credentials for the award.
Statistics (thru Friday, August 13th)
W-L Record: 7-4
ERA: 3.75
Strikeouts: 80
WHIP: 1.43
OP/BA: .283
Innings: 129 2/3
Pedro Alvarez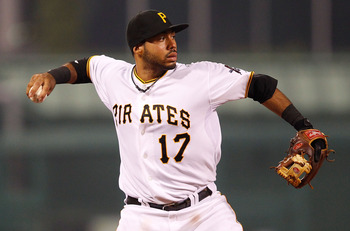 Jared Wickerham/Getty Images
It doesn't help that he plays for the Pittsburgh Pirates and that they are currently owners of the worst record in baseball but Pedro Alvarez has finally emerged in recent days with his bat that has put him into the fray with the others for a shot at the NL ROY award.
Alvarez recently had a streak of an RBI in seven straight games and hit a few home runs in that span as well. He is a cornerstone of the Pirates future and lets hope his bat can heat up to help this dreaded franchise mired in a losing tradition since Barry Bonds left in the early nineties. Games played will hurt Alvarez but any season ending hot streak will draw voters to you.
Statistics (thru Friday, August 13th)
Batting Average: .239
Home Runs: 10
RBIs: 32
OPS: .831
BA/RISP: .261
Games: 49
Keep Reading