The NFL's Top 15 Quarterbacks: 2000-2009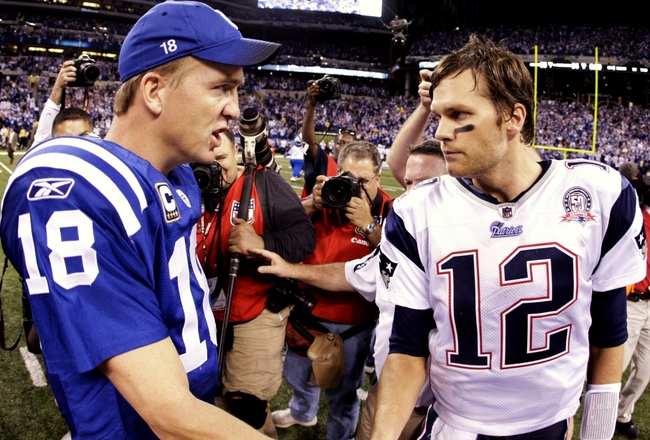 For the last few months I have been ranking the decades best at each position.
I have saved the biggest position for last, quarterbacks.
This ranking is for how they did from 2000 through last season.
For RBs and WRs I had chose to use the 1999 post season in my stats, since it actually happened in 2000, but that caused a stir so I have decided to exclude that from the QB rankings, but I will give Kurt Warner and Steve McNair a little asterisk for their heroics in that January and February.
I have taken into account all meaningful stats, along with wins and losses and post season performance, but none of these things on their own will boost a player to the top, and since it is an "All-Decade" ranking time served will count towards your contribution for the time period.
The Top 5 alone represent 11 of the 20 Super Bowl starts and eight of the 10 All-Pro selections for the decade.
There were two players who didn't qualify because of the 64 starts I have required at every position, they are Rich Gannon and Tony Romo. This is the only reason they were left off the list, and I seriously considered adding Gannon, but I made the rule so I have to stick to it.
The guys who just missed the list include Brad Johnson, Carson Palmer, Jake Plummer, and Chad Pennington.
I will sum up all the rankings up and include my special teams selections next week in my All-Decade team.
So without further ado, here are my top 15 QBs for the decade that was.
11-15. E. Manning, J. Delhomme, T. Green, D. Culpepper and J. Garcia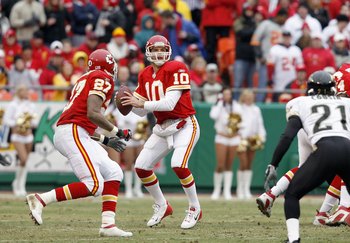 I was going to leave this list at ten, but I realized there are some arguments that could be made for these five versus numbers eight, nine and 10.
10. Philip Rivers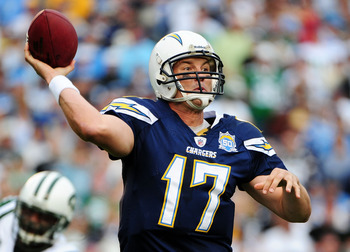 Regular season stats—46-18 as a starter, 106 TD, 45 INT, 14,951 yards, 63.1 completion percentage, 7.8 YPA and a 95.6 QB rating.
Post season stats—3-4 as a starter, eight TDs, nine INTs, 1,820 yards, 79.2 QB rating.
Rivers has been an outstanding regular season performer and has been to two Pro Bowls, but has to improve his post season stats before he can climb the list.
9. Matt Hasselbeck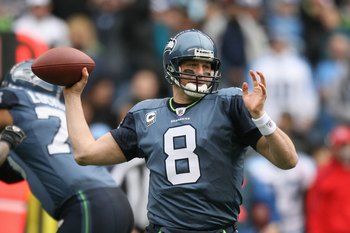 Regular season stats—63-54 as a starter, 163 TDs, 111 INTs, 26,573 yards, 60.2 completion percentage, 6.9 YPA and a 83.3 QB rating.
Post Season stats—4-5 as a starter (0-1 in Super Bowls), 11 TDs, eight INTs, 2,211 yards. and a 79.9 QB rating.
Hasselbeck has been to three pro Bowls and led the Seahawks to five straight playoff appearances. If you have been watching football as long as me, you know that is quite an accomplishment in Seattle.
8. Steve McNair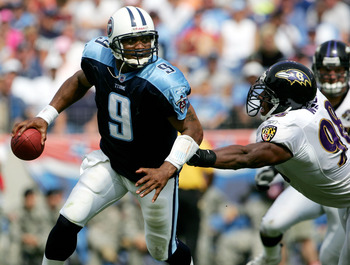 Regular season stats : 62-42 as a starter, 124 TDs, 83 INTs, 21,466 yards, 62.6 completion percentage, 7.2 YPA, 83.9 QB rating, 1,831 rushing yards and 15 TDs.
Post season stats—2-4 as a starter, five TDs, nine INTs, 1,250 yards and a 66.5 QB rating.
McNair was a three-time Pro Bowler and the 2003 MVP, his post season stats are pretty bad for this decade but were much better in the last decade including in early 2000 when he led the Titans to their only Super Bowl appearance.
7. Brett Favre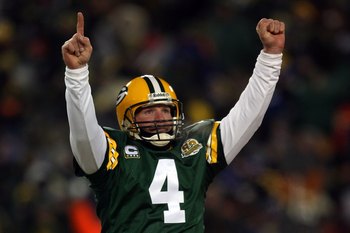 Regular season stats—99-61 as a starter, 262 TDs, 176 INTs, 38,435 yards, 62.9 completion percentage, 7.1 YPA, 86.8 QB rating.
Post season stats—4-6 as a starter, 19 TDs, 18 INTs, 2,465 yds and a 87.4 QB rating.
Favre would probably be my No. 1 QB for the 90s so it is impressive he even made this list. He is a six-time Pro Bowler and has led two different teams to a Championship Game this decade.
6. Donovan McNabb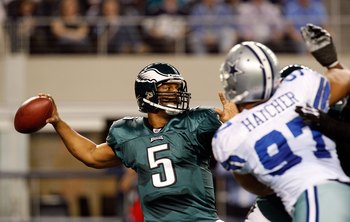 Regular season stats—90-45-1 as a starter, 208 TDs, 93 INTs, 31,925 yards, 59.5 completion percentage, 7.0 YPA, 87.1 QB rating, 2,936 yards rushing and 28 rushing TDs.
Post season stats—9-7 (0-1 in Super Bowls) as a starter, 24 TDs, 17 INTs, 3,725 yards, 80.0 QB rating, 422 yds rushing and 4 TDs.
Mcnabb is one of the least appreciated QBs in the league, but there is little doubt he was one of the best this era. He has been to six Pro Bowls and has led the Eagles to the NFC Championship Game five times.
5. Ben Roethlisberger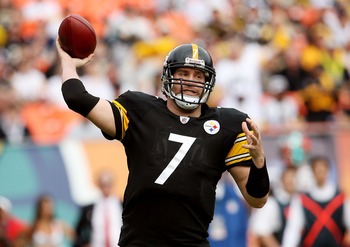 Regular season stats—60-26 as a starter, 127 TDs, 81 INTs, 19,302 yards, 63.3 completion percentage, 8.0 YPA, 91.7 QB rating and 12 rushing TDs.
Post season stats—8-2 (2-0 in Super Bowls) as a starter, 15 TDs, 12 INTs, 2,239 yards, 87.2 QB rating and one very important tackle.
Oh Ben, this placement will surely get me some grief from both sides of the fence, but this is where I think he belongs.
His percentages are great, he has had clutch performances, and he has also had the help of one of the best defenses around. He has been to a Pro Bowl and was the 2004 Rookie of the Year.
4. Kurt Warner
Regular season stats—54-46 as a starter, 157 TDs, 115 INTs, 27,952 yards, 65.7 completion percentage, 7.8 YPA and a 93.5 QB rating.
Post season stats—6-4 (0-2* in Super Bowls) as a starter, 23 TDs, 10 INTs, 66.9 completion percentage, 2889 yards and a 102.9 QB rating.
This decade Kurt Warner has an MVP award, three Pro Bowl appearances, one All-Pro selection and has led two teams to Super Bowls. His post season stats are phenomenal, and if we had included that 1999 post season he would have had to be bumped up one spot.
3. Drew Brees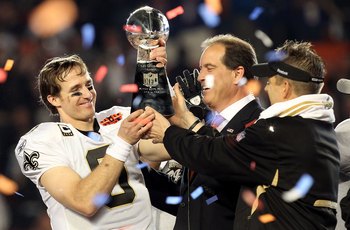 Regular season stats—68-53 as a starter, 202 TDs, 110 INTs, 30,646 yards, 64.8 completion percentage, 7.4 YPA and a 91.9 QB rating.
Post season stats—4-2 (1-0 in Super Bowls) as a starter, 13 TDs, 2 INTs, 1,648 yards and a 103.7 QB rating.
Brees has been to four Pro Bowls, been selected first team All-Pro once and won a Comeback Player of the Year, Super Bowl MVP and an Offensive Player of the Year awards.
Brees has been consistently good in the regular and post season, and has never played bad in the playoffs.
Bringing a Super Bowl to New Orleans is equivalent to multiple Super Bowls on other teams, I mean these were the "Aints" till he showed up.
2. Tom Brady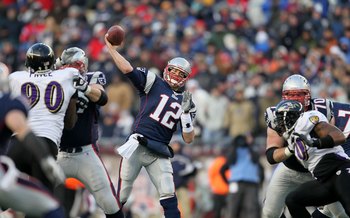 Regular season stats—97-30 as a starter, 225 TDs, 99 INTs, 63.3 completion percentage, 7.3 YPA and a 93.3 QB rating.
Post season stats—14-4 (3-1 in Super Bowls) as a starter, 28 TDs, 15 INTs, 4,108 yards and a 85.5 QB rating.
Brady has won one MVP award, two Super Bowl MVPs and has been to five Pro Bowls.
The only real question here was No. 1 or No. 2. I would have upset about half of you no matter which I chose, it was close.
1. Peyton Manning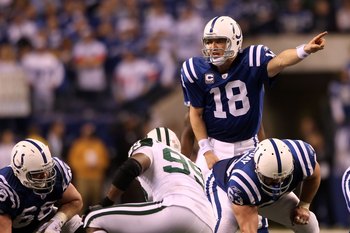 Regular season stats : 115-45 as a starter, 314 TDs, 138 INTs, 66.0 com %, 7.7 YPA, 42,254 yds, 98.6 QB rating and 15 rushing TDs.
Post season stats : 9-8 (1-1 in Super Bowls) as a starter, 4,937 yds, 28 TDs, 19 INTs and a 88.1 QB rating.
In ten years Peyton has nine Pro Bowls, 5 selections as a first-team All-Pro, three MVP awards and one Super Bowl MVP award. People call him a choker, I say most teams would love to have had the success the Colts have had under him and you can't blame him for the fact that almost every year he is facing the best defenses in football in the post season, while his opponents are not. Manning is for my money the best QB of this generation and is making an argument to be called the best of all time.
The Bleacher Report All-Decade Team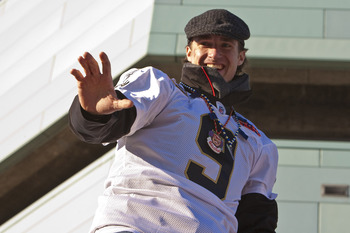 If you have enjoyed this article please check out the entire All-Decade team.
http://bleacherreport.com/articles/415898-the-bleacher-report-all-decade-team-nfl
Keep Reading